On January 20, 2021, President Biden issued an order to extend the student loan payment and interest freeze until September 30, 2021. He extended this yet again one final time until May 1, 2022. This suspension has been in place since March 13, 2020.
These suspended payments should also count towards forgiveness programs such as PSLF and IDR.
This is obviously welcome news for federal student loan borrowers. However, the order continues to leave out borrowers with FFEL, Perkins and private student loans.
Will this be the final pause? Or will there be many to come? Here's our analysis.
Why did President Biden extend the student loan payment and interest pause?
We anticipated that President Biden would extend the student loan payment and interest freeze upon entering office ever since President Trump extended it for the period between September 30, 2020, and December 31, 2020.
What that action did was give bipartisan cover to suspending student loan interest and payments in general without imminent legislation from Congress.
Then Secretary DeVos extended the freeze for another month to January 31, 2021, to give Congress more time to deliberate. But Congress unexpectedly did not include any student loan relief in their $900 billion December 2020 stimulus package.
Biden has signaled his first priority will be getting the nation through the pandemic, as it should be. The September 2021 extension of the student loan payment and interest pause is part of his economic plan to get us to the other side.
He extended it one final time until May 1, 2022 to ease borrowers back into repayment.
Key reasons for the Biden executive action on student loans
Here are the main reasons why I believe Biden chose September 30, 2021 and then January 31, as the date for extending the payment and interest pause:
He decided to extend other financial relief such as eviction protections through September, so student loan relief fits into a broad package of economic actions.
He could've chosen April 30 or June 30, which were dates thrown around by various interest groups, but then another extension would have been probable. Barring terrible economic news between now and then, this September extension is likely to be the final one.
By September, anyone who wants a COVID-19 vaccine will likely be inoculated. Effectively, that means President Biden would probably not have the national emergency status to easily extend the freeze past that point.
September 30, 2021, marks the end of the federal fiscal year. It's a natural stopping point for a number of emergency provisions for accounting purposes.
Recall that in the May 2020 version of the $3.4 trillion HEROES Act proposed by the House, Democratic leadership supported extending the student loan payment and interest freeze until September 30, 2021.
This executive order essentially seeks to fulfill that policy goal. His final extension is geared towards helping borrowers avoid default.
How student loan payments restarting will be extremely problematic
Pretend that you bought a car, and the payments were suspended unexpectedly for 18 months.
You'd have a lot more money to spend!
With a 2 year suspension of payments and interest, you might begin to adjust your spending in a way that you wouldn't if you only received a couple of months of payment relief.
That will likely happen with millions of student loan borrowers. The longer you suspend payments and interest, the harder it will be to start payments again as consumers adjust their spending as if the debt was not there.
Even if a fraction of borrowers adapts their spending levels as if their debt did not exist, it could exacerbate the student loan default rate. That's especially true if other relief programs all expire at once.
A January 2022 extension telegraphs to everyone when the freeze will clearly end, so borrowers and servicers can prepare.
However, speaking of servicers, the contract with some of the federal student loan servicers expires in December 2021.
I would expect chaos and confusion. However, that's easier to stomach if the economy is doing well and we're over the hump of vaccination.
How does Biden student loan interest relief affect refinancing?
One risk borrowers who want to pay back large balances in full will face is potentially missing out on historically low interest rates.
If you want to pay back your loans within five years, the suspension of interest is something you should use now. Refinance your federal loans later, perhaps in February 2022.
However, if you want to lock in low interest rates long term so you can use the money for other purposes such as investing, you might consider refinancing even federal student loans over the next few months before the interest freeze fully expires.
Another issue is the supply of capital right now for student loan refinancing is abundant. After 23 months of no interest, the period between February 2022 and May 2022 could be the largest surge of refinancing ever. There might not be enough capacity to handle the demand and provide historically low rates at the same time.
Long term interest rates will likely be far more volatile than short term interest rates. The Federal Reserve has stated their intention to keep short term rates low for a very long time. We expect that interest rates for longer term loans could go up while rates for short term loans would likely be more stable in the coming year.
Student loan refinancing example with Biden interest freeze
Assume the following to illustrate this dilemma:
You can invest at a 5% return
You could get a 3.5% fixed rate for 20 years now or 4.25% fixed for 20 years in February (we're expecting long term rates to be more volatile)
Alternatively, you could get a 2.8% fixed rate for 5 years either now or in January (we're expecting short term rates to be more stable)
You have $200,000 of Direct student loans at a 6% fixed interest rate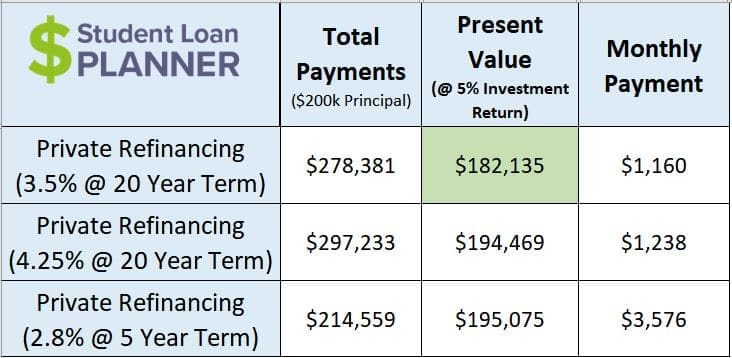 You might look at the total payments and think that you should ride out the interest freeze and refinance to a five-year term.
Getting the cheapest present value for your loans could mean refinancing sooner than you expect
You should look at the present value of repayments, not the total payments.
If you refinanced to a five-year term above, you'd have payments of $3,576 a month. With a low 20-year fixed rate, your payments would be $1,160 a month.
Yes, that means you'd be in debt for four times as long (20 years versus five years), but that extra cash flow from a 20 year term could allow you to invest, start or acquire a business, max out retirement accounts or fund your kids' college.
The interest suspension on $200,000 of student loans over the next 8 months would be worth $200k * 8 / 12 * .035 = $4,667.
If you planned to pay your loans off over 20 years, then the savings of locking in a low rate now would be worth about 3 times that amount in today's dollars ($182,135 present value for the 3.5% 20 year rate vs $194,469 for the 4.25% rate in 20 years).
What does this mean if you have federal student loans that you want to pay back?
If you plan to pay your loans back over five years or less, do not refinance right now. Wait until the interest freeze is over.
If you plan to pay your loans back over 20 years because you believe you can earn more than the interest rate on your debt, and you think that interest rates might go up due to inflationary pressure, then you might consider locking in a 20-year fixed rate before the interest freeze expires.
If you're unsure or you do not expect interest rates will change significantly between now and May 1, 2022, then you should wait.
Why did student loan relief not make it into the $1.9 trillion Biden stimulus bill?
In the December 2020 stimulus bill, outlines included an extension of the payment and interest freeze until either April 1 or April 30, 2021.
But then, student loan relief didn't make it into the final stimulus at all.
In President Biden's $1.9 Trillion stimulus bill, he also left student loans out of his 16-page outline.
So why do student loans keep getting left out?
The reason is that there are much bigger issues going on right now. If you were Biden, would you rather focus on student loans or focus on:
Increasing vaccination resources
Getting kids back in school
Continuing unemployment assistance
Helping out state and local governments, which will have massive deficits this year
Shoring up the healthcare system
Including student loan relief in Congressional legislation means it shows up as a cost that Congress is responsible for.
However, when President Trump suspended student loan payments and interest past September 30, 2020, he didn't have to pay for it despite the Department of Education losing billions of dollars in payments and interest.
That makes the student loan freeze attractive to any President and provides an incentive to exclude it from legislation where the top line cost might detract from paying for other pandemic relief.
What do we expect from the Biden student loan executive order?
Many of the legal questions I mentioned above will primarily impact student loan policy discussion in future administrations. Since student loans are low on everyone's priority list, I expect the following:
The payment and interest freeze on Direct and Department of Education owned FFEL student loans will last until May 1, 2022.
Private, Perkins and privately owned FFEL student loans will not receive any relief .
The freeze will end on May 1, 2022. Payments for most borrowers will be debited around the end of February 2022.
Student loan cancellation will not occur for any borrowers with middle class incomes.
Payments and interest restarting at the end of January will cause some confusion and some chaos. There will be a limited window around the end of the freeze to discuss student loan reform before the 2022 midterms.
Borrowers on IDR and PSLF forgiveness plans will continue to receive credit for suspended payments.
This payment and interest freeze will provide short term relief to those who qualify, but will do little to dampen the long term student loan crisis.
There's a risk that borrowers who would have normally locked in low interest rates by refinancing during this period will miss out if inflation becomes a concern between now and January.
Have thoughts about this Biden student loan relief program? Share in the comments.