What you need to know:
College Ave offers both student loan refinancing and private student loans (undergraduate and graduate student loans).
The lender's student loan refinance loans have no origination fees and offer a great deal of payment flexibility.
College Ave earned a 4.0/5.0 Student Loan Planner® rating.
If you're looking to refinance your student loans, College Ave could be a solid option. In Student Loan Planner®'s recent audience survey, respondents described College Ave as being "easy to work with." It also received positive reviews for its user-friendly platform.
Keep reading our full College Ave student loan refinance review to see a complete breakdown of this lender's pros and cons.
College Ave refinance options for student loans
With College Ave, you can refinance both federal and private student loans. You can also use its refinancing product to consolidate multiple student loans into one new loan. Learn more about loan consolidation.
Keep in mind that if you refinance federal student loans into private loans you'll lose eligibility for several unique benefits. For example, only federal loans are eligible to be repaid on federal income-driven repayment plans. And only federal debt is eligible for a variety of loan forgiveness programs, such as Public Service Loan Forgiveness (PSLF).
Here are the key terms you need to know about College Ave refinance student loans. For the latest College Ave interest rates, just check our main refinancing page.
Pros and Cons
College Ave was founded in 2014 by Joe DePaulo (CEO) and Tim Staley, both of whom previously served in major leadership roles with Sallie Mae. They launched College Ave (headquartered in Wilmington, DE) with hopes of creating a student loan company that would simplify the application process and provide personalized support for borrowers.
College Ave student loans products are funded by Firstrust Bank, Member FDIC or M.Y. Safra Bank, FSB, member FDIC. Its loans come with both either fixed or variable interest rates. Here are some pros and cons of the company:
Pros
Flexible repayment options:

Borrowers can choose from 16 different repayment terms, ranging from 5 to 20 years.

No junk fees:

College Ave doesn't charge any application or origination fees, and there aren't any fees for prepayment either.

Auto-pay discount:

College Ave offers an auto-pay interest rate reduction of 0.25% interest rate discount when borrowers sign up for the automatic debit of their monthly payment from a valid bank account.

Quick application process:

You can check your rate in one minute without any negative effect on your credit score. If you decide to apply, College Ave says that most borrowers receive an instant credit decision in minutes.
Military deferment: Borrowers can defer their monthly payments if they serve in the Armed Forces or National Guard and are called on active duty for more than 30 days.

Availability:

College Ave refinancing loans are available in all 50 states.
Cons
Short forbearance period: If you lose your job, the maximum mount of forbearance that you can qualify for with College Ave is 12 months. And this 12-month maximum is typically broken up into three- or six-month approved increments.
Low maximum loan amount: With College Ave, the maximum that the average borrower can refinance is $150,000, while borrowers with medical, pharmacy, dental, and veterinary degrees can refinance up to $300,000. Both these limits are much lower than many of College Ave's top competitors.
No cosigner release: Unfortunately, there is no option for refinance loan borrowers to request for their cosigners to be released from their College Ave refinance loan, even after a long history of on-time payments.
* Note that College Ave will consider a cosigner release for its private student loan borrowers after they've completed at least half of their repayment schedule.
Eligibility requirements
To qualify for College Ave student loan refinancing, you must be:
At least 18 years old.
A U.S. citizen or permanent resident.
A graduate of an eligible Title IV school.
Additionally, you'll need to meet College Ave's underwriting requirements, which means passing its credit check and falling within an acceptable debt-to-income range.
College Ave application process
College Ave's application process is simple and streamlined. You can get a rate quote in a matter of seconds with only a soft credit pull. If you like what you see, you can move forward with the full application.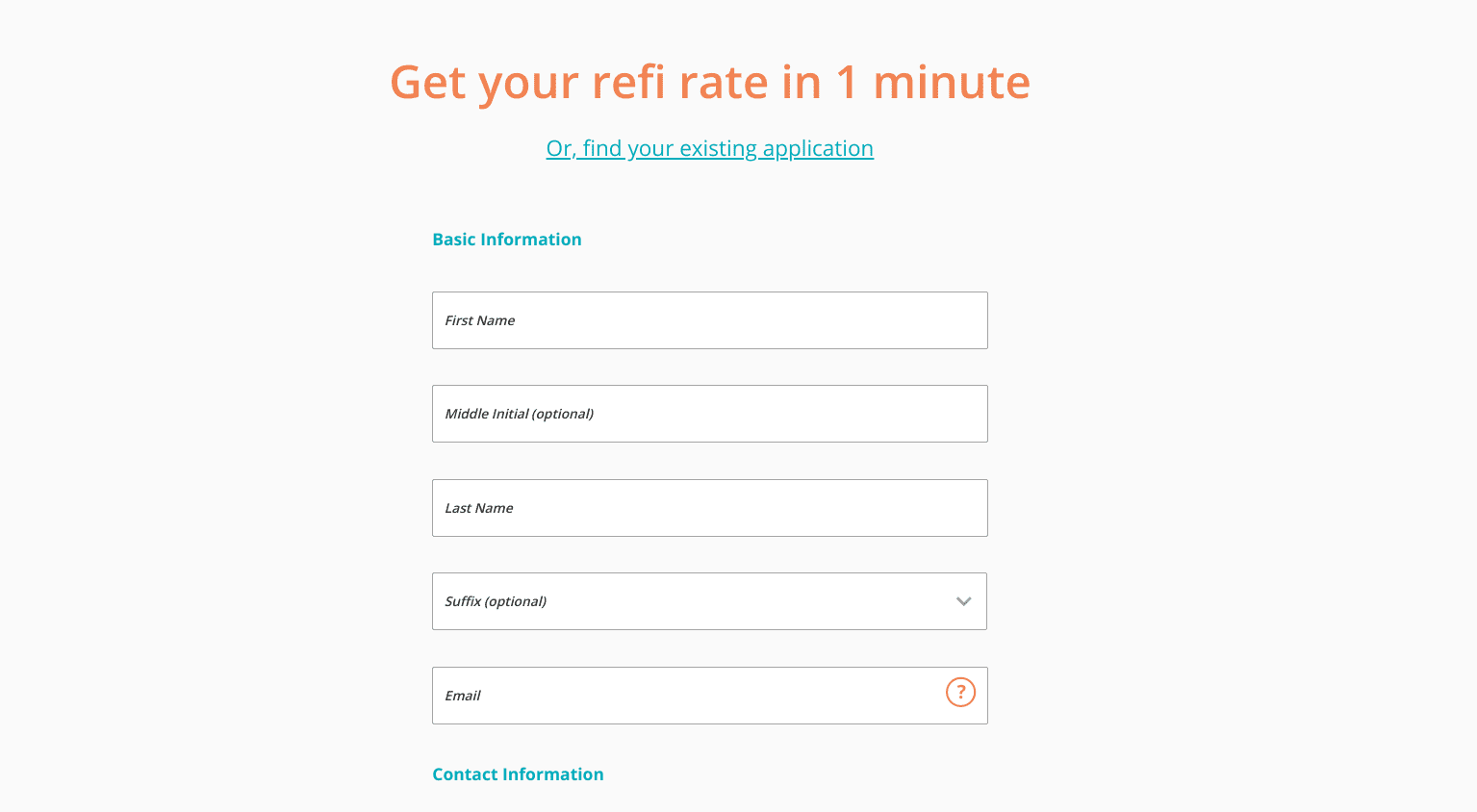 For each loan, you'll need to confirm the name of your servicer, your servicer account number, and the amount you wish to refinance. College Ave says that, in most cases, borrowers will receive an instant qualification decision.
Kelsey, a Student Loan Planner® reader, was pleased with her College Ave refinancing experience overall. But she ran into one issue while applying. Here's what she said:
"There was one aspect of the application process that made me really mad. I applied once and misquoted my income. I believe I put $100K instead of $90K (I did not have my tax return in front of me, so I was ball-parking). Instead of modifying my application to reflect the correct income level, they scrapped by app and made me start over. They also made me do a second credit pull because of this. My error in income reporting did not change any of my interest rates either, so it seemed like a big waste of time."
To avoid similar hassle and frustration, make sure to double-check all of your application information before clicking that "submit" button.
Should you refinance with College Ave?
College Ave can be a good option if you're looking to change your payment to fit your budget. While many lenders offer two to five payment terms, College Ave takes student loan options to the next level by offering borrowers 16 choices. That's not quite as much payment flexibility as Earnest offers, which has 180 different repayment options. But it's still well above many of its competitors.
College Ave's refinance student loan limits may be a problem for some borrowers. Graduates from a few high-priced degree programs can refinance up to $300,000. But everyone else is capped at $150,000. If you need to refinance more than that, College Ave won't be the right lender for you.
If you have a lower loan amount to refinance, College Ave could offer you a great annual percentage rate and reduce your interest payments. But, according to Travis Hornsby, founder of Student Loan Planner®, it could all boil down to the timing of when you apply.
In practice, Hornsby said, "Usually, it's very limited in the length of time that I've seen them have market-beating rates. And they're trying to meet some kind of volume goal when they do that." But if you happen to apply during one of these times, "They can have extraordinarily low rates, especially for high-income professionals," he said.
If you're interested in refinancing with College Ave, Student Loan Planner® is offering a $500 Amazon gift card refinancing bonus for borrowers who refinance over $100,000. Before choosing a refinancing lender, be sure to get quotes from multiple top refinancing lenders to make an educated decision.