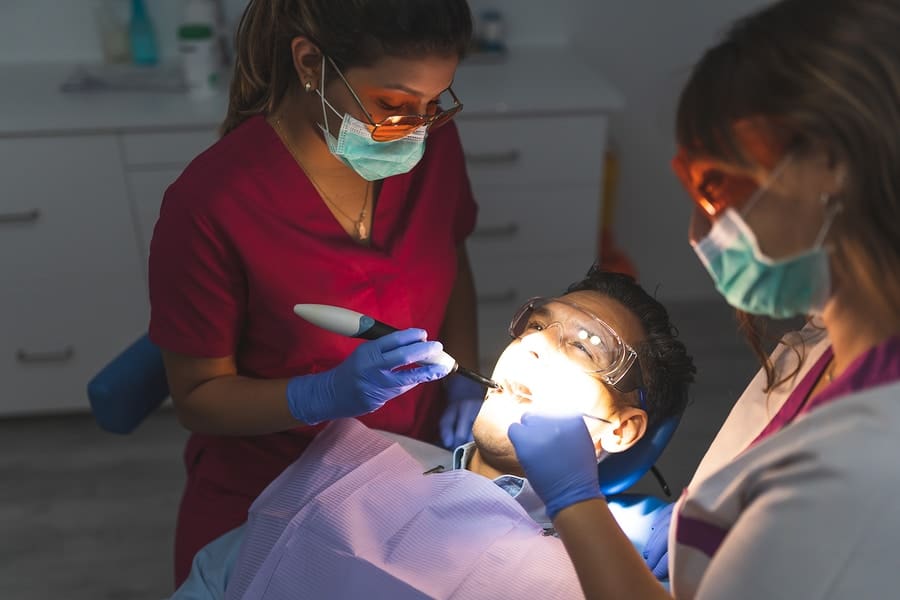 4 Min Read |
On March 18, April 17, May 15, and August 12, 2020, we surveyed our Student Loan Planner® community. We received between 3,000 and 4,000 responses in each survey, hundreds of which included responses from dentists and dental specialists. The picture we saw early on was extremely bleak. Luckily though, we're seeing rapid improvement in dental incomes and jobs data.
Based on our surveys, the dental profession was the hardest hit financially of any graduate level profession by the Coronavirus.
Most offices initially closed, but now some dentists report seeing the biggest surge in demand ever from all care patients deferred.
Our results show that the financial crisis faced by dentists deepened in April, but dentists are beginning the long process of economic recovery.
How Do Dentists Compare to Other Professionals in This Recession?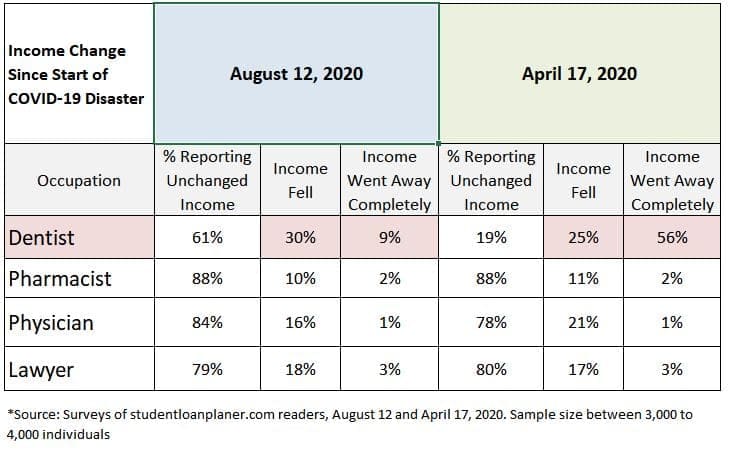 The NY Times reported that dentists have among the highest exposure to diseases and proximity to others of any profession.
Dentists by and large were not deemed "essential workers" in most states. Many complied with mandatory orders to shut down except for emergency procedures.
While this allowed some dentists to maintain some level of income, it's clear that most lost their incomes completely during April.
The good news is that dentists reporting their incomes have gone away completely dropped significantly from 56% in April to 9% in mid August of 2020.
Our readership is younger and is less likely to own a dental practice than dentists overall. As we'll see later, this likely means drops in incomes across all dentists during the pandemic were even worse than what we reported here.
What About Incomes for Dental Specialists?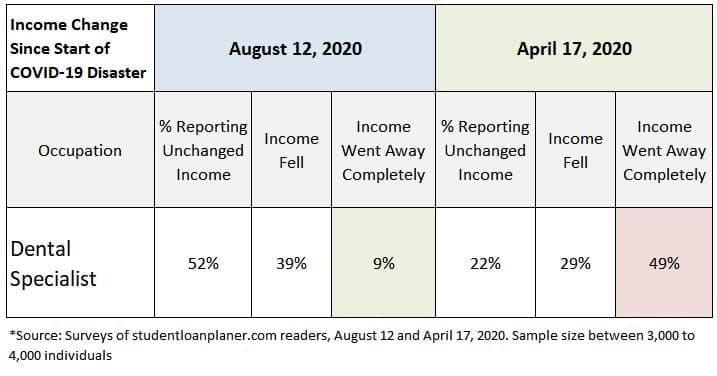 In the words of one endodontist (root canal specialist) that I spoke with during the pandemic, he said that he's only saw the most extreme cases because of their level of pain.
Initially, it seemed like general dentists were impacted at a much higher level.
However, we saw a convergence of income loss where half of all specialists lost their incomes completely in April, a figure similar to that of general dentists.
Dental specialist incomes have been slower to recover post pandemic. In August, 51% reported having an income below pre-pandemic levels, while 61% of general dentists reported the same.
Perhaps some of the lucrative but more elective procedures specialists do have been put off by patients.
That said, specialists have seen their incomes bounce back significantly.
Dentist Income Loss by State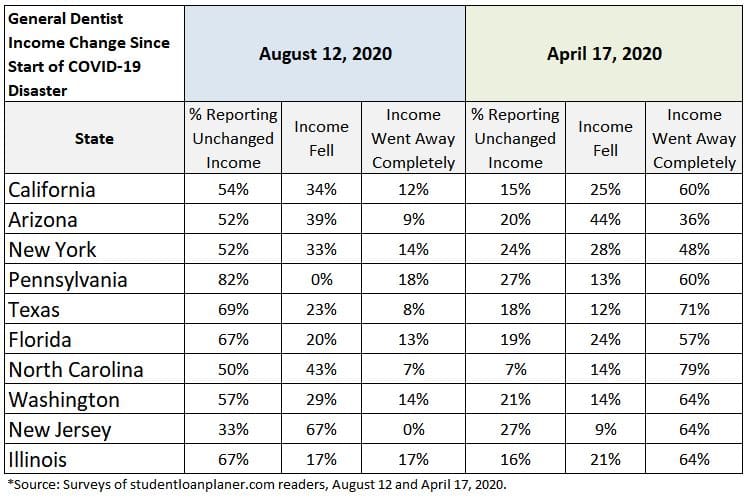 Initially, dentists working on the coasts took the biggest hit.
Then we saw states like Texas and Florida enforce shut downs and dentists nationwide feel the pinch.
However, it seems like the South and Midwest is reporting more normal incomes even now compared with the coastal regions. Perhaps this is reflecting consumer behavior in these particular geographies.
Dentist Income Changes by Time in Profession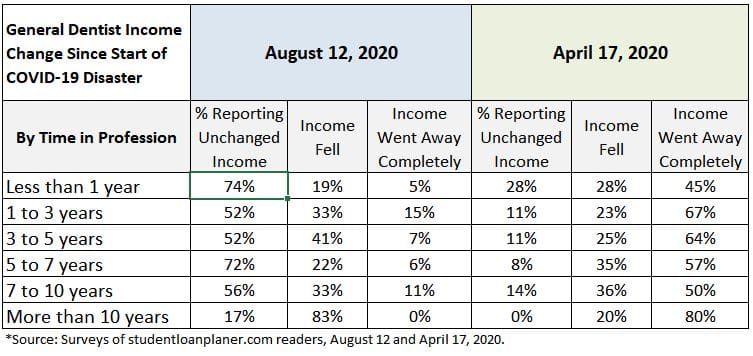 Tenured dentists had it even tougher than younger dentists financially compared with pre-pandemic earnings.
Initially, most DSO employers seemed content to draw down reserves to keep their workforce intact. Then even high producing associates could not be sure their incomes would remain.
Initially, we saw dentists who own their own practices face steeper income losses than associates overall, but that difference is less pronounced now than it was.
That said, tenured practice owners still have a far higher share reporting lower earnings than before the pandemic, while associate incomes have largely recovered.
Dentists Want to Reopen the Country Much Sooner than Other Healthcare Professionals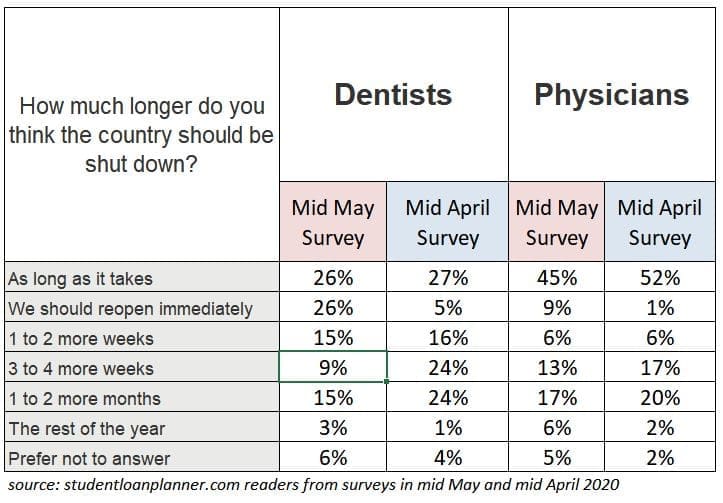 In our April survey, 81% of dentists had experienced a severe income loss. Only 21% of physicians had experienced the same.
56% of dentists reported losing their incomes entirely while only 1% of physicians reported the same.
Physicians and dentists face similar risks for COVID-19 exposure. In fact, some physician specialties might even face less risk of COVID exposure than general dentists.
Hence, you can really see the economic pain in dentistry to see so many dentists wanting to reopen the country despite risks to their personal health.
When we asked if the country should reopen immediately in April, very few dentists agreed. Now a plurality chose that answer for reopening the country.
The longer the income losses go on, the less support there is for keeping the country closed down among dentists. In future studies, it will be interesting to see if economists find that the public has a limited time window during which they will accept hard lock downs to protect the public health.
Getting Help as a Dentist During the Economic Crisis
Clearly dentists need help financially. The data from our community of readers shows a much higher rate of financial loss compared to other professionals with similar levels of education.
If you have student loans, we can help with that.
If you need financial assistance during this time, I'd highly suggest contacting your congressional representative and let him or her know what you're dealing with as a dentist.
Are you surprised by these results? Want to see other demographic data from our study? Let me know below. Feel free to share what you're going through right now too if you're a dentist.
Refinance student loans, get a bonus in 2023
Lender Name
Lender
Offer
Learn more

$1,000 Bonus

For 100k or more. $200 for 50k to $99,999

Fixed 5.24 - 9.59% APR

Variable 6.24 - 9.99% APR

$1,000 Bonus

For 100k or more. $300 for 50k to $99,999

Fixed 4.96 - 10.24% APPR

Variable 5.72 - 10.24% APR

$1,000 Bonus

For 100k or more. $200 for 50k to $99,999

Fixed 5.19 - 9.74% APR

Variable 5.99 - 9.74% APR