Borrowers who want to refinance their student loans have a long list of lenders to choose from. Earnest and CommonBond are two veteran refinance companies that are near the top of that list.
Both private lenders offer fixed interest rate and variable interest rate loans with an available autopay discount. When you compare refinancing with Earnest vs. CommonBond, rates certainly matter. But so do things like customer service, repayment options, eligibility requirements and more.
Let's take a look at what Earnest and CommonBond have in common. And more importantly, what sets them apart, so you can make the best decision when refinancing your student loan.
Note: If you have a federal student loan, refinancing will cause you to lose eligibility for a variety of benefits. For example, you'll no longer be able to join Income-Driven Repayment plans or apply for federal forgiveness programs. Learn more about the pros and cons of federal student loan refinancing.
Earnest vs. CommonBond student loan refinancing comparison
| | | |
| --- | --- | --- |
| | | |
| | | Fixed, variable and hybrid |
| | | 5, 7, 10, 15, and 20 years |
| | | |
| | | |
| | | |
*As of April 28, 2021
Earnest student loan refinance
Earnest's team of design, math, technology and finance professionals used data science and streamlined designs to deliver a low-cost, personalized financial experience. In 2017, financial service and support company Navient purchased Earnest, which has led the company to offering lower interest rates.
There are pluses and minuses to refinancing your student loan with Earnest. Let's explore both:
Pros
Zero fees

: No origination fees or prepayment penalties.

Diverse application process

: Earnest reviews more than your credit score to get your rate estimate, such as your current savings total, education and earning potential.

Option to skip payments

: Borrowers may request to miss one payment every 12 months when unexpected events impact their budget.

Personalized student loan payments

: Earnest allows you to set your preferred monthly payment based on your budget (pending their approval).

Flexible payment options

: You may increase your payment at any time and make additional or early payments to pay off your loan sooner without being penalized. You can also choose to make biweekly rather than monthly payments.

In-house servicing

: Earnest does not work with third parties. You'll always deal directly with Earnest to discuss your student loan.
Cons
Minimum credit score required

:

Earnest requires a minimum credit score of 650 to qualify for their student loan refinancing program.

No cosigner option

: Earnest does not offer a cosigner option for student loan refinancing, but hopes to do so in the future.

Location restrictions

: Earnest does not offer student loan refinancing in Kentucky or Nevada. They also don't offer variable-rate loans in Illinois, Minnesota, New Hampshire, Ohio, Tennessee or Texas.
CommonBond student loan refinance
CommonBond was founded in 2012 and has funded $3 billion in student loans with lower rates, easier options and providing a memorable customer experience. Let's check out the pros and cons of refinancing with CommonBond:
Pros
Zero fees

: No origination fees or prepayment penalties.

Make a dent in your principal

:

 

Payments that exceed the monthly minimum are applied to the loan's principal.

Grace period

: Grace period deferment is available for borrowers who graduated this year.

Deferment and forbearance options

: Academic deferment is available for borrowers who return to school. Up to 24 months of forbearance is also available in the event of financial hardship.
Social mission: In partnership with Pencils of Promise, CommonBond is committed to funding the education of one child in a developing country for each loan that it funds.

Cosigner release

:

 

Cosigner release is available if the borrower meets certain requirements.
Cons
Graduates only

: You must have at least an undergraduate degree to qualify for CommonBond student loan refinancing.

School restrictions

: You must have graduated from a school in CommonBond's eligible network to apply or student loan refinancing.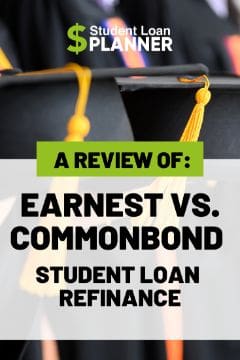 Earnest vs. CommonBond: Borrower rating
Student Loan Planner® recently surveyed borrowers who refinanced their student loans with a group of eight vendors, including Earnest and CommonBond.
We asked them to rate their lender on a scale of 1 to 10 in a number of categories, including the lender's app, website and customer service. The lower the borrower's rating for each category, the more negative the experience for the lender.
Earnest vs. CommonBond student loan refinance lender rating
Our survey participants held both lenders in high regard. CommonBond and Earnest finished first and second, respectively in the overall lender rating category.
CommonBond scored an 8.23 out of 10, while Earnest was not far behind with 7.92 out of 10. In the other categories such as app experience, customer service and website, both lenders placed no less than third. In fact, CommonBond ranked first across the board. Earnest meanwhile was ranked second for app experience and customer service, and third in the website category.
CommonBond certainly topped Earnest, but our survey revealed more people use the latter.
Numerous investors fund CommonBond, which makes their capital more expensive than bank-connected lenders. When CommonBond is securing capital, it's interest rates can increase. However, the lender can still offer competitive rates.
Earnest vs. CommonBond application processes
Both Earnest and CommonBond's student loan application processes only involve a couple of steps. When applying with either lender, the initial step is a rate estimate that requires a "soft credit pull." A "hard credit inquiry" is required to get your actual rate, which will show up on your credit report.
When comparing applications, Earnest needs more information to fill out your profile, such as financial responsibility. CommonBond requires you to upload supporting documentation after estimated rates are received and you sign e-loan documents.
To get a rate estimate, Earnest analyzes information besides your credit score and provides an instant rate estimate. Your final rate is made available upon approval. With CommonBond, you must complete an online application to get a preliminary decision in minutes.
All in all, Earnest will look at more data other lenders don't, such as your total savings, education and earning potential. Once you're approved to refinance with Earnest, you can establish your monthly payment based on your budget.
With CommonBond, once your application is approved, they pay off your existing student loan and work directly with borrowers.
Earnest vs. CommonBond student loan refinance eligibility requirements
Earnest and CommonBond have similar student loan refinancing application processes, but you'll have to meet a few more eligibility requirements when you refinance your student loan with Earnest.
Along with being a U.S. citizen or having a 10-year (non-conditional) permanent resident card, Earnest also requires borrowers to live in one of the 47 states it lends in. You also have to be the primary borrower on the student loans you want to refinance. The student loan debt also must be from a completed degree or degree that will be finished by the end of the semester.
You must have a written job offer for a position that will begin within six months or a consistent income. Your loans also have to be in good standing to refinance from Earnest.
Meanwhile, CommonBond requires borrowers to be a United States citizen, permanent resident or H1-B, J-1, L-1, E-2, and E-3 visa holder and to have graduated from one of the schools in their eligible network of more than 2,000 schools.
Overall borrower feedback
Student Loan Planner® asks borrowers for extended feedback as part of our user survey. The comments regarding the Earnest and CommonBond's application process matched the high marks the lenders posted in our analysis, 8.72 and 9.07, respectively.
Feedback for Earnest
Survey participants who refinanced their student loan through Earnest shared similar sentiments about quick the lender's application process and that is easy to complete.
Comments like, "Earnest made it really easy to check my rates and their customer service is great — quick to respond, very clear answers. I've had a great experience thus far," were common among respondents.
Feedback for CommonBond
CommonBond also received positive feedback both in terms of its application process ease and the service team's helpfulness.
"CommonBond made it incredibly easy to apply, and then had regular follow up afterwards. I was texting with them when I had questions, and got real-time responses."
Who should you refinance your student loan with?
This is never an easy question. Who you refinance your student loan with is about finding the best lender for you. Given how high both lenders rank in our borrower survey, your refinancing choice comes down to goals, fit, budget and financial needs. With that in mind, consider the following differences.
Refinance your student loan with Earnest if:
You want flexibility in how you pay

. Refinancing with Earnest can allow you to pay monthly or biweekly.

You have solid credit and won't need a cosigner

. Earnest currently does not offer a cosigner option.

Your finances are in good shape

. In addition to your credit score, Earnest will check to see if you have enough money saved for at least two months of living expenses.
Refinance your student loan with CommonBond if:
You plan to overpay each month

. If so, the additional funds go towards the principal with CommonBond student loan refinancing.
You live in Kentucky or Nevada. Since Earnest doesn't currently lend in either of these states, residents will need to look at CommonBond or other private lenders.

You also want to give back

. CommonBond covers the cost of a child's education every time it funds a student loan, through its Social Promise.