As a student loan consultant, some of the worst mistakes I've seen people make with their student loan debt have been the fault of a dishonest or incompetent financial advisor.
For example, I had a student loan consulting client using an Income-Based Repayment plan whose financial advisor told her to invest instead of pay down her 6.3% student loan debt. If she had used this strategy over the life of her loans, it would have cost her over $170,000 in unnecessary interest.
The reason for this poor financial advice? Her advisor made a $7,000 commission and would have received nothing if she paid down her student loan debt. I'm seeing this recur enough in my practice that I decided I really need to write an article to inform people why most financial advisors give terrible student debt advice.
If you have student loan debt and want me to help you navigate this minefield for a low flat fee, you can book a consult to learn more.
What Kind of Financial Advisor Do You Work With?
The type of advisor you have is a strong predictor of whether you might be receiving poor help on repayment options for your student loans.
There are three main types of financial advisors. The first sells whole life policies and variable annuities. The second sells high fee mutual funds and might work for a brokerage. The third operates on something called the fiduciary standard and has to put your interests ahead of their own when investing your money.
There are potential conflicts with all three, but the first two are more problematic than the third.
Type 1: Whole Life and Annuity Salespeople
Someone who sells whole life policies or variable annuities really isn't a financial advisor in my opinion. They are the financial advice industry equivalent of used car salesmen. There are some honest ones, but the incentives present in the business do not make being honest very easy or lucrative.
These advisors work for a large insurance company, dress very well, and might "specialize in medical professionals." That means they focus on fear of high taxes and lawsuits to sell you financial products with incredibly high fees. Unfortunately, many of the good people in the industry selling these products have been convinced by insurance company training programs that they're helping folks.
My wife is a professor of surgery at a large university hospital. When she was in training, she received invitations all the time for free steak dinners to discuss her financial plan. The folks who sent the letter were going to try to sell her a whole life policy or variable annuity. They never spoke to the fact that she had six figures of student loan debt at a 6.8% interest rate.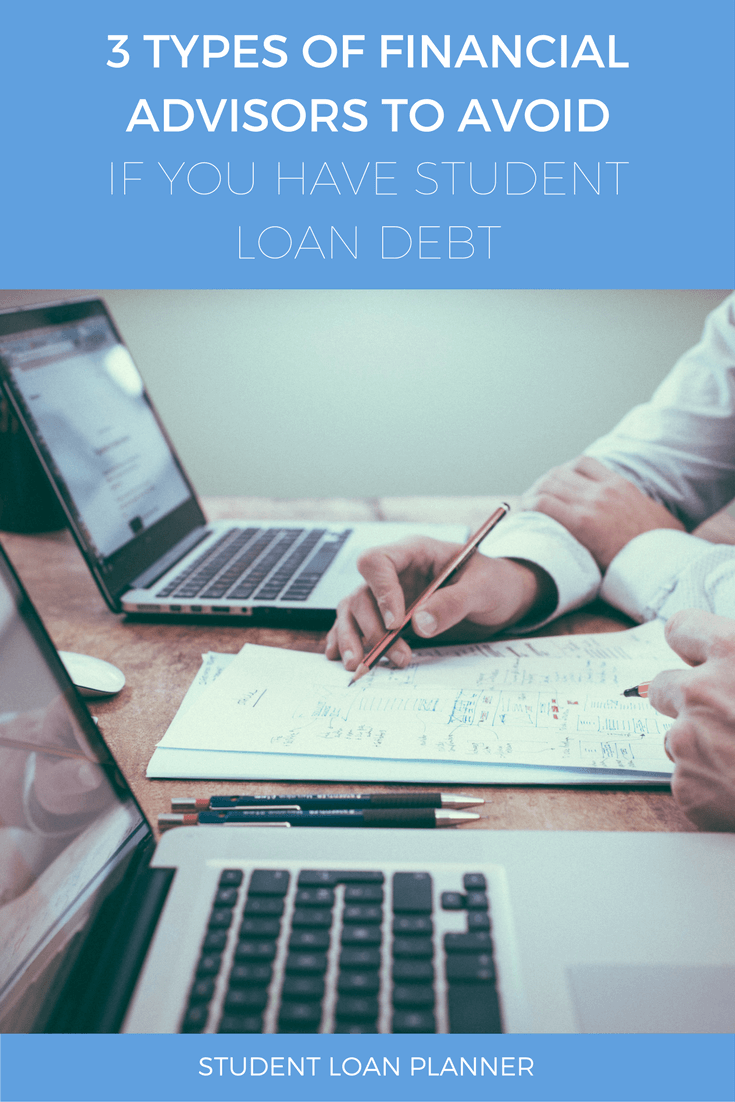 They would use their insurance company training to vastly overstate the benefits of a horribly expensive product. If they convinced her to buy an annuity, the agent would earn 10% or more of whatever she invested.
Whole life policies usually offer huge commissions to these agents as well. Usually in the first year of a new policy, 100% of your premiums go to the agent. In the second year, 50% of premiums get paid to the agent.
With those huge payouts, even honest individuals might emphasize the pros of a product over the long-term cons to earn a living.
This Advisor Type Led to the Worst Abuse I've Ever Seen of a Client with Student Loans
To see how this type of financial advisor is the most problematic for student loan borrowers, consider this recent example from one of my consults.
I worked with a medical professional who had student loans with average interest rates of 8.6%. Her whole life agent told her to buy a whole life policy and defer her student loans because her limited cash flow would not allow her to pay both. When her salary increased and she had more money available, the advisor convinced her to continue deferring her loans and buy A SECOND WHOLE LIFE POLICY!!!
My client was a single female with no immediate marriage plans. She had no dependents or cosigned student loan debt to pay off in the event of her death. She didn't even need life insurance for several years! This self-interested advisor sold her not one but TWO whole life policies. He couldn't care less about her financial situation or future as long as he makes money.
I wrote a lengthy email to the "advisor." I stated my disappointment in him for taking advantage of my client. While I suggested she file a complaint with regulatory authorities, she decided against it because he seemed like a nice guy.
I can assure you that his caring was an act. Selling one policy might be explainable. Maybe the agent didn't know about the benefits of an income-driven repayment plan or student loan forgiveness programs.
For example, the REPAYE plan's interest subsidy benefits for folks with high debt to income ratios. Or the potential for full student loan forgiveness with the Public Service Loan Forgiveness (PSLF) program or income-driven repayment forgiveness after 20 to 25 years of qualifying payments.
However, even if he didn't know, to recommend putting off payments on 8.6% debt just to earn two big commissions instead of one is pure greed. My recommendation is if you currently work with a whole life or annuity advisor and have student loans, fire him or her and make sure you seek help elsewhere.
Type 2: High Fee Mutual Fund Salespeople Who Work at Brokerage Firms
The second type of financial advisor is still problematic if you have student loans, just not quite as much. These advisors operate on something called the suitability standard of care. That means they can sell you a financial product that makes them a lot more money, even if it's not the best product for your financial situation. In other words, they don't have to provide you with the best advice, they only have to give you decent advice that's not horribly wrong.
If they do happen to take advantage of you and your financial situation, they make you sign an arbitration agreement. Any disputes are then brought in front of an arbitration panel at the industry regulatory body. That way, the advisors won't have to risk a big judgment in court.
Advisors in this category might work at Merrill Lynch, Edward Jones, Morgan Stanley, or other national brand name brokerage firm. They probably receive a lot more training in investment sales than anything else. That means they are unlikely to know a lot about student loan debt management and repayment options.
Additionally, these advisors make their money in two ways. The advisors who target the lower end of the market earn commissions from selling you mutual funds. This is useless for the investor because Vanguard offers no commission mutual funds at a fraction of the cost. The other way these advisors make money is by charging an annual fee based on the investments you have with them.
Notice that neither of these compensation models encourages advisors to tell you to pay down student loan debt. Therein lies the problem. Brokers make money from commissions and asset based fees. If you need to pay down student loans before you build assets, you are a money losing client to them. Therefore, they might recommend investing to make money instead of a comprehensive financial plan.
Type 3: Fiduciary Registered Investment Advisor
The final type of advisor has a fiduciary, or legal, responsibility to put your investing interests ahead of their own. These advisors work at Registered Investment Advisor firms and are regulated either by the SEC or the state securities board. They have a lot of fixed costs such as professional dues, office rent, and high regulatory filing fees. Clearly, they need to make money too.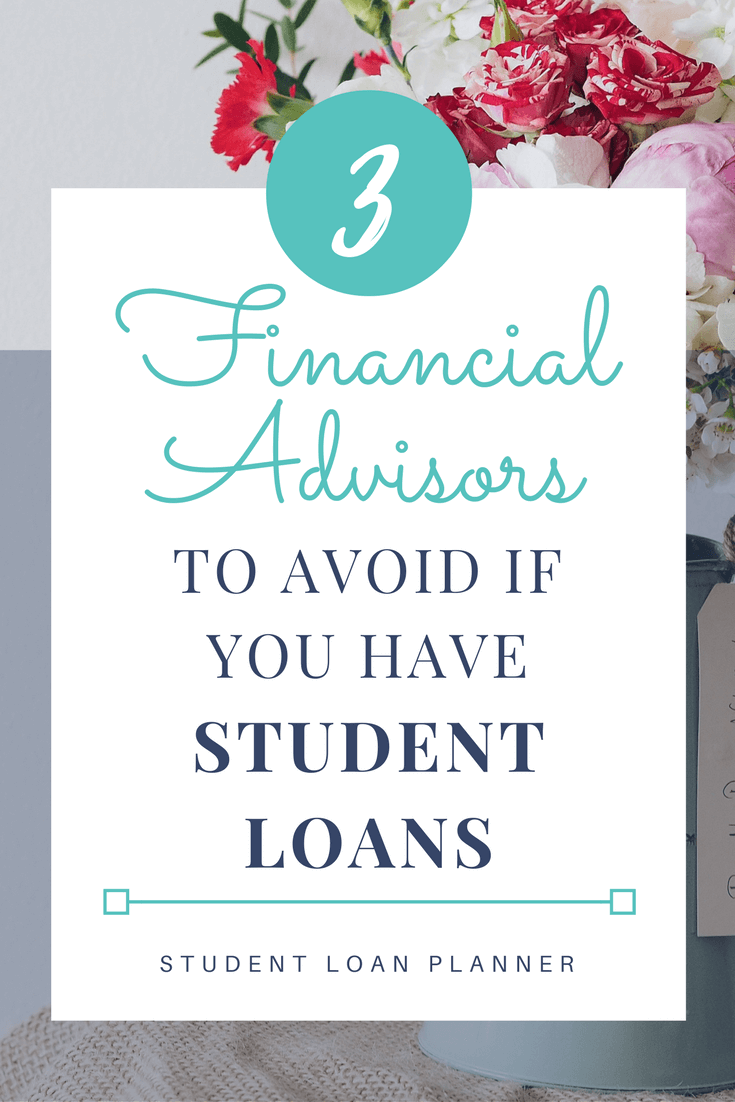 Fiduciary financial advisors offer the least conflicted investment advice. However, even this type of advisor probably has limited training in student loan repayment plan strategies. These advisors make money by charging an annual fee based on the assets you invest with them. A smaller percentage of these advisors charge a flat fee for financial planning services.
Because of the flat-fee model, this is the only type of advisor where you might receive somewhat competent advice on your student loan debt. In theory, a fiduciary advisor should be able to give objective advice that fits all of your needs given your financial situation. In reality, if you pay him or her on an asset-based model, they are acting directly against their own paycheck by telling you to pay down student loan debt.
I don't believe most advisors have adequate knowledge of the student loan marketplace to deliver top quality help to student loan borrowers. They certainly don't have negotiated refinancing bonuses with the largest private student loan refinancing companies in the industry like I do.
Ask an advisor if he or she knows about the detailed provisions and eligibility requirements of income-driven repayment plans like REPAYE, PAYE, old IBR, and new IBR programs. If they can't respond, they aren't qualified to help you with student loans no matter what their resume says.
If you work with this kind of advisor, you've dodged a bullet by not being sold products from the Type 1 or Type 2 advisor groups. Even so, I'd expect you'd still receive better help by hiring a student loan consultant.
The Simple Truth on What Makes Financial Advisors Give Terrible Student Loan Advice
If you aren't paying your financial advisor a flat fee for their service, there's a conflict of interest.
Most financial advisors only make money if you invest something with them. Assume that the best long-term financial decision you can make is to pay down your debt. Unfortunately, most advisors will not get paid for this answer. That's why so many of my clients do not receive this advice.
Financial advisors have a misalignment of incentives when it comes to student loans. The only way to align their interests with yours is to offer to pay a flat fee for their advice. Even so, I'm almost sure my flat-fee service will offer better quality advice and lower costs for student loan borrowers.
I specialize in student loan consulting, and it's all I do with this business.
Many advisors operate under aggressive sales oriented cultures like those in the Type 1 and Type 2 groups. They will rationalize anything they need to in order to close a sale. These advisors earn money only if they close a transaction. They'll tell you whatever you need to hear in order to close the deal. After that, you aren't their problem anymore.
Get the Right Financial Professional For Your Student Loans
If you have student loans, avoid working with a Type 1 insurance-based or Type 2 brokerage-based financial advisor. The only advisor you should work with is a Type 3 professional, preferably with a Chartered Financial Analyst or Certified Financial Planner designation. He or she should operate under the fiduciary standard at a Registered Investment Advisor firm.
Even then, I would bet money that I'll give you better student loan advice than they will. After all, I built all the proprietary student loan modeling tools I use in consults myself. Additionally, I used to trade billions of dollars in municipal bonds using excel programming.
Now that you know the different types of financial advisors, you can watch out for your family.
You can also check out our recent podcast episode that breaks down what to look for in a good financial advisor.
I Can Help You Understand All Your Student Loan Options
My business model here at Student Loan Planner®, LLC is providing people student loan advice. I've saved the average client tens of thousands long term.
I only charge a one-time fee to perform a holistic loan analysis, which finds the lowest cost repayment path.