Medical malpractice insurance protects the assets of medical professionals during lawsuits that arise after patients are injured or die as a result of wrongful medical care.
Recent research by the American Medical Association (AMA) found that more than one-third of all physicians age 55 and older had been sued. That's an astounding number that illustrates why having the appropriate amount of medical malpractice is so important for healthcare professionals.
Fortunately, medical malpractice insurance premiums have steadily dropped over the past decade. It'll likely be one of your largest annual expenses, so give careful thought about your plan and provider. Here's how to choose medical malpractice insurance that's right for you, your career and your business.
How to choose a medical malpractice insurance plan
As you shop for medical professional liability insurance, follow these six steps to help you make the right choice.
1. Check to see if your employer provides medical malpractice insurance.
Do you even need to buy your own separate medical malpractice insurance plan? If you work for a large hospital, university or government health facility like the Veterans Administration, medical malpractice insurance may already be included for you as an employee benefit.
In most cases, the only medical professionals who need to buy their own medical malpractice insurance are those who are in private practice. You may also need to consider buying your own policy if you decide to moonlight with additional hospitals or clinics outside of the primary hospital that covers you.
2. Decide how much medical malpractice insurance coverage you need.
The exact amount of medical malpractice coverage you need to buy depends on a few factors. The first factor is the state in which you live. Minimum medical professional liability insurance limits vary by state.
For example, in Florida, the minimum coverage amounts at $100,000/$300,000 are some of the lowest you'll find. This type of coverage means that Florida physicians must have enough insurance to cover at least $100,000 per claim and a $300,000 annual aggregate. New Jersey, on the other hand, has much higher minimums at $1 million/$3 million.
After you've checked your state's limits, you'll also need to consider how much you currently have in assets. If you're just starting your medical career or have a ton of student loans, or both, you probably have much fewer assets to protect than someone who's been working full-time for 20 years.
And that's something you definitely need to consider when choosing your coverage amounts. As Travis Hornsby, founder of Student Loan Planner®, puts it, "You generally want to at least have your assets covered. So, if you're worth $100,000, you probably don't need a $10 million policy."
3. Know the factors that influence medical malpractice insurance rates.
There are two main factors that influence medical malpractice insurance prices: your state and your medical specialty. Let's take a closer look at both.
Medical malpractice insurance price variations by state
The average price of medical malpractice insurance varies widely by state. In the AMA's most recent annual rate survey, it showed the average annual premiums for $1 million/$3 million policies from seven different geographical areas.
Here were the average rates in each area for internal medicine professionals, for example:
California (Los Angeles, Orange):

 $8,274

Connecticut:

 $34,700

Florida (Miami-Dade):

 $47,707

Illinois (Cook, Madison, St. Clair):

 $40,865

New Jersey:

 $15,900

New York (Nassau, Suffolk):

 $33,852

Pennsylvania (Philadelphia):

 $24,873
That's a difference of nearly $40,000 per year between the Los Angeles and Miami-Dade areas. The average number of lawsuits that happen in your state and whether your state has undergone tort reform both contribute to these cost differences.
If you haven't decided where you want to set up your private practice, medical malpractice insurance rates are something to consider.
Related: 10 Best States to Practice Medicine with Student Debt
Medical liability insurance price variations by specialty
The AMA's annual rate study also looked at the average annual premiums for obstetrics/gynecology professionals and general surgeons. Here's what the data showed:
Obstetrics/gynecology liability insurance premiums:
California (Los Angeles, Orange):

 $49,804

Connecticut:

 $170,389

Florida (Miami-Dade):

 $190,829

Illinois (Cook, Madison, St. Clair):

 $177,441

New Jersey:

$90,749

New York (Nassau, Suffolk):

 $214,999

Pennsylvania (Philadelphia)

: $119,466
General surgery liability insurance premiums:
California (Los Angeles, Orange):

$41,775

Connecticut:

 $65,803

Florida (Miami-Dade):

 $190,829

Illinois (Cook, Madison, St. Clair):

 $118,909

New Jersey:

$60,810

New York (Nassau, Suffolk):

 $134,923

Pennsylvania (Philadelphia):

 $85,930
Both of these medical specialties come with much higher premiums than internal medicine. In general, specialties that are considered higher risk will demand higher premiums.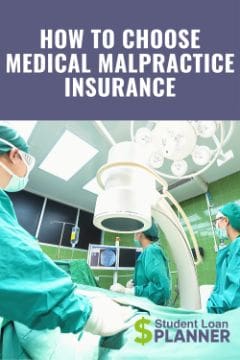 4. Get familiar with the different medical malpractice insurance plans.
Ready to start shopping for medical malpractice insurance? Here's what you'll want to pay attention to when comparing plans.
"Claims made" vs. "occurrence" policies
First, you'll want to know if the plan is a "claims made" or an "occurrence" policy. With a "claims made" policy, the insurance provider only protects you if a claim is made while you're a paying customer.
An "occurrence" policy, on the other hand, covers any medical malpractice events that took place while the policy was active. Why does this matter? Let's say in August you're sued for a medical event that took place in March, but you had changed providers in June. If you had an "occurrence" policy with your former provider, they would still cover the lawsuit. But if you had a "claims made" policy, they would not.
Nose and Tail Coverage
So, what can you do if you buy a "claims made" policy but want the freedom to be able to change plan providers down the road? One way to protect yourself is to buy "nose" or "tail" coverage.
Let's say you buy "claims made" medical malpractice insurance from Provider ABC with five years of tail coverage. Later, you decide to switch to Provider XYZ. In this case, any medical events that may have taken place from the previous five years are still covered by your former provider.
The opposite of tail coverage is nose coverage. With nose coverage, your new provider promises to cover past medical events for a certain number of years. Some policies may automatically include tail or nose coverage. But if it doesn't, ask your provider how much it would cost to add a tail or nose to the standard policy.
5. Carefully compare medical malpractice insurance providers.
Now that you know what to look for in medical malpractice insurance, it's time to start researching providers. Hornsby says it's a good idea to look for providers that specialize in your specific field. For example, doctors would look for an insurance provider who only does physician malpractice coverage, and dentists would look for companies that specialize in dentist malpractice coverage.
Second, you'll want to look into the insurance company's financial viability. Check the insurer's AM Best rating. Any company with a rating above an A is considered "Excellent," with A++ being the highest possible rating.
Third, consider the company's presence in your state. Choosing a company that's based in another state can be fine, but if you're sued, you'll want to work with a local attorney. Ask the insurer if it has a list of local attorneys who you would work with should you require those services.
Finally, review the insurer's track record. You can ask the insurer for the names of a few clients who were sued and covered by their insurance product. They might not provide that information due to privacy considerations; however, you can ask. If some clients have gone on public record and identified as a client of the provider, for example, they might be willing to speak with you. Alternatively, you can look for reviews online or ask any peers who currently use them or have used them in the past.
6. Consider using a medical malpractice insurance broker.
If you feel intimidated by the idea of trying to shop for medical liability insurance on your own, you can turn to a professional medical insurance broker for help. Using an insurance broker could not only reduce your shopping time but also could help you uncover coverage blind spots.
Be sure to ask the broker how long they've been in business, how many clients they represent, and which insurance companies they work with. You still want to do some of your own homework to make sure you're getting quality advice.