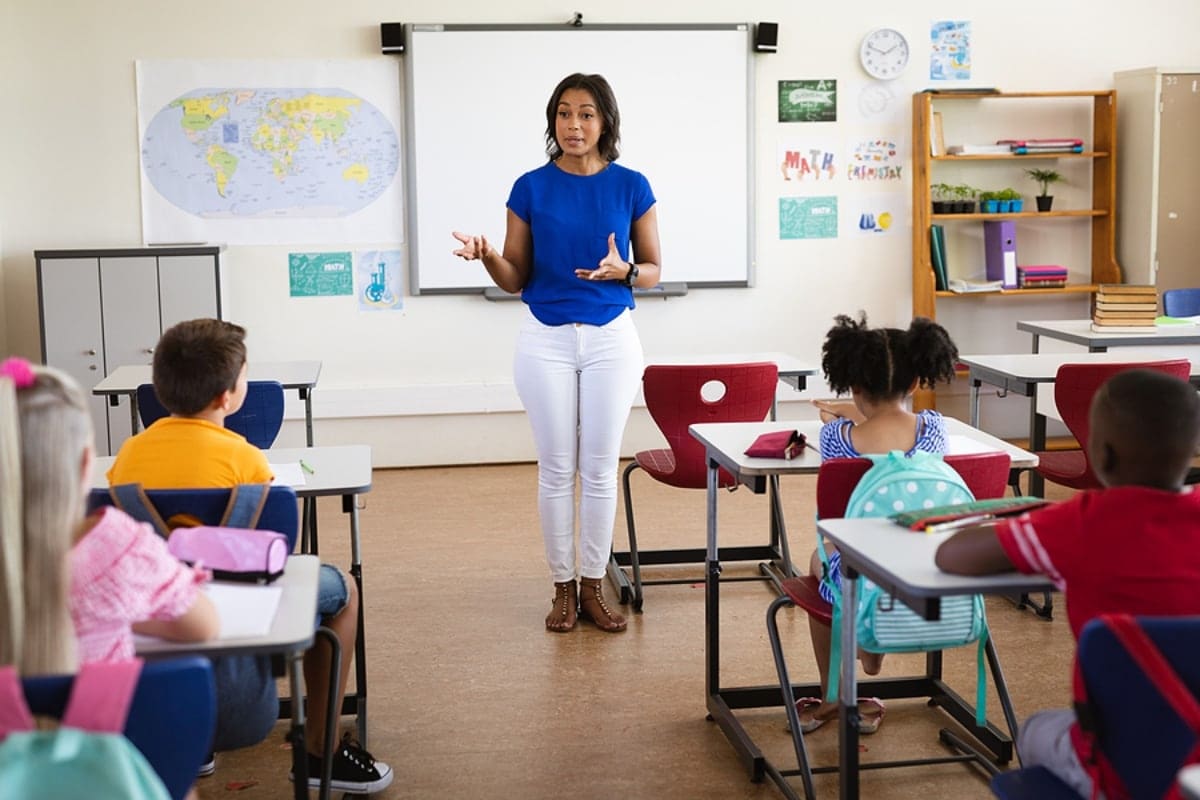 6 Min Read |
Before educating future generations of students as a teacher, you'll need to get a college degree. To pay for education costs, it's a smart idea to apply for scholarships and grants first. But it likely won't cover all your higher education costs, and you might need teaching loans.
Below is a guide on how to get student loans for teachers.
Step 1: Research costs
According to the National Education Association (NEA), nearly half of educators took out student loans to pay for college and owe an average of $58,700 in student debt. Before looking into federal financial aid and teaching loans, calculate how much you should expect to pursue this career path and the different types of expenses to account for:
Tuition costs
School supplies (e.g., books, technology, software, etc.)
Housing costs
Additional fees
Knowing your total educational costs ahead of time can help you set a target budget so you're only borrowing what you need.
Step 2: Look into grants and scholarships
To minimize student loan debt, look into grants and scholarships. For example, those who want to work in elementary education can check out the Nancy Larson Foundation College Scholarship, which offers recipients $1,000 in scholarship awards.
The California State University system encourages STEM majors to pursue teaching careers for K-12 grade levels through The Robert Noyce Teacher Scholarship Program. The undergraduate scholarship program can offer eligible teachers up to $10,000 in annual stipends for up to three years.
You can also look into TEACH Grants, which stand for Teacher Education Assistance for College and Higher Education. The award for the academic years 2022-2023 is $4,000 per year.
To qualify, students must attend a school that works with the TEACH Grant program. Participants must pursue a qualifying degree and meet specific academic requirements, such as having a minimum GPA of 3.25.
Note that recipients of a TEACH Grant must commit to a minimum of four years of service at an elementary or secondary school when they begin their careers. This service must also take place within eight years of college graduation.
Teachers must work full-time and teach in a high-need field that meets certain eligibility requirements.
The big caveat is if you don't fulfill your service obligation, the grant changes into an unsubsidized Direct Loan. In other words, you'll need to pay it back.
Getting a TEACH Grant or other potential federal grants requires you to submit a Free Application for Federal Student Aid (FAFSA). Whether you qualify for a grant might depend on your level of financial need.
Step 3: Apply for federal financial aid
Applying for federal financial aid by submitting FAFSA can help you get grants and other types of aid, such as federal student loans.
Federal student loans should be a priority if you need to take on debt to complete your education. These student loans from the U.S. Department of Education benefit borrowers thanks to various repayment programs and the possibility of student loan forgiveness.
Depending on whether you're getting a Bachelor's or Master's degree, the type of loan you receive and the loan amount will vary. Here's a breakdown of the federal student loan options:
Direct Subsidized Loans.

To qualify for this option, borrowers must be an undergraduate student and qualify based on financial need. As a bonus, the federal government pays interest that accrues during school and your grace period. There are loan limits based on your degree type, year in school, and whether you're an independent or dependent student.

Direct Unsubsidized Loans.

This type of loan is available to undergraduate students or graduate students. There are no eligibility requirements around financial need either, so many borrowers qualify. As a downside, borrowers are held responsible for all the interest that accumulates during all periods. There are loan limits based on your degree type, year in school, and whether you're an independent or dependent student.
Direct PLUS Loans. PLUS Loans are offered to either graduate or professional students or parents who take on loans on behalf of their child's education. There are no financial need requirements, but unlike other types of loans, this option has a credit check requirement. Though, there are options if your credit isn't great, such as getting an endorser for your federal loan, similar to a cosigner.
Access to federal loans can cover tuition costs and help pay for school expenses. Plus, when it's time to repay your debt, you have various options, which we'll touch on later.
Step 4: Apply for private loans, as needed
How much you pay for school depends on several factors:
Whether you attend a public or private school
Whether you pay in-state or out-of-state tuition
Your degree program (Bachelor's vs. Master's vs. Ph.D.)
Cost of living in the city/state where you attend school
You might max out your scholarships, grants and federal loans, and still be left with a financial gap. If you're unable to work or access savings, you might need to look into private loans.
Private student loans can be useful when total costs aren't covered by federal financial aid. Explore today's top private lending partners and apply for a loan amount that covers what you need.
Look for a lender that has competitive interest rates. Also, understand that fixed rates don't change over time, but variable rates do; this can impact how much you pay over the life of the loan. Also, find a repayment term that's manageable since this impacts your monthly payment amount.
Although private loans are helpful, you won't be eligible for any federal loan cancellation or loan forgiveness programs and might have limited repayment and forbearance options. However, student loan refinancing might be an option to reduce your student loan payment or interest rate, if you're eligible.
Managing student loan repayment after graduation
Getting teaching loans to pursue your degree is one thing. Student loan repayment is another beast entirely. When you graduate and enter the real world, your salary determines how easy it is (or not) to repay your student loan debt.
Federal loans have some major upsides for borrowers when it comes to repayment. For example, teachers can make repayment less overwhelming by:
Getting on an Income-Driven Repayment plan (IDR).

Whether it's Revised Pay As You Earn (REPAYE), Pay As You Earn (PAYE), Income-Contingent Repayment (ICR) or Income-Based Repayment (IBR), your payments can be set at a small chunk of your income. On IDR, loan payments are just 10% to 20% of discretionary income. The best part is that it can be forgiven if you still have a balance left over after 20 to 25 years.
Pursuing Public Service Loan Forgiveness (PSLF). One of the best options for teachers is Public Service Loan Forgiveness. It offers tax-free forgiveness on your remaining balance after making 10 years of qualifying payments on an IDR plan. During this period, you must be teaching for a qualifying employer.
Apply for the Teacher Loan Forgiveness Program. Some teachers qualify for up to $17,500 in loan cancellation after five years of service at an eligible school. To be eligible for the maximum amount, you must work in a specific field, like special education or math; otherwise, teachers receive up to a $5,000 award.

Looking into state-specific forgiveness or loan repayment assistance programs.

Some states may have programs to entice teachers to work in shortage areas. For example, there's the Illinois Teachers Loan Repayment Program and the Teachers of Tomorrow Program in New York.
Related:Teacher Loan Forgiveness vs. Public Service Loan Forgiveness for Teachers: Which is Better?
These federal and state repayment programs can help make paying off debt more manageable and less costly.
The bottom line
Although teaching isn't known to be a well-paid profession, helping the generations of tomorrow can be fulfilling in itself. To help pay for your education to become a teacher, getting teaching loans through federal financial aid or private lenders might be a solution if you've exhausted gift aid options.
Federal loans, in particular, offer teachers many benefits and forgiveness options to make sure you can focus on your passion without worrying about student debt.
Refinance student loans, get a bonus in 2023
Lender Name
Lender
Offer
Learn more

$1,000 Bonus

For 100k or more. $200 for 50k to $99,999

Fixed 5.24 - 9.59% APR

Variable 6.24 - 9.99% APR

$1,000 Bonus

For 100k or more. $300 for 50k to $99,999

Fixed 4.96 - 10.24% APPR

Variable 5.72 - 10.24% APR

$1,000 Bonus

For 100k or more. $200 for 50k to $99,999

Fixed 5.19 - 9.74% APR

Variable 5.99 - 9.74% APR