As a marriage and family therapist, you play a huge role in changing people's lives and relationships, helping people find new ways of relating and pathways of thinking that result in real, measurable progress. But for a job that requires a master's degree, the salary isn't as competitive as it might be for other professions with similar education requirements.
We dove into what licensed marriage and family therapists (LMFT) actually earn to share with you the average marriage and family therapist salary and what kind of debt you might incur if you pursue this career.
What is the average marriage and family therapist salary?
Unlike some other people-facing professions like being a physician or lawyer, being a marriage and family therapist doesn't mean making six figures. This is not a profession you go into to "get rich."
According to the Bureau of Labor Statistics (BLS), the median marriage and family therapist salary as of 2018 is $50,090. On the low end, in the 10th percentile of marriage family therapists, the salary is $31,850. In the 90th percentile, marriage and family are making $82,240.
Of course, the LMFT salary that you make can depend on where you live as well. Interestingly enough, marriage and family therapists in a high cost-of-living area like California make close to the median pay of $51,950 each year.
If you want a chance at earning a higher salary, your best bet is to work in one of the following states:
| | |
| --- | --- |
| | Average Marriage and Family Therapist Salary |
| | |
| | |
| | |
| | |
| | |
Only one state has the highest LMFT employment levels and the highest salary and that is New Jersey. The highest employment numbers for this career path are in:
| | |
| --- | --- |
| | Average Marriage and Family Therapist Salary |
| | |
| | |
| | |
| | |
| | |
Though the LMFT salary isn't exactly near the six-figure range, the job growth for this career is looking good. According to BLS data, employment for LMFTs is expected to grow 22 percent from 2018 to 2028. This is a much higher rate than other professions.
Average marriage and family therapist student debt
Being a marriage and family therapist means going to school and getting licensed. Getting your LMFT degree can be costly, so you might need to take out student loans to cover expenses. How much student loan debt you take out can vary. Of course, you want to pursue grants and scholarships first, then take out federal loans and then private loans.
Also, how much you need to borrow will depend on whether you're going to a public university or a private one. Public universities tend to be more affordable than private ones.
According to MFTCalifornia.com, tuition costs can vary widely. For example, USC is a private school, and its site projects the total program cost to be $115,752. On the other hand, a public school like San Jose State University costs $14,352.
The data on average marriage and family therapist student loan debt isn't very well established, but looking at costs of tuition is a good start.
On the Student Loan Planner® podcast, founder Travis Hornsby spoke with LMFT Alex Barnette in Austin who has her own practice and has $115,000 in student loan debt.
Where you live, the type of university you go to and the financial aid you get can all influence the amount of student loan debt you take on to become an LMFT.
Is becoming an LMFT worth the cost?
Being an LMFT can be an interesting, fulfilling career path. But you also want to be realistic about how it will affect your finances. In many cases, you're likely to take on more student loan debt than the average salary for a marriage and family therapist.
Having six figures of debt and facing a much smaller salary can make repayment tough. After being asked about what kind of salary an LMFT in private practice can make, Barnette said, "I think the first year in private practice, it's probably closer to $30,000. And then once you get a consistent caseload, I think $60,000, maybe $75,000."
If you take out $100,000 in student loans and the marriage and family therapist starting salary is $30,000, your debt load will be nearly three times your salary. A general rule is to not take out more student loans than you expect your annual salary to be. This situation fails that test.
If you want something more lucrative, you may look at other health-related professions like psychiatry, which according to BLS, has an average salary of $220,380. Of course, there may be more schooling involved as well.
One way to make becoming an LMFT worth the cost is to choose a reasonable program at an in-state public university that can offer you affordable tuition.
Guide to average marriage and family therapist salary and student loan debt
If you're pursuing an LMFT degree and concerned about student loan debt, the good news is you have various repayment options.
Student loan repayment options for LMFTs
Even if you take on six figures of debt, if you have federal student loans there are ways to make student loan repayment more manageable. A good option is to sign up for an income-driven repayment plan, which can lower your payments to a smaller portion of your discretionary income. Each option offers student loan forgiveness if there is a balance at the end of the repayment term.
There are four income-driven repayment plans to choose from but some will cost you more than others.
For example, let's say you take out $80,000 in student loan debt at an average interest rate of 7% and your adjusted gross income (AGI) is $50,000. Your payments under REPAYE, PAYE and the new IBR will start at $265 per month, but what you'll pay total will vary. For REPAYE for professional study, your repayment term is 25 years, whereas with PAYE and IBR it's 20 years.
Even though you'll be paying for five more years, you'll save about $2,000 by signing up for REPAYE. Also, as you can see from the chart below, going on REPAYE compared to the Standard Repayment Plan saves you $50,000 or more in payments.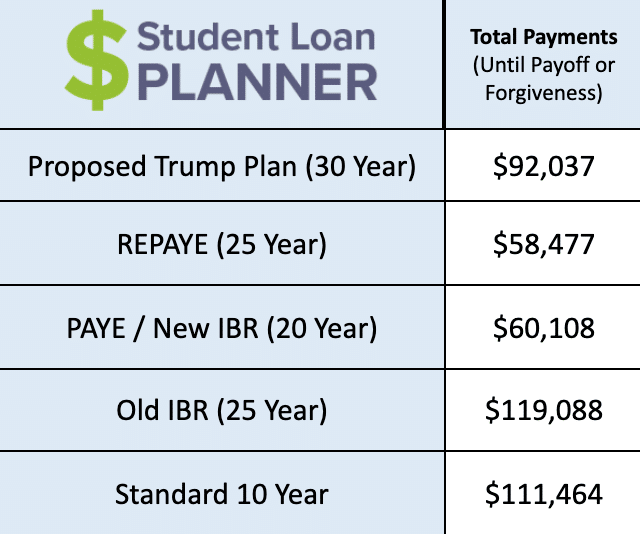 There's also the Public Service Loan Forgiveness (PSLF) program if you end up working for a government or nonprofit agency. Under this program, you serve for 10 years and make 120 monthly payments and then get your loans forgiven.
You don't have to pay taxes on debt forgiven under PSLF, but you do if you get loans forgiven under an income-driven repayment plan.
You also may be able to get repayment assistance and forgiveness through the National Health Service Corps as a marriage and family therapist as well.
Evaluate your options
If you want to make a difference in people's lives and become an LMFT, going to school is key. Be clear on the average marriage and family therapist salary and what kind of debt you'll be taking on for this career path. Whatever you choose, know that you have options.
If you need help deciding whether becoming an LMFT is worth it, get in touch with us for a pre-debt consult. If you're already an LMFT and need guidance creating a plan to pay off your debt, we can help.