Many different colleges and universities have asked me to do lunch and learns to present valuable information about student loan debt. Usually, I let them know that I won't be traveling without reimbursement, but I am happy to do a remote presentation via Skype for free.
Lunch and learn information sessions are when a speaker comes in to give a talk about something relevant to the degree program's students. The speaker will sometimes have a product or service to sell. Occasionally, you'll see employers come to give a talk about what they're looking for in new graduates.
I had a unique situation recently where a program within an hour's driving distance asked me to do a talk in person about student debt plaguing their profession. Since the school was relatively close by, I said yes.
Then I got told this:
"It's customary for speakers to cover the cost of lunch for the attendees."
It probably would've been smart for me to say yes, but I canceled the lunch and learn after hearing this.
I was already giving my time for free, and I fully expected to give away a lot of free help during the presentation and the following Q&A.
This was not the student's fault that he asked me to sponsor the presentation. In my view, this experience shows a huge need for reform at dental, med, veterinary, and chiropractic schools.

Do Professional Schools Make Enough Profit to Pay for Lunch?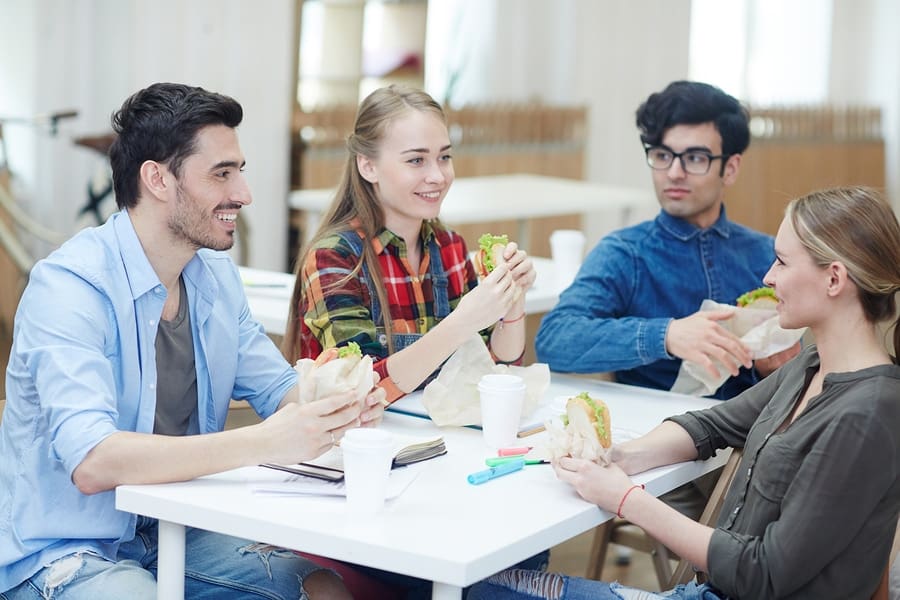 My first question is if a school charges over $50,000 per year to attend (or almost $100,000 per year if you're NYU Dental School), why should they not dedicate some of those funds for speakers during lunch and learns?
You're already getting charged $400 for a dental toolbox that's $30 at Bass Pro Shops (an example I'm butchering given by a client of mine, but you get the idea).
Why shouldn't the school reinvest some of their profits in getting quality professionals in front of their students to enhance their learning? After all, isn't the goal to have graduates be as successful as possible?
Paying less than $1,000 for lunch for a group of professionals is a relatively small expenditure in my business. I could've done it, but I feel like the schools should do one of two things first:
1. Charge a reasonable amount for tuition with the expectation that everything needs to be sponsored or covered by outside groups.
2. Take a portion of the high cost they're charging and pay for programming.
Who Will Come to Lunch and Learns if Colleges Require Sponsorship?
A captive group of professionals with a guaranteed, stable income upon graduation presents an attractive opportunity, especially for high margin products or services.
Raise your hand if you've ever had folks like this come to present at your school:
Insurance agents selling disability and life insurance
Financial advisors selling their services
Corporate groups looking to hire young talent cheaply
Colleges could absolutely charge a fee to present to their students, and many businesses would gladly pay it.
What would the result of such a fee be though? You would have a stream of the above groups coming in and selling products and services for tens of thousands of dollars.
You might criticize me by saying that conferences require you to pay thousands or even tens of thousands of dollars as a business for access to attendees. While you're correct, professionals at conferences don't pay two or three mortgages to attend either.
With a minimum expected contribution to participate in a lunch and learn series, the lower cost, higher value versions of the above professionals would likely choose not to show up since they don't have the margin to justify the payments. That's especially true if you add the cost of their time.
New docs need insurance, financial advice, and employment. I'm not picking on the three examples I used above. That said, there are insurance agents that treat their job as a profession and others who treat it as a way to make big commissions.
You want to be very careful about how you choose which professionals speak in front of your students.
Many Students Wish Degree Programs Handled Lunch and Learns Better
I've spoken with well over 1,000 professionals in the past year. Here's just one example of the frustrations I've heard:
Yeah the dental school is so stingy with money. We would have companies come in and give big lunches and stuff. When the school actually had the event, the food would be like some fruit and some donuts for breakfast or the cheapest, greasiest pizza for lunch.
-Anonymous fourth year dental student
Some universities have ethics policies in place where they can't have speakers pay directly for presenting to students. Hence, the school forces a workaround by not funding student organizations:
Speakers could not pay outright to talk to students because of university ethics rules. We could have our student organization pay for lunch and then the speaker would make a 'donation' to the club to cover the cost of lunch.
-Anonymous professional student
I was President of the student club for my degree program in undergrad. It's not the same thing of course, but we could ask for sponsorship for lunch and learns and other speaker programs during the year. That budget would include money for food.
Other more enterprising clubs sought sponsorships. They would place logos on their club shirts and have more money to work with to attract quality speakers and pay for food to make sure students showed up.
When I was at University of Florida, I paid less than $5,000 per year for tuition and fees (in-state tuition was a steal). Out of state tuition would've been around $20,000 per year. Hence, a student paying triple that amount or more should at least have the same resources for their organizations as we did as a bunch of poor undergrads.
The Coming Shakeout in Professional Degree Programs
There are plenty of good, ethical college Deans out there doing their best to limit the explosion in the cost of higher education. They care about ethics and preventing conflicts of interest in what professionals they expose their students to.
The leaders of colleges like this will come out of the coming scandal around the cost of grad school smelling like a rose.
From what I've seen consulting for professionals with large student loan balances in the past two years, there is an alarming level of ethical lapses going on in higher education.
I'd suggest cleaning up the little things, like not requiring sponsorships to speak to students at Lunch and Learn presentations at a minimum. Schools that want the best for students should dedicate funding to student organizations so they don't have to beg for funds from businesses and speakers in order to pay for the lunch part of the lunch and learn.
Do you agree or disagree with my thoughts on lunch and learns? Care to share your experience when you were in school about getting funds to cover speaker presentations? Share in the comments.