The baby boomer generation is moving into retirement age and more Americans are gaining access to health insurance. This combination has created an immediate need for more trained healthcare providers. Nurse practitioners are stepping in to answer the call.
The nurse practitioner job outlook is positive and stable. But you still need to examine the cost of earning an advanced nursing degree before jumping in.
Nurse practitioner job outlook
The nurse practitioner job outlook is very strong.
According to the Bureau of Labor and Statistics (BLS), nurse practitioners will be in high demand over the next decade. Here are some of their projections:
Growth rate through 2028:

26% (much faster than average)

Number of jobs in 2018:

240,700

Number of new jobs expected by 2028:

62,000
*These projections include nurse practitioners, nurse anesthetists and midwives.
The U.S. Census Bureau estimates that one in every five Americans will be older than 65 by the year 2030. With older age comes more health problems. This increases the need for greater access to medical services, including preventative care.
Best employment opportunities for nurse practitioners
Nurse practitioners can work in a variety of medical settings and specializations.
The American Association of Nurse Practitioners found that more than 87% of nurse practitioners were trained in primary care programs. In contrast, only 8% of physicians chose to pursue a primary care residency. This has led nurse practitioners to fill the need for providing primary care.
Rural areas and inner cities provide ample job opportunities for nurse practitioners. These underserved areas may also qualify for loan forgiveness or tuition assistance.
Is being a nurse practitioner worth the student loan debt?
BLS statistics show the average annual nurse practitioner salary was $113,930 in 2018. And the top 10% made over $180,000. But this high earning potential comes at a cost.
Nurse practitioners must complete a master's or doctoral degree. Many employers are seeking nurse practitioners with their Doctor of Nursing Practice (DNP). This can double the amount of time and cost associated with becoming a nurse practitioner.
Estimated cost for advanced nursing degree
Let's say you've chosen to attend the University of Texas at Arlington (UTA), one of the top public colleges for nursing. Tuition and fees for a master's as a family nurse practitioner costs $30,084. And if you decide to best position yourself by earning your DNP, you'll pay an extra $19,800 in tuition.
This may not seem like a huge investment at first glance. But keep in mind these numbers don't include the cost of your bachelor's or other nursing prerequisites needed to qualify. Nor do they include indirect costs, like living expenses or books and supplies.
Nurse practitioners can easily hit six-figure debt by the time they graduate with their DNP. If you don't have significant savings or scholarships, you may have to turn to student loans.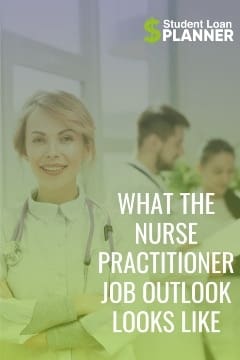 So is it worth the high costs?
In short, yes — if you're able to keep your total student loan debt in check. We work with many nurse practitioners who have over $100,000 in student loans. But the majority of them also make a six-figure salary.
Due to high salaries and consistent nursing job growth across the country, nurse practitioners are among the limited professions that can financially justify taking on student loan debt.
But keep in mind that this profession also comes at a high human cost. Nurse practitioners often work long, stressful hours that can take a toll. The emotional strain that comes with being a nurse practitioner will likely always be part of the job.
Related: Nurse Practitioner Salary: Is the Degree Worth the Cost?
Loan assistance and forgiveness for nurse practitioners
There are many federal and state student loan programs available to nurses. Here are six ways these programs can help to reduce your student loan debt:
1. NURSE Corp Loan Repayment Program (NCLRP)
The NCLRP will pay up to 85% of your qualified nursing education debt. You need to work at least two years at a critical shortage facility. The program disburses 60% of your outstanding total during your two-year agreement. You'll then need to apply for the extra 25% after you complete your assignment.
2. National Health Service Corps loan repayment program
The National Health Service Corps offers a competitive salary and loan repayment. They will pay up to $25,000 for each year of a two-year contract with an option to extend at completion.
3. Public Service Loan Forgiveness (PSLF)
If you work in the public sector, you may qualify to have your federal direct loans forgiven. You must have worked full-time for a government or nonprofit employer and made a total of 120 qualifying payments.
4. Income-driven repayment (IDR) plans
If you owe more than two times your income, then you may be better served by choosing an IDR plan. IDR plans keep your monthly payment as low as possible during your repayment period (20-25 years). Then, any remaining amount at the end of repayment will be forgiven.
But that's not the end of the story. The portion of your loan that is forgiven may need to be reported as taxable income. This means you could get hit with a huge tax bomb that you weren't otherwise prepared for.
5. Perkins loan cancellation
Nursing professionals may qualify to have their Perkins loans discharged. This may extend to Perkins loans taken out earlier in your nursing career, too.
6. State-based loan forgiveness programs
Many areas of the country offer state-specific student loan assistance for healthcare professionals. Each state has its own qualifications and forgiveness amount. You can check out a state specific list in our article on student loan forgiveness for nurses.
Expert help with a tailored student loan plan
The nuances of student loan forgiveness programs can be complicated and downright confusing.
That's why it's important to reach out for help. You don't have to figure out the complex tax system and loan industry that's stacked against you.
Get started on the right financial foot
If you're just starting your nursing journey, we can create a custom student loan plan to help prevent you from falling victim to the loan industry.
During your one-hour Predebt Consult, we'll discuss your financial future in detail. We'll also give you a before and after graduation road map, so you can take charge of your student loans.

Competitive
interest rates
Check eligibility
in 2 minutes

Large autopay
discounts

Flexible repayment options
1Sallie Mae disclosures. Lowest APRs shown for Sallie Mae Loans: The borrower or cosigner must enroll in auto debit through Sallie Mae to receive a 0.25 percentage point interest rate reduction benefit. This benefit applies only during active repayment for as long as the Current Amount Due or Designated Amount is successfully withdrawn from the authorized bank account each month. It may be suspended during forbearance or deferment, if available for the loan.
2Earnest: All rates listed above represent APR range. Rate range above includes optional 0.25% Auto Pay discount. Earnest disclosures.