NYU med school recently announced they would be tuition free. The press reaction was universally glowing. The Atlantic wondered if this could make more doctors go into primary care. NPR suggested it would increase diversity in medicine. The NY Times highlighted how very few institutions have anything close to the generous package NYU now offers.
Reporters seem to view this as a major milestone in the history of higher education that might force a bunch of other med schools to follow. What if poor students in many cases will pay the exact same amount for their med school education (because of the mechanics of the PSLF program), and the primary benefit will be to the med school from attracting the most competitive class in the nation?
The Wall Street Journal at least offered some measured response, noting that med students would still need to fork over about $29,000 a year for room, board, and other fees and living expenses.
The quote from the Dean of the Med School is really what triggered me though.
This decision recognizes a moral imperative that must be addressed, as institutions place an increasing debt burden on young people who aspire to become physicians."

– Robert Grossman, NYU Med School Dean
NYU receiving praise for what they're doing with educational affordability is like Purdue Pharma (maker of Oxycontin) receiving praise for limiting deaths from the opioid crisis.
I've personally seen the financial damage that attending NYU has created for many graduates outside the med school. How much credit does NYU deserve for this gift from donors?
NYU Med School Offers Free Tuition to a Small Group of People
The med school currently has about 93 first year students and 400 something overall, according to the NY Times. The tuition would have been about $55,000 per year, which will now be $0. That's certainly amazing if you're currently going to NYU.
However, contrast that to the NYU law school, which has 427 entering students in their first year as of the most recent report. The tuition is listed at $63,802 per year for those pursuing their JD.
The NYU dental school enrolls around 375 students per year at an annual tuition of $78,854. Including fees, the cost of attendance for the dental program is over $100,000 annually.
For undergraduates, NYU costs about $50,464 per year.
Let me be clear, tuition free med school is much better than the alternative. Kenneth Langone, founder of Home Depot, seems to be the driving force that made this possible with his $100 million donation. He deserves praise for both his action and his intentions, as do all the donors that made this possible.
However, that generosity is from donors, not the school. In fact, Langone and other donors probably stipulated that the gift had to go to the specific purpose of tuition free med school.
NYU Crushes Many Graduates with Student Debt
I'm glad that the NYU's Med School Dean feels a moral imperative to ease the debt burden facing physicians. Unfortunately, a first generation student would still need to borrow for four years of living expenses as the promised funds only cover tuition. Since the one year cost of living is about $29,000 (New York City is expensive), a student could leave NYU still owing $130,000 to $150,000.
The media could have focused on the fact that while the NYU physician might leave with a comparatively modest amount of student loans, their dental school peer might graduate with $550,000. That is the average debt figure of the NYU dental clients I've worked with in my student loan consulting practice.
Of the three clients I've worked with who've owed around $1 million in student debt, two did their graduate work at NYU.
NYU lawyers can frequently leave with over $300,000 of student debt. If you're not lucky enough to land a Big Law job, the taxpayer will be the one subsidizing NYU's incredibly high sticker price for a JD.
Why Focus on NYU Med School with Donors?
In business, the concept of a loss leader is well known. You offer something at or below cost to entice people to walk in the doors so you can sell them something more expensive. I'm not suggesting that someone trying for NYU med school who gets denied would then wander over to the dental school and fork over $500,000, but NYU is fighting to maintain a stellar reputation in an era when they could just as easily be under investigation for admissions practices.
Being the first major med school to offer free tuition is a stunning headline grabbing achievement. It will allow NYU to compete for top students against Harvard and Yale, which will increase the prestige factor.
Offering free tuition for the med school gives their administrators a wonderful talking point to use whenever they're pushed by lawmakers, media, or prospective students on the cost of their other programs.
Wealthy donors like attaching their names to med schools and hospitals (Icahn School of Medicine at Mount Sinai, Perelman Med School at UPenn, Zuckerberg General Hospital in San Francisco).
NYU has raised $450 million of the $600 million needed to fully fund the free tuition at the med school. However, I suspect if they asked for money from their recent dental school grads, the silence would be deafening. Likewise, I doubt their law school grads feel much desire to open their pocketbooks to donate.
How the PSLF Could Render this Gift Useless for Many NYU Med School Grads
Another curiosity I had when NYU made their announcement was why they would target the med school, have no means testing or merit based requirements, and do all this in the face of the existence of the Public Service Loan Forgiveness program (PSLF).
Many professional programs offer loan repayment that covers the cost of Pay As You Earn or Revised Pay As You Earn for 10 years while grads work in public service. This is a smarter use of donor resources, as the cost of covering the income driven payments could be 10% to 20% of the cost of covering tuition for four years.
In fact, from a financial perspective if the school cared about all professional students equally, they should have funded a loan repayment program for all new grads pursuing public service for 10 years.
Imagine an OBGYN with $150,000 of student debt. She borrowed to cover the staggering costs of living in New York City. She also benefited from NYU's free med school tuition. Assume she works in a not for profit hospital as an attending, and she does a four year residency at a major non profit health system. Here's what the cost of repayment looks like. PSLF with the Pay As You Earn program is a big winner compared to refinancing (and that's with an unrealistically good 4% at a 10 year term as my assumption).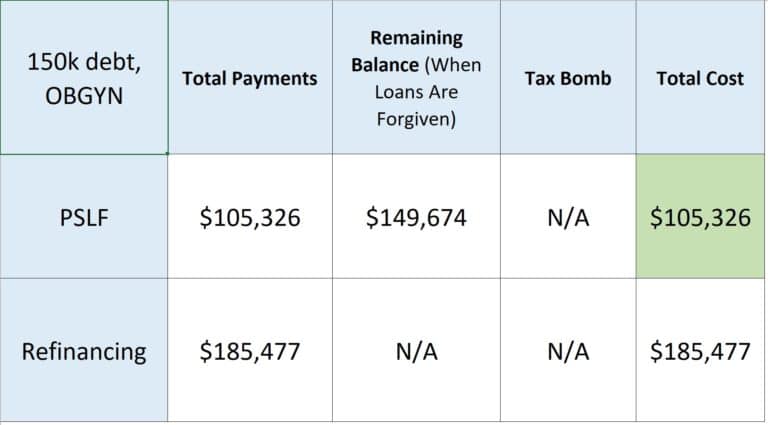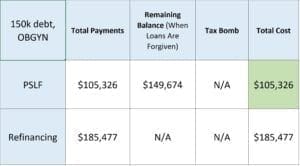 Without delving too much into the math, with PSLF the only cost is what you pay over the 10 years, since the balance gets forgiven tax-free.
Pretend that same OBGYN went to NYU without free tuition a couple years earlier and graduated owing $350,000. She still works for a not for profit university hospital. The cost of repayment if she uses the PSLF program WOULD BE EXACTLY THE SAME as if she owed $200,000 less.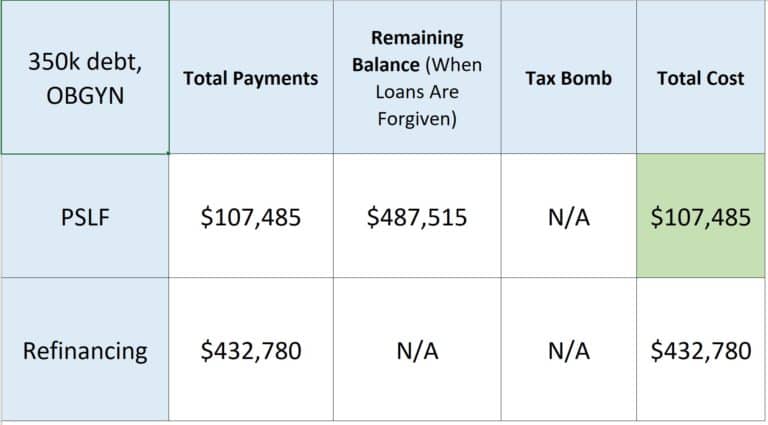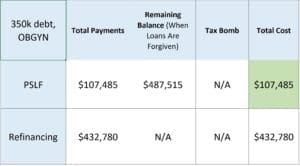 The majority of graduating physicians will work in jobs that qualify for PSLF thanks to the consolidation of health care jobs at huge health systems.
Most future NYU physicians from poor backgrounds will still need to borrow to pay for living expenses under this free tuition plan. Most physicians work for not for profit health care systems as employees.
Hence, the main beneficiaries of this gift from Mr. Langone will be private practice physicians from wealthier backgrounds going into high paying specialties.
Be honest, how many of your peers that you went to med school with would go into primary care with a near perfect MCAT score? The ultra qualified applicant is exactly the person who this gift will attract, pushing up NYU in the med school rankings.
The media focused so much on how this could be a game changer for physicians going into primary care because they would no longer have debt.
If that's the case, why shouldn't NYU offer their own version of loan forgiveness for students who choose the primary care path that covers living expenses too?
These media outlets have zero understanding of how the math of the PSLF program works, and it's extremely clear that NYU's administration and donors also do not understand the program.
If the goal is to increase diversity and primary care physicians, NYU could offer private student loans at a low interest rate that would be forgiven after meeting certain terms.
Why NYU Deserves Tougher Scrutiny from the Media
I've had countless readers reach out and claim that they were misled when they applied to various professional programs at NYU.
One example I've heard repeatedly from readers is that NYU told them that the average pay back period for NYU dental school loans is seven years. Of course, this defies all logic if your average NYU dentist has over $500,000 of debt but starts at a $130,000 salary.
Others recount administrators saying there's never been a better time to be in [law, medicine, dentistry, fill in the blank]. Perhaps there's never been a better time to be churning out hundreds of new grads per year and charging them two to three times the typical American mortgage.
NYU has simply responded to incentives that encourage universities to charge massive sums for professional degree programs thanks to the Grad Plus program. There are no limits on the amount of money a borrower can get from the federal government. Hence, NYU dental school costs half a million dollars.
I've used the dental and law schools as my main examples of the game of smoke and mirrors I believe that NYU is playing as an institution. However, if you look across all graduate programs at NYU, most are in the top quartile of cost. Being located in New York City hurts too, as the high cost of living drives up borrowing even more.
It's probably good for America that NYU has campuses in Shanghai and Abu Dhabi. I also believe that NYU uses the incredibly high cost of their professional schools as a source of profit for the university as a whole to finance their huge ambitions.
NYU No Longer Charges Tuition for Med School, but it's One of the Primary Culprits of the Student Loan Crisis
I have nothing but admiration for the 2,500 donors, trustees, and friends of NYU med school that gave their money for the very best of intentions: to help future physicians face a less daunting financial burden.
The problem is that their money would be far better spent if they had targeted it based on existing student loan rules, such as accounting for the existence of the PSLF program.
Because they didn't, in many cases their donation will make no impact on the actual cost of education at NYU med school.
They might have created scholarships for graduates entering primary care residencies or students from underrepresented backgrounds.
Instead, I believe they designed the free med school program to compete for the US News rankings. I further believe that most of their med students who must borrow to cover living expenses will see little benefit because of the PSLF program that already exists.
NYU has a fantastic reputation and provides a quality education. My problem with the university is that the administrators have created a system that puts massive amounts of debt on every category of professional walking out the door with an NYU diploma unless that grad happened to come from a wealthy background.
The burden will be lighter if you happen to have an NYU MD. For many of the thousands of other professional students attending NYU, they will be paying back their loans for decades and relying on the generosity of federal loan programs to enable them to meet basic financial goals like home ownership and retiring one day.
If you already have a bunch of debt from NYU, I'd love to make a plan for you showing how to manage that debt and keep it from ruling your life.
I'd love to hear your thoughts in the comment section on this announcement by NYU too, especially if you are a current or former student of any of their professional schools.