Public Service Loan Forgiveness (PSLF) has been infamous for its rejection rate. In almost every SLP consultation where a client is PSLF-eligible, I hear: "I've read 99% of people who apply for PSLF get rejected… What do you think about that?"
The media has taken this same pre-March 2019 statistic and created an echo chamber for the past four years scaring people away from PSLF. This statistic is misleading and we think it's important to highlight that these incomplete headlines could be costing you massive amounts of time and money.
The most recent PSLF data report from the Department of Education is extremely positive. It shows that PSLF approvals have doubled, and more people than ever are on track for getting their loans forgiven in the future.
Before we can get into the most recent PSLF data report, let's talk about how approval statistics were derived pre-2021.
Note: There have been recent changes to prior PSLF payment eligibility which could positively impact millions of borrowers thanks to the Biden administration's PSLF order. You need to submit your PSLF ECF form by October 31, 2022 to qualify for this time-limited PSLF Waiver if applicable. Unfortunately, you need to be proactive in submitting a new ECF document as it's a requirement to gain additional relief from this executive action.
PSLF paperwork
The PSLF data report provides information and approval statistics about federal student loan borrowers who are pursuing PSLF. This data is gathered by two separate documents:
Employment Certification Form (ECF).

Federal Student Aid introduced the ECF in 2012. You could use this form to confirm that your employment was eligible for the PSLF Program

and

find out how many qualifying payments you've made toward the 120 payment threshold.

Public Service Loan Forgiveness application

.

Then, came the PSLF

application around 2017. This form was created for borrowers who believed they had made 120 qualifying monthly payments and were officially applying for loan forgiveness on their remaining balance. Federal Student Aid began accepting and reviewing applications from borrowers seeking loan forgiveness under the PSLF Program in the fall of 2017.
In November 2020, Federal Student Aid released the new combined Public Service Loan Forgiveness Employment Certification and Applications ("PSLF form"). Upon submission of the combined PSLF form, a borrower's account receives a comprehensive review to determine eligibility for PSLF and TEPSLF.
If the borrower hasn't met all of the requirements for forgiveness, the form serves as employment certification for the time periods submitted and the borrower receives a count of their qualifying payments. If a borrower meets all requirements and reaches 120 qualifying PSLF or TEPSLF payments, they're granted forgiveness.
→ Take action: To sign up for PSLF or update your payment count, complete the online PSLF Help Tool here and take this auto-filled Employer Certification Form (ECF) to your current employer for their signature. Then upload the complete ECF to Fedloan's Portal/Mail to Fedloan. Here's tips on how to complete this accurately: Become a PSLF Help Tool Ninja
Recertify income & submit a new ECF every year on time and also check that your credits are being counted appropriately.
Remember: To be eligible for PSLF you need to: 1. Have Direct Loans. 2. Be on an Income-Driven Plan. 3. Work full-time for a qualified employer 4. Make 120 qualifying payments.
Combining these applications made the process more straightforward. The updates to this paperwork brought changes to how Federal Student Aid (FSA) reported PSLF data to the public, too. In April 2021, the PSLF report was redesigned to support the new combined form that was implemented in November 2020.
The older PSLF data reports
The earliest PSLF data report available for viewing was for pre-March 2019 on StudentAid.gov, and the recorded information was pretty bare-bones:

It seems that only the original PSLF application, was the source for this PSLF data report specifically since it didn't mention data from the ECF.
Of note with this original data set: Only 610 of 58,293 applications processed had been approved by their loan servicer for forgiveness. That's a 1.05% approval rate. These stats were the origin of that "99% of PSLF applicants denied" headline in the media.
This report didn't break down the reasons behind PSLF denials except if it was due to missing information.
Continuing into 2019, a new PSLF data report came out every three months with updated statistics, and in 2020, new reports were published monthly until November 2020. These were more thorough than the first report, thankfully, which included data from both the PSLF application form and the ECF. Here's an example from the November 2020 report: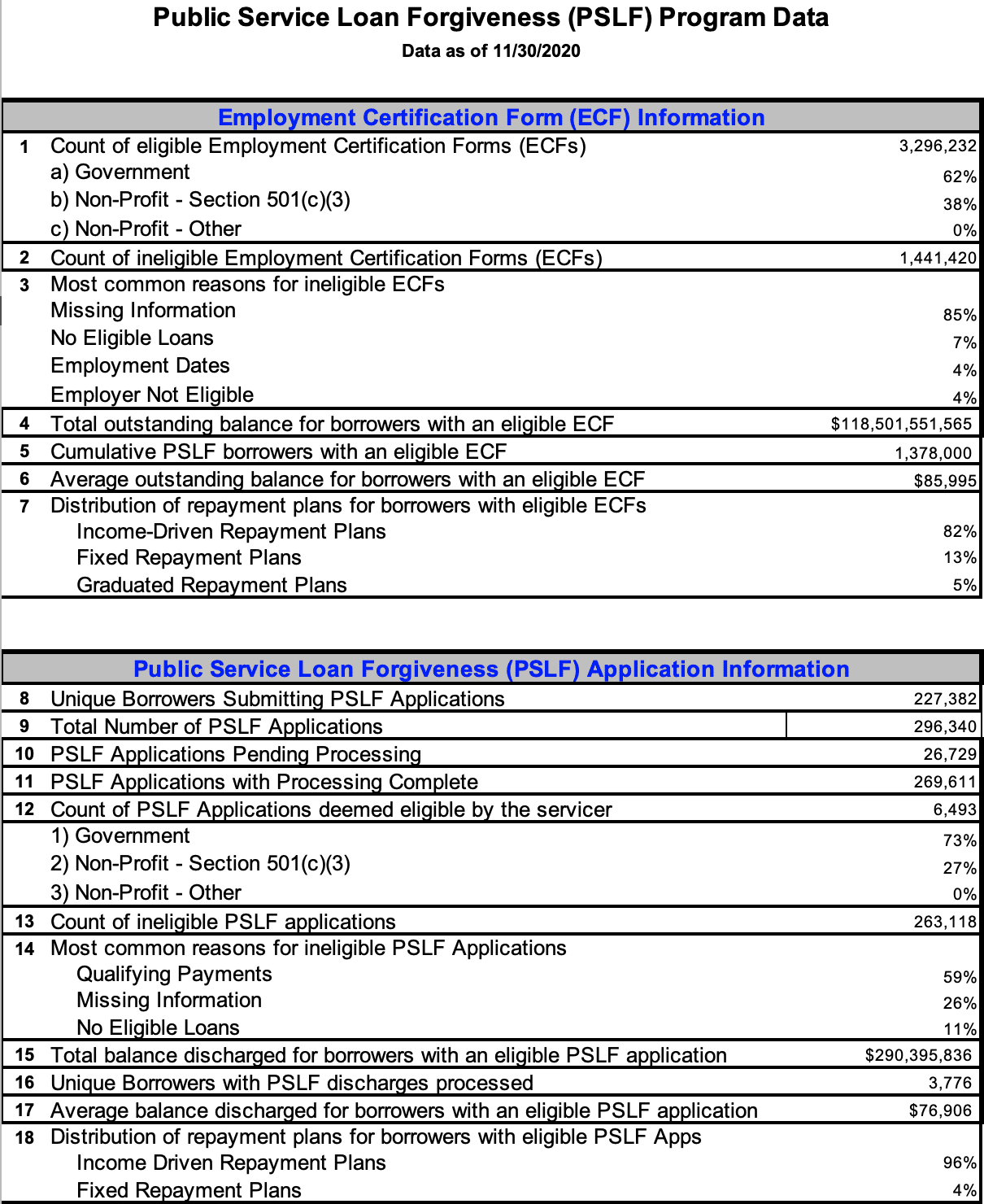 There are separate data sets for the ECF and the actual PSLF application.
Top 2 reasons for PSLF application rejections
As more data was released, it became clear that PSLF application rejection rates weren't so much an eligibility problem, rather an issue with paperwork and process that made it look worse than it actually was.
Missing information
Of the 58,293 PSLF applications being processed from the pre-March 2019 PSLF data report, more than a quarter of those applications were denied due to "missing information". PSLF applications that were submitted were incomplete or didn't have all of the required information necessary to process the application.
As newer reports were released, "missing information" continued to be the reason why 23% to 26% of PSLF applications were rejected through November 2020. It's also worth mentioning that "missing information" was often more than 75% of the reason why ECFs were denied!
From our clientele, we learned that FedLoan (the servicer that's currently managing the PSLF program) was rejecting PSLF applications or ECFs for some pretty frivolous reasons. For example, if an applicant's employment start and end date weren't exactly in the right format, like "04/05/2017" versus "4/5/17". This would require borrowers to re-submit a new PSLF application.
Qualifying payments
"Qualifying payments" (or lack thereof) was the PSLF application rejection reason for 53% to 59% of the rejected PSLF applications through November 2020. This means that a borrower submitted a completed application, it was reviewed, and the results show that the borrower hadn't made 120 qualifying payments.
Why have so many people applied, prematurely?
One reason could be confusion about the paperwork — it's possible that many borrowers unintentionally applied for PSLF forgiveness when they were trying to update their payment count with the ECF. The way the PSLF application process was previously set up, those who haven't hit 120 payments yet would simply be categorized as a failed PSLF attempt, possibly inflating the PSLF rejection rate.
Improvements to PSLF paperwork & process
These flaws and inefficiencies drove FSA to merge the two original paperwork forms as they did in November 2020. Now, it no longer matters whether you want to apply for forgiveness right now or just see your progress toward that goal.
You simply fill out this new, combined PSLF form, and you'll automatically receive PSLF if you're eligible for it. If not, you'll find out where you are in the process with an updated payment count. FSA knew it had to streamline the user experience with a simpler application to avoid confusion.
To help with "missing information" issues, FSA also gave the PSLF Help Tool a facelift in 2020-2021. The tool, which has been around since December 2018, helps those seeking PSLF learn more about the program, whether their employer qualifies, and what they might need to do with their loans to set themselves up for success.
The output of the PSLF Help Tool is an auto-filled PDF of the new combined PSLF form to include your basic information, your employer details, start date, etc. You must sign this form yourself and take it to your employer for their signature. Then, send it to FedLoan Servicing for processing.
This tool cut down on missing pertinent information or data entry mistakes on these forms. Multiple representatives at FedLoan confirmed that the PSLF Help Tool is the best way to complete the new PSLF form, accelerating your processing time and avoiding simple mistakes that might lead to rejection due to missing information.
New PSLF data report
In April 2021, the PSLF data report was redesigned to support the new combined PSLF form. Borrowers now certify their employment, request an updated qualifying payment count, and apply for forgiveness under the PSLF programs through a single, combined form. Reports prior to April 2021 are based on whether the borrower submitted an ECF or a forgiveness application.
The new reporting model paints a clearer picture that not everyone submitting a PSLF form is eligible for (or expecting to be eligible for) forgiveness at that time, specifically. It also pulls out applications that have been rejected due to "missing information" from the beginning, to avoid skewing PSLF eligibility data.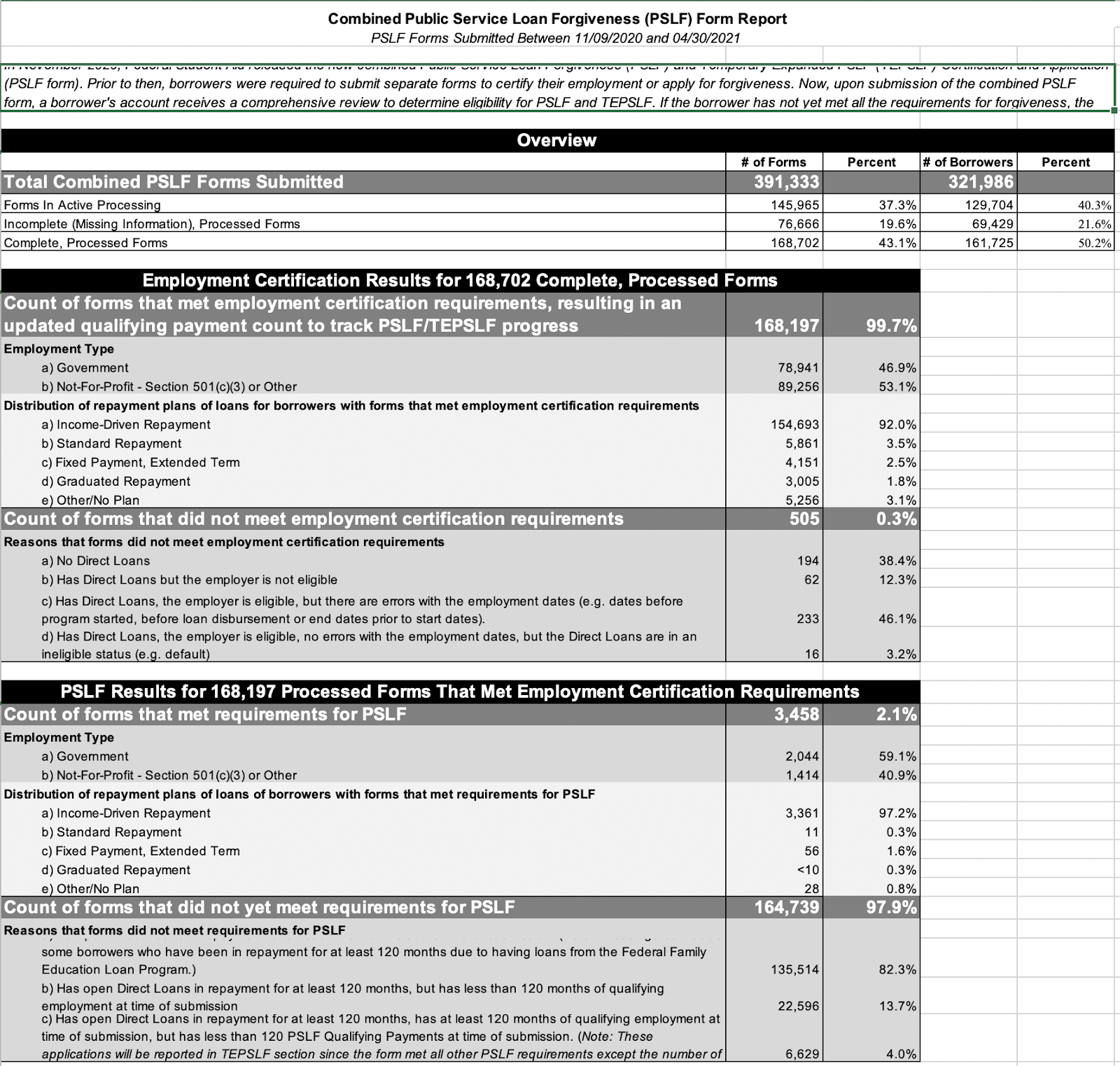 April 2021 is the most recent PSLF data report available as of July 31, 2021, but studentaid.gov claims that this report should be generated monthly.
This report's time frame reflects results from November 9, 2020, to April 30, 2021, showing that of the 168,702 processed Employment Certification Forms, 3,458 met the requirements for forgiveness. That's a 2.1% approval rate for forgiveness from processed ECFs.
You might be thinking, "But how's that much better than the 1% approval rate?"
Again, this new report does a better job of reflecting borrowers' successful progress toward PSLF rather than categorizing those who haven't hit 120 payments yet as a failed PSLF attempt. It also provides greater insight into why many borrowers aren't meeting forgiveness requirements. For most borrowers, it's simply a matter of timing: 97.9% of forms submitted didn't meet the PSLF qualifying payment requirement. This means that they're on track for PSLF, but haven't hit 120 payments yet.
Of the 168,702 processed ECFs, 99.7% resulted in an updated qualifying payment count to track PSLF or TEPSLF progress. This is huge! 168,702 processed ECF's are on track for PSLF!
This leaves only 0.3% of applicants who aren't on track for PSLF due to either not having Direct Loans, an ineligible employer, employment date issues, or loans in default or ineligible status.
Don't let the headlines scare you away from PSLF
If you answer yes to ALL of the questions below, you're on track to get your loans forgiven through PSLF.
Do you work for a qualifying employer?
– If you're not sure, use the PSLF Help Tool and submit it to FedLoan Servicing.


Mail:

U.S. Department of Education, FedLoan Servicing, P.O. Box 69184, Harrisburg, PA 17106-9184


Fax:

717-720-1628;


Online:

Use MyFedLoan.org/FileUpload, if FedLoan Servicing is already your servicer.
Do you work full-time?
– Full-time is at least 30 hours a week on average with one or more qualifying employers. If you have one employer, you must work their definition of full-time hours.
Do you have Federal Direct Loans?
– You can confirm with your servicer or by using the PSLF Help Tool.
Maintaining your PSLF progress
To maintain your path toward PSLF each year, here are a few tips:
Make on-time, full payments each month.

Set up automatic payments to make sure you're always on track.

Recertify income each year on time.

This process is called recertification.
Submit a new Employment Certification Form once a year. This keeps a pulse on your qualifying payments.

Work full-time at a qualifying employer.

Submit a new ECF if you switch jobs to have your new employer on file. Also, submit a final ECF for your old employer to capture all payments made up until the last day of your prior employment.
If you need additional guidance with your specific student loan situation, schedule a consultation with us. Our team has helped thousands of people handle their student loan debt and pursue PSLF successfully.