Refinancing student loans can do more for your financial situation than just lowering your interest rate. It can also decrease your payments and increase your cash flow.
Saving money on interest and lowering your payments can be a good long-term repayment strategy for your student debt. It's really important to take a look at interest rates today and to make sure you're a good candidate to refinance. Student loan refinancing rates are near all-time lows but it's uncertain how long they'll stay there.
Let's take a look at how refinancing can increase your cash flow and possibly save you money on interest.
How does a student loan refinance increase your cash flow?
There are two ways that refinancing student loans can increase your cash flow.
1. Lower interest rates means lower student loan payments
Apples to apples, getting a lower interest rate by refinancing can save you money. You can be debt-free in the same amount of time, but pay less money out of pocket by lowering your interest rate.
It's easiest to see the savings when you take a look at the difference in payments. The example below is the payment differences and total costs to repay $100,000 over 10 years at interest rates of 7%, 5% and 3%.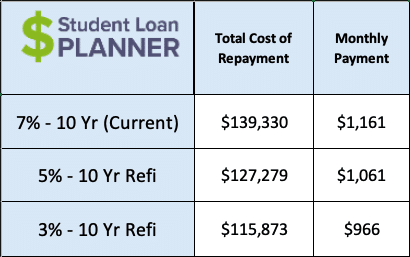 A 2% drop in rates lowers the total cost of student loan repayment by $12,000 or around $100 per month.
That drop in payment is entirely saving on your interest expense. That interest savings means it stays in your pocket rather than going to the bank.
Some people will get a lower interest rate but keep their payment the same to get out of debt faster. For example, if you're used to paying $1,161 per month with a 7% interest rate then refinance to a 3% interest rate but keep your payments the same, you'd pay off your student loans in eight years instead of 10.
That's because that extra money is going toward paying down the principal of your loan instead of interest.
Though this wouldn't increase cash flow in the short-term, it frees up your cash flow, significantly, two years earlier.
2. A longer refinancing term can lower student loan payments
Sometimes you can get a lower interest rate and extend the repayment period. Let's see what it looks like to refinance $100,000 in student debt from 10 years at 7% versus a 15-year term at a 4% rate.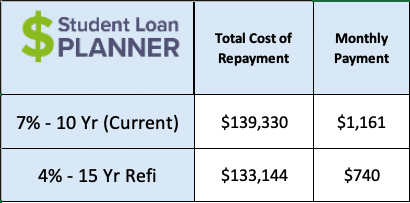 Refinancing to a longer term lowers the payments by $421 per month. This gives student loan borrowers a cash flow increase so they can put that money to use toward other financial goals.
Getting a substantially lower interest rate also lowers the total cost of paying back loans by more than $6,000. This provides interest savings and also reduces your student loan payment, significantly.
Is refinancing the same as consolidating student loans?
The answer is a flat out no. Refinancing and student loan consolidation are two different things. Some lenders and other experts use these terms interchangeably, but they are totally different.
Refinancing happens with a private lender. They pay off your loans and issue a private loan for the same amount of debt. In other words, you're removing your loan from the federal system and now owe a private entity.
Consolidation is a process that keeps your loans in the federal system. Essentially, any loans that are consolidated are rolled into a new, federal loan. This doesn't lower your interest rate, but it can streamline your payments and reset forbearance.
A word of caution, though. This process erases any progress toward student loan forgiveness and essentially resets the clock on income-driven repayment so don't consolidate loans that have a decent payment history.
Is refinancing student loans worth it?
Let's start with the easy answer. If you have private student loan debt at a 5% rate or higher, definitely explore refinancing. Private debt has to be paid back in full no matter what so getting the lowest interest rate is the best way to save money.
If you have private student loans but have fallen on hard times, it might make sense to refinance if you can:
Get a lower interest rate,

and

Extend the repayment term to get payment relief in the short-term.
Once you get back on your feet, recommit to paying it off, aggressively. You can use the student loan refinancing ladder approach.
Federal student debt is tricker to decide whether doing a private refinance is better than keeping it in the federal program. As a federal loan borrower, you have a lot more repayment options available to you.
In general, if you owe less than what you earn with no prospects for student loan forgiveness like Public Service Loan Forgiveness (PSLF), then refinancing could make sense. Just make sure you have predictable income and a good credit score. You can always check out your credit report on annualcreditreport.com, if you're curious about where you stand.
Who shouldn't refinance student loans?
Obviously, anyone who can't secure a lower interest rate than what they already have shouldn't refinance their student loans. Since rates are near historic lows, that would be rare so it's worth taking a look just to see if you can get a better rate.
Anyone with federal student loans who's on track for forgiveness, like PSLF, also shouldn't refinance their student loans. Refinancing with a private lender takes student loan forgiveness off the table for good which could be costly.
If you owe more in federal student loans than what you make, income-driven repayment plans like PAYE, REPAYE, and IBR might be more affordable. These plans can also keep your payments low enough to use your cash flow for other goals, like buying a house.
Finally, you probably shouldn't refinance your federal student loans if your budget is stretched, you have a bunch of credit card debt, and no emergency fund set up. Most private lenders don't have the payment flexibility and forbearance that the federal system offers. It's best to lay your financial foundation before refinancing.
If you have six-figure student debt and or refinancing doesn't sound like the best option for you, schedule a student loan consult to get a clear, customized plan.
How do you refinance student loans
Student loan refinancing is different from refinancing most other types of debt. In a couple cases, it's better.
First of all, there are no fees charged to the student loan borrower unlike a credit card balance transfer or a mortgage refinance.
Getting a pre-qualified rate and approved for a new loan is also a fairly easy process. Usually it takes about five minutes to get a preliminary rate. The rate is good for 30 days so you can lock in a great rate, even if you're not quite ready to refinance.
Fixed interest rates are better options than variable interest rates, unless you're planning to really go after your debt and pay it off in three to five years. Pick a repayment term with payments you can afford without a major stretch.
We recommend getting offers from three or more lenders before accepting any offer. If you refinance through Student Loan Planner®, you might even qualify for some of the best cash back bonuses out there.
Selecting the lowest interest rate and best terms for you is the #1 priority. But if you can get more cash in your pocket while getting a lower interest rate, that's even better.
Refinancing student loans can increase your cash flow
If you want to free-up cash and lower your payments, refinancing your student debt is a great way to do it. The end goal is to save you as much money as possible when paying back your loans. To see if you're a good refinancing candidate, check out our student loan refinance calculator.