Student loan debt can strangle the life out of everything we've worked hard to achieve. It's natural to want to save your children from student loan debt with 529 plans.
Borrowing money to pay for post-secondary educational expenses shows no signs of slowing down. Historical data reflects a steady increase in outstanding student loan debt that has reached $1.5 trillion according to a Federal Reserve report released in August 2018.
Student loan debt is something we want to save everyone we know from, especially our family members. But, it all seems so overwhelming. How can you pay off your current student loans and help your children at the same time?
Fortunately, there are ways to assist with college funding that don't require your children to secure a full-ride scholarship, stash money in low-interest savings accounts, or for you to sell everything you own.  Let's take a look at how to save your children from student loan debt with 529 plans.
A 529 Plan can provide relief for the national student loan crisis and provide perks for both you and your children.
What Is A 529 Plan?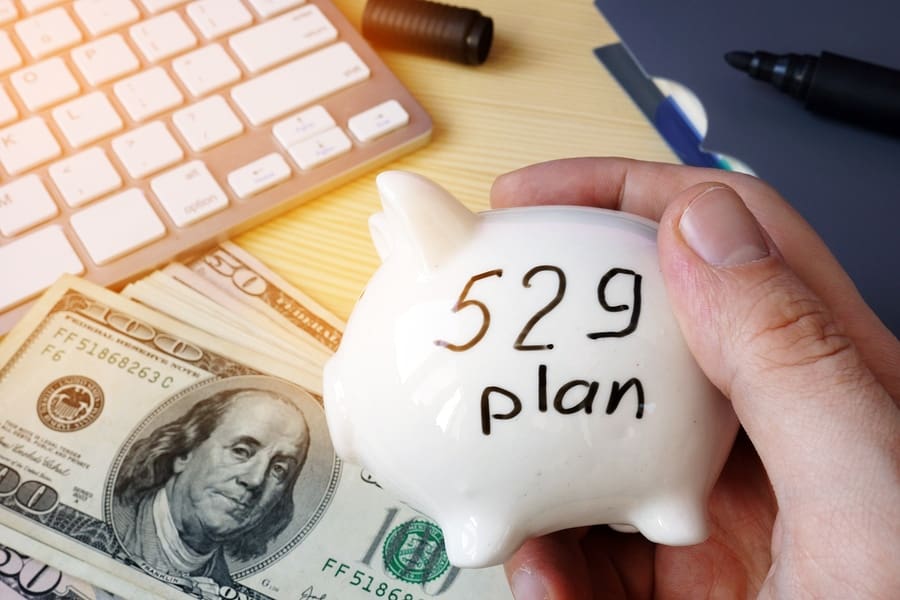 A 529 Plan is an educational savings tool that carries significant tax benefits. These types of plans are available in all 50 states and the District of Columbia. 529 Plans aka "qualified tuition plans" are sponsored by various state agencies and educational institutions. They are also available through most brokerage firms.
529 Plans are an excellent way to start saving for your children's college while you're still in debt. Don't worry if your child is quickly approaching high school. It's not too late to start a plan and reap some of the benefits available to plan participants.
Funds may be used at public and private educational institutions who are eligible to participate in Federal Student Aid (FSA) programs administered by the United States Department of Education.
Benefits of 529 Plans
Withdrawals are exempt from federal taxation when used for eligible college expenses. Exemption limits do apply.

Contributions are often state tax exempt.

Not all 529 Plans require the account holder or beneficiary to be a state resident.

Some states offer incentives for in-state participants to win your business. Think income tax-deductions or tax credits.

Your income is not a factor on contribution limits.

Changes to the plan beneficiary are generally allowed if in the same family.

Plan beneficiaries aren't limited to your children.

Multiple 529 Plans can exist for one beneficiary.

Maximum contribution amounts tap out around $400,000 per beneficiary. Limits vary by plan.
Key Terms:
Beneficiary
The beneficiary is the future student. Beneficiaries must possess a valid Tax ID or Social Security number. This individual does not control the 529 Plan account unless they are the same as the account holder/saver.  That is, an individual can open an account for herself. Beneficiaries can have more than one account opened on their behalf. 
Account Holder/Saver
A United States resident who is at least 18 years of age or older with a Social Security number or Tax ID and possesses a legal United States mailing address may serve as an account holder/saver. The account holder/saver is the individual who purchases credits or educational units at a participating private, public or in-state college or university.
The account holder/saver has control over the funds on behalf of the beneficiary.  This individual is usually able to obtain state tax deductions. The account holder/saver can name anyone as a beneficiary. Access to the account is held by the account holder/saver regardless of the relationship to the beneficiary.
For example, a grandmother who opens an account for her grandson is the account holder/saver and is not required to provide access to the child's parents.  The ability to check balances, modify investments, or withdraw money from the account remains with the grandmother and is not automatically granted to the child's parents regardless of the living situation.
529 Plans – Two Types
1) Prepaid Tuition Plans
As the name suggests, you pre-pay tuition by purchasing educational credits at today's prices. The credits are often for a specific educational institution and can help minimize student debt. If the beneficiary of the Prepaid Tuition Plan does not attend the college where the credits were purchased, then some of the value of the credits may be lost.
In most cases, future costs of room and board cannot be prepaid using this plan. Educational institutions and states offer Prepaid Tuition Plans. The federal government does not guarantee such plans. This means that if the pre-paid plan loses value, it may pay less than originally intended.
Each state may offer one or more Prepaid Tuition Plans with specific plan requirements and benefits. For example, Texas is generous as it currently provides four plan options:
A review of each plan found that they varied in residency requirements, state tax-deferred earnings/withdrawals, and their ability to match state grants.
Do you or your child have your heart set on a private institution? Private College 529 Plan™ claims to be the only Prepaid Tuition Plan program not run by a state. Over 300 private colleges and universities participate, and they guarantee the tuition you prepay.
Unsure of what your state has to offer? The College Savings Plans Network offers a 529 Plan Comparison By State. The Compare by Feature tool allows you to assess the following plan details at a glance:
Plan Type (Direct/Advisor Sold)

Plan Fees

Plan Residency Fee Waivers

State Specific Tax Credit or Deduction Availability

State Tax-Deferred Earnings/Withdrawal (Exemptions)

Financial Aid Benefits (Impact of the plan on State financial aid)

Availability of State Matching Grants

Rewards Program Benefits (i.e.,

Upromise

)

Investment Options by Type

Contribution Requirements
Always check a specific plan's website as plan details are subject to change.
2) Education Savings Plans
An Education Savings Plan often referred to as a "college savings plan" is a tax-advantaged investment account that allows for funds to be used for future tuition, room and board, mandatory fees, books, supplies, computer technology or equipment and other qualified expenses. Savings can be used at any accredited trade/vocational school, college or graduate school in the United States.
Vanguard and Fidelity Investments are providers of Educational Savings Plans. Each allows you to select from a fund or a portfolio of funds in which to invest. Fidelity Investments has partnered with Arizona, Delaware, Massachusetts, and New Hampshire to offer college savings plans with state-specific benefits.
Education Savings Plans are usually designated as either age-based or custom allocation. Age-based plans are for beneficiaries who have time on their side. Such plans decrease risk tolerance as the beneficiary gets closer to college age.
Age-based plans often offer the most significant return as the longer you have to invest, the higher the potential return on the investment as you would more exposed to the stock market.
For example, plans typically include a mix of investment vehicles: stocks, bonds, and cash (short-term reserve) investments which are modified during the life of the plan to adjust for gains and losses. Custom portfolio options, which are great for do-it-yourself investors, allocate assets based on the investment products offered by the investment brokerage.
States can offer both Prepaid Tuition Plans and Education Savings Plans.
Are There Tax Benefits to 529 Plans?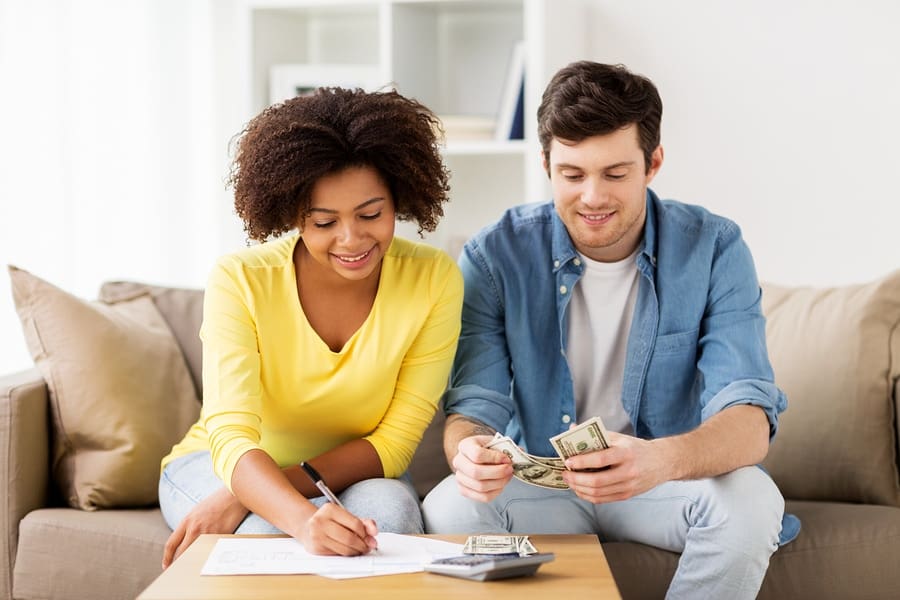 While 529 Plan contributions are generally not tax deductible at the federal level, a tax benefit still exists. Earnings are not subject to federal income tax when used for expenses allowed under the plan.
Gains also grow tax-deferred within a 529 plan. That means you won't have to pay taxes on your interest and dividend income over time, and you'll be able to pull the earnings out tax-free at the end. This powerful benefit makes up for the lack of a deduction on the front-end at the federal level. 
Some states allow you to deduct 529 contributions on your state income tax return. These state tax benefits vary by state.
Giving to a 529 Plan without Paying Gift Tax
Grandparents rejoice! Contributions to 529 Plans can produce estate planning benefits as well.
Effective January 2018, you can contribute up to $15,000 per year to a single beneficiary without triggering federal gift tax. You can double this exemption if you're married, with each spouse making a separate contribution.
Higher contribution amounts may allow for additional benefits. See Form 709, United States Gift (and Generation-Skipping Transfer) Tax Return for details.
Financial Aid and 529 Plans
Does a 529 account affect financial aid? A 529 Plan account owned by a parent of the student is reported as an asset on the Free Federal Application for Student Aid (FAFSA). As a result, the Expected Family Contribution (EFC) is impacted which influences the financial aid award package.
Assets increase a student's EFC, which in turn decreases the amount of need-based federal aid. If the account is owned by someone other than a parent, it will not affect the EFC. Keep in mind that qualified withdrawals from the 529 account usually count as income for the student and may impact financial aid eligibility the following federal award year.
Other Advanced 529 Strategies
Generally, you can change the designated beneficiary of the 529 Plan to another family member without penalty. You can transfer funds from one child's plan to a sibling's plan with no tax consequences. This is great news is your first child opts for ROTC but your second goes to a private liberal arts college.
More than one account can be opened for a beneficiary. However, tax benefits apply to the account holder. If grandparents, other relatives, or friends want to donate to the plan they may do so in accordance with specific plan rules. For example, Fidelity offers a free College Gift Giving program where donations can be made via electronic check.
What If the Beneficiary Doesn't Go to College?
There is no age limit to using funds accrued in an education savings account, so don't panic. Your child may decide that she wants to delay college for five or even ten years. The funds are still available for her to use. The account holder/saver may also designate a new beneficiary as long as they are a qualified family member of the original beneficiary under IRS rules. A qualified family member includes you.
A 10% penalty tax is assessed on educational savings account earnings used for purposes other than qualified educational expenses. This is in addition to federal, state and local taxes (as applicable).
If you wanted to create an account for your child without the tax benefits of a 529 but also without strings attached that it has to be used for educational purposes, you might consider a UTMA/UGMA account.
Save Your Children From Student Loan Debt with 529 Plans
It's never too soon or too late to start saving for your child's future education. 529 Plans are an alternative to student loans for funding post-secondary education. Prepaid Tuition Plans and Education Savings Plans have benefits which seem to outweigh potential drawbacks, but participants should still consider the expected educational plan of the beneficiary and other funding sources that may be available.
Fees and expenses may lower your return and are often associated with both Prepaid Tuition Plans and Educational Savings Plans. Costs vary and can be reduced via plan incentives and investment selections.
That said, contributions grow on a tax-deferred basis and can be withdrawn tax-free if used for qualified educational purposes. This powerful benefit can prevent your child from being saddled with a huge sum of student debt. The earlier you start saving, the greater advantage you'll gain from compound interest. Compound interest helps your 529 plan grow faster so your money starts to work for you.
Planning is critical in order to take advantage of the time benefit of any savings goal. A lack of planning may force students and parents to take on excessive debt in the form of Direct Student Loans and Parent Plus Loans, which carry high interest rates and origination fees.
We encourage you to consider 529 Plans as a way to shield your child from the weight of student loan debt after college. If you have questions about your student loans or need help coming up with a repayment strategy so you can start a 529 Plan for your kids, consider booking a consult with the Student Loan Planner team by clicking the button below.