If you have student loans or are thinking of taking out student loans, you've probably visited the StudentLoans.gov website. That's the website for Federal Student Aid (FSA), which is an office of the U.S. Department of Education. Whether you're an undergrad, graduate or professional student, or a parent borrowing on behalf of your child, this is where you go for information on federal loans.
Many people visit StudentLoans.gov and never realize how much you do can through the website. It's not just the spot for federal student loan information. There's so much more you can do there.
6 useful ways to use StudentLoans.gov
There are many features to the StudentLoans.gov website, but six functions stand out. All of them involve taking action with federal student loans or making a student loan repayment plan for the future.These functions are why most people visit the website.
1. Apply for student loans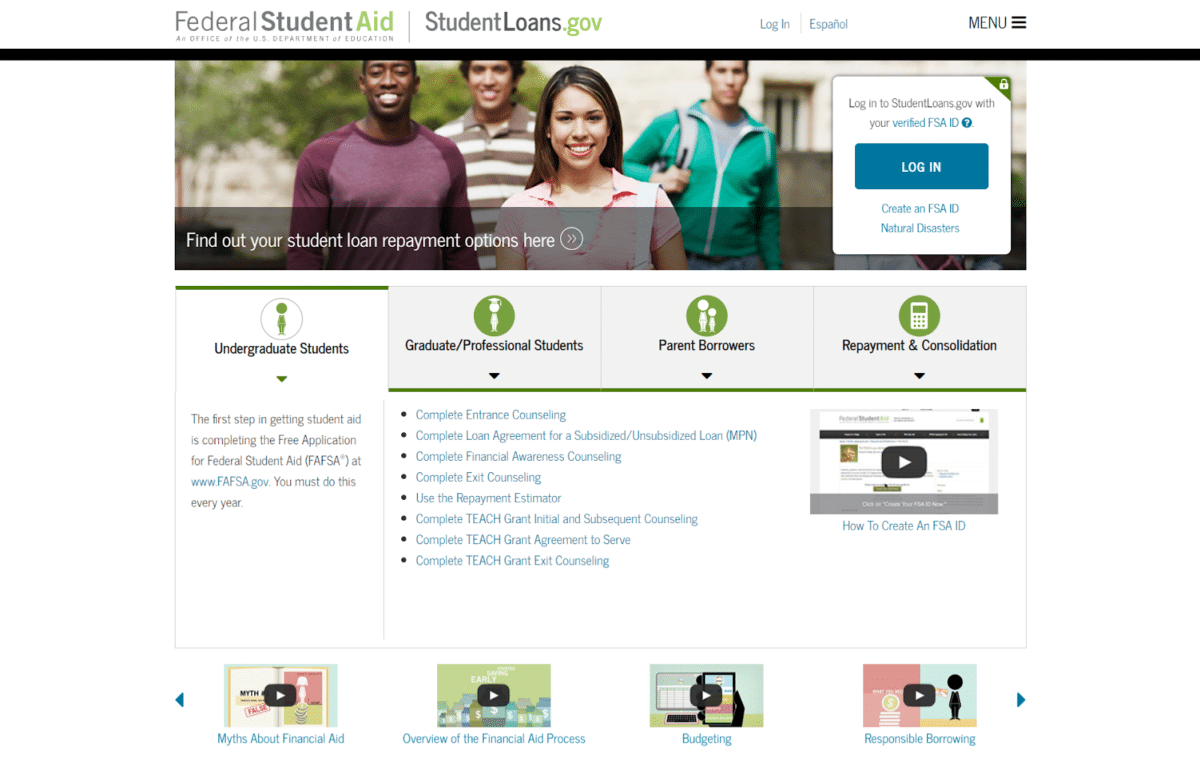 No matter what kind of federal student loan you're taking out, StudentLoans.gov is where to begin. The website's homepage has several tabs as well as a dropdown menu, which allow you to easily find what you're looking for.
For undergraduates, it all starts with completing the Free Application for Federal Student Aid (FAFSA). You'll also want to create an FSA ID. This gives you access to an online account and also serves as your legal signature. Grad students, professional students and parents can apply for PLUS loans here.
There are helpful videos right on the homepage to learn more about federal student loans, including an overview of the financial aid process. They're worth the watch.
2. Consolidate your student loans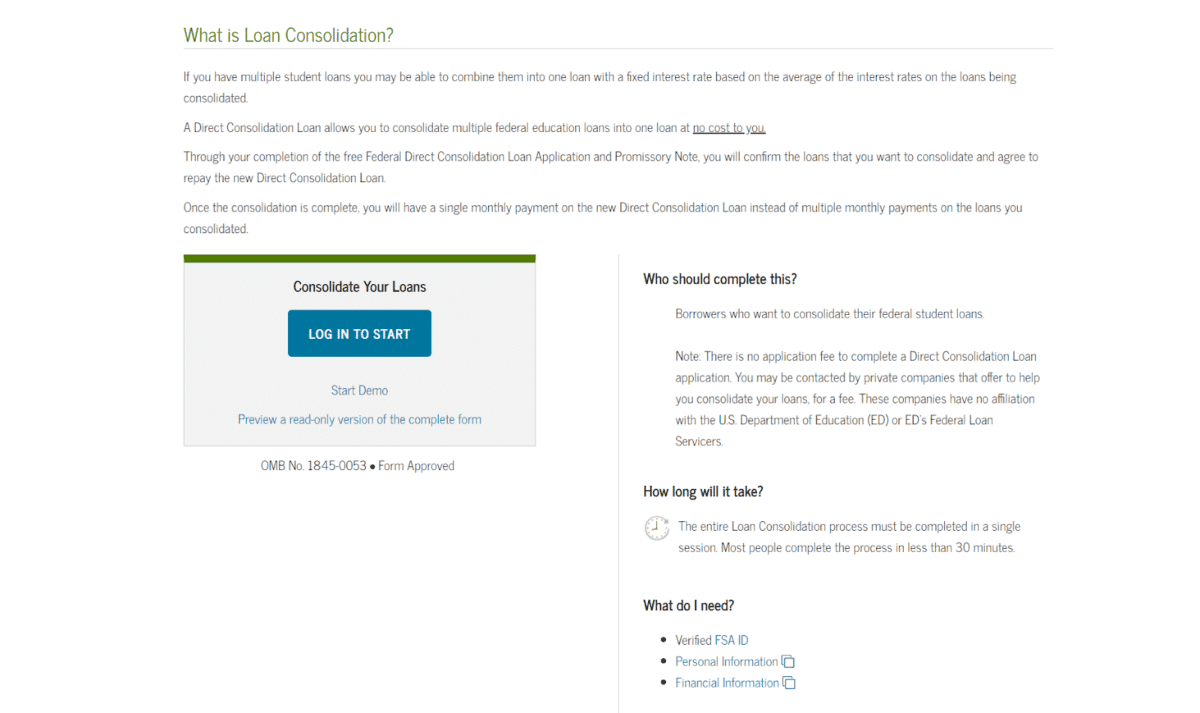 StudentLoans.gov is also where you'd go if you're looking to consolidate your federal student loans. One great feature you'll find here and throughout the website are demos so you can check out the process before applying. Also, there's no application fee to complete a Direct Consolidation Loan application.

Consolidate your loans by logging into StudentLoans.gov. Click on the "consolidate my loans" section. You should see a long list of your student loans. Check all the loans you want to include. You can see the titles of each individual loan by hovering over the question mark box with your mouse; the name should pop up when you do.
You'll also be able to send your new consolidation loan to the servicer of your choice. Check which payment plan you want. The whole consolidation process should take about two months at most for everything to transition over.
3. Apply for an Income-Driven Repayment Plan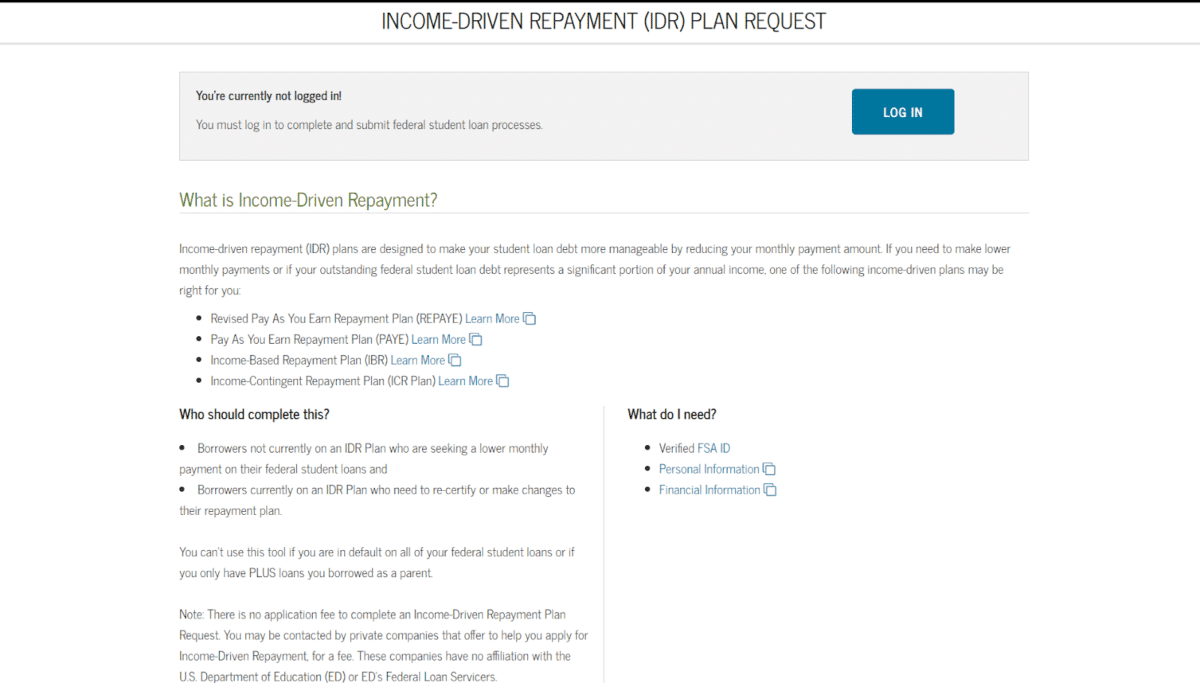 Another thing you can do at StudentLoans.gov is apply for an income-driven repayment (IDR) plan. With IDR plans, your loan payments are based on your income. They're great if you have a lower income but want to keep up with your payments.
You'd also want to apply for an IDR plan if you're pursuing Public Service Loan Forgiveness (PSLF). If you aren't going for PSLF, you can also seek loan forgiveness through income-driven repayment forgiveness.
Besides applying for an IDR plan, this is also where you need to go to submit your annual recertification of income. StudentLoans.gov is also where you head if you want to switch to a different IDR plan.
If you'd like to apply for a loan, consolidate or get on a repayment plan, take advantage of the instructional videos and demos found at StudentLoans.gov. They're worth the time spent and will give you a better picture of how to navigate the website.
Other things you can do on StudentLoans.gov
There's a lot more to the StudentLoans.gov website than just applying for federal student loans. There are helpful resources and features borrowers can use to educate themselves as well as develop a sound repayment plan. What are some of the other features available to borrowers?
4. Use the repayment estimator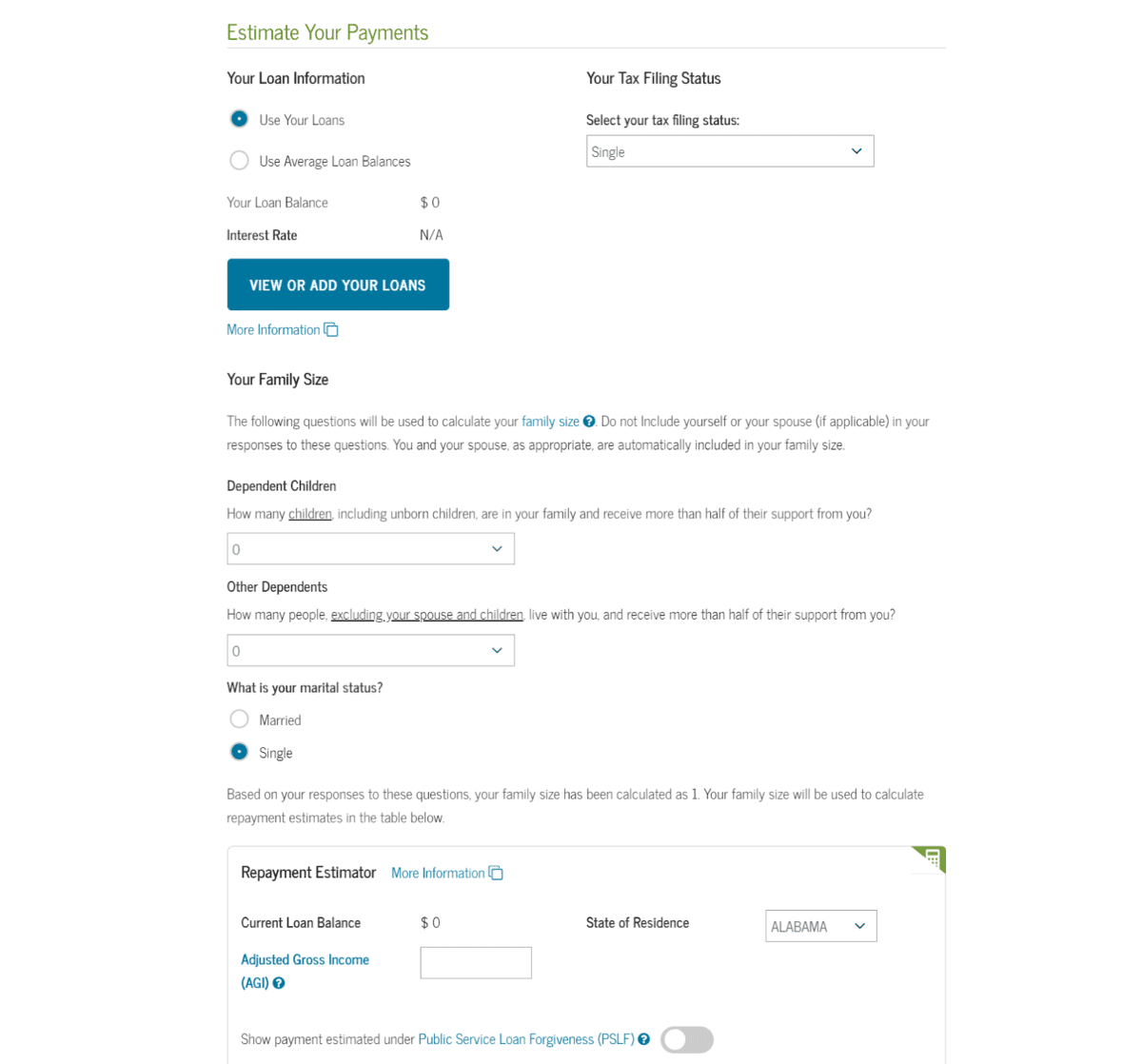 Another feature on StudentLoans.gov is the Repayment Estimator. You can use your loans (if you already have them) or use average loan balances to estimate loan payments. You can even see your estimated payments under PSLF.
5. Appeal a credit decision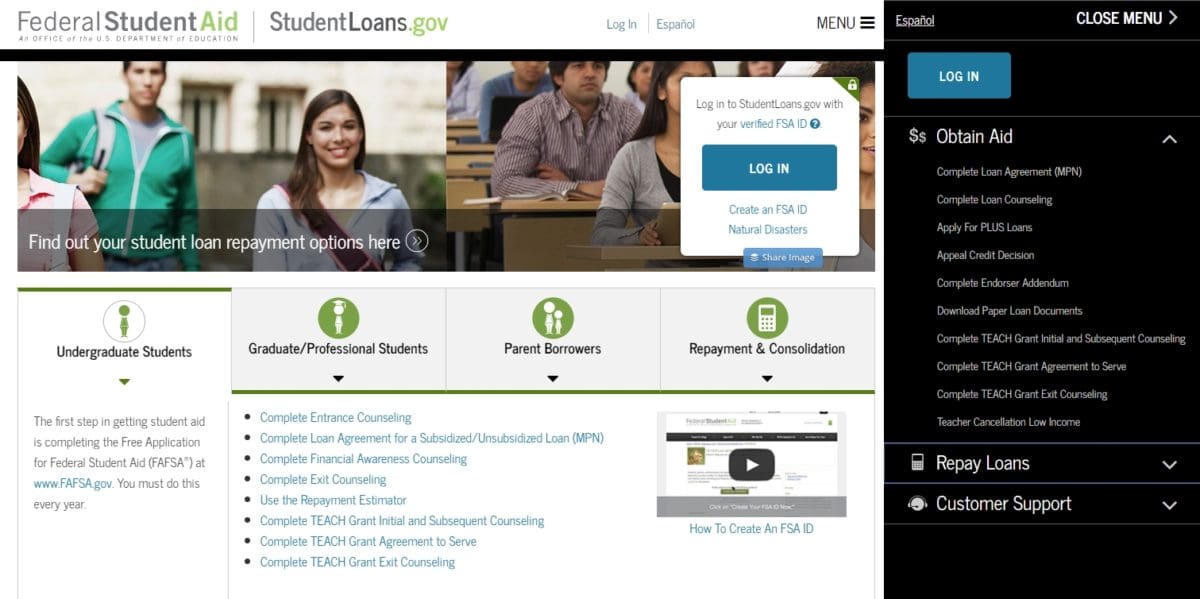 If you aren't happy with a credit decision that was made, you can appeal the decision through the StudentLoans.gov website. To do so, log in to your account using your FSA ID or email address and password. You can find "Appeal Credit Decision" in the dropdown menu under "Obtain Aid" or through the link at the bottom of the homepage.
6. Endorse or cosign a student loan
You may need to endorse a Direct Plus Loan or cosign on an IDR plan. Those functions can be done through the StudentLoans.gov website as well. You'll see descriptions and responsibilities for endorsers and cosigners. The site also spells out the information you need to have in hand as you're applying.
The StudentLoans.gov website is more than just a resource for information on federal student loans, although it's great for that too. Do you have federal student loans already? Do you need to apply for student loans soon? If so, be sure to familiarize yourself with the StudentLoans.gov site and take full advantage of all the things you can do there.