While many Americans feel economic pain right now, the upper middle class may have seen the worst income loss. This group also seems to support reopening the economy the fastest, according to our research and surveys of Student Loan Planner® readers.
In previous articles, we have found that individuals who have lost their income support reopening the economy must faster than those who have not seen an income change, regardless of the risk of exposure to COVID-19.
We now find that higher income earners support reopening the economy much faster than lower income earners, although it seemingly has nothing to do with stock portfolios.
We'll show you the results and then hypothesize as to why we're seeing this outcome.
How We Studied the Upper Middle Class in this Survey
We polled over 4,000 readers in mid-March and over 3,000 again in mid-April 2020 to see what a difference, if any, 30 days made to their financial situation.
Our audience has a disproportionate share of high-income earners compared to the economy overall. That said, we also have a large representation among readers of all income levels to compare to.
Distribution of Responses by Income Level
We asked readers what their taxable income was in the prior year, and we broke them into six income categories:
Below $50,000
$50,001 to $100,000
$100,001 to $150,000
$150,001 to $200,000
$200,001 to $300,000
More than $300,000
Here's the percentage representation in the chart below: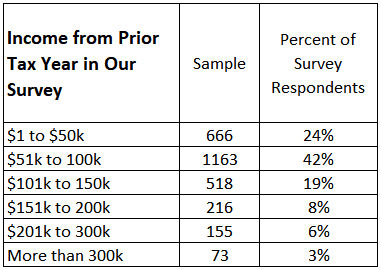 How Do You Define Upper Middle Class?
Six figure earners account for approximately 14% of workers. Six figure income households account for about 30% of total households.
Defining upper middle class is arbitrary. Many married physician couples would likely call themselves middle class despite being in the 1% and not realizing it.
I define upper middle class here as any six figure income earner.
Upper Middle Class Wages Are Falling the Most
Here's the answers we got from readers on whose income was falling the most.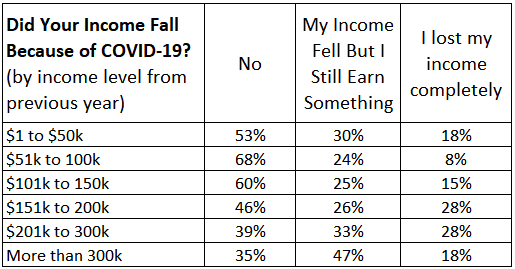 Notice workers who earned more than $150,000 last year and above reported the highest share of workers whose income had fallen significantly. Workers earning more than $300,000 were the worst hit of all.
Notably, these workers are not just seeing their incomes fall, a large percent are seeing these incomes go away completely, at 28% of workers with $150,000 to $300,000 of income being unemployed.
Job Losses Among Upper Middle Class Leading to Support for Reopening Economy Faster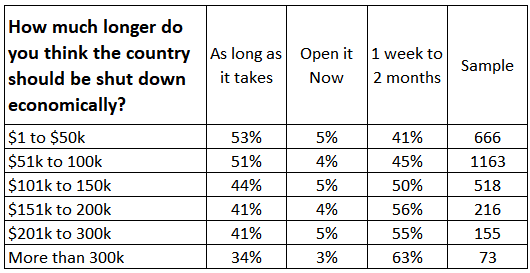 The highest income individuals in our sample reported the lowest willingness to keep the economy shut down "for as long as it takes."
Notice though that there were no clear patterns among support for reopening the economy immediately.
I would interpret this as higher income individuals not being reckless, but rather feeling the pain of job losses and income losses more severely.
Hence, this group on average wants a clear and defined timeline for when the economy can reopen again.
Lower Wage Workers Get More of Their Income Replaced
Economic inequality has exploded in the past several decades. One could fairly argue that a job loss or income loss among a lower wage worker might lead to more severe consequences than income loss among a higher earning household.
Congress did more to protect this group of more economically vulnerable citizens. According to the NY Times, the average weekly unemployment benefit will now be more than the average weekly wage in the majority of US states.
That is because of the CARES Act. Congress gave $600 a week in extra unemployment benefits.
If you make less than $40,000 annually and lost your job, you are actually being paid more per month right now with unemployment in most US states.
Some states like Florida have not gotten their act together yet, but eventually state unemployment systems will come online and get benefits to individuals who qualify.
For upper middle class income earners, unemployment benefits will only cover a fraction of their incomes.
The Highest Income Individuals Got Relief from the Federal Reserve Boosting Asset Prices
The Federal Reserve boosted asset prices with unprecedented financial support.
On top of trillions in additional liquidity, the Fed is buying corporate and municipal bonds to support the prices of these assets and to keep the economy functioning so cities, states, and corporations do not start failing financially, which would lead to even more layoffs.
A multimillionaire retiree is extremely grateful for this as the wealthiest own much of the country's financial assets. Without Fed support, bond markets would have crumbled and stock prices would have plunged even more instead of seeing an epic recovery.
Slowness of the PPP Program Might Have Hurt Upper Middle Income Individuals in Particular
The CARES Act was passed to help support small businesses and independent contractors, but that hasn't been the result at all. In fact, on the first day of round 2 of the PPP, the website crashed.
The bill threw a life raft to major corporations but more and more we're finding small businesses were left behind. In fact, over the last few days, there has been a growing backlash over the distribution of the funds.
Several media outlets have revealed how large chunks of the package were taken up by chain restaurants, hoteliers and publicly traded corporations, rather than small, local businesses.
Shake Shack even made the decision to give back the $10 million emergency loan it was awarded by the U.S. government through the Payment Protection Program (PPP). The company changed its mind and returned the loan after hearing small business owners' stories about not getting access to it.
Truly small small businesses often have owners in the upper middle class category. These individuals were hoping that the PPP would help keep them afloat.
Instead, much of this relief money from the government has gone to other places than Congress originally intended.
Why Care About the Plight of the Upper Middle Class?
The working class gets paycheck protection through expanded unemployment benefits, preventing the most vulnerable from desperate circumstances.
The wealthiest get asset prices propped up by the Federal Reserve, preventing a financial panic that could destabilize the entire system.
The upper middle class get a small percent of their incomes replaced if they lose their job. If they're business owners, they get a poorly implemented Paycheck Protection Program.
Expect High Earners to Put Pressure on Leaders to Prioritize the Economy
We know that many higher income households still struggle to build an emergency fund.
Living paycheck to paycheck is a bad idea personally, but the high spending of the upper middle class supports a huge number of jobs.
In an age of widening income inequality, this group does not engender sympathy from some.
However, the upper middle class does have a loud political voice. I'd expect based on these results to continue to see a louder calling to reopen the economy despite the risks to public health from doing so.