One of the largest banks in the world, Bank of America, used to be king in the student loan industry. Over time, that's changed. Do you still have Bank of America student loans that have changed lenders over time? If so, let's take a look at what happened to Bank of America student loans, what alternatives are available, and how to take charge of your student loans.
The history of Bank of America student loans
At one time, Bank of America (BofA) was very involved in the student loan industry. Its private student loan products, such as the CampusEdge student loan and the Education Maximizer Loan, were heavily promoted to college students. In 2007, it was the third-largest student loan lender in the United States and held $900 million in private student loans,
In 2008, however, Bank of America stopped offering private student loans to customers. According to former executive Sandra Dunleavy, "Bank of America is focusing our student loan strategy on the federal student loan program and discontinuing private loan products for the coming academic year."
This new strategy involved partnering with the Department of Education on federal government loans such as Stafford Loans, Parent PLUS Loans, and the Federal Family Education Loan Program (FFELP). But, in 2017, BofA abandoned this strategy as well. It sold off over $3.9 billion in student loans, made up mostly of FFEL loans. BofA was officially no longer in the student loan business.
Bank of America no longer offers student loan products
Currently, Bank of America has no affiliation of any kind with student loans. It no longer originates loans and is not accepting new applications for student loans.
If you had BofA student loans, you should have received information regarding the new lender and servicer. If for some reason you don't know who owns your loan, you can find that information on your credit report. You can access your free credit report at AnnualCreditReport.com.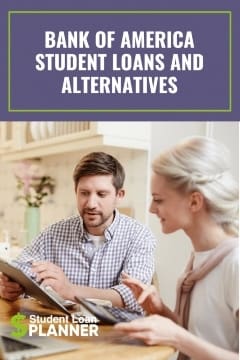 Other lenders to consider
Now that Bank of America student loans are no longer offered, you may be looking for other loan options. Before you turn to private loans, you'll want to make sure you've exhausted all your federal student aid options. To apply for federal financial aid, you can use the Free Application for Federal Student Aid (FAFSA®) form.
Private loans are a great way to pay for education expenses when federal assistance doesn't cover all of your college expenses. There are many lenders to consider with varying rates, terms, and eligibility requirements. So it's important to take time and compare them all to find the one that suits your needs. Here are some online lenders that are good alternatives to Bank of America student loans:
CommonBond
Known for its refinancing, CommonBond also offers several private student loan options. CommonBond has low rates for qualified borrowers. There are no application fees or prepayment fees, but some of their profession-specific graduate loans have a 2% origination fee. Some CommonBond loans are eligible for cosigner release.
College Ave
College Ave has private student loan options for almost everyone. Interest rates are low for qualified borrowers, plus there's a 0.25% interest rate reduction for choosing the autopay option. College Ave loans have no application, origination or prepayment fees.
LendKey
LendKey isn't your typical lender. Although it offers private undergraduate and graduate student loans, it acts as a middleman, working between lenders, credit unions and community banks. Most loans will require a cosigner. LendKey has low rates and a 0.25% rate reduction for choosing autopay.
Credible
Credible is a student loan marketplace that allows you to compare multiple private lenders. Search undergraduate and graduate loans to find the best rates. A major perk is you only have to apply once, not separately for multiple lenders. Head to Credible, enter some personal and financial information and see what loan options are available for you.
Make sure you've exhausted all federal loan options before looking at private student loans. For more help, search our complete list of private lenders for 2019.
Refinancing Bank of America student loans
If you're still paying off a student loan that originated with Bank of America, you might save money by refinancing. This is especially true if you had private BofA student loans. Not that borrowers who took out federal loans from Bank of America (such as FFEL loans) are eligible for federal consolidation loans.
If your credit is excellent or you use a cosigner with stellar credit, you may be able to secure a better interest rate and/or lower monthly payments than you have with your current loan. Refinancing could potentially trim thousands of dollars of interest payments over the life of your loan.
When you refinance federal loans formerly managed by BofA, your federal loans will become private loans. You will lose access to federal protections such as income-driven repayment plans, loan forgiveness, and forbearance. Make sure you won't need access to any of these programs before committing to private loan refinancing. Here are three top refinancing lenders to consider.
Earnest
In addition to attractive interest rates, Earnest offers great payment flexibility on its refinance loans. Borrowers can choose from 180 different repayment terms ranging from five to 20 years. And you can skip a payment as often as every 12 months. However, it should be noted that it isn't currently possible to apply for Earnest student loan refinancing with a cosigner. Get up to a $1,000 bonus when you use our Earnest link.
Laurel Road
While Laurel Road could be worth considering for any student loan borrowers, they specialize in medical student loan refinancing. Medical school graduates that refinance with Laurel Road can pay as little as $100 during residency and AMA members qualify for a 0.25% rate discount. Laurel Road will automatically apply the better of that discount or our general $1,250 bonus when you apply using our link.
Education Loan Finance (ELFI)
ELFI has made a name for itself in the student loan refinancing space by focusing on superior customer service. Its rates are also usually very competitive and the 0.25% discount for automatic payments is already reflected in the quotes it provides. You can add a cosigner to your ELFI application but note that it doesn't offer any cosigner release program. Get up to a $1,275 bonus when you use our ELFI link to see if you qualify to refinance your student loans through them.