When you refinance student loans, you transfer your existing federal or private student loan to a private lender. Usually the reward is a lower interest rate.
When you refinance federal student loans, you give up valuable protections like the option to receive loan forgiveness, pay based on your income, and use forbearance. Why would anyone refinance then?
After advising hundreds of millions of dollars in student debt, here's what I tell borrowers when they ask "should I refinance my student loans?"
If you have federal student loans, work in the private sector, have a solid emergency fund, and owe federal debt less than 1.5 times your income, you're a good candidate for student loan refinancing.
If some or all of your student loans are private, and you haven't shopped for new rates recently, you should. Most borrowers do not know that you can refinance two, three, or even four or more times if you can find a lower rate.
Student Loan Planner intentionally earns less money from our refinancing referral links than our competitors. We do that so the refinancing companies can pay you a significant cash bonus on top of the lower interest rate you'll get. The paid referral relationship we have with our partners does not affect the rate you're offered, which means that you get better deals than if you applied directly.
Why aren't there 9 lenders listed above? If you want to see our full list, read the whole article. We only place the best converting banks and lenders at the top of the page in case you're pressed for time and want to check fewer options that the majority of our readers find the best deals with.
We negotiated these cash bonuses for you over several years. Whenever we move up the rankings with companies by sending them more volume, we try to get the bonuses even higher. Notice that for some of these companies, you need to refinance a minimum amount with that lender to get the incentive.
Who should refinance student loans and what banks should you start with? The quiz button below will give you our free recommendation.
How to Make the Right Student Loan Refinancing Decision
If you want to hear more examples of who should and should not refinance and how to apply with these student loan refinance companies, check out my video below.
You should not refinance just because of a cash back bonus. Obviously, the main determinant should be getting a much better interest rate. In some cases, you also might refinance to get a lower monthly payment. You also need to be sure that student loan forgiveness strategies won't save you more money than refinancing. We'll show you how to think through that if you read to the end.
If you've already started an application with any of the companies above, you can still get the bonus if you apply with a new email you haven't used before.
You'll have a hard time beating the lenders' offers above. If you do find something better elsewhere, please let us know because we might still be able to help you beat it.
Leave a comment at the bottom if you have any questions or want to share your experience with refinancing. A CFA or CFP® professional will respond to every comment on this post.
How to Compare 9 of the Best Student Loan Refinance Companies
To find the best student loan refinancing deal, click on all of the links and check your rate at each company. If you know of any not listed on this site, check them too. It doesn't take very much time.
Additionally, getting a prequalified offer doesn't affect your credit score as it's a "soft inquiry." If you go through with the refinancing, then the lender will need to do a hard inquiry, which will have a small impact on your credit score. The impact is similar to applying for a credit card.
In other words, if you need to refinance you should do it as long as you're not about to buy a house next month.
What Kind of Student Loan Refinancing Rates Exist?
To know if it even makes sense to try and refinance your student loans, it helps to know what kind of interest rates are available in the market right now.
If you have federal debt, my general rule of thumb is that you want to save at least 1% on your interest rate. Even then, you should only refinance if the math makes sense. You should generally have a debt to income ratio below 1.5 and be in the private sector.
For example, say you refinanced your loans into a 10 year fixed rate at 5%, and you've made payments for 2 years. It would make a lot of sense to apply for a 7 year fixed rate to see if your rate could go down from 5% to perhaps a 4.5%. Your monthly payment might stay similar since you already paid down some principal.
These are examples of interest rates I'm seeing in the national student loan refinancing market (excluding regional lenders). "Excellent" means that's among the best rates you could possibly get. "Good" simply means that you're getting a solid deal. "Average" is the max rate where I'd refinance federal student loans at that term length.
If you have private student loans, including student loans you've already refinanced, any rate that's lower than what you have now justifies refinancing a first, second, or third time.
Refinancing
Fixed Rates
Available
(in years)
Excellent
Credit
(750+)
Good
Credit
(700-750)
Average
Credit
(650+)
5
3.46%
3.60%
4.00%
7
3.88%
4.00%
4.25%
10
4.25%
4.50%
4.75%
15
4.59%
5.00%
5.25%
20
4.99%
5.25%
5.50%
National Student Loan Refinancing Lenders
National lenders have a footprint in almost every state. Some don't lend in specific locations, but that's the exception, not the rule. Here's six different choices. If you want to learn more, we've also written reviews for each linked to in the respective section.
Earnest: the Most Flexible Student Loan Refinancing Company
Earnest allows for flexible repayment terms instead of the typical 5, 7, 10, 15, and 20 year terms offered elsewhere. No one else offers that to my knowledge. Earnest is a workhorse of the student loan refinancing world, and they service their loans internally instead of outsourcing that to a third party. Earnest is not as flexible with cosigners and Parent PLUS loans as other refinancing companies are (check out our Earnest review for the full story).
If you have Sallie Mae loans, you can now refinance those with Earnest too. Earnest got acquired by Navient, but I wouldn't let that impact your decision to work with them or not. Earnest is operating independently with the same culture they had when they were a scrappy startup. Get our $500 Earnest referral bonus by filling out their 2 minute rate check and securing a lower cost loan.
Earnest currently has a loan minimum of $40,000 to get the Student Loan Planner bonus. Make sure you apply with a new email if you've already got an account if you want to get the cash bonus. Earnest won't be able to honor it if you use an email to apply that already existed in their system (ie if you even think you might have applied already, use a different email address with the account signup if you want the bonus).


Commonbond: The Lender with a Social Mission
Commonbond has unemployment protection. They also fund a child's education in a foreign country every time they do a refinancing, which is really cool. Commonbond has a clear social mission that other student loan lenders do not focus on quite as much. My wife and I refinanced with them, so they have a special place in my heart. If you have a debt to income ratio below 1.5 and you owe over $100,000, Commonbond is a must check.
You can read our Commonbond review and see why they're one of our readers top 3 choices for student loan refinancing. You're eligible for the Commonbond referral bonus if you refinance through our link and have the corresponding debt amounts below. Commonbond refinances smaller loans than $40,000 by the way. The numbers below are just the minimums needed to get the bonus.

| Amount | Bonus |
| --- | --- |
| under $40k | $0 |
| $40k-$74.9k | $300 |
| $75k+ | $550 |
*Note: With any of these companies, if you've already applied you might want to create a new profile with a different email address (if you want to make sure you'll get the cash back).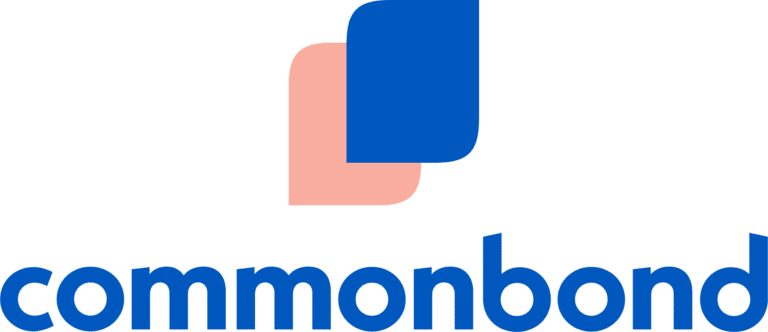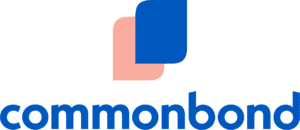 Laurel Road: Focused on Medical Professionals and Residents
Laurel Road is known for refinancing student loans for medical professionals, but they work with a much broader group than that today. They invented resident and fellow refinancing, and they also help out with Parent PLUS loans too.
Check out our Laurel Road review to learn more. Laurel Road has been historically most competitive for 15 or 20 year fixed rate terms. If you're looking for a relatively low required payment with significant interest rate savings, Laurel Road could be a great fit.
Our Laurel Road bonus is tiered. It gives you a larger cash back amount the more you refinance with the company.
Here's the exact terms below for applying through the Student Loan Planner link.

Amount
Bonus (with no
added rate discount)
under $20k
$0
$20k-$74.9k
$300
$75k-$149.9k
$400
$150k-$249.9k
$500
$250+
$750
*Note: Laurel Road checks the rosters of professional society organizations to see if they can offer you additional discounts. If that rate discount is better than the upfront cash back bonus, they'll apply the one that's better. You can't get both.


Credible: Easy to Check A Lot of Lenders at Once
Credible shops a bunch of lenders all at once. There is no unemployment protection with Credible guaranteed across the board, but some of their lenders on the platform do offer unemployment protection. You just have to check with the one that you find the best rate through.
We would expect that a physician with $300,000 of income and $200,000 of debt might find a better rate with some of the options mentioned above. That said, Credible has one of the best websites of any student loan lender as you'll find in our Credible review. Take a couple minutes just to see what they could offer.
Here's the exact terms below for applying through the Student Loan Planner link with Credible. You'll notice the tiered bonus based on the amount you refinance.
Amount
Bonus (with no
added rate discount)
under $40k
$100
$40k - $69.99k
$200
$70k-$99.99k
$300
$100k - $149.99k
$400
$150k+
$750
*Additional terms: Payment of any Welcome Bonus will occur either via a credit through TangoCard.com sent to the email address provided by Referrer or Referee, as applicable, or by any other means determined by Credible."


LendKey: Use it to Find Student Loan Refinance Deals for Small Banks and Credit Unions
LendKey searches a network of small banks and credit unions. Check out our LendKey review, and you'll find that LendKey has among the best unemployment protection of any private lender. Their max is $300k for medical professionals. If you're a 'bank local' person, LendKey is a must check.
Our LendKey referral bonus is $750 when you apply through our link and refinance more than $100,000. It's a $300 bonus if you refinance 20k to 100k, and 0 if you refinance less than that (although you'll still be able to refinance and get a lower rate, you just wouldn't get a cash back bonus for the smallest loans).
They have a habit of connecting you with lenders that you never would have searched. We have seen a large growth in the number of readers using LendKey, so their rates must be getting better relative to the competition.
Again keep in mind you need to apply after clicking our link using an email that has never been used to apply with them before. They pay out the bonus usually within 4 to 6 weeks of the loan funding.


Splash Financial: New Upstart Student Loan Lender from the Midwest
Would you be more likely to trust a financial company if it was located in the Midwest? From our Splash Financial review, you'll see that Splash is a brand new entrant into the student loan refi space based in Cleveland. They should be a very competitive option, especially for folks with FICO scores in the 700s.
I've found that the folks at Splash are very fast to respond and help out. However, their rates aren't as competitive in my experience as most of the other lenders on this list.
Splash Financial gives you a $500 referral bonus when you refinance more than $50,000.


College Ave: Based in Delaware (Like Actually)
Hopefully you get the joke that a lot of companies say they're based in Delaware, but College Ave actually is.
They have no origination fee and solid rates on their student loans, and I saw a dentist recently get an absurdly low fixed rate in 10 years from them recently (almost 3.8% fixed), hence my decision to add them to the site despite the lack of a cash back bonus.
College Ave's low interest rates they can offer, especially for 10, 15, and 20 year fixed rates, make them important to check to do your due diligence. They have a pre-qualification tool on their website so you can find out if you'd be approved without even needing to apply. If you do choose to apply, it takes about 3 minutes to complete the application and receive an instant credit decision.
They also offer 16 different loan terms, which gives you a ton of options to customize your payment plan.
They can refinance up to $300,000 for dentists, physicians, veterinarians and pharmacists. They'll refinance up to $150,000 for all other graduate and undergrad degrees.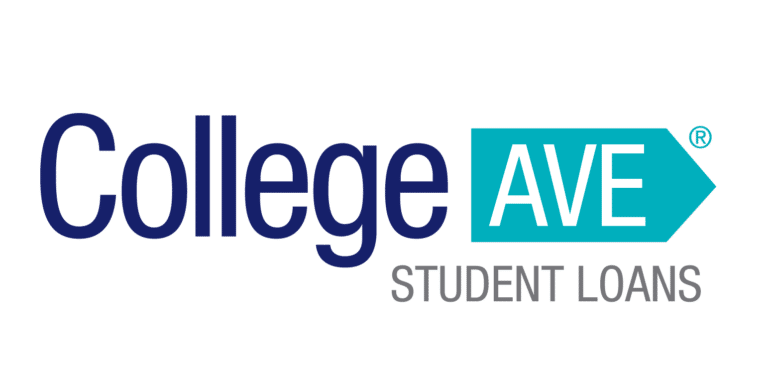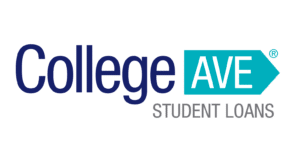 Regional Student Loan Refinancing Lenders
These two companies require that you live within their service area. They might have an alternative goal besides just making a fair profit on your refinanced loan. For First Republic, they want you to sign up for a bank account with them. For Brazos, they want to help Texas residents only.
If you do live in their area, you should apply to these lenders because they will likely have the best rates if you can qualify.
First Republic Bank: Best Rates in the Country if You Can Qualify
First Republic Bank is only available to residents of NYC, most of California, Portland, Boston, and a couple other places. They have unbelievably low fixed rates. Email our banker Miguel at mandrada@firstrepublic.com and mention the $300 Student Loan Planner referral bonus to see if you qualify for the best rates in the country with a cash bonus too.
You'll have to open a bank account with First Republic. Here's three rate discounts you can also qualify for.
Rate discount of 0.50% for keeping at least 10% of the original loan amount in your checking account for at least 12 months.
An additional 0.25% discount for keeping at least 20% of the original loan amount in your checking account for at least 12 months.
Relationship based pricing discount of 2% for maintaining autopay and direct deposit with your First Republic bank account
This option is good for folks who have a nice sized emergency fund and want to get rid of their debt asap (First Republic also has the only fixed rate that starts with a 1, currently 1.95% fixed for 5 years. They'll even rebate interest if you pay the loan off early).


Brazos Higher Education: Exclusively for Texas Residents
Available only in the State of Texas, Brazos is a nonprofit with over 40 years of experience in student loans.  Because of Brazos' nonprofit status, their rates have the potential to be better than the national lenders listed above. I'd spend some time checking what they have to offer if I lived in Texas. You can refinance up to $150,000 with a bachelor's degree and up to $250,000 with a graduate, law, medical or other professional degree.
The Brazos website and application experience could be smoother. However, that's often the case with smaller lenders that might have better rates. If you refinance through our $600 Brazos referral link, you can expect a check within 8 weeks of the loan funding. Details


Who Should Refinance Student Loans?
Student Loan Planner has an awesome free student loan calculator that you can get for free to see how much refinancing might save you. In general, refinancing student loans is a great idea for borrowers in the private sector who owe less than 1.5 times their salary.
Why is that the case? Most people's salaries go up over time. If you already owe less than 1.5 times your income, then that ratio will probably continue to get better. When you make a significant amount of money, the income driven repayment plans like IBR, REPAYE, and PAYE are less attractive.
For someone who owes two times her salary or more, the income driven repayment plans can be super helpful. Options like REPAYE can even cover part of your interest. Once you make a lot of money though, that interest subsidy goes away.
If you owe between 1.5 and 2 times your income, then it's a tougher decision between refinancing and a forgiveness strategy.
When you owe more than 2 times your income and don't expect this ratio to change, then forgiveness over 20-25 years is likely the better option.
Use a Student Loan Refinance Calculator, See Potential Savings
To refinance student loans, you need to choose a repayment term. While Earnest allows you to pick your own term length (ie anything from 5 years to 20 years), most lenders ask you to choose between 5, 7, 10, 15, and 20 year terms.
It's common to start with a 10 or 15 year, make a bunch of extra payments above what you owe, then refinance again in a couple years to a 5 or 7 year.
Plug in your numbers below to see what kind of savings you might have (assuming no extra payments are made).
I'm using the government Standard 10 year plan as the benchmark. Hence, you might save money on interest yearly if you chose a 15 year term at a lower interest rate. However, the long term savings would be negative since you'd be moving from a 10 year to 15 year term.
Terms longer than 10 years for student loan refinancing should in my opinion be used temporarily.
Student Loan Refinance Calculator
What Are the Cons of a Student Loan Refinance?
Here is a list of benefits you lose by refinancing your student loans:
Public Service Loan Forgiveness (PSLF) – Forgives your debt after 10 years tax free after making payments based on income
IDR Loan Forgiveness – Income driven loan forgiveness allows you to pay for 20 to 25 years based on income. At the end of that period, the government forgives the remaining balance, but you must pay income tax on the forgiven amount.
Forbearance Protection – The government will allow you to pause payments for a year at a time, up to three years total. In contrast, most private lenders that offer unemployment protection will only let you pause payments for three months at a time.
IBR, PAYE, REPAYE plans – These income driven repayment options are out the window when you refinance your student loans. With federal loans, you can always cap your payment amount at 10% to 15% of income (20% for Parent PLUS). Private loans require a specific payment each month regardless of income.
Giving Up Refinancing Protections is Easier When You Don't Really Need Them
With a list of lost benefits like that, why does anyone decide to refinance their loans? Here are three characteristics of borrowers who should refinance:
You've modeled your income driven payments and discover you won't have a balance left to forgive. Borrowers with debt to income ratios below 1.5 to 1 usually fall into this category.
You work in the private sector or know you will not stick around in a qualifying job long enough to get forgiveness with PSLF.
Forbearance protection is not relevant to you because you have an ample emergency fund and can easily afford to pay at least 1% of your loan balance each month.
If you could potentially qualify for 10 year PSLF or 20 to 25 year IDR loan forgiveness, we'd highly suggest hiring us to get student loan help. Our CFA or CFP® professional consultant will look at all your options before starting a student loan refinance. With a $100,000+ balance, a mistake can be very costly. For anyone working at a not for profit or government employer, you have to run the analysis first before refinancing because you can't take it back. If you owe more than two times your income in debt, you also need to be very careful. IDR forgiveness could be the better option in that case.
What Are the Pros of Refinancing Student Loans?
Remember that the only real reason to refinance student loans is to pay them off and save lots of money with a lower interest rate. The government sets federal student loans at very high levels. For individuals with high incomes, those rates don't reflect the credit risk of borrowing. That means millions of people out there are giving Uncle Sam free money.
Why do borrowers who will not receive a benefit from government repayment and forgiveness programs avoid refinancing? They could cut their interest rate, but instead they go on paying extra interest that could've gone to principal.
One reason would be that they aren't aware of the possibility. Another could be that they aren't ready to start making big payments.
Here's some popular benefits you get from refinancing your student loans.
1. Lower Your Student Loan Interest Rate
The number one reason to refinance your student loans is to get a lower interest rate. When you pay less interest, more of your payments go directly to the principal. We've seen so many cases where borrowers get extremely frustrated that they're paying thousands of dollars towards interest each year.
You want that charge to be as low as possible. Refinancing is the safety valve that ensures you pay no more interest than you have to.
2. Dump Your Horrible Student Loan Servicer
I personally had an awful experience with FedLoan Servicing when my wife and I were debating between PSLF and refinancing student loans. One of the best experiences from refinancing so far has been getting to deal with someone besides FedLoan.
My wife experienced none of the problems with her private student loan servicer that she did with the terrible servicers picked by the Department of Education. Many of our clients tell us dealing with a competent company that correctly applies their payments is a nice breath of fresh air.
You should never refinance solely to get better customer service. That said, your new servicer is highly likely to be more pleasant to deal with than Great Lakes, Nelnet, Navient, or FedLoan.
3. Get Cash in Your Pocket that Other Sites Keep for Themselves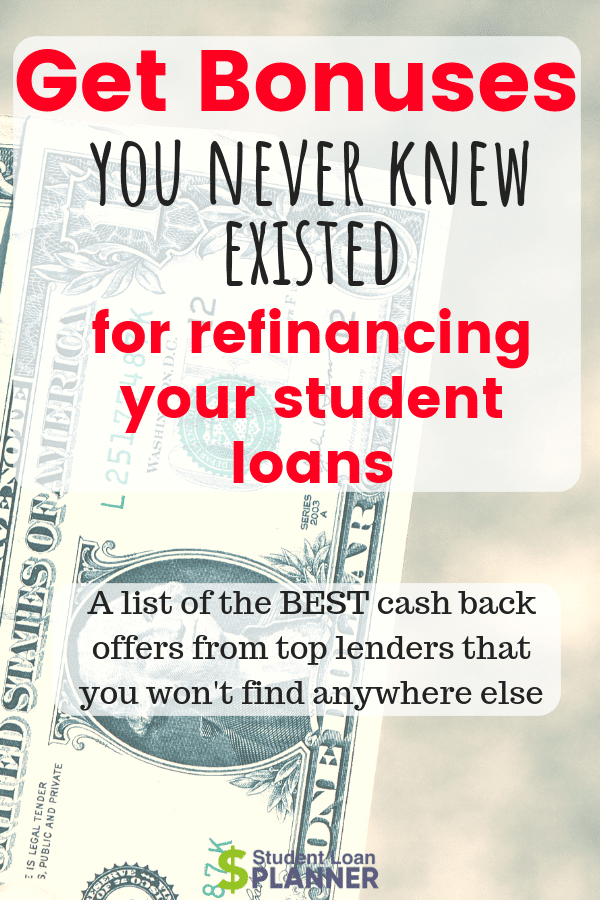 This benefit doesn't exist for refinancing through most other websites. Giving up 50% to 80% of your commission is painful, but we love doing it because that means you get a better deal (and you're far more likely to tell someone about it).
Frequently, we ask refinancing partners to give better deals for readers rather than increasing our own payment terms. Just recently, we had the choice to keep an additional $100 per loan or give it readers. We chose the latter.
Please spread the word by sharing this page with your friends or leaving a comment below. It'll help more people get more than $0 for refinancing their student loans.
Just so you know, the lender handles the welcome bonus. They typically deposit it into your linked bank account they use to withdraw payments within a few weeks after you sign the final agreement to refinance.
4. Use a Refinancing Ladder to Control Your Payment
We did a survey of our readers in early 2019 and found that over 60% said they'd need at least a 2% rate improvement to refinance. Half didn't even know you were allowed to refinance a second or third time.
You can refinance as many times as you can find a lower interest rate.
However, practically speaking we suggest refinancing no more than two or three times.
The reason is that you can create a student loan refinancing ladder and save money.
This approach means that every year or two, you search these lenders above for a new, lower rate. If you started with a 15 year fixed rate, there's a good chance after a couple years of extra payments that you could find a lower 10 year fixed rate offer from a new lender with a similar monthly payment.
You can make additional extra payments on the 10 year and then refinance a third time to a 5 year.
Benefit of a Refinancing Ladder
Using a student loan refinancing ladder allows you to do the following:
Keep your required monthly payment low
Save more money on interest by lowering your rate
Get additional cash back bonuses
If you prefer to keep your loan at the same lender, most will allow you to refinance without leaving. You'll just want to make sure you have a competing offer to help convince them.
Student Loan Prepayment Calculator to Get You Out of Debt Sooner
None of the lenders listed on Student Loan Planner have any prepayment penalties. By making prepayments on your student loans, you can get out debt sooner and save money on interest. I highly encourage you to pay more than you have to.
You can also make one time lump sum payments that also speed up your debt freedom date. Keep in mind that you can refinance multiple times. Many readers and clients tell us that they started with a 10 or 15 year fixed rate, made extra payments, and then refinanced again to a 5 or 7 year fixed rate with a similar monthly payment.
Of course, the upside to that strategy is you limit your required monthly payment initially but get out of debt sooner.
Use the student loan prepayment calculator below to see how much faster you could pay off your student loans.
Student Loan Planner Prepayment Calculator
Student Loan Refinancing FAQ
Here's a list of some of the most common questions we get from readers who are thinking about refinancing. If you have your own unique question, we'd love to hear it! Just ask.
1. How do I refinance student loans?
You want to apply with at least three lenders above if you want to be eligible for the cash back bonuses. Each lender will give you a prequalified rate estimate, or they'll tell you that you don't qualify. If you do get an attractive rate in the pre-qualification stage, the next step is to submit proof of income, a loan payoff statement, and go through a hard credit check. If you like the final rate offered to you, then you can simply sign the final offer you receive.
2. Will refinancing hurt my credit score?
The impact might be 5 to 10 points max, and it would roll off your report probably within 2 years. Most lenders don't consider credit inquiries after 12 months. Realistically, if you have a 795 credit score, apply for a student loan refinance, and then drop to a 790, that's not going to have any impact on getting a mortgage, practice loan, car loan, etc. In practice, avoid refinancing student loans immediately before shopping for a mortgage. Other than that, you're probably safe to take an extremely modest hit for what could be big savings.
3. How much lower should my student loan interest rate be to refinance?
For federal loans, you probably have to get at least a 0.5% lower interest rate to justify giving up much better government loan repayment protections. With private loans, if you can find a rate that's even just 0.25% lower, you should refinance a second time. With student loan refinancing, there are no origination fees. In fact, thanks to cash back bonuses existing, you get paid to refinance. If you can get even a small improvement in your interest rate, you should probably refinance if you know you need to pay off your debt in full.
4. Can I take on my parent's loan in my name?
A parent can transfer her Parent PLUS loans to her child's name alone with Laurel Road and Commonbond above. More commonly, a parent can cosign a loan for their child with most of the lenders listed above.
5. Is it possible to refinance both federal and private loans together?
Yes. You can combine as many or as few loans as you want into a refinanced loan. However, you should only include loans in a refinancing if the interest rate you're getting is better than what you have. For example, assume you have $100,000 of Stafford loans at a 6.6% and $30,000 of private Sallie Mae Loans at a 4%. You apply and find your best offer is a 10 year rate at 4.5%. You can choose to only include the higher cost Stafford debt and leave out the Sallie Mae loans because they have lower cost.
6. Can I reverse a student loan refinancing decision?
No. You have a few days when you're signing the final documents to undo a student loan refinance. However, once the loan is paid off and you have your new account with a private lender, you can't change your mind and go back to a federal student loan. That's one reason you need to be absolutely sure you will not benefit from student loan forgiveness before refinancing.
7. Should I choose a variable interest rate for my new loan?
When my wife and I refinanced our $124,000 of med school debt, we chose a five year variable rate loan that cost about 2.2%. Rates are higher now than they were then, but we still took a conscious risk in selecting a variable rate instead of fixed. Why did we make this decision? If interest rates rose rapidly, we would be able to pay a lot extra above what we had to pay with our required payment. We got a rate more than 1% below the fixed rate, and our big extra payments meant we saved a lot more on interest with the variable rate instead of the fixed rate. If you can find a variable rate at least 1% below the fixed option for a loan less than 10 years long, consider choosing variable. Otherwise, select the fixed rate option.
8. Can I refinance student loans more than one time?
In our survey of almost 1,000 Student Loan Planner readers, almost 50% did not know you could refinance more than one time. That shocked me as we refinanced our student loans twice, picked up two cash back bonuses, and cut our rates once when we moved from federal to private loans and again when we moved from a private refinanced loan to an even cheaper loan with a new company. You can even refinance three or four times as well, although I'd question if there are better things you could be doing with your time once you refinance more than two or three times.
9. Who Qualifies for a Student Loan Refinance?
While many borrowers could qualify for a student loan refinancing deal, what do you need to get a top offer? You have the highest chance of success if some of the following characteristics apply to you:
Your credit score is above 650 (read these options if you have bad credit)
Debt to income ratio below 1.5
You have a six figure income
You have a professional level degree (MD, DMD, DVM, JD, MBA, etc.)
Your alma mater is a top 100 university
Tax returns show consistent income or income growth
I've seen borrowers get a good deal without any of these qualities, but having one or more be true of you certainly helps your chances.
10. What kind of protections do you have with refinanced student loans?
Most private lenders will allow you to pause payments for up to three months if you lose your job. Check your promissory note to be sure. That same tip applies to forgiveness due to death or disability. The vast majority of lenders offer this protection. However, you'd still want to check to be sure. If you want to be safe, spend some of the interest savings you achieve after doing a student loan refinance on better term life and disability coverage.
11. What happens to refinanced loans if you get a divorce?
It's an unromantic question, but divorce happens to a sizable percentage of the population. If it does happen to you and you have private loans, the borrower whose name is on the loan is on the hook for all of the debt. Hence, spouses take a risk by cosigning under a private refinancing. If the loan is in the name of the primary borrower only, the student loan refinancing company cannot come after the spouse.
12. How often should you apply to refinance again if you've been denied?
In general, I suggest shopping around for a new rate if you get rejected for refinancing every six months. If you know you need to pay off your loans in full, you want to keep trying for a better rate. Once you successfully refinance, I'd check rates every year to see if there's anything better out there.
Testimonials from Student Loan Planner Readers Who Refinanced
These readers refinanced through Student Loan Planner and picked up a cash back bonus. We wanted to share some real world examples so you'll feel confident that yes, refinancing and getting paid to do it is a real thing.
Experience Getting a Lower Interest Rate through Student Loan Planner
Refinancing with CommonBond was super easy and quick!

They were able to beat all the other big companies and […my rep] at CommonBond was a pleasure to work with!

I want to thank Travis for referring me and also getting a big refinance bonus!!!

-Zach, Dentist / 'Disillusioned Dentist' podcast host
TJ and I were able to refinance with Commonbond. We each received $500…an extra $1000 for something we were going to do anyways!

With your help, we chose Commonbond as they had the most competitive interest rate. I have been VERY happy with them as their customer service is fantastic.

– TJ and Lauren, Physicians

Student Loan Planner made refinancing so easy!!

Travis gave me the best companies to look into and then after I did my research I chose which company worked best for me!! The refinancing process was a breeze! I am so glad that I did it and the cash back was a nice bonus too!

-Marisa, Dentist
If you use these links and save money, we'd love to know about it. Click on this link to drop us a note.
Please share these deals with your friends who are thinking about refinancing. Maybe they'll take you out to dinner with part of the bonus. Better yet, maybe they could put it to their principal and get out of student loan debt even sooner!
Take this Student Loan Refinancing Quiz to Start!
Ready to refinance student loans? Just click the links above and get started.
Still a little unsure of what to do after reading our discussion of the pros and cons of student loan refinancing? That's why we made this quiz for you below. It will recommend if we think refinancing is a good idea, and the quiz will suggest a specific lender if we do think student loan refinancing could help you out. It will also warn you if student loan forgiveness might be your better option.
Of course, please use the comments below to ask anything you want or share your experience with refinancing.
We want anyone visiting Student Loan Planner to get the best interest rate and cash bonus they can possibly find. Of course, we don't list every company either. We try to be transparent and always work for you. If you find better bonuses or refinancing deals out there, please contact us at help@studentloanplanner.com and let us know. Better yet, call us out in the comments on this blog post.
We hope you get out of debt faster than you ever thought possible!