What you need to know:
Brazos offers refinancing and parent loans to Texas residents.
It offers a cash-back bonus to Student Loan Planner® readers.
Its approval process can be lengthy and involves a lot of paperwork.
Brazos Higher Education Service Corporation is a classic example of a company that should make big student loan lenders worried. Brazos, a Waco, Texas-based nonprofit, has been around since 1975. It acquired the website studentloans.com years ago and has since relaunched it with a focus on providing transparent and low-cost student loan refinancing and Parent Loans exclusively for Texas residents.
Brazos student loans: pros
As a nonprofit with a regional focus, Brazos offers competitive interest rates based on a borrower's credit history, income and other traditional conventions like debt-to-income ratio to help determine creditworthiness. Here are reasons why refinancing your student loans with Brazos might work to your advantage:
Save on interest rates.

 In some cases, Brazos refinance loans might have lower interest rates compared to national student loan lenders.

Autopay discount.

 Brazos offers an autopay discount of 0.25% if you sign up for autopay; however, this is dependent on your credit score.

Upfront pricing.

 Brazos lists all of its interest rates and terms in a chart on its website.
No fees. There are no associated fees or penalties (e.g. origination fee or prepayment penalties)

Deferment and forbearance.

Brazos offers options for borrowers who encounter financial hardship due to economic, military or natural disaster circumstances. Its solutions aren't as strong as federal options, however.
Because Brazos is locally based, it provides loans exclusively to Texas residents. When it comes to student loan refinancing, Texas borrowers may be able to get lower interest rates through Brazos than through national companies.
Advantages: Established nonprofit
Allows cosigner: Yes
Deferment or forbearance: Yes, up to 12 months
Rates: Fixed and variable
Terms: 5, 7, 10, 15 and 20 years
Loan amount: $10,000 to $150,000 for bachelor's degree ($400,000 maximum for graduate, medical, law or other professional degrees)
Brazos student loans: cons
Brazos student loans aren't the perfect solution for everyone. Here are some disadvantages to refinancing your existing private or federal loans with Brazos:
Inflexible assessment.

 The Brazos interest rates are based on your FICO score. Some lenders use other information, in addition to your credit score, to determine your rate, so you may get a better rate elsewhere.

Paperwork.

 The lengthy refinance application process can be hard to complete for some borrowers. Because Brazos uses a third-party origination system for its loans, you'll have to fill out an application with the third-party originator before completing the process to fund the loan with Brazos.

Limited forbearance.

 Forbearance options are available, but only up to 12 months for economic hardship, 36 months for active-duty military and three months for a natural disaster.
No cosigner release program. However, if your financial situation has improved, you can apply for a new loan without a cosigner.
Our recent Student Loan Planner® refinance survey found that Brazos is rated the lowest among listed refinance lenders.
"The reason for that is that their application process is just not the best," said Travis Hornsby, founder of Student Loan Planner®. "You have to be very committed to get through their application process."
Eligibility requirements
If you decide to move forward with Brazos and want to apply, here are the requirements you'll need to meet in order to get approved:
Be a U.S. citizen or national or a non-citizen with current permanent resident status.
If applying with an eligible cosigner, you can be a non-citizen with a work or student visa.
Proof of Texas residency.
Minimum 18 years old
Minimum of a bachelor's degree from one of over 2,000 accredited Title IV institutions
Proof of income with an annual minimum income of $60,000 (or $30,000 if applying with a cosigner)
Credit score of at least 720 (or 690 if applying with a cosigner) and a strong credit history
Application process
When you visit the Brazos website, the "Apply Now" button is visible on the top right side of the page. Once selected, you'll be directed to the online application page to begin setting up your account to apply.
For the refinance application process and student loan servicing, Brazos uses a third-party origination system, Firstmark Services, a Nelnet company. You're required to set up an online account with that company to begin the application process.
If you have the minimum income and know your credit score, you'll know what kind of fixed and variable rate loans you could qualify for at Brazos because its rates are published on its site. The organization won't need to do any form of credit check to quote you rates. Therefore, the next step is to consent to a hard credit check if you want to move forward with a loan from Brazos.
If you're applying with other lenders, make sure to time all of your hard credit checks so that they coincide. This way the hard credit checks only count against your credit score one time. The credit reporting agencies may record multiple inquiries for the same type of loan as a single inquiry as long as they're made within a certain time frame.
The Brazos student loans process requires that you sign a credit agreement, which is normal when applying for credit. The final approval disclosure document is what actually makes the loan fund.
Once you sign, however, you have the rescission period, a waiting period, which allows you an opportunity to cancel the loan funding.
Even though the process is straightforward, other lenders have a slightly more efficient process. Know that you're going to jump through a couple hoops to see if you can qualify for Brazos' below-market rates.
Required documentation
Here is the information you'll need to submit your application for a Brazos student loan:
Proof of Texas residency (state ID or driver's license)
Social Security number
Permanent address
Proof of income (e.g. recent pay stubs, 1099 Forms or most recent tax return)
A payoff verification from your current loan servicer or lenders, with the address where payoffs will be sent to
If you have questions, you can call FirstMark Services or email Brazos at [email protected]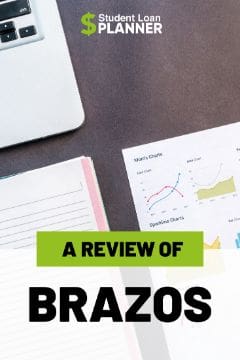 Should you refinance with Brazos?
Refinancing your federal or private student loan debt could save you thousands over the term of the loan. But federal borrowers should be cautious when refinancing because you'll no longer have access to federal repayment options that can lower your monthly payment, including:
Pay As You Earn (PAYE)
Revised Pay As You Earn (REPAYE)
Income-Based Repayment (IBR)
Income-Contingent Repayment (ICR)
You should only refinance student loans with Brazos if refinancing makes sense for your overall strategy. If you owe less than 1.5 times your income and work in the private sector, you will probably get a better deal by refinancing instead of using federal repayment programs. The reason is that you'll pay less in interest.
If refinancing is in your future, we recommend shopping around with at least three of the best student loan refinance companies.
In a survey of Student Loan Planner® clients, Brazos was rated worst overall as a lender according to borrowers who had recently refinanced through the lender. Its score, seven out of 10, was largely due to its website, which respondents felt was hard to navigate, as well as its poor customer service. That said, if you live in Texas and can get a lower rate with Brazos, it might be worth the hassle.
At Brazos, you could be paying significantly less interest than with the federal student loan program or with your existing private loans. Plus, you can take advantage of the cash-back bonus for Student Loan Planner® readers.
Just make sure that you don't refinance if you owe way more than what you earn. In that case, forgiveness strategies could make more sense.