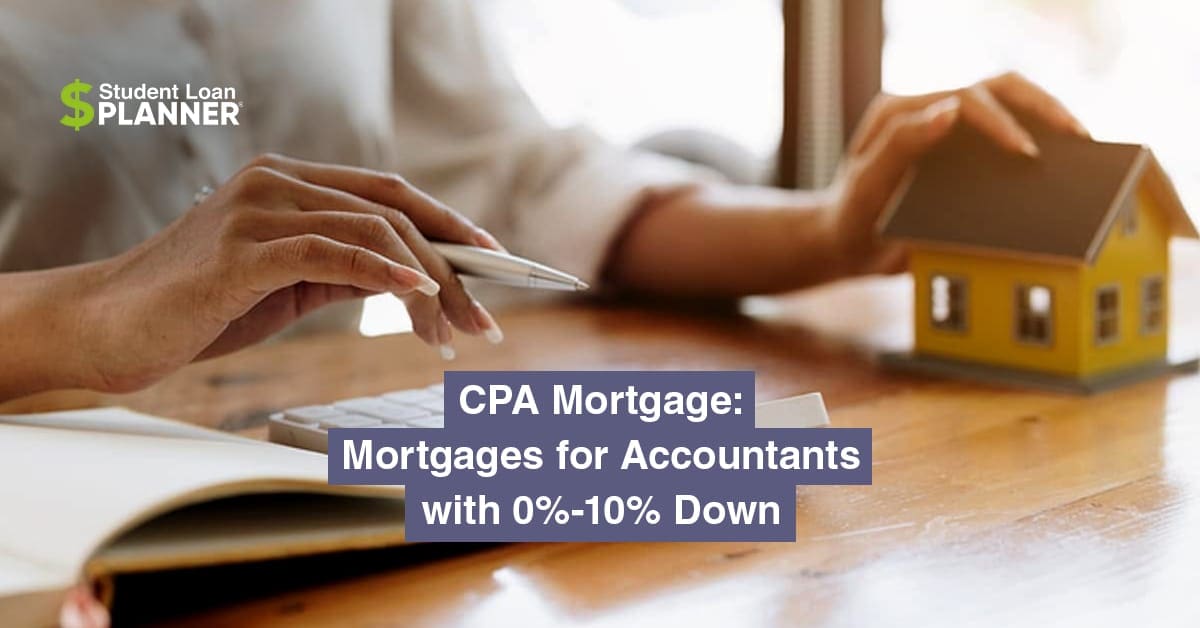 5 Min Read | Updated on May 8, 2023
Key Takeaways:
A CPA mortgage loan can help accountants secure a mortgage with as low as $0 down.
This type of mortgage program has no private mortgage insurance requirement, high loan limits and relaxed underwriting guidelines.
New CPAs can qualify for a mortgage up to 90 days before starting employment.
Certified public accountants (CPA) and recent accounting graduates have a unique home financing opportunity that is designed to make qualifying for a mortgage easier and more affordable.
With a CPA mortgage, you can avoid spending years saving up for a large down payment or waiting to build a solid income history. But this little-known mortgage solution isn't available everywhere, which can make it challenging — but not impossible — to find lending opportunities in your area.
Read on to learn how you can benefit from a CPA mortgage and where to find one.
What's a CPA mortgage loan?
Accountants have access to a special professional home loan program called a CPA mortgage. This comes with low down payment options, generally ranging from 0% to 15%. In addition, unlike with a conventional mortgage, CPAs aren't required to carry private mortgage insurance (PMI), even if your down payment is $0.
Additional benefits of a CPA mortgage loan include:
Competitive interest rates that can sometimes be lower than conventional rates.
Loan amounts well-beyond the conventional limit of $647,200 (in most counties).
Flexible underwriting guidelines that treat student debt more favorably.
Ability to close on a home up to 90 days before starting a new position.
Note that a CPA mortgage is often part of a lender's physician mortgage program or falls under the umbrella of an "early professional home loan". So, it isn't always obvious which banks provide these exclusive home buying benefits to accountants.
6 Best lenders offering a CPA mortgage
Here's a list of lenders who work with accountants specifically to offer low down payment solutions. Mortgage providers are listed alphabetically and loan officer contact information is included when applicable.
1. Broadway Bank
Broadway Bank allows accountants to access loan amounts up to $1 million with 5% down and no PMI via its Professional Mortgage Program. This program provides a fast, digital loan application supported by local loan professionals throughout South Central and Central Texas.
States available: TX
2. Flagstar Bank
The professional mortgage program with Flagstar Bank is available to CPAs in nearly all 50 states with less than 10 years of accounting experience. Eligible borrowers can qualify for up to $1 million in home financing with 0% down or up to $1.5 million with 5% down.
Note this program is limited to ARM products, meaning you won't have the option to choose a traditional 30-year fixed rate.
States available: AL, AK, AZ, AR, CA, CO, CT, DE, DC, FL, GA, HI, ID, IL, IN, IA, KS, KY, LA, ME, MD, MA, MI, MN, MS, MO, MT, NE, NV, NH, NJ, NM, NC, ND, NY, OH, OK, OR, PA, RI, SC, SD, TN, TX, UT, VT, VA, WA, WV, WI, WY
3. FNBO Mortgage (First National Bank of Omaha)
Accountants in select states might be eligible for a professional home loan with FNBO mortgage. CPAs can borrow up to $750,000 with 5% down or $1 million with 10% down.
FNBO offers a 30-year fixed rate, as well as adjustable-rate options. It also serves borrowers interested in using a VA loan or FHA loan.
States available: CO, IA, IL, KS, MO, NE, SD, TX, WY
Contact: Abe Huerta
4. Michigan State University Federal Credit Union (MSUFCU)
MSUFCU's professional mortgage loan gives CPAs the ability to purchase a primary residence with as little as 3% down on a fixed-rate mortgage for up to 30 years and no PMI.
Deferred student loans might be excluded from your DTI.
States available: MI
5. Northpointe Bank
Northpointe's professional home loan program provides loan amounts up to $970,800 with as low as 3% down. However, other down payment options are available for amounts up to $1.3 million.
This program is limited to one-unit properties in select states.
States available: AL, AK, AZ, CA, CO, DE, FL, GA, HI, ID, IL, IN, KY, MA, MI, NV, NJ, NC, OH, OR, PA, RI, SC, TN, TX, UT, VA, WA
6. U.S. Bank
Unfortunately, accountants aren't eligible for U.S. Bank's physician mortgage program. But you might still qualify for an alternative mortgage solution, called an 80-10-10 loan.
This program allows borrowers to limit their down payment to only 10% without triggering the need for PMI by taking out two separate mortgages — one at 80% of the purchase price and another at the remaining 10%.
States available: AL, AK, AZ, CA, CO, DC, ID, IL, MA, MD, MT, MI, MN, MS, NE, NV, ND, NM, NY, NJ, OK, OR, RI, SD, TX, UT, WA, WY, WI
Related: Physician Mortgage Loan Review for CPAs: Happy Mortgage by Centennial Bank
Is a CPA mortgage loan right for you?
If you're looking to purchase or refinance a primary residence, then your accounting degree could give you a leg up in today's competitive housing market.
A CPA mortgage offers low down payment options, no PMI, higher loan limits, more generous underwriting and potentially lower rates than a conventional loan. However, accountants aren't automatically included in many physician mortgage eligibility requirements — although this will likely change as more banks expand their reach to more professions.
Therefore, it's best to do your research and explore all mortgage options available to you. This might include using your spouse's profession to qualify for other mortgage programs or tapping into other low down payment government programs, such as a VA loan, FHA loan or USDA loan.
Fill out the form below to start receiving quotes for CPA mortgage loans or explore additional physician mortgage lenders by state.