Creighton University holds the distinct honor of being the very first school in the nation to offer a Doctorate of Physical Therapy (DPT) program.
Creighton also gives its students many community service opportunities both locally and around the globe, with 4,799 of its students involved in community service of some kind last year, totaling over 1.1 million student service hours.
With its unique history and missional core, it's easy to see why Creighton University Physical Therapy is an attractive destination for new DPT students. But you also need to consider the cost.
How much does it cost to attend Creighton Physical Therapy, how much debt could you end up with and is it worth it?
Creighton physical therapy program costs
The Creighton DPT program is a three-year program that spans eight semesters (including two summers). In year one of your Creighton DPT program, you'll pay $37,516 in tuition alone.
But then you have to start adding in all the additional expenses and fees. Other costs that you'll need to consider include:
Room and board
Food
Health insurance
Books
Administrative fees
Lab fees
Loan fees
Thankfully, Creighton University's physical therapy school at least tries to take these costs into consideration on its cost of attendance page. That's more than I can say for other schools I've researched.
Creighton estimates that these additional expenses will add another $24,500 to your school expenses, bringing your total estimated cost for year one to $62,039.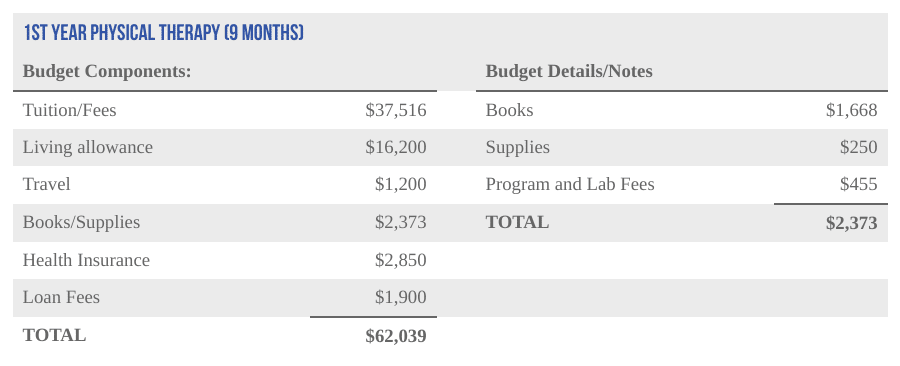 Unfortunately, it actually gets worse from there. You see, the first academic "year" of the Creighton DPT program is only nine months. But the final two school years are a full 12 months.
So, the next two years in the Creighton Physical Therapy Program will cost you $86,039 and $85,884 respectively — bringing your total estimated three-year cost to $233,962.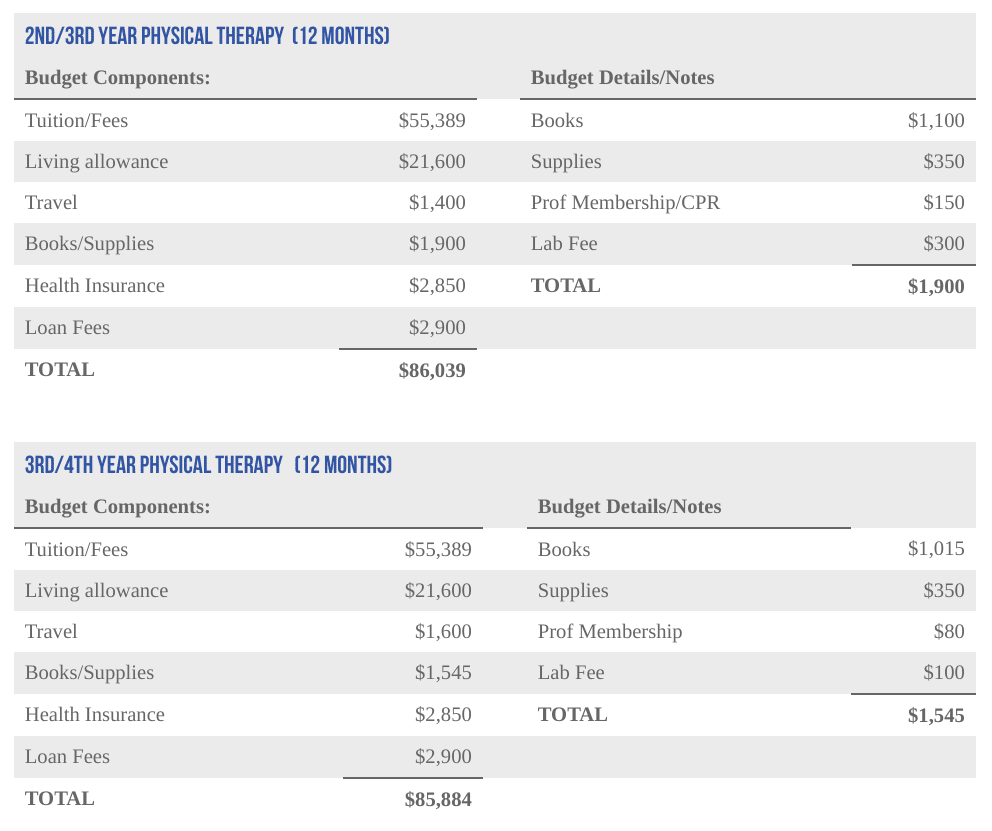 Student debt of Creighton Physical Therapy graduates
Based on the numbers above, it's mathematically possible that you could end up with over $200,000 in debt from Creighton.
But the exact amount of debt you'll end up with would depend on a variety of factors, such as whether or not you qualify for federal or state grants or receive financial assistance from your parents. Also, if you're married and your spouse is working, that income could make it easier to pay some of your tuition as you go.
According to College Scorecard, the median debt for Creighton Physical Therapy and Occupational Therapy program grads in 2016-2017 was $178,097.
Remember, that was the median debt. That means half of all Creighton grads that year graduated with more than $178,000 of student debt.
Out of 214 therapy schools included in the College Scorecard report, Creighton had the second-highest median debt total for its graduates. The only school to have a higher median debt total was Western University of Health Sciences.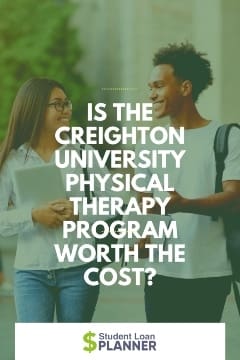 Is the Creighton University DPT program worth the cost?
I'll make this simple for you. If cost is important to you, you should definitely not attend Creighton's DPT program. Below, we'll take a look at the two biggest reasons why Creighton is not a cost-effective choice.
Private universities charge a tuition premium
The first reason that Creighton doesn't make good financial sense is simply that it's a private university. That means you won't get a tuition break for being a state resident.
According to the CAPTE's Aggregate Program Data, the average public university DPT program costs $65,170 (excluding room and board) for the entire three years. But the average private DPT program costs $112,714. That means on average you'll pay nearly double just because you chose a private university.
And that general rule especially applies to the Creighton Physical Therapy Program. For instance, if Nebraska residents chose the University of Nebraska's DPT program instead, they'd only pay $19,694 per year in tuition (for a full 12 months).
Creighton's DPT program, on the other hand, charges over $55,000 in tuition per 12-month academic year. That's a difference of $35,000 per year in tuition alone.
If you're a Nebraska resident, you should consider applying to University of Nebraska Medical Center's DPT program instead of the Creighton DPT program.
Creighton's DPT program costs more than the average private university
But what if you aren't able to get accepted into the UNMC DPT program?
Well, in that case, your next best choice may be to apply to an out-of-state public university. Their non-resident rates could still be lower than what Creighton charges.
But even if you're aren't able to earn acceptance from any public university, that still doesn't necessarily make Creighton DPT a good financial choice.
As mentioned earlier, the average private university DPT program costs $112,714 in tuition and fees. But with Creighton University Physical Therapy, you'll pay $148,294 in tuition alone.
So, by attending Creighton Physical Therapy school, you'll be paying over $35,000 more than you would at the average private university.
The numbers speak for themselves
When you take all these costs into account, there's no doubt that the average student could save a lot of money by staying away from Creighton DPT.
Does that mean it's a bad school? Absolutely not. On the contrary, Creighton looks like a school that really cares about helping its students grow as people as well as professionals. It recently ranked No. 15 out of 217 physical therapy schools in the U.S. News Best Physical Therapy Schools list.
And if you're able to land a ton of scholarships and grants or your parents are helping to pay for school, then that financial assistance could change the equation. But without taking any other factors into consideration, the basic math says that Creighton DPT is too expensive.
What can you do if you already have Creighton Physical Therapy debt?
Are you a Creighton University Physical Therapy grad dealing with a bunch of student debt? If so, you have three main options:
In general, you'll want to owe less than 1.5 times your income to get the best rates on student loan refinancing. And you'll need a good credit score as well.
But if you meet both those criteria, refinancing could save you a bunch of money in interest. Imagine that you graduate from the Creighton Physical Therapy program with $180,000 in student loans (just above the debt median of $178,000) at an average interest rate of 6.5%.
By refinancing at 3.5%, you'd save over $31,000 over the life of your loans. That's a ton of money that you could invest for retirement … or use for anything else other than lining the pockets of student loan lenders.
And by using one of Student Loan Planner®'s referral links, you could earn a $350 to $750 cash bonus. Check out the full list of refinancing lenders and their current cash bonus offers.