"When I left dental school, I was able to pay for it without taking out debt!" – 65-year-old dentist
When you hear people say that their generation could pay off their student debt or work through school, they don't quite understand how different it is today for the average dentist.
The cost of everything has gone up over the last 40 years, but dental school tuition has grown much faster than the price of housing, cars, and even the average dentist salary.
Let's examine how much the landscape has changed over the last 4 decades.
The cost of dental school 40 years ago
It's 1978.
The Bee Gees are dominating the music charts with "Stayin' Alive" and "How Deep Is Your Love". Queen is up there with "We Will Rock You/We Are The Champions". "Macho Man" & "YMCA" were released by The Village People. Funkadelic released what is considered one of the greatest funk albums of all time One Nation Under a Groove.
Star Wars: Episode IV, Superman, Grease and Jaws 2 are blockbuster hits.
And…dental school costs less than $5,000 per year.
More specifically, resident tuition averaged $3,311 and non-resident tuition averaged $4,431 according to the Council on Dental Education.
Obviously, dental school tuition has increased substantially since then. But how does it compare to the cost of other things 40 years ago compared to today?
First, let's start by looking at the cost of dental school today.
Dental school tuition today
According to the American Dental Association, the average first year tuition for dental school for the 2019-2020 school year was $55,395 for residents and $72,219 for non-resident dental students. Private dental school can be even more expensive than that.
That's a major increase over what it was 40+ years ago. But big numbers and compound growth can play tricks on us. Let's take a look at how it's grown from a dollars-perspective against the average annual growth rate.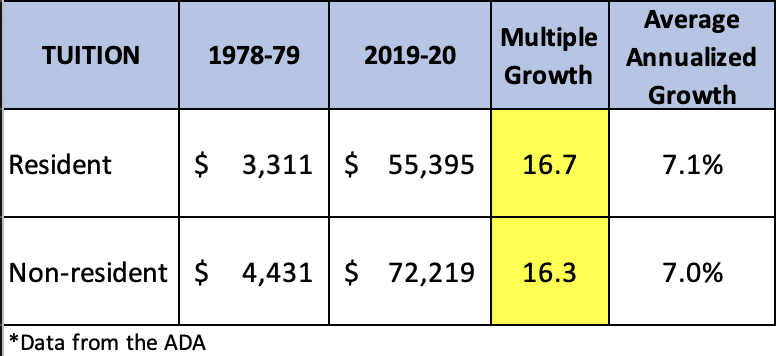 Dental school tuition is about 16x more expensive than it was 41 years ago. That works out to a 7% average growth rate in tuition per year for both resident and non-resident students.
But this doesn't tell us the whole story, because we need to see how dentists' salaries have changed over time, too.
How must dentists earn today vs. 40 years ago
The median salary of dentists today is $164,010 according to the Bureau of Labor Statistics. A dentist's income depends on many factors like practice ownership, practicing in major cities versus rural towns, and the types of procedures done in the office. Even though there can be a wide range in dentist salaries, let's just go with the median number for now.
Back in 1980, a dentist's income was around $50,000 according to St. Louis Fed data versus $164,000 today.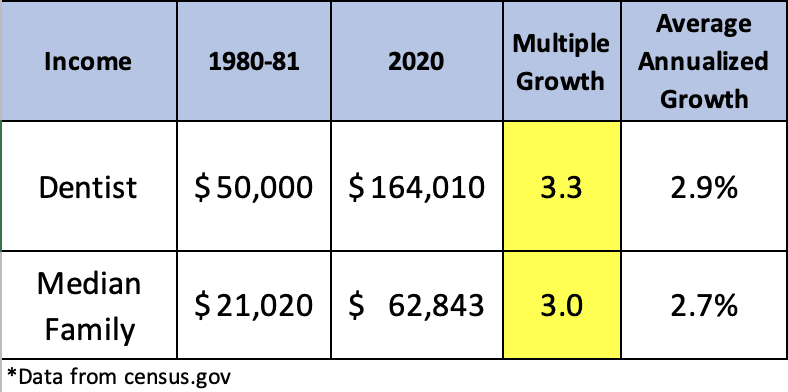 .
As you can see, the dentist income as well as the median family income has gone up about 3x over the last 40 years or ~3% average annualized growth, well short of the 7% growth in dental school cost.
Key point: Dentist income has risen 3x, but tuition has risen 16x over the last 40 years.
Now let's see how the rise of dental school compares to other lifestyle items like home prices and car prices. Did any other major purchases grow at the pace of dental school? Does anything come close?
How prices changed over 40 years
Now we know that dental school is 16x more expensive than it was 40 years ago but income is only 3x higher.
Finally, let's take a look at other major purchases and inflation as a comparison to the rising cost of dental school: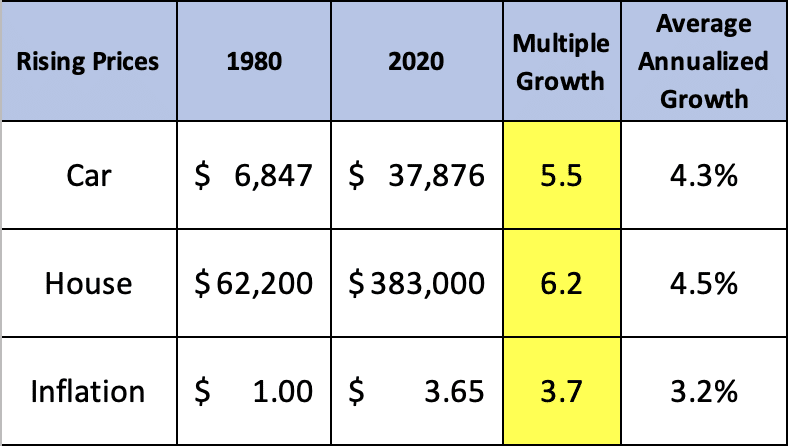 *Car Data from Kelly Blue Book, Inflation data, Housing data from census.gov
If we just look at the inflation data, the cost of everything in aggregate has gone up by 3.7x over the last 40 years (3.2% average annualized return).
That's right about the rate of growth for the median family income as well as dentist income.
Houses and cars have grown at a faster pace than that, but are still at a fraction of the multiple growth of the dental school cost.
Affordability of Dental School Today vs 40 Years Ago
In 1979, it made a lot of financial sense to become a dentist. The total cost of school would be under $20,000 and you could earn $30,000 more per year than the median family ($50,000 versus $21,000).
Dental school tuition and fees were insanely affordable. A dentist could make more in a year practicing dentistry than it cost to go to 4 years of dental school.
Today is much different however.
The total cost of attending dental school can easily eclipse $300,000. Sure, dentists make $100,000 or more than the median household income, but it pushes off the break-even point and isn't nearly as affordable as it was before.
The cost of dental school has gone from about 40% of a dentist's salary in 1980 to 200% in 2020. In other words, dental school has gotten 5x more expensive than it was 40 years ago when compared to the potential earnings.
That extra expense also requires a different loan repayment strategy than 40 years ago.
With today's student loan rules, we would probably advise a dentist from 1980 to pay off their loans in full very quickly while a dentist today might want to go on an income driven repayment plan based upon their debt to income which pushes out loan repayment to 20 or 25 years.
The next time a 60- or 70-year-old dentist wonders why you have dental student debt despite making a good living, saying they could pay for school quickly — you can tell them why.
Is dental school still worth it? We think it is, but the math is different than it was 40 years ago.
Wondering the best way to pay back your dental school debt?
Dental school debt doesn't have to be a burden. Student loan repayment for dentists can fit around your career goals whether it's as an associate, practice owner or specialist.
If you owe more than 1.25x your salary in federal student loans, then a student loan consult will help you figure out the optimal way to pay back your student loans while pursuing your career path. The average dentist we work with has around $396,000 in student loans, so you're not alone, and we can help.
For any private loans with high interest rates, try lowering your interest rate by refinancing your student loans.
In the end, your student loan debt doesn't have to be a burden even though the cost is much greater than it was decades ago. There's a repayment option that will work best for your specific situation.