Dermatologists are among the highest compensated physicians. But like other physicians they also have the highest student debt. Is taking on six-figure student debt worth it to become a dermatologist? Let's compare this field's average salary, debt and other factors to answer that question
Student loans operate by different rules than other debt. Dermatologists can have difficulty understanding how they can save the most money paying back their six-figure student debt. The loan repayment strategy can play a factor in whether this career path is worth pursuing, too.
How dermatologists differ from other medical professionals
The American Academy of Dermatology states that dermatologists specialize in conditions related to skin, hair and nails. There are more than 3,000 conditions that a dermatologist can treat.
Some of these conditions are cosmetic, like acne or a birthmark, while others could pose major threats to an individual's health, like skin cancer. Dermatologists can also detect underlying conditions that have to do with other parts of the body but where the symptoms show up in the skin, hair or nails, like impaired liver function and pancreatic cancer.
To get the extensive training needed to treat such a range of conditions, dermatologists go through a three-year minimum residency and a one-year internship after graduating medical school. It's a long road but it can be rewarding both financially and professionally, including when considering they're helping patients live longer, higher-quality lives.
Once dermatologists are done with their training, they can either take a private practice track or an academic track in their career.
Academic dermatologist vs. private practice dermatologist
Most dermatologists, about 75%, work for either a solo or group private practice. Private practice dermatologists typically work normal business hours and can often be an owner in the practice. They also tend to make more money and have more job flexibility and higher quality of life than their academic counterparts.
Academic dermatologists work for a health system or hospital with a residency program. They can work either directly or as a part of a group within those employers. Some dermatology positions are centered around research and teaching. This track can require being on call, completing challenging research requirements, and accepting less pay than if they were in private practice.
How much does a dermatologist make?
Medscape completed its 2022 annual compensation survey for physicians. Nearly 20,000 physicians across 30 different specialties responded. After analyzing the data, dermatologists ranked among the highest compensated physician specialists.
In fact, dermatologists ranked seventh out of 30. The average 2022 dermatologist salary was $438,000 per year. This study didn't differentiate between the academic track and the private practice track, but the 2018 survey showed that self-employed dermatologists earn significantly more than those who are employed by others.
In the 2018 study, self-employed dermatologists reported earning $537,000, while employed dermatologists reported earning $307,000. Self-employed income was 75% higher!
With such a difference in income depending on the career track, a dermatologist's approach to student loan repayment needs to be tailored to his or her circumstances. Let's start by looking at the debt load before looking at how an academic dermatologist and a private practice dermatologist might approach student loan repayment.
Protecting a dermatology salary
With such a high income depending on the use of your hands, you'll likely want to protect your dermatology salary from dropping due to disability. 
Through our agency SLP Insurance, you can submit your information below to get quotes from "The Big 5" true own-occupation carriers. We also look through residency program discounts nationwide to get you the best policy, no matter what.
Get Your Own-Occupation Disability & Term Life Quote
What is Your Occupation Status Currently?
NEXT
Height
Weight(lbs)
Have you had any recent surgery or hospitalizations?
Do you take any medication?
Do you have any medical conditions?
NEXT
Full Name
Date of Birth
Email
Phone Number
State of residency
Specialty
Communication preference with SLP Insurance
Any additional questions or comments?
GET MY QUOTES
Average dermatologist student debt
According to the American Association of Medical Colleges, the median medical school debt for an MD graduate was $200,000 in 2018. Working with physicians on their student debt, I can tell you that I have rarely consulted with a doctor who owes that amount or less. We've found that physicians owe way more than that.
Here at Student Loan Planner®, we have worked with 535 physicians. The average debt load for our clients has been $332,000, which is 66% above the AAMC's numbers. These real-life cases provide a very different picture of the typical debt load than the AAMC's median number.
As for dermatologists versus other physicians, we've found that most doctors regardless of specialty end up with the same amount of debt when they graduate from medical school. The main differences we see in physician debt during a consult is the timing of when they worked with us, such as working with us post-graduation versus when they just became an attending.
So, is multiple six-figure debt worth it to become a dermatologist? Let's take a look at what repayment would look like for both academic and private practice dermatologists if they were to take an optimal approach to paying off their student loans after graduating but before starting residency.
Student loan repayment for academic dermatologists
Yes, academic dermatologists make less money than their private practice colleagues, but they are often eligible for Public Service Loan Forgiveness (PSLF), which could mean huge savings on paying back their student loans, especially if they start repayment right after graduation.
Consider this hypothetical example: Omar just graduated from medical school with $325,000 in student loans at 6.8% and is about to start residency. He plans to go into academic dermatology and wisely starts his repayment right away so he can start getting credit toward PSLF. His starting salary is $60,000 and will increase a little each year while he's in residency and internship, after which he'll start in academic medicine making $300,000.
Let's look at the cost of paying back the student debt on PAYE for PSLF versus refinancing and paying off the loans in full over 10 years:

PSLF provides a massive amount of savings in this case. How awesome is it to spend a projected $142,164 to pay back $325,000 of loans?
When we take a look at refinancing at 4.5% over a 10-year period versus making payments on PAYE with tax-free loan forgiveness through PSLF, the latter is $262,000 cheaper. To make this possible, Omar would consolidate his loans, waive his grace period and start on PAYE using the prior year's tax return so that his payments are $0 just before residency starts. That strategy would be much better than having to figure out how to make a $3,368 refinanced monthly payment on a resident's salary.
PSLF works great for dermatologists taking the academic track.
Student loan repayment for dermatologists in private practice
Now let's look at a hypothetical example of a private practice dermatologist's student debt burden. Elena, like Omar, also owes $325,000 in student loans at 6.8% and will be taking the same residency and internship track. The difference is that she plans to go into private practice and will be making $450,000.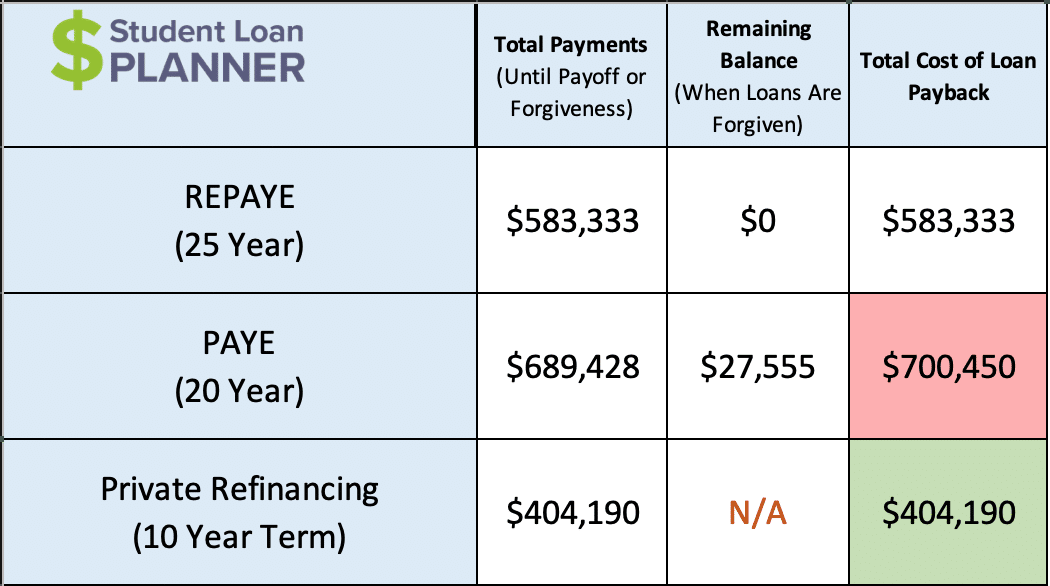 Without being able to qualify for PSLF, refinancing is projected to save her the most money on paying back her loans. Both PAYE and REPAYE are substantially more expensive. She'd end up paying off most or all of the 6.8% loans before any taxable loan forgiveness on an income-driven repayment plan. Refinancing to 4.5% would save her a ton of money. Plus, she'd have her loans paid off in 10 years or sooner.
The issue is that Elena won't be able to afford the 10-year payment before she becomes an attending physician. Her best bet in this case is to go on REPAYE for the interest subsidy during her four years of post-medical school training. Then she would refinance and pay off the loan aggressively with her higher private practice dermatologist salary.
If you are a private practice dermatologist in need of practice financing, check out the form below.
Get Quotes for Your Doctor Mortgage
What mortgage product do you need?
Your Occupation As Of September 2023
NEXT
Home Price Range
Preferred Down Payment
Stage You're At in the Home Buying Process
When Do You Want a Mortgage Approval?
How Many Banks Would You Like Quotes From?
Any Bankruptcies or Short Sales?
NEXT
Full Name
Email
Phone Number
State Where You Plan to Purchase
Metro Area Where You Plan to Purchase
Communication Preference
Would You Like to Add Any Additional Details?
GET MY QUOTES
Is becoming a dermatologist worth the student debt?
After looking at two common scenarios — an academic dermatologist using PSLF and a private practice dermatologist using refinancing — it looks like the career path could be well worth the cost of becoming a dermatologist.
In Omar's case (academic dermatology), he'd be earning $300,000, and it would cost him less than half of one year's salary to pay back his loans using PSLF. His future earning potential would be gravy on top.
As for Elena (private practice dermatology), it would cost her $400,000 to refinance and pay back her loans, but she'd be earning $450,000 per year. Any time one year's salary is more than the cost to repay the debt, that's a solid financial proposition. After the debt is paid off, she gets to earn that salary for years to come.
Taking out multiple six figures' worth of student debt can be scary and should not be taken lightly. Dermatologists also need to factor in that they get a late start on earning a high salary due to years of rigorous training compared to people in other fields that only require a bachelor's degree, for example.
But any physician-to-be who is looking to go into a high-paying specialty field is likely to get a really nice return on investment.
Dermatologists need a plan for student loan repayment
Omar and Elena's scenarios are fairly common, but every dermatologist has a unique situation. Perhaps they're married to someone who either has or doesn't have student debt. Maybe they're not sure whether to choose academic or private practice dermatology. Maybe they're about to graduate from medical school and want to make sure they are managing their financial situation wisely. Perhaps they're not eligible for all of the repayment options. Mistakes in handling these considerations can up the cost of loan repayment by five or six figures.
Plus, there are other financial strategies that can be used alongside debt repayment plans to save even more money paying back student debt so they can reach financial independence sooner despite their debt.
Dermatologists who choose an optimal student loan repayment plan can keep more of their money in their pockets rather than needlessly putting it toward student debt on the wrong plan.
The problem is that there is a ton of misinformation out there, and dermatologists are often too busy to put the time and effort into figuring out their ideal loan repayment strategy. How great would it be to know you're on the right plan and have clarity about what that looks like?
We've done more than 3,600 consults advising on more than $900,000,000 of student debt. We have a ton of experience helping dermatologists get the right plan in place. Learn more about our student loan consultations here so you can create an action plan that will work for you.