If you're reading this as a professional with significant student debt, there's a very good chance you don't have enough financial protection for your family in the event you died tomorrow. It's tough to think about, I know. 
The good news is that you can eliminate this danger very cheaply with minimal effort. After searching for rates with multiple insurance companies, I ended up going with Haven Life to protect my own family.
I bought a $1 million, 10-year term life policy on myself with Haven Life insurance. If I happen to die in suspicious circumstances in the next year or two, my wife Christine probably did it (just kidding sweetheart).
We'll go through what I learned during the shopping process, what motivated me to get the coverage I did, how to see how much it would cost you, and why Haven Life might make sense for your needs (or not).
[Edit: Since writing this article, I established a relationship with Policygenius that you could use to comparison shop other offers too]
There's a Good Chance You're Dangerously Uninsured
If you have kids or are trying for kids, you could be running a huge risk without even thinking about it. Professionals have higher incomes that usually come with higher mortgages, car payments, college tuitions, and more.
If you don't have at least five times your income in term life protection, it's probably not enough if you've got a graduate degree.
Let's look at an example.
Dan the Veterinarian Relying on His Employer's Term Life Policy
I'd first like to introduce you to Dan the veterinarian. Pretend he earns $110,000 a year and has 2 kids. His wife works part-time, making $30,000 a year. Dan has $250,000 of student loans all with the federal government. He has a $350,000 mortgage and a car note of $300 a month.
Dan works for a corporate chain and has an employer-provided term life policy that gives him coverage of 2 times his income. Sadly, Dan passes away prematurely.
The bank that owns Dan's mortgage lent it to him with the idea that there would be a joint income of $140,000 a year to support it. Now that income is only the wife's $30,000. Obviously, there's no way that Dan's wife could handle a big mortgage payment and the car payment.
Dan's insurance with his employer kicks in and his family gets $220,000. That's enough to pay off the car and some of the mortgage, but what about college for the 2 kids? With Dan, they were looking at years of 529 contributions. Without him, they will have to rely on loans and financial aid.
Even with the big mortgage prepayment, the house is going to have to be sold as there is no way Dan's wife can afford it anymore. The only silver lining is that Dan's debt is forgiven due to death and his wife is not going to be responsible for it.
Still, it's clear that Dan's group term life insurance didn't cover his family adequately.
Why Did I Feel the Need to Buy Term Life Insurance?
With our current net worth, we cannot provide the lifestyle I would desire for our child were we to have one absent financial support from family. That is the primary reason I decided to get life insurance protection with my wife as the beneficiary.
I decided to do this prior to thinking about having children so that everything is in place when the time comes.
How Does Having a Lot of Student Debt Affect the Need for Life Insurance?
Most professionals with student debt will have that forgiven in the event of early death. The main exception is if you have a loan with a cosigner on it or someone who took out more mortgage debt to pay educational costs.
Federal loans are the easiest to deal with in that the government is unlikely to give you any trouble once your surviving spouse or parents show the needed documentation. For private student loans, it depends on the lender.
All the private lenders that I partner with forgive loans in the event of the borrower passing away prematurely. However, that protection does not necessarily extend to cosigners. Spouses who cosign to get a lower rate should be extra careful to have enough coverage to pay off the student loans they signed for.
By investing in your career, you have higher expected earnings in the future than your average American. I suggest having eight to ten times your salary in term life coverage to protect this investment for your family.
Why Did I Choose Haven Life Over Other Companies for My Policy?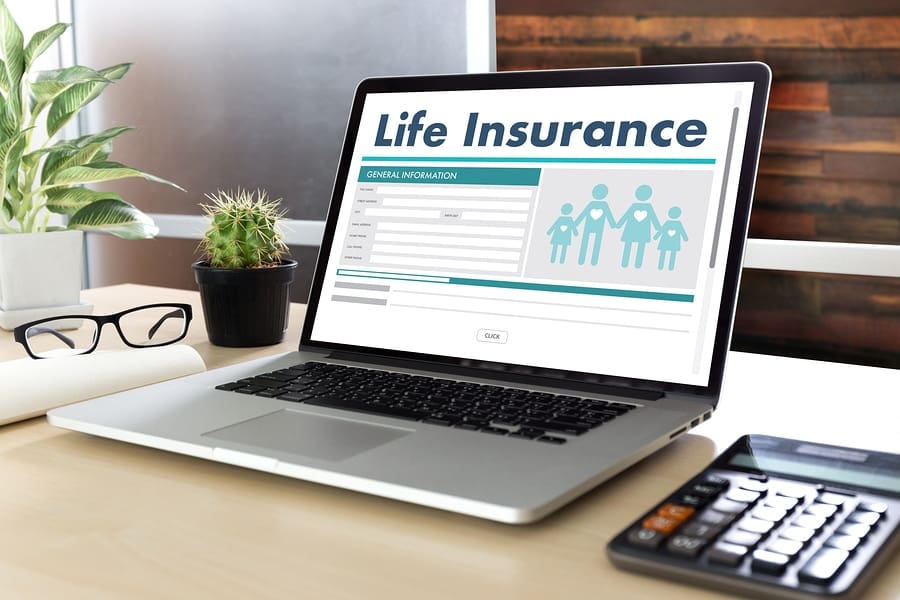 When I started my search, I found an online comparison company for term life and entered some info and it spit out projected rates. Only two companies were cheaper than Haven Life. The main reason for the lower cost was due to the lower financial strength of the insurance companies offering the policies.
When you have a claim from an insurance company, you want to be certain it'll pay, otherwise what's the point?
The difference in premiums between Haven Life and the cheaper competitors was a couple bucks a month, but the financial rating for Haven Life was many notches above those other firms.
Haven Life Insurance actually a wholly owned subsidiary of Mass Mutual. Basically, Haven Life is a millennial branded arm of a stodgy old insurance company with a long track record. At least they spent some money on a halfway decent website.
The other main reason I went with Haven Life is that the application was relatively easy. Within a couple minutes, I had an idea of how much a policy would cost me. The tech at insurance companies is usually is awful. I was happy that I could just click on various buttons and apply as if I was opening a rewards credit card.
Is It Difficult to Qualify?
Most likely, you'll be able to get instantly approved for up to $1 million in coverage. This only happens if nothing in your application sets off red flags. Unfortunately for me, I did have some that came up because of my unusual travel habits. My wife sometimes goes to Africa for medical mission trips and I've traveled to some unusual places (Ukraine, Nicaragua, Morocco, Palestine, South Africa, etc.)
Because of these trips, I had to go through a medical exam for a Haven Life policy. While this involved me giving a blood sample, it wasn't as bad as I would've thought. A nurse scheduled a time to come to my house at my convenience.
I want to say again that I think my experience was atypical from what I've heard. Most people just get instantly approved through Haven Life's website. That said, if you don't it's not too scary to go through full medical underwriting.
How Much Am I Paying for My Haven Life Policy?
This is the best part. When clients say they have whole life insurance policies, they might be paying over $100 a month for very little coverage. Whole life and term life are the two types of life insurance policies and nine times out of ten, whole life insurance is a terrible idea for anyone with student loans.
In contrast, I'm paying just under $22 a month for a 10-year term life insurance policy with $1 million in coverage. While there is a low probability someone my age dies, they're still on the hook for a bunch of money in case something terrible happens to me.
The Term Life Insurance Definition Informed My Policy Choice
I chose that very short term deliberately for my own situation. Most people should go for the 20-year term policy instead. For me personally, I expect my wife and I will hit financial independence within a decade. That's mainly due to our high savings rate.
The definition of term life insurance is a flat amount of coverage for a fixed premium over a defined period. That period should align with your greatest financial vulnerability in life. For most, that comes during the years where your kids are young.
The 20-year term would not be renewable once the term expires. That means the shorter the term, the lower the price, and the longer the term, the higher the price. I want to pay for value, hence the shortest term possible made the most sense.
Why I'm Comfortable Recommending Haven Life to You
I like that there aren't any upsells or big commissions to push lousy insurance products with Haven Life. Many of my clients come to me with term insurance from one of the annoying big insurance companies that sponsor all the NCAA basketball and football games on TV. I'm pretty sure they're overpaying.
With a no-frills, online-only experience without unneeded distractions from insurance agents, I could apply for only what I was looking for. I feel comfortable putting their referral link on this site as I use the policy myself and feel safe sending people to get a quote from Haven Life knowing they won't get sold any junk.
If you go to your neighborhood insurance agency, you might sit there for 20 or 30 minutes before you're allowed to buy a term only policy instead of the higher commission life insurance plans that aren't of great value.
They've also recently increased their max coverage to $2 million. Many of you make a high income.
Next Steps if You're Curious to See What Rate You'd Get
If you click on the link below, it should only take you a couple minutes to see what deal you'd get. I encourage you to shop around with other insurance companies to compare quotes. I suspect most of you will find what I did –  it's very easy to apply with Haven Life and that they offer an easy to understand product at a good price.
Find a good deal with Haven Life? See good rates somewhere else? Have questions about how to choose the right amount of life insurance? Comment below!