There is no better time to enter the nursing profession. The need for nurses is on the rise in the United States due to shortages caused by a retiring workforce and aging population. The only trouble is figuring out how to pay for nursing school with increasing tuition costs.
The steps below outline how to pay for nursing school and how loans affect repayment. Planning for how to pay your tuition might sound hard. But giving yourself the time to understand and follow these steps will make it easier. Putting in the effort to avoid or get out of debt is worth it.
Step 1: Compare the cost of nursing school to your salary
There are different educational pathways to become a registered nurse (RN). Compare the cost of each to your expected salary to gauge whether the nursing education will pay off for you in the long run.
Associate Degree in Nursing (ADN): This is the minimum nursing degree that you'll need to become an RN.
Public college: $6,000-$40,000 total (may be lower if the nursing program is being offered at a community college)
Private college: $20,000-$40,000 total
Average salary:

$70,845

per year
Bachelor of Science in Nursing (BSN): Typically takes four years to graduate.
Cost: $40,000-$200,000 (depending on choice of private or public college)
Average salary:

$86,668

per year
Accelerated Bachelor of Science in Nursing (ABSN): If you already have a bachelor's degree in another field, you can opt to pursue an ABSN degree.
Cost: $17,000-$90,000 (or more)
Remember that how much you make directly impacts your student loan payoff options. In general, an RN's average salary is $75,330, according to the Bureau of Labor Statistics.
It should also be noted that while this article is focused on RNs, earning a master's degree to become an advanced practice nurse could dramatically increase your income potential. The median salary for ARPNs is currently $117,670, according to the BLS.
Once you know the degree you want, you need to start the search for grants, scholarships and financial aid.
Related: Registered Nurse Job Outlook
Step 2: Grants, scholarships and other forms of financial aid
First things first: Fill out the Free Application for Federal Student Aid (FAFSA) as soon as possible. This application makes you eligible for government grants and scholarships offered at your school.
Research grant opportunities for nursing school
Grants are a form of money that doesn't need to be paid back. Government grants are almost always distributed based on financial need. You can also find grants specifically for nursing school students.
Apply for every scholarship available for nursing school
To start your nursing scholarship search, call the financial aid office at your school. They could have school-specific scholarships you can apply for. Then widen your net to outside sources. You can use large scholarship search engines or the U.S. Department of Labor free scholarship search tool.
Here are a few nursing school scholarships you should have on your radar:
Health Resources and Services Administration (HRSA) Scholarships for Disadvantaged Students
Nurse Corps Scholarship program
Any scholarships you get will affect your student aid eligibility. Notify your school when you receive a scholarship and then keep applying for more. The more scholarships and grants you can get, the less money you need to take out in student loans.
Enroll in work-study programs or work part-time
The federal work-study program provides part-time jobs to students. How much you can earn at a work-study job depends on your financial needs and the level of funding available at your school.
If you can't qualify for this program, see if you can find a part-time job. Any kind of income you can bring in to help offset how much student debt you take on for nursing school will be helpful. And bonus if you can find employers near you that offer tuition reimbursement programs!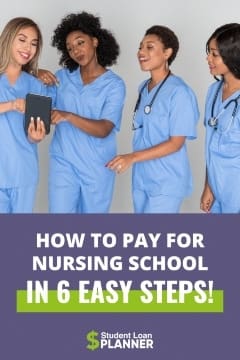 Step 3: Take out federal student loans in this specific order
By filling out the FAFSA, you become eligible for federal student loans to help pay for your tuition expenses, textbooks, fees, and other school costs.
Federal student loans have the most flexible payment plans. Federal loans are eligible for loan forgiveness opportunities. There are also forgiveness programs particularly geared toward nurses.
If you're pursuing an ADN or BSN here are your federal student loan options:
Direct Subsidized Loans:

These loans are given out based on financial need. The government pays the interest that accrues while in school. They typically have low rates.

Direct Unsubsidized Loans:

These loans aren't based on need. But like all federal student loans, there is a limit to how much you can borrow. They have the same low-interest rate as subsidized student loans, but the interest does accrue while you are in school.
Accept subsidized student loans before unsubsidized student loans because the government pays the interest while you're in school. Keep track of how much money you take out because every cent plus interest will need to be paid back.
Step 4: Check to see if you qualify for HRSA nursing loans
HRSA offers a low-cost Nursing Student Loan (NSL). Here's what you need to know about HRSA nursing loans:
ADN, BSN, and graduate students can apply for these student loans.
You must attend a participating school and provide proof of financial need.
The total amount that nursing students can borrow is $17,000 at an interest rate of 5%.
The benefit of these loans is that you can have them forgiven if you take part in an HRSA forgiveness program. They're not eligible for federal government loan forgiveness programs. Your student loan payback plan will determine if an NSL works for you.
Step 5: Use caution when considering private student loans
You should look into private loans last when figuring out how to pay for nursing school. That's because private student loans don't qualify for loan forgiveness programs. Plus, you need to have good credit to get the best rate.
When to take out private student loans
If you don't need to borrow more than $20,000 and you know you'll be working at a for-profit hospital, private student loans could be worth considering. This decision depends on:
How much you need to borrow
Whether you qualify for a lower interest rate than is being offered on federal student loans
With the average salary being over $75,000 for a BSN, the average nurse is unlikely to benefit greatly from income-based payments. If you know that you plan to pay back your loans within 10 years anyway, private loans could make sense if they would save you money in interest charges.
But if you're hoping to pursue PSLF or can't start making payments right away, federal loans are clearly your best choice. So, be cautious about private student loans and always consider your financial situation.
Shop around for the right private student loan
When you're ready to look into private student loans for nursing school, you want to find the lenders that cater to health professionals.
Shop around for a private lender to find the lowest rate. If you're not sure where to start, we've done some research for you in our 2021 guide to the best private student loan options.
Keep in mind, you may have to start paying off your private student loan immediately. If you don't have good credit, you might need a cosigner.
6. Have a plan for paying off all your nursing school loans
Taking out loans can be a necessary step for attaining your degree. In all scenarios, you should have a plan for which loans to take out and how to pay them back.
If you're willing to work for a few years at a high-need healthcare facility, you may want to consider applying for the Nurse Corps Loan Repayment Program. This program will repay up to 85% of your unpaid nursing education debt if you commit to working full-time for at least three years at one of the HSRA's critical shortage facilities.
Even if you don't meet the eligibility criteria for the Nurse Corps Loan Repayment program, you might still qualify for Public Service Loan Forgiveness (PSLF) if you work at a state or non-profit facility. If none of those forgiveness programs are available you, you may be able to reduce your payments by joining an income-driven repayment plan or minimize your interest charges by refinancing to a lower interest rate.
Review your forgiveness options and your future salary every time you take on new student loans to make sure you have a way to get out from under them. By doing this, you also can keep track of where your loans are housed so you never miss a payment.
If you have questions about nursing school student loans, feel free to reach out to our team. We want to make sure you go into your education fully prepared for student loans and how they will affect your life.

Competitive
interest rates
Check eligibility
in 2 minutes

Large autopay
discounts

Flexible repayment options
1Sallie Mae disclosures. Lowest APRs shown for Sallie Mae Loans: The borrower or cosigner must enroll in auto debit through Sallie Mae to receive a 0.25 percentage point interest rate reduction benefit. This benefit applies only during active repayment for as long as the Current Amount Due or Designated Amount is successfully withdrawn from the authorized bank account each month. It may be suspended during forbearance or deferment.
2Earnest: All rates listed above represent APR range. Rate range above includes optional 0.25% Auto Pay discount. Earnest disclosures.
3Ascent disclosures. Disclosure: Ascent Student Loans are funded by Bank of Lake Mills, Member FDIC. Loan products may not be available in certain jurisdictions. Certain restrictions, limitations; and terms and conditions may apply. For Ascent Terms and Conditions please visit: www.AscentFunding.com/Ts&Cs. Rates are effective as of 12/01/2022 and reflect an automatic payment discount of either 0.25% (for credit-based loans) OR 1.00% (for undergraduate outcomes-based loans). Automatic Payment Discount is available if the borrower is enrolled in automatic payments from their personal checking account and the amount is successfully withdrawn from the authorized bank account each month. For Ascent rates and repayment examples please visit: AscentFunding.com/Rates. 1% Cash Back Graduation Reward subject to terms and conditions. Cosigned Credit-Based Loan student must meet certain minimum credit criteria. The minimum score required is subject to change and may depend on the credit score of your cosigner. Lowest APRs require interest-only payments, the shortest loan term, and a cosigner, and are only available to our most creditworthy applicants and cosigners with the highest average credit scores.