If you just received an acceptance letter from the Michigan State University College of Human Medicine, you'd probably be thrilled. After all, Michigan State is one of the finest public universities in the state of Michigan, with a rich history.
Michigan State Medical School, specifically, gives students access to seven clinical campuses and over 4,000 clinical faculty physicians. And MSU Medical School just received a gift that will allow the school to build a new state-of-the-art medical innovation building.
It's clear that Michigan State University College of Human Medicine students receive top-of-the-line training and facilities during their four years of med school.
But at what cost? When you factor in tuition and living expenses, the cost to attend Michigan State Medical School can be daunting. Depending on your situation, you could end up with a significant student loan debt burden. Let's take a look at the numbers and the school to determine if it's worth the investment.
Michigan State Medical School tuition
The amount that you'll pay to attend MSU Medical School will depend a great deal on whether or not you're a Michigan resident.
On its Financial Aid Information sheet, MSU says that for the 2018-2019 school year, resident students paid $30,740 in tuition for two semesters and $46,110 for three semesters, which works out to a per-semester tuition cost of $15,370.
On the surface, that doesn't sound too bad. But you'll pay a lot more to attend the Michigan State University College of Human Medicine if you're a non-resident. In 2018-2019, non-residents paid $58,108 for two semesters and $87,162 for three semesters. That's $29,054 per semester.
Michigan State Medical School's Total Cost of Attendance
Tuition is only part of the story when it comes to estimating the cost of college. Other expenses like room and board, food, books, transportation, and insurance all need to be taken into account.
On its Shared Discovery page, MSU provides estimates for various student expenses in 2017-2018 (the page hasn't been updated for 2018-2019 or 2019-2020 yet).
| | | | |
| --- | --- | --- | --- |
| | Year 1 (ECE) Fall/Spring 9 months | Year 1 (ECE) Summer 3 months | Year 2 (ECE) Fall/Spring 9 months |
| | | | |
| | | | |
| | | | |
| | | | |
| | | | |
| | | | |
| | | | |
| | | | |
| | | | |
| | | | |
| | | | |
| Tuition and fees, resident | | | |
| Tuition and fees, non-resident | | | |
| | | | |
| | | | |
Source: College of Medicine – Michigan State University 2017-2018
Pay attention to the numbers at the very bottom of the page. When you add in all of the other ancillary expenses, MSU estimates your cost of attendance will increase by $23,832 for two semesters in Year 1. And that number jumps to $30,447 when you include the summer months.
So, that brings the total cost of attendance in Year 1 up to $53,970 for residents and $81,940 for non-residents. And if you include the summer months, residents are looking at paying $75,684 in Year 1 and non-residents a whopping $117,639.
Are MSU Medical School's cost estimates realistic?
Remember, the cost of attendance numbers listed above are only estimates. Ultimately, your actual cost will depend on how much you spend on housing, food, transportation and other living expenses.
Michigan State Medical School breaks down its estimated cost of attendance further to provide a hypothetical monthly budget. Here's what the monthly numbers look like.
Pay attention to the first line item – rent and utilities. MSU is only budgeting $898 for both of these expenses. At the bottom of the page, MSU clarifies that its housing amount assumes double occupancy for off-campus living. But if you aren't able to find a roommate, you're housing costs could definitely be higher.
Also, you'll need to consider whether or not $351 is a realistic food budget. Could you get by on $351 per month? Probably. But you'd need to limit the amount you spend on eating out to, like, zero. And you'd likely need to develop a strong craving for ramen noodles. Otherwise, you can expect your monthly food costs to be higher than those estimates.
How Much Michigan State Medical School debt could you end up with?
MSU Medical School says that 21 of its 183 graduates from 2018 had no student debt. My guess would be that those students either qualified for competitive scholarships or had parental support.
If either of these things apply to you, congrats! You could graduate from Michigan State University College of Human Medicine debt-free! But since you're reading this article, my guess is that you don't fit into either of those categories.
So, here's how much debt every other student can expect to take on in order to graduate from Michigan State University Medical School. Overall, the other 162 graduates had an average indebtedness of $270,635.
Of those 162 graduates, 139 were residents who graduated with an average debt load of $245,945. And 23 graduates were non-residents, who graduated with an average of $419,894 in student debt.
Is Michigan State Medical School worth the student debt?
There are two factors to consider when you're trying to decide whether or not MSU Medical School is worth the cost.
1. Overall financial value of medical school
In other words, are physician salaries, in general, worth the cost of medical school?
At Student Loan Planner®, we looked closely at that very question, digging deep into the math. Check out the study. And the verdict? In most cases, yes, medical school is worth the cost.
At the time of the study, Student Loan Planner® found that the average physician could make an extra $157,000 in earnings per year over the average bachelor's degree graduate. And a specialist could earn an extra $263,000 more per year.
That works out to $4,710,000 and $7,890,000 more in lifetime earnings, respectively! That's a pretty good return on even $250,000 worth of student debt.
Keep in mind, though, that you'll need to pay tax on that extra money that you make. And you'll be paying interest on your student loans. So you'll still need to be smart about what you do with that extra income in order for the math to work in your favor.
2. Michigan State Medical School cost compared to other programs
So we've established that medical school, in general, can be a worthwhile investment. But that doesn't necessarily mean that MSU medical school, specifically, is a good deal.
According to the AAMC's 2018 Education Debt Manager report, the average med student who graduated with debt from a public university had a median debt of $190,000. And the median debt for private school graduates was $210,000.
So Michigan State University Medical School's average student debt ($270,635) for 2018 was $80,000 more than the median for public university graduates! In fact, the school's 2018 graduates had $60,000 more debt than even the average private university med school grad.
So while med school can be a great deal overall, MSU medical school might not be. Before you enroll in Michigan State Medical School, you'd be wise to apply for more affordable schools first. These are the top 10 cheapest medical schools in the U.S.
And if you're not a Michigan resident, the answer is an even bigger no-brainer. In your case, Michigan State Medical School is not worth the cost. If you're able to get accepted to a public university in your own state, you'll save a ton of money over MSU.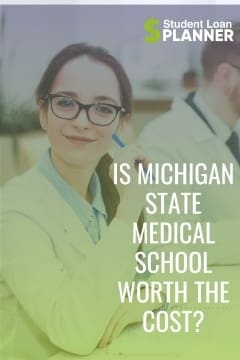 How to pay back Michigan State Medical School student debt?
If you've already graduated from MSU Medical School with student debt, you have three main repayment options.
The first option is to pursue Public Service Loan Forgiveness. If you work for a public or nonprofit hospital, this is probably your best financial strategy.
The second option is to go on an Income-Driven Repayment (IDR) plan. This can make your monthly payments smaller, but you'll typically pay more interest overall with IDR. And, depending on your income, you may end up paying the same amount as you'd pay on the Standard 10-Year Repayment Plan anyway.
The third option is to refinance your Michigan State Medical School student loans. Let's say you graduated with $270,000 of student debt at an average interest rate of 6.5%. By refinancing at 3.5%, you could save $47,505 over the life of your loans.

If your medical career is stable and you have good credit, refinancing could be your best move. Just make sure that you get quotes from each of the top lenders. And by using one of Student Loan Planner®'s referral links, you could earn a $350 to $750 cash bonus. See how much you could save!