One fascinating story that I've been monitoring surrounding the Public Service Loan Forgiveness program is the sale of Mission Health in Asheville, NC to for-profit Hospital Corporation of America (HCA). Many of you are counting on this amazing tax-free forgiveness program to knock out your loans after 10 years. Well, the Mission Health merger with HCA impacts PSLF.
What's happened at Mission Health is truly frustrating for its employees. Equally frustrating is the institution's attempt at downplaying the legitimate concerns that its employees have, as hundreds of people will be losing access to the PSLF program.
We'll explain how and why Mission Health employees are losing PSLF, what the hospital system said about the program, and why many of its doctors and nurses might need to think about moving and taking new employment opportunities elsewhere after hearing this student loan news.
The HCA Merger that Destroys PSLF
Keep in mind that you must work for a total of 10 years at a not for profit 501c3 institution to receive the tax-free PSLF program. Most attending doctors at Mission Health will have around three to seven years of credit in the program from training. That means many are only a few years off from receiving the PSLF benefit.
In almost every case, that benefit for physicians will be in the six figures for only a few extra years of work. The employment credit is cumulative, so they can move and take this experience elsewhere and still get the program even if they lose consecutive payment history.
What happened here is Asheville's largest employer was a qualifying not for profit hospital. As sometimes happens, their leadership decided that it made sense to merge with another healthcare system. Who knows what the reasons are, that's not my expertise.
What it means is that the hospital is becoming FOR PROFIT and will be losing its 501c3 status. This means that any employees working there will no longer be eligible for student loan forgiveness.
Mission Health Leadership Seems Clueless as to the Damaging Effects to Employees Losing PSLF
Here are some of my thoughts from quotes given by Rowena Buffett Timms to the Citizen-Times, the Senior VP of government and community relations at Mission Health.
 While we are sensitive to any potentially impacted individual's concern, please bear in mind that this is a federal program and not a benefit that is provided by Mission."
That's a fair statement that the benefit is not related to any specific hospital. It's also very deflecting in its character. Let's see what else the hospital is saying.
Currently, the program is dramatically under-funded, which puts its long-term sustainability in doubt for all participants, whether working for a non-profit or not." 
It's true that PSLF is underfunded. The issue is that its long-term existence is only in doubt for future borrowers who have not already taken out loans.
PSLF is in the promissory notes of all borrowers who have Direct loans in their names. Unless the government is in the habit of breaking contracts, and all indications point out that they are not, borrowers will be getting PSLF.
Further, there have been numerous federal discussions about eliminating the program in its entirety, and it is extraordinarily complex even for those who believe that they are in it, to actually determine whether they qualify and when — if ever — they will benefit from the program."
This is a bit of obfuscation. Yes, the discussions are there to get rid of PSLF, FOR FUTURE BORROWERS. The current doctors and nurses of Mission Health have never been included in that discussion of repeal. However, the SVP is suggesting that these individuals might not have gotten it anyway.
Then the hospital exec Timms apparently shared some sensationalist headlines that tried to make readers think PSLF is toast, and she continued.
All that said, we share the concern about any potential impact on student loans, and we are investigating whether there are any realistic options to mitigate or eliminate those concerns. Unfortunately, it is too early to have any definitive guidance at this time, but we will communicate more as any options become clearer."
Translation: we're trying to empathize, but we have no real clue and gave very little thought to losing this program and what it means for our younger employees.
What Does this Merger Say About How Hospital Administration Thinks About the PSLF Program?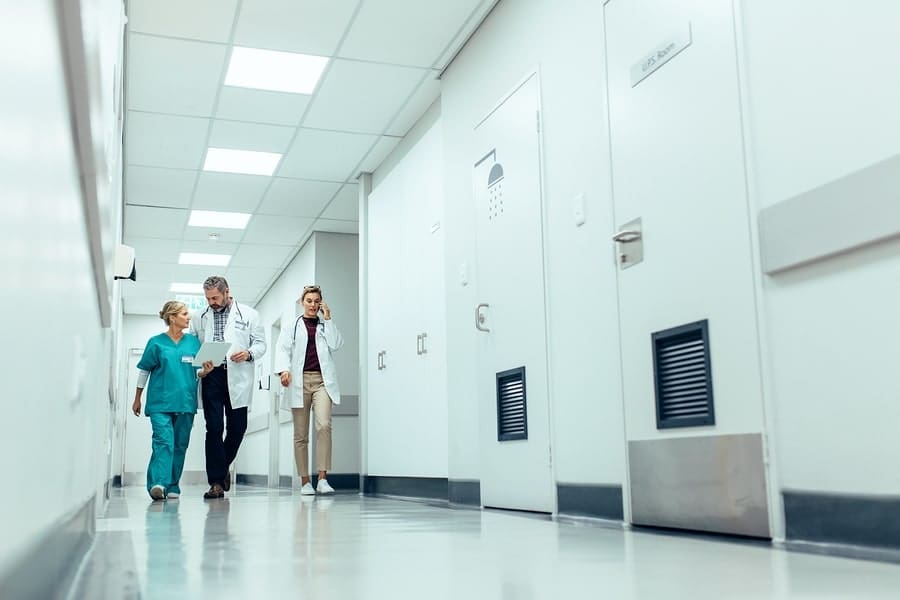 I think this HCA / Mission Health merger is fascinating in that it gives us a window into the thinking of hospital leadership.
It's clear from the comments that the hospital did not really put much thought into how their employees would be affected by the loss of non-profit status. They looked at the economics of the deal and determined that they thought it would be good for their community, mission, job status, and other factors.
A random loan forgiveness program ended up being an afterthought. It only came up after employees learned about it and became very concerned that they would be losing an important benefit.
When the hospital administration got confronted by these concerns, the strategy seemed to be:
Induce doubt that borrowers will receive it

Confuse people about the program and who will qualify

Say that you're looking into it and that it's too early to comment
In the press release from the Asheville Citizen-Times, the hospital says that there are about 200 borrowers who believe that they're on track for the PSLF program at the hospital. Of course, there are probably a couple hundred more who don't realize that they're eligible.
Let's look at an example of how this could affect a Mission Health physician.
The Urologist with Private Med School Level Debt Losing PSLF
Let's pretend Tom is a couple years out of training as an attending Urologist. Because he's been counting on the PSLF program, his debt has grown from the $300,000 it was when he left med school. It's currently at $380,000. He has 7 years' credit towards the PSLF program, and he makes about $300,000 per year.
His choices are to switch jobs to a different hospital system, or he can refinance and pay all the student debt off. Let's look at the costs of each approach.


Notice that the cost of PSLF is $300,000 CHEAPER IN TODAY'S DOLLARS! The loss of PSLF because of the Mission Health merger with a for-profit hospital, in this case, would cost Tom about $100,000 PER YEAR IN AFTER-TAX INCOME.
Assuming a typical marginal tax rate for an attending physician, the new health system would need to pay Tom $450,000 in pre-tax income instead of $300,000 just to keep his compensation from declining for those next 3 years (assuming about 150k more nets you about 100k).
How Should Tom the Urologist React to the Merger News?
Tom would clearly be better off financially taking a new job at a different healthcare system for the next three years solely to receive the PSLF benefit.
He could then presumably try and switch back, perhaps at a higher level of compensation since the hospital system would be for profit and would likely have to pay higher salaries to attract the same attending physicians thanks to the PSLF program that he lost.
More than 48% of new med school grads owe more than $200,000 in student debt according to the American Association of Medical Colleges. The clear majority of residency and fellowship programs are PSLF eligible. Therefore, most attending physicians will only need four to six years of work at a not for profit hospital to benefit from PSLF.
In the face of such an attractive federal forgiveness program, private hospitals will need to raise their salaries. Especially as more and more people actually receive the benefit.
Can the Merger Be Affected by Mission Health Employees?
It's my understanding that the deal still has to be given the approval by state government in North Carolina. Specifically, the Attorney General in North Carolina has the power to help or hurt these kinds of transactions.
If I was going to lose PSLF, I wouldn't complain about it on social media. I would ask my fellow employees to call and email the North Carolina State Attorney General's Office to explain my opposition to the deal.
This deal in my view is about dominating market share in order to reduce competition and raise prices. It makes a lot of economic sense for both sides, except no one at the top thought about the employees losing loan forgiveness.
Efforts to Retain Talent with Modest Student Loan Benefit from HCA
While some readers have sent me emails saying how the one time 20% of your salary payment to loans is generous, others have said it's not helping them much at all. After all, if you're a nurse who stood to receive $100,000 of loan forgiveness and now you get a taxable payment of $10,000, you're much worse off.
Many employees have told me they can only think of Western North Carolina as their home and that they don't want to leave. Other employees have mentioned that they will soon be looking for new opportunities elsewhere. Time will tell if this attempt at placating the workforce does much to retain employees.
However, I think that the main impetus for offering this benefit was an unexpected deep concern from employees over losing loan forgiveness. That concern threatens the deal that could save HCA hundreds of millions of dollars from some of the news bulletins I read.
If I was trying to close a lucrative merger in the face of employee concerns, I would offer something to get folks to quiet down and just do a cost benefit analysis if the cost of the carrot was much less than my projected profits.
The HCA team is very smart so I would imagine they did something like this.
Don't Get Too Attached to Your Job Until Hospitals Finally Figure Out PSLF in Recruiting and Retaining Talent
This Mission Health / HCA merger is really fascinating to me because when you buy out an old company, you take on its debt. However, PSLF was a major benefit that Mission Health gave to its employees by continuing to exist in its non-profit form. With the merger, they are throwing away that benefit.
Thus, the merger has created millions of dollars in private gain and lost millions of dollars for its employees in the process. The hospital system has tried to beat around the bush and downplay the PSLF program. They don't want to have to address what they did to employees counting on the benefit.
To be honest, I'm not sure they understand the magnitude of the hurt some employees will feel now as a result of how the Mission Health Merger with HCA impacts PSLF.
It's going to be fascinating in the coming months as this merger gets finalized to see whether employees catch on and start departing en masse for another hospital system that understands the value of PSLF. Only then will hospital systems wake up to its value.
I'd expect to see some sort of PR move with a token loan forgiveness giveaway to try and generate better press from this merger.
If you work for a not for profit hospital system, make sure your administration and leadership team understand the value of the PSLF program for junior attendings. If they are more educated on the program, perhaps they'd consider it more before entering into a merger with a for-profit hospital.
Finally, if you're a Mission Health employee trying to figure out what to do, feel free to reach out to us at help@studentloanplanner.com to discuss your options for your student loans.