Very few lawmakers, reporters, or thought leaders understand how badly many professional and grad schools at not for profit universities are screwing their students and the taxpayer. All the attention is on greedy for-profit schools who sign someone up for a useless degree often leaving them with $5,000 to $20,000 of debt.
The data on professional schools is so distorted, it would cause many of them to close if the public knew how out of control costs have become. Whether by luck or design, almost no one knows how awful the tuition problem is after undergrad thanks to shoddy government stats that shield the student loan crisis.
The Student Loan Default Rate Gets All the Public Attention
Look at this chart from the College Board's student loan statistics. It shows default rates for the cohort of students who entered repayment starting in 2008-2009. Notice that 47% of students from for-profit colleges defaulted on their student loans.
By contrast, only 5% of grad school borrowers defaulted.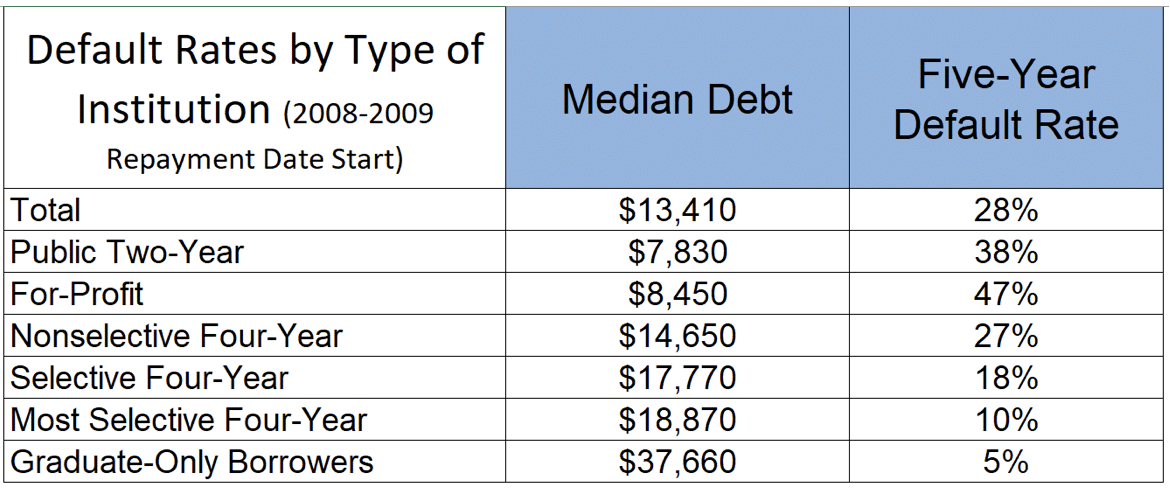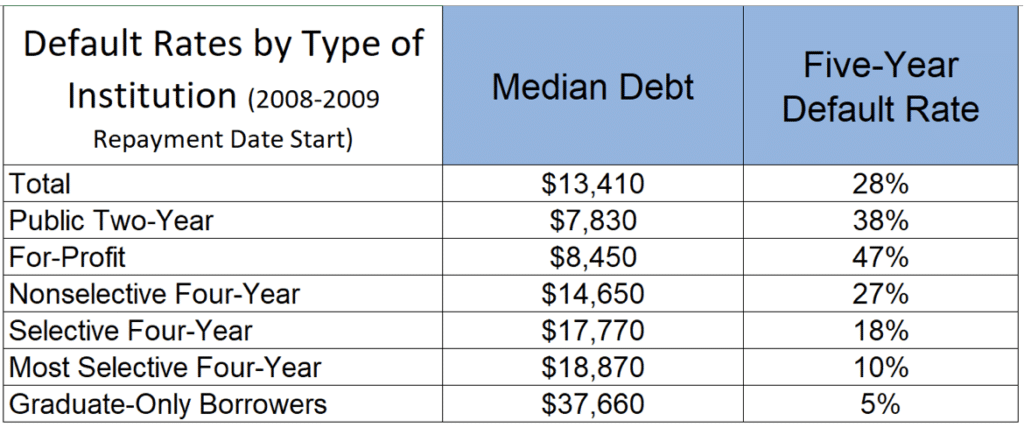 * Data from the College Board
You could look at this one piece of information as a lawmaker and determine that for-profit colleges are the primary bane of education in America today and should be cut off from federal student loans.
I agree that for-profit schools have no business receiving federal student aid. However, charts like these are extremely deceiving as it pertains to the student loan default crisis.
Looking at this, one would also conclude that grad school borrowers are doing great and that advanced education is clearly a great investment.
Looking at the College Scorecard Shows More Great News For Prestigious Schools Student Loan Repayment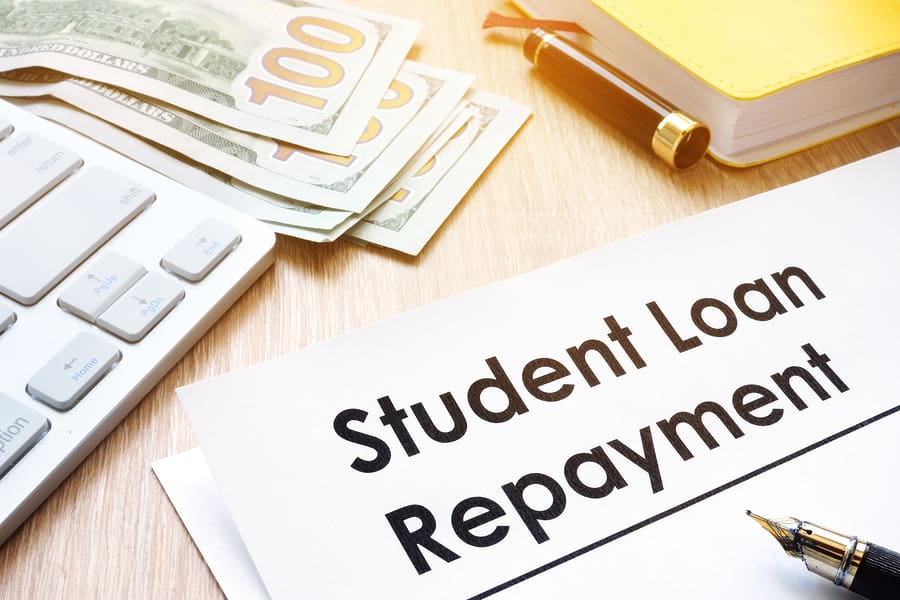 I went to the website for the federal College Scorecard, which shows a bunch of data at the institutional level for student loan repayment.
Keep in mind, this is the same site that grossly exaggerated the rate at which undergrads pay down at least $1 of what they borrowed (principal not just the interest). For example, before they discovered the coding error, the site said that 77% of non-profit private college grads paid down some of their student loan debt within three years.
After they fixed the error, the real rate dropped to 59% of undergrads, which is a big difference.
Hence, any data on the site now is more accurate. Check out the College Scorecard's data showing the percent of University of Pennsylvania grads who pay down at least $1 of principal in their first three years after graduation.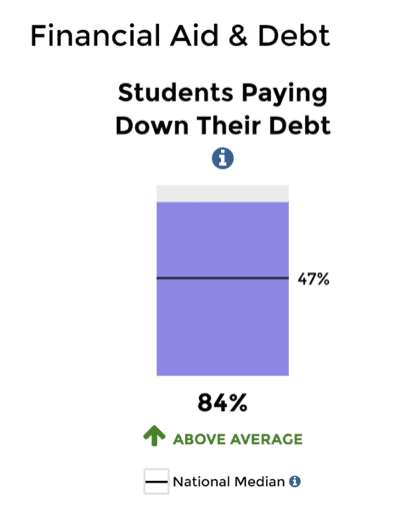 Eighty-four percent of undergrads pay off some of their debt at UPenn within three years. That's fantastic right?
If you look at other elite institutions, repayment rates are high across the board. Notice how much higher the repayment rate is compared to other institutions, which is at a pitiful 47%.
How to Hide Abuse of Federal Student Loan Dollars in Faulty Government Statistics
If you look at all the student loan stats in the media, all of them reflect things like student loan default rates. Occasionally they'll talk about forbearance, and sometimes they even chat about the rising number of borrowers who will receive PSLF.
What I never see are stats surrounding how many borrowers at professional and graduate school programs pay down at least $1 of the principal within three to five years.
Undergrad programs have to report this, and the data is very transparent and open to the public, even though that data was crap until recently.
Think about an institution like UPenn (which I have nothing against by the way, I only chose them because my wife trained there and one of my first clients was a Penn veterinarian). Penn's undergrad default rate is very low.
Their professional schools like their College of Veterinary Medicine have extremely low default rates. However, it costs over $350,000 to become a Penn veterinarian. Unless you're rich, you're borrowing all of that.
The average salary of a typical vet might be $80,000. It's obvious that there's zero chance a person making $80,000 can afford to pay off $300,000. They'd have to pay $40,000 for 10 years just to pay everything off.
Hence, the default rate and the forbearance rate are very low for Penn's professional school programs. However, the percent of students who actually pay down their debt within 3 years is likely worse than even the sketchiest for-profit schools.
How Many Professional School Graduates Actually Pay Off Their Debt?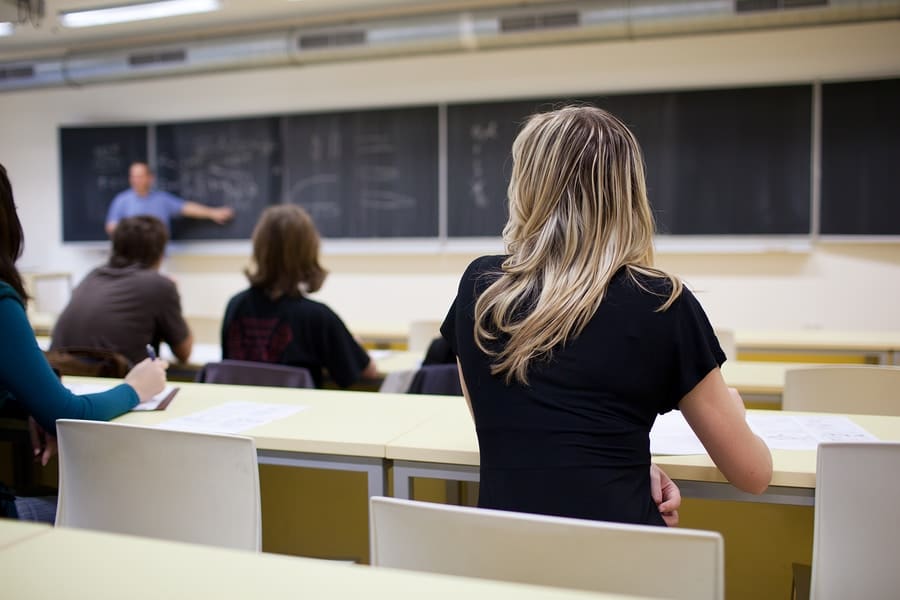 The answer is quite a few. From all the mailers you receive asking you to refinance your student loans, you know that a lot of people pay off their student loans in full.
That said, the most expensive private and public universities help their students rack up so much debt that they have no chance of paying it back.
Look at the distribution of debt in the US below. This only includes the approximately $1 trillion federal student loan portfolio.


It's stunning that 8% of borrowers account for 38% of the debt. That makes sense in that you'd expect individuals borrowing for med school or law school to owe multiples of what someone just graduating undergrad would have.
However, at the very high end according to the Department of Education, 500,000 borrowers out of more than 35 million in the Direct Loan program owe 13% of the debt.
The vast majority of these borrowers in the 80k+ club are grad or professional school degree holders. You can know this because students can only borrow a low five-figure amount for undergrad studies, while you can borrow up to the cost of attendance for grad school, even if it's $550,000 for NYU dental school.
For-Profit Schools Are a Big Problem, But Not for Profit Universities Hurt the Taxpayer More
I don't want to say that for-profit schools that provide a useless or low-value product don't deserve attention. I believe it's quite unfortunate that Secretary Devos recently shuttered the for-profit unit at the Dept of Education.
The problem is when a borrower who goes to barber school and defaults on his $10,000 student loans, the impact to the federal budget is limited.
I'd argue that the individual faces significantly more serious repercussions than the taxpayer. Imagine you defaulted on a small debt amount but could barely afford your electric bill. You believed this scam operation that told you they could teach you how to earn $14 an hour instead of $10. You lack good info on income-based repayment, so you default.
Now your credit score is wrecked. Your car loan costs more, your credit cards charge even more interest, and good luck qualifying for a home.
Contrast that to the dentist with $500,000 of student debt. She will never be able to afford to pay that back. While she performs a vital service to society as a dentist, the market says her skill is worth something between $120,000 to $200,000 a year.
After taxes, she cannot pay the government back. However, she will enter income-driven repayment and perhaps hire someone like me to mitigate the cost of her debt through smart student loan planning strategies.
The $500,000 dentist is equal to 50 students who got suckered by for-profit colleges.
Unfortunately, professional schools do not have to report the percent of students paying at least $1 toward their debt three years after graduation like undergrad programs do. Most for-profit schools offer primarily undergrad degrees, so they all show up in the stats.
Who's the bigger problem for the future solvency of our country, for-profit schools or not for profit universities that decided to jack up their tuition for professional programs? Sadly, lawmakers don't even have the data to make this decision.
You can't control the actions of lawmakers or statistics and projections for student loan defaults. What you can do is control your own student loan debt repayment plan. Not quite sure where to start? 
Student Loan Planner® has done 1,000+ student loan consults for clients with $275,000,000+ of combined student debt, and we can help you figure out the best path to paying back your student loans in just 1 hour.