What you need to know:
Sallie Mae is a private lender that provides student loans, including options for undergraduates, graduates and parents.
It offers flexible terms, with fixed or variable interest rates and multiple in-school repayment options.
Smart Option Student Loans are undergraduate loans that come with bonus perks.
Sallie Mae is one of the most recognizable private student loan lenders on the market. Originally created by Congress in 1972, Sallie Mae became a privatized company in 2004 and has since stopped servicing federal loans. Now, people can turn to Sallie Mae Bank for private student loans, credit cards, and some banking solutions (e.g. certificates of deposit (CDs), high yield savings accounts or Sallie Mae's money market account).
Learn more about its private loans in this Sallie Mae review.
Sallie Mae loans
Sallie Mae offers competitive variable and fixed rates, along with several term options to help cover the cost of tuition and living expenses.
It provides a variety of private loans, including, but not limited to:
Undergraduate loans
Parent loans
Dental school loans
Medical school loans
Law school loans
Grad school loans
Loans are available from $1,000 minimum up to the cost of attendance. You can choose loan terms ranging from five to 20 years. Additionally, Sallie Mae offers a 0.25% interest rate reduction for signing up for auto-debit payments.
The specific repayment options available through Sallie Mae depend on the type of private loan and your loan amounts.
Sallie Mae student loans review: Pros and cons
Here's an overview of the pros and cons of Sallie Mae private loans.
Pros
Flexible in-school repayment options: Depending on the loan, borrowers might be able to choose in-school deferment, fixed monthly payments or interest-only payments.

No origination fees:

Borrowers never have to pay origination fees when taking out student loans with Sallie Mae.

No prepayment penalties:

There are no penalties for paying off your student loans early with Sallie Mae.

Multiple loan options:

Sallie Mae has private loans for undergraduates, graduate studies, parents, K-12, dental and medical school, dental and medical residency, law school, MBA, and more.

Loans for part-time students:

Loans aren't limited to students going to school half-time or more. Students attending less than half-time are eligible for loans too.

Cosigner release options:

Borrowers can apply for cosigner release after 12 full on-time payments without periods of forbearance (must meet other credit requirements).
Separation or grace period: Depending on the loan, borrowers might have access to a grace period (often six months) after they're no longer enrolled in school and before principal and interest repayment start.
Cons
Private loans in general:

Federal loans are typically a better option in most situations over private loans.

Even Sallie Mae recommends considering federal loans first.

No loan pre-approval:

Some private lenders run a soft credit check so you can see what kind of rates you could get. You won't see available rates until after Sallie Mae performs a hard credit check, which can negatively affect your credit score.

Forbearance limitations:

Student loan forbearance is limited to 12 months total over the life of the loan.
Eligibility requirements
Borrowers must meet several requirements to qualify for private loans through Sallie Mae. To be eligible for a loan, you must be either:
A U.S. citizen or permanent resident
A non-U.S. citizen borrower with a creditworthy cosigner who's a U.S. citizen or permanent resident
The biggest factor Sallie Mae uses when determining eligibility and rates is whether you are creditworthy or not. This includes your credit score, history of borrowing and repaying money, and other factors.
The federal government doesn't back private loans, so lenders want to know that you can pay back your loans. Many students that apply for private loans haven't had time to build up their credit enough to qualify for private loans on their own.
You can apply for a private loan through Sallie Mae using a cosigner. During our Sallie Mae review, we discovered that 90% of undergraduate students approved for Sallie Mae private loans have cosigners.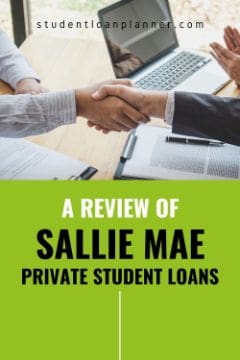 Application process
Students and parents can apply for private loans directly through Sallie Mae's website.
It's a smart idea to keep information handy as you go through the application process, including:
A government-issued photo ID or proof of citizenship
Personal information (address, phone number, social security number, date of birth)
School information
Employment information
Financial information (checking accounts, income, mortgage or rent payments)
Cosigner information
Loan amount requested
Other financial aid you expect to receive
The application process is easy to follow. But if you need extra help, you can call Sallie Mae's customer support at 1-877-279-7172. Most borrowers find out if they qualify within 15 minutes.
As mentioned, there is no pre-approval process. You'll need to apply to learn what rates you can get through Sallie Mae.
Should you take out a private loan with Sallie Mae?
Private loans are one way to cover school expenses when federal loans aren't enough. If choosing between the two options, most situations will dictate that federal loans are a better choice given the protections that federal student loans offer, like Income-Driven Repayment and forbearance.
But if you can secure a low interest rate, private loans could be a better choice in some scenarios. If your loan total loan cost is going to be in the five-figure range and you can easily pay it back, it's worth exploring private loans.
It's possible but unlikely that private loan rates will fall lower than those found with Stafford loans. Private loans may be a better option for grad students than Grad PLUS loans. If you do choose private loans, opt for a fixed rate over variable rate.
The decision will depend on the specific school, how much you need to borrow, your creditworthiness, and the rates you receive.
Where does Sallie Mae rank compared to other lenders?
Sallie Mae is consistently the market leader for private student loans. It tends to offer better rates than most other private lenders. With so many loan choices, Sallie Mae covers ground with almost every type of borrower.
Beyond just rates, Sallie Mae has multiple support options if you need help with your student loans. This includes contacting customer support by phone, email, chat, or through your online account.
The only area where other private lenders may have them beat is in offering pre-approval. The ability to have an idea of what kind of rates you'll receive helps you know where you stand. It also allows you to shop around and find the best rates.
Sallie Mae review: Final thoughts
Overall, Sallie Mae consistently delivers solid private loan options for all kinds of students.
Private loans aren't the best solution to paying for college but come in handy in some situations.
If you do choose to get a private loan, it's important to research private lenders. Find the one that you're most comfortable with and offers the best rate, repayment term and other loan benefits. Remember that private student loans don't come with access to many of the protections afforded to federal loans.
If you need extra funds to pay for school after exhausting federal sources, Sallie Mae private loans are the next best option.