Borrowers with Direct Loans have not paid interest or payments since March 13, 2020. The payment pause was extended numerous times under two presidential administrations. What borrowers might not know, though, is that even when the pause officially ends, some borrowers will continue receiving a pause, or partial pause, on student loan payments and interest until 2025.
There are three distinct groups of borrowers who will receive this benefit.
First group: those who locked in pre-pandemic $0 IDR payments
Each time the student loan pause gets extended, the Department of Education pushes back borrowers' income recertification date, if they're enrolled in an income-driven repayment (IDR) plan.
In an IDR recertification, you provide your loan servicer with proof of income, which is usually your most recently available tax return.
The servicer uses this proof of income to calculate your new IDR payment amount for the next 12 months.
Example of a borrower who does not need to recertify until 2025
Consider an example of a physician with $200,000 of student loans who finished med school in 2019 and started residency later that year. Let's assume they delayed consolidation for a few months after graduation, so their annual IDR recertification date was 1/1/2020.
In January 2020, his 2019 taxes weren't ready yet. So they recertified using 2018 tax information showing a $0 income.
The date for IDR recertification keeps getting pushed off by the Department of Ed.
The current policy says, "you won't be required to recertify before payments restart, and the earliest you could be required to recertify is six months after the payment pause ends."
The current pause will end 60 days after the Supreme Court rules on debt relief, or 60 days after June 30, 2023, whichever comes first.
The Supreme Court does not seem like it will have a ruling long before May or June, so a payment pause end date of August 1, 2023 seems reasonable.
That means no one would need to recertify until six months after August 1, 2023. That new IDR cut-off date would be February 1, 2024.
However, since this borrower's recertification date falls before February 2024, that means their new recertification date would be pushed out to 1/1/2025.
How interest will stay paused after the payment pause ends for some borrowers
In the above example, let's assume our borrower signed up for the Revised Pay As You Earn repayment plan.
President Biden proposed to modify the terms of this repayment plan rather than create a new one. Reforming the plans this way avoids a borrower needing to recertify income.
Furthermore, the New REPAYE plan will allow a borrower to receive a 100% interest subsidy for all interest not covered by required payments.
Their payment is $0 a month, so all interest will be subsidized. The Old REPAYE plan would have covered only half of the interest charges.

What if they earn $200,000 a year as an attending physician in 2023? Can they keep their $0 a month payment under the New REPAYE plan?
Yes. Because their new recertification date will not likely be until January 2025, they'll pay $0 a month when payments restart. These payments count toward Public Service Loan Forgiveness (PSLF), and they will be charged zero interest as well.
If they're in private practice, they would be better off putting payments in a high-interest savings account and earning 4% interest while their student loans accrue $0 until interest charges actually start again.
Second group: new graduates will continue to benefit from the student loan pause after it ends
Another group of borrowers who will get an extended student loan pause is made up of recent graduates.
Consider that a borrower can consolidate their loans after graduating and certify using their prior year taxable income.
Hence, if you graduate in spring 2023, you could consolidate when you graduate and certify IDR payments under New REPAYE using your $0 income, 2022 tax return.
That $0 payment would count toward forgiveness, and due to the New REPAYE rules on interest subsidies, it would cover all of your interest until mid-2024.
However, that pause likely continues well into 2025. The reason? Most new graduates get their first paycheck in late summer or early fall.
If the average new grad earns $60,000 a year and gets their first paycheck at the end of September 2023, they'll only getting 4 months worth of income in 2023.
When they have to recertify in mid-2024, they'll recertify using income earned between September to December 2023, which is only $20,000.
Since that's below 225% of the poverty line, under the New REPAYE rules, their payments will be $0 until July 2025.
Third group: those with zero discretionary income
This group of borrowers earns below the new definition of discretionary income.
Keep in mind, the New REPAYE plan defines discretionary income as all income earned above 225% of the poverty line.
Although that number is only $32,805 for a single person in 2023, if you file taxes separately and have a couple of kids, your individual income could be below $55,935 and you would still pay $0. You would also receive a subsidy for 100% of your interest.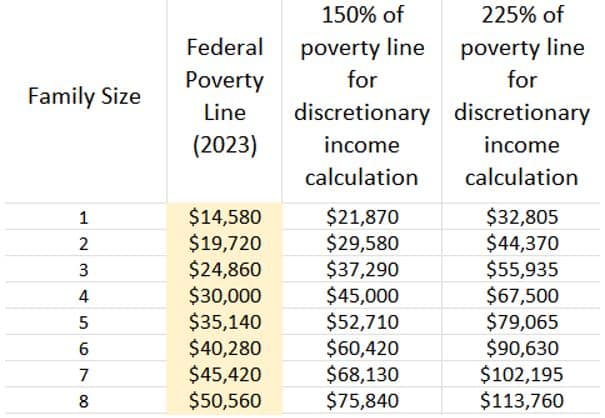 In other words, borrowers with incomes below this new definition of discretionary income will benefit from a permanent student loan pause as long as your income remains this low.
Get as much of your interest and payments paused as possible
Borrowers will face huge decisions in 2023 that will impact their pocketbook.
Specifically, borrowers need to decide whether to give up low IDR payments to switch into the New REPAYE plan. They'll need to choose whether to sign up for PAYE before the deadline before that plan is locked, and they'll have to decide whether to file taxes separately or jointly to get the maximum benefit under New REPAYE.
I've only mentioned three choices, but there are probably dozens.
Get the most out of the student loan pause, whenever it ends. Our student loan experts can help.