There are a few three-year pharmacy schools that can help pharmacists start earning a six-figure salary a year earlier. It sure sounds nice to be done with school a year early and start pursuing your dream job in pharmaceutics industry.
In addition, accelerated pharmacy school programs may offer lower tuition costs. It seems like a no-brainer on the surface. But three-year pharmacy schools come with their own challenges and won't necessarily always be your choice after you finish your bachelor's degree. Here's what you need to think about when comparing pharmacy education options.
What 3-year pharmacy schools are out there?
There are 141 pharmacy schools that meet the accreditation council requirements. Unfortunately, only 18 of them offer an accelerated program.
Here's the complete list of accelerated pharmacy programs according to the American Association of Colleges of Pharmacy (AACP):
American University – Signal Hill, California
Appalachian College of Pharmacy – Oakwood, Virginia
Chapman University – Irvine, California
Larkin University – Miami, Florida
Lake Erie College of Osteopathic Medicine – Erie, Pennsylvania
Massachusetts College of Pharmacy and Health Sciences – Worcester
University of Maryland Eastern – Princess Anne, Maryland
Midwestern University  – Glendale, Arizona
University of the Pacific – Stockton, California
Pacific University School of Pharmacy – Forest Grove, Oregon
Roseman University – Henderson, Nevada
University of Saint Joseph – West Hartford, Connecticut
South College  – Atlanta, Georgia
South College –  Knoxville, Tennessee
Medical College of Wisconsin – Milwaukee
Sullivan University – Louisville, Kentucky
Roosevelt University – Chicago, Illinois
William Carey University – Hattiesburg, Mississippi
Tuition prices
Here are the 2020 to 2021 tuition prices for each of the three-year pharmacy schools listed above: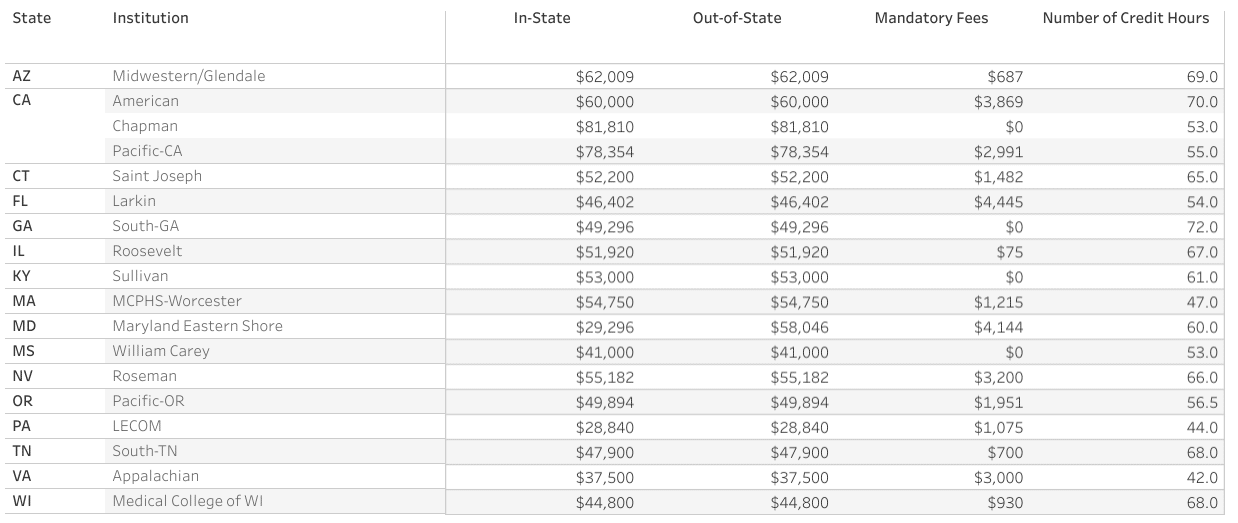 Source: AACP
These programs range from as low as $28,840 for the first year at Lake Erie (LECOM) to $78,354 at University of the Pacific (yikes!). But it looks like there are plenty of options in the high $40,000 to low $50,000 range. The only option that offers an in-state discount is the University of Maryland Eastern Shore, so lucky you if you live in Maryland.
Remember that these tuition prices are for the accelerated pharmacy program. They would need to be multiplied by three to get the total program tuition cost.
Admission requirements
Entrance requirements will vary by pharmacology program. But it's common for schools to require applicants to have completed a certain number of undergraduate credit hours in biology, medicinal chemistry, and math-based physics. Often schools also prefer students to have earned a minimum grade point average in their science course of at least 2.5.
3-year pharmacy school means year-round school
Anyone considering a three-year program needs to know that school goes through the summer with only an occasional week or two break. Also, introductory pharmacy practice experience (IPPE) hours are typically completed in the first and second year of the program. With four-year schools, meanwhile, students generally participate in IPPE sessions during years one to three of the program.
Although graduating a year early could be good, sometimes it can mean taking out more student loans to cover living expenses. If someone is in school for essentially all 12 months, they either need to have the savings to support their living expenses or they have to take out extra loans to cover those costs.
A reason to consider a four-year pharmacy program could be to have the ability to work during the non-school months, earn some money, and build up some savings. That way, the savings could be used to lessen the amount of student loans. Taking the opportunity to work full-time during the summer and build up savings to pay for the day-to-day living expenses could make financial sense.
Aside from the financial aspect, there's a difference between going to school and working in terms of lifestyle. School means going to class, then building in the time to study. When you're not in class, you have to study.
Entering the workforce means having the ability to leave your work at work. When you're home, you're home. Someone who has experienced serious school fatigue in undergrad should take that into consideration too.
Are accelerated PharmD programs more affordable?
The cost of going to a three-year pharmacy school will be more expensive per year than the same school's traditional four-year pharmacy program. The question is if the higher tuition for three years ends up being more or less than the lower tuition for four years.
The short answer is that it depends on which four-year school someone plans to attend. "While the average pharmacist we've advised has owed $215,000 of student debt, there's a huge range around that number," said Travis Hornsby, founder of Student Loan Planner®. "You could owe $120,000 from attending a low-cost public pharmacy school, or you could just as easily owe $300,000 from attending a high-cost private school. Both institutions give you the same opportunity to work as a pharmacist."
There are nearly 50 schools of pharmacy in the U.S. with in-state tuition around or below $35,000 per year. Some of the most affordable programs include the University of Texas, University of Wyoming, and the University of North Carolina at Chapel Hill.
Most students who attend these programs should graduate with less than $200,000 of student debt. But those who attend expensive private schools, such as the University of New England or Roseman University of Health Sciences, may end up owing between $200,000 to $300,000.
If we look at the 18 three-year Doctor of Pharmacy program and the tuition they charge per year, we can compute that going with one should mean having less than $200,000 in student loans upon graduating.
If you have the opportunity to attend an inexpensive in-state pharmacy school, a four-year track could lead to lower student loan debt than a three-year program. But if you don't have that option, a three-year track should typically be more affordable.
Loan repayment options for pharmacists
You might be thinking, I'm just looking at my options to go to pharmacy school. Why do I need to know about repayment now? Well, it's important to know that there's a threshold of debt that can make paying them back possible in a much shorter amount of time.
We've done more than 5,000 individual consults and advised on over $1 billion of student loan debt. What we've found is that people who owe 1.5 times their income in student loans or less are able to pay off their debt in 10 years or less using an aggressive approach. They often refinance to get a lower interest rate to save even more money paying back their loans.
Those with more than two times their income in debt, on the other hand, tend to be better off going for Income-Driven Repayment. This means paying back their loans over 20 to 25 years while saving up for the tax bomb that will come when the loans are forgiven.
When examining the difference between an accelerated pharmacy program and a four-year program, here's an equation to estimate how much student debt you'll have after graduation:
(Tuition per year + $10,000 per year of living expenses) x Number of years to graduate
Now, take that number and increase it by 20% for good measure since tuition costs go up each year. Ideally, people considering pharmacy school should aim to owe less than $190,000 when they graduate.
Pharmacist debt threshold
Why is graduating with $190,000 in student loans or less better? It may sound like an obvious question because most people want to graduate with less student loan debt. But this number is an important threshold for the average pharmacist.
The average pharmacist makes around $128,000 according to the BLS. Therefore, owing $190,000 or less means their student loans are under the 150% debt-to-income threshold. And that puts them on the aggressive repayment track unless they have the ability to go for Public Service Loan Forgiveness (PSLF).
However, if you owe more than one and a half times your annual income, joining an Income-Driven Repayment (IDR) plan and pursuing forgiveness may be the better option. With an IDR plan, payments are generally based on 10% to 15% of your discretionary income. And you can qualify for forgiveness on your remaining balance after 20 to 25 years of loan repayment.
If it looks like the numbers between the accelerated pharmacy program and the four-year pharmacy school are equal, choose the three-year option. Why? Because you'll enter the workforce a year early and be a year closer to being student debt-free. Also, life happens. So get in and get out as fast as you can to avoid any unexpected changes.
In summary, three-year accelerated PharmD programs are almost always the better financial choice unless you there's a really inexpensive in-state school you can get into.
When a pharmacist needs a student loan plan
Whether you're looking to get your Doctor of Pharmacy (PharmD) and are weighing your school options or you've have already graduated and are trying to figure out the best way to pay back your loans, it's important to make a sound financial decision. There's a lot of money at stake here.
It can get confusing when a PharmD owes or is projected to owe more than one and a half times their income in student loans because they have many different options to paying back their debt. There's no one-size-fits-all. But there is the best plan for a particular circumstance.
Marital status and job selection are a huge factor for people with student loans. What if they're married to someone without student loans? Or their spouse has student loans? What if they're single? Should they take a job at a larger retail store — or perhaps take a lower-paying job and be eligible for PSLF? What should you do if you're offered only part-time work?
All of these factors have a huge impact on loan repayment. And that's what our consultants are here to help with. If you feel like you don't have a clear path or if your student debt is stressing you out, learn more about our consult process here.