You may have come across the term "Title IV" when browsing financial aid information or exploring options to refinance your student loans.
But what does it mean?
Title IV accredited institutions are the only schools where students are eligible for federal student aid. Lenders also use this designation as a requirement for refinancing, so your school's Title IV status can have lasting implications for you.
Here's what you need to know about this important distinction and why lenders are so focused on it.
What is a Title IV school?
The Title IV designation distinguishes which schools can access federal student aid and which can't. This distinction is a result of the Higher Education Act (HEA), which was originally signed into law in 1965 and has undergone many updates since.
It was designed to ensure postsecondary schools provide quality instruction and help put students on the path to success after graduation.
The HEA's Title IV section specifically addresses student financial assistance for higher education, including federal student loans, grants and work-study programs. Federal programs like the Pell Grant program and Stafford Loans were a direct result of this important legislation.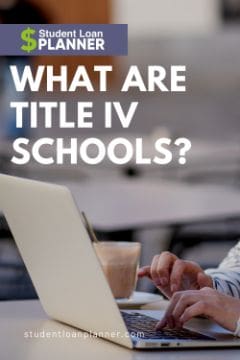 Title IV requirements
Public, private, nonprofit, for-profit and vocational schools can participate in federal Title IV financial aid programs, but they must meet certain requirements to be eligible.
To become a Title IV accredited institution, schools must:
Be licensed or authorized to offer postsecondary programs by the state in which it's located
Be accredited by an agency approved by the Secretary of Education
Only be available to students with high school diplomas or a recognized equivalent credential
Submit financial statements that adhere to established accounting principles and auditing standards
Not offer more than 50% of its courses by correspondence
Not have filed for bankruptcy protection
Additionally, for-profit colleges and vocational schools must be licensed and offer the same programs for at least two years before they can apply for Title IV status.
The application process is considered rigorous, so many schools don't get final approval from the Department of Education. Many programs operate without the Title IV distinction.
Why Title IV status matters for your education
The Title IV classification is the Department of Education's stamp of approval. It signifies that graduates from the program will be more likely to find stable, well-paying employment.
Essentially, the Department of Education is measuring the value and validity of your degree.
If you're considering a for-profit institution or other unaccredited school, be aware that your degree might not carry much weight.
Imagine spending years, and thousands upon thousands of dollars, pursuing your education just to be left without job prospects and unable to repay your student loans. Think about all the sacrifices and money wasted because a school misled you and failed to prepare you for a realistic career.
Choosing a Title IV school that has been rigorously reviewed will increase your chances of graduating with a degree that can help you get a good job.
How to figure out if a school is a Title IV school
If you're considering different programs, you can check each school's status on the Title IV schools list.
You can also contact the Department of Education's Federal Student Aid Information Center at 1-800-433-3243 or use its live chat feature. Hours of operation are:
Monday through Friday from 8 a.m. to 11 p.m. (EST)
Saturday through Sunday from 11 a.m. to 5 p.m. (EST)
You can also call the school's financial aid office directly to verify its status.
What should I do if my school isn't on the Title IV schools list?
If you're interested in a school that isn't a Title IV accredited institution … run! Lack of accreditation is a red flag.
The school may provide some level of educational value as a training course or skill-based institution, but if it isn't accredited, then it hasn't been thoroughly reviewed.
By attending a school without the Title IV classification, you're basically gambling your money and your future.
Be weary of for-profit schools
As a whole, for-profit schools often engage in unethical or questionable practices to lure students in for the sake of increasing their profits. For-profit schools have incurred fines for misreporting graduate job results and engaging in misleading advertising practices.
Without the oversight of an accreditation body, there's a high probability that you'll be taken advantage of and won't see the end results you're hoping for. Unfortunately, there are many for-profit schools that check all the minimum boxes or have leveraged extensive lobbying to relax restrictions over time. For example, scandal-ridden schools like Corinthian Colleges and ITT Technical Institute met the requirements at one time but were still able to rip off unsuspecting students and taxpayers until they eventually closed.
What happens if a school's Title IV status is revoked?
If your school loses access to federal financial aid, it will likely shut down, and you'll be left to pick up the pieces of your education.
This scenario played out with Charlotte Law School after it lost its state license to offer postsecondary degrees in North Carolina. It also happened with Corinthian Colleges after it also lost eligibility.
Students were stuck scrambling to transfer to a new school that would accept their credits. They also had to navigate federal and state programs to try to get their student loans discharged or receive tuition recovery fund payments.
Most refinancing lenders require Title IV status
Most lenders require borrowers to graduate from a Title IV accredited institution to qualify for refinancing. Borrowers who attended for-profit schools have difficulty meeting lender eligibility requirements because of Title IV criteria.
For-profit schools don't have a good track record for producing good job placement results for their students. And borrowers who struggle in the job market also struggle to pay back their student loans or default. Essentially, refinancing companies view you as a higher risk.
Refinancing options for students who didn't attend a Title IV school
While it may be more challenging, you can find refinancing options if you didn't attend a Title IV school. It usually takes more time and effort to find a lender that's willing to work with you while also providing a good rate, though.
Citizen's Bank is on a very short list of refinancing lenders who will work with borrowers even if the borrower's school isn't on the Title IV schools list.
If you did attend a Title IV accredited institution, you'll have access to some of the top refinancing companies offering the best rates.