Physical therapists (PT) are highly skilled and well-trained professionals who help patients recover from injury, illness or disability. As the U.S. population ages, physical therapists' job outlook is strong. The Bureau of Labor Statistics (BLS) estimates that employment for physical therapists in the United States will grow 18% from 2019 to 2029, much faster than average.
In addition to projected job growth, earning potential in the career and the average cost of education for physical therapists are important factors.
Since 2015, the American Physical Therapy Association has required physical therapists to earn a Doctorate of Physical Therapy (DPT) in order to sit for the license exam and receive certification. And it's been an accreditation requirement for physical therapy schools since 2016. This can add another three years of school.
More school, of course, means more tuition. And more tuition usually leads to more student loans. Here's how a physical therapist salary stacks up against student loans.
Physical therapists graduate with more student loans than anticipated
A 2020 APTA survey of PTs and physical therapy assistants (PTA) found that graduates have an average of $110,000 in student debt that's directly related to their PT education. Further, 9 in 10 physical therapists have a cumulative debt load of nearly $153,000 (excluding mortgage debt).
The problem isn't isolated to DPT graduates either. The survey found that nearly 50% of PTAs end up with student debt, too, with an average student loan balance of $24,308. These high numbers match up with the student debt totals Student Loan Planner® consultants have seen from practicing physical therapy clients.
Putting physical therapist debt into perspective
The average debt for bachelor's degree graduates in the United States is $29,900. For the sake of example, let's say you ended up with $110,000 in student loans after graduating with your D.P.T. That would be an extra $80,100 in student debt than the national average.
As we'll see in a moment, physical therapist salaries haven't been rising as quickly as student loans. Brett Kestenbaum, Chief Operating Officer of Covalent Careers, a health care professionals career development company in San Diego, is worried this could cause physical therapists to begin abandoning physical therapy as a career path.
He says, "With the debt-to-earnings ratio increasing, physical therapists will likely start looking for alternative sources of income. This may cause an increase in professional drop-out rates over time."
How much does a physical therapist make?
The median physical therapist salary in the United States is around $89,000 (an hourly wage of $43). But how does that compare to the average college graduate without an advanced degree? According to the BLS, the average wage for a college graduate is right around $73,000 a year.
So, on average, DPTs earn an extra $16,000 in annual income. If we assume you're able to sustain this income as a physical therapist for your entire 30-year career, that's a total of $480,000 in added wages.
So far, that's a pretty great return on an extra $80,000 in student debt. But there are still more factors to consider.
Taxes
Remember those earnings are going to be taxed in the United States. If we assume a tax rate of 40%, then $192,000 will end up in Uncle Sam's pocket instead of your own.
That leaves us with an actual difference of $288,000. So now we're talking about you having an extra $288,000 in income to pay off the extra $80,000 in student debt.
Again, doesn't seem like a bad deal on the surface.
Interest
What still hasn't been taken into account yet is interest cost. Many student loan borrowers spend 20 to 25 years paying off their massive loans. And interest will continue to accrue each year they're not paid off.
Delayed investments
Another thing to consider is the investments (like homeownership or 401k contributions) you might delay because of the limited cash flow that your student loan payments cause.
Let's take a closer look at what student loan repayment looks like for a physical therapist.
Physical therapist student loan repayment options
Let's say Jared has $100,000 in student loans at 6%. His physical therapist starting salary is $70,000. Let's also say that Jared is not married and that his income will grow at 3% per year.
Now, let's compare four different payment options:
Revised Pay As You Earn (REPAYE)
Pay As You Earn (PAYE)
Refinancing into a 10-year fixed rate at 3.5%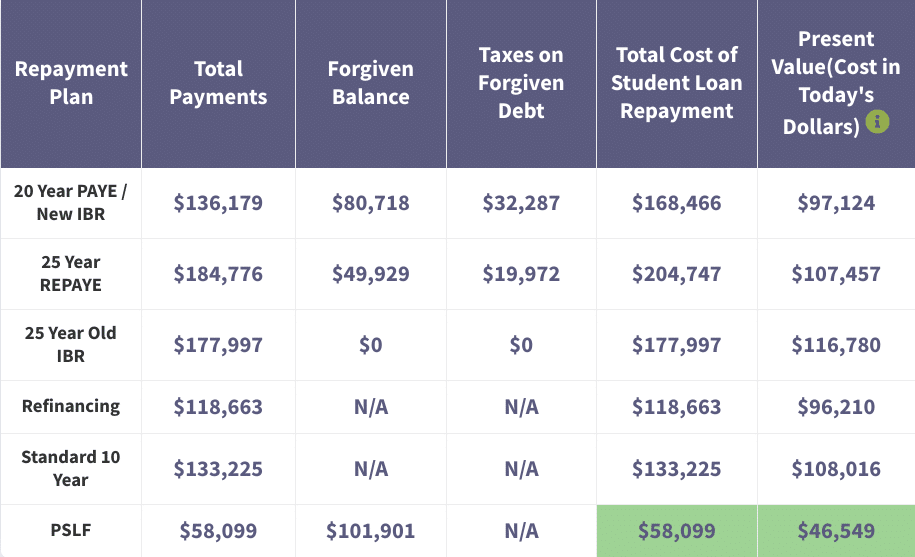 Immediately, you'll notice PSLF is by far the best option. This is a game-changer for those who can qualify. Not only does PSLF allow borrowers to have their loans forgiven 10 years earlier than PAYE, but the forgiven amount is not taxed.
But what if Jared is unable to find employment at a nonprofit hospital or wants to open his own practice?
Best physical therapist repayment options when PSLF is unavailable
In this case, Jared's next best option financially would be to refinance into a new 10-year private student loan at 3.5%. But if cash flow is Jared's biggest concern, then his best choice would be PAYE.
At the beginning of repayment, PAYE would free up nearly $700 in Jared's monthly budget over refinancing. Yet PAYE would also cost $36,000 less than REPAYE over the life of the loan.
Yes, you'll pay nearly $50,000 more in total out-of-pocket payments with PAYE over refinancing. But, remember that Jared would have an extra 10 years to make those payments. And in the meantime, his cash flow situation would be far more manageable.
Higher student loan balances change the discussion
If Jared owed $250,000 or more, choosing an income-driven repayment plan would become more of a no-brainer.
At that point, PAYE would cost slightly more than refinancing over the life of the loan if you could include tax bomb. But, remember, monthly payments would be dramatically lower all along the way.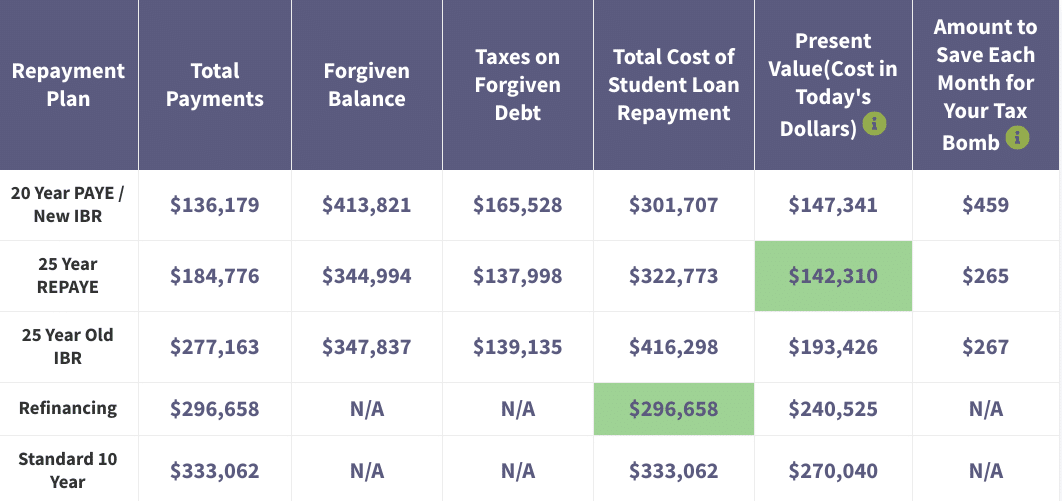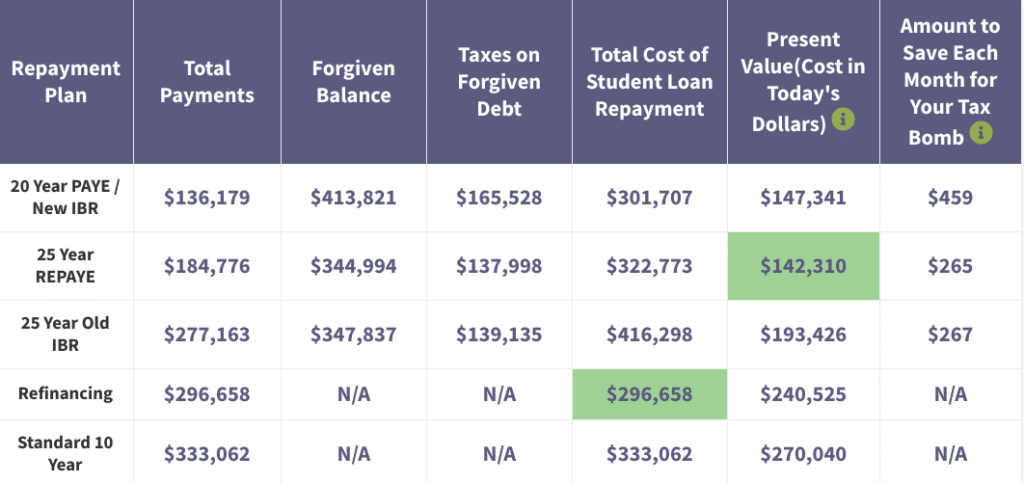 Is a physical therapist salary worth the debt?
When it comes to whether or not a physical therapist salary is worth the student loans, there are three factors that need to be considered:
Cost of the DPT program
Location of employment
Type of job
Let's take a look at all three factors to see how they change the value of education for physical therapists.
Cost of the DPT program
The best way to increase the chances that your salary will be worth the debt is to decrease the cost of your physical therapy education. As with most degrees, the cost of DPT programs depends largely on where you go to school.
There's a huge disparity between the average annual tuition of DPT programs at state versus private schools. Check out the latest data from CAPTE:
Public in-state:

$18,514 (range: $4,028 to $43,185)

Public out-of-state:

$33,879 (range: $10,371 to $61,026)

Private:

$36,882 (range: $21,152 to $72,220)
If you're looking to begin a DPT program, always check to see how much it would cost to enroll in one of your state schools. There are many high-quality state schools that offer DPT degrees for less than $50,000 in total.
If you happen to live in a state that doesn't have a public university with a competitive DPT program, enrolling in another state's university could still save you money over a private school.
Location of employment
Where physical therapists work is another major factor that can influence whether a PT career makes sense financially. A physical therapist starting salary in the best-paying states could be higher than what veterans with 10 years of experience make in lower-paying areas.
These are the top five paying states for physical therapist jobs, according to the most recent BLS data, along with their annual mean wages:
Nevada: $108,550
Alaska: $102,650
California: $99,920
New Jersey: $99,060
Connecticut: $98,780
New York, meanwhile, pays a middle-of-the-road mean physical therapist salary of $90,880. That's not terrible. But New York is also the state with the second-highest cost of living and has one of the highest state income tax rates. Having merely an average physical therapist salary coupled with above-average expenses is a bad combination if you want to pay off student loans quickly.
Texas, on the other hand, has a mean wage for physical therapists that's just slightly below New York's ($89,630) with a cost of living that's much better. And, remember, Texas residents don't pay any state income tax.
Where you choose to work as a physical therapist also affects your ability to own your own rehab clinic. Let's say a physical therapist in New York has $150,000 in debt. With an income of $80,000 to $95,000 and a high cost of living, saving up enough money to own an outpatient rehab will be tough.
For these reasons, the physical therapists that achieve the most financial success are likely to be ones with a high level of mobility. If you're currently practicing in a low-pay (or, even worse, a low-pay and high-cost) state, moving to a better area could make a big difference in how soon you're able to reach your financial goals.
Type of job
The actual job you choose inside physical therapy can make a big difference in the return you receive from your student loans. For example, physical therapists who own their own practice could make significantly more than the national average of $89,440.
Pursuing a physical therapist specialty
There are currently 10 specialties that are certified by the American Board of Physical Therapy Specialties. These are:
Cardiovascular and pulmonary
Clinical Electrophysiologic
Geriatrics
Neurology
Oncology
Orthopedics
Pediatrics
Sports
Women's Health
Wound Management
Becoming board-certified in a specialization could increase your workforce desirability and amount that employers or patients are willing to pay for your services.
Taking a travel physical therapist position
Travel therapy is another option that's becoming more popular. Travel therapists usually get their relocation costs covered, and their licensing fees and housing paid for as well. And to top it off, traveling therapists usually receive much better pay!
Becoming a physical therapist assistant
While physical therapists are required to achieve a doctorate degree, you only need an associate's degree to become a PTA.
The average physical therapy assistant salary is nearly $48,990. That may seem like a lot less money than a physical therapist makes. But keep in mind we're talking about at least five fewer years of school and tuition cost.
And don't forget that PTAs can start actually making money five years earlier as well. Going with the average physical therapy assistant salary of $48,990, that's $244,950.
Yes, that means a PTA could feasibly have already made nearly $245,000 by the time a physical therapist is just finishing their DPT program.
If becoming a PTA required a bachelor's degree, that would change this discussion. But, for now, if you're passionate about physical therapy and want to avoid big student loans, becoming a physical therapy assistant is definitely worth considering.
Physical therapists need a plan for student loan repayment
It's important to point out that finances aren't the only factor to consider when choosing a profession. Personal satisfaction and a sense that you're fulfilling your calling are important as well.
Surveys have consistently found that most physical therapists still love their jobs despite the difficult financial situation many found themselves in. And the future growth expectations for the employment of physical therapists are encouraging.
That said, those who choose a physical therapy occupation need a plan to pay off their student loans. Even in states where it doesn't seem to make sense to be a physical therapist, you may be able to change that with your student loan strategy.
Student Loan Planner® has done over 5,000 student loan consults for clients with over $1.28 billion of student loans. Student Loan Planner® consultants can help you figure out the optimal path in just one hour. Book a student loan consultation today.