What you need to know:
CommonBond offers a variety of private student loan products, including undergraduate, graduate, Master of Business Administration (MBA), dental and medical school loans.
There is a 2% origination fee for MBA, dental and medical private student loans.
CommonBond requires students to apply with a cosigner for undergraduate and graduate student loans.
*Disclosures
Focus on
graduate students
CommonBond is a leading student loan lender that offers a variety of financial products with a focus on making the process simple. It was founded in 2012 and has funded $4 billion worth of student loans.
But CommonBond's business practices go beyond just financing student loans. Through its social mission and partnership with Pencils of Promise, CommonBond covers the cost of a child's education in the developing world each time it funds a loan. Although your goal should be about finding the lowest interest rate and best terms, it's nice to know that your student loans could go to something beyond your own education too.
This CommonBond student loan review breaks down each type of private loan offered by the company to help you make the best decision when choosing a financing option for your education.
CommonBond private student loans at a glance
CommonBond is well-known for student loan refinancing. But it also offers competitive options for private student loans.
Private loan options come with a variety of CommonBond interest rates and loan terms for undergraduate, graduate, MBA, dental, and medical school loans, including the following:
| | | | | | |
| --- | --- | --- | --- | --- | --- |
| PenFed Student Loan Refinance | | | | | |
| | | | | | |
| | | | | | |
| | | | | | |
| | | | | | |
Note that CommonBond lending has a $500,000 lifetime borrowing limit across the board for all of its private student loans.
Pros and cons of using CommonBond as your lender
Pros
Flexible in-school repayment options.

CommonBond provides flexible repayment terms while you are in school depending on the type of loan. Options may include deferment, fixed monthly payments, interest-only payments or full payments.

High loan amounts.

You can borrow up to the full cost of attendance as determined by your school.

Cosigner release.

Students can apply for a cosigner release after graduation and 24 months of full payments.

Autopay discount.

Borrowers can earn a 0.25% interest rate reduction when they sign up for automatic payments.

Money Mentor program enrollment.

This program provides guidance on a range of financial topics. Undergraduate students are automatically enrolled in the program, and graduate students can opt in.

Forbearance.

CommonBond offers forbearance for students experiencing economic hardship after graduation.
Cons
Origination fee.

CommonBond charges a 2% origination fee for MBA, medical and dental student loans. There is no fee for undergraduate and graduate loans.

Limited to in-network schools.

Its private student loan eligibility criteria includes enrollment at a school within CommonBond's network.

Cosigner required.

CommonBond's loans require a cosigner for undergraduate and graduate students. However, it doesn't require MBA, dental and medical students to have a cosigner if they meet underwriting criteria on their own.

Hard credit pull.

Unlike other lenders who provide interest rate quotes using a soft credit inquiry, CommonBond requires a hard credit pull to determine your eligibility based on your credit profile.

Miscellaneous fees.

CommonBond charges a late fee of $10 or 5% of the unpaid amount, whichever is less. It also charges a returned check fee of $5.
CommonBond borrower eligibility requirements
To qualify for CommonBond student loans, you'll need to be a U.S. citizen or permanent resident. You'll also need to be enrolled at least half-time at one of the lender's in-network schools.
CommonBond doesn't provide minimum requirements for loan approval, but it will perform a hard credit pull to review your credit history. If applying for an undergraduate or graduate loan, you're must apply with a creditworthy cosigner. But you can apply for cosigner release after you graduate and make 24 consecutive monthly payments.
Although it's not initially required, you'll have the option to include a cosigner if you don't meet CommonBond's underwriting criteria when applying for an MBA, dental or medical student loan.
CommonBond's student loan application process
CommonBond has a feature that gives you ballpark fixed and variable rates based on the information you provide about your cosigner's income and credit score. But you'll need to complete the online application to determine your eligibility and to receive accurate loan offers.
To start your application, you'll select the type of degree you're pursuing and which school you'll be attending:

You'll then indicate whether you're a student or cosigner.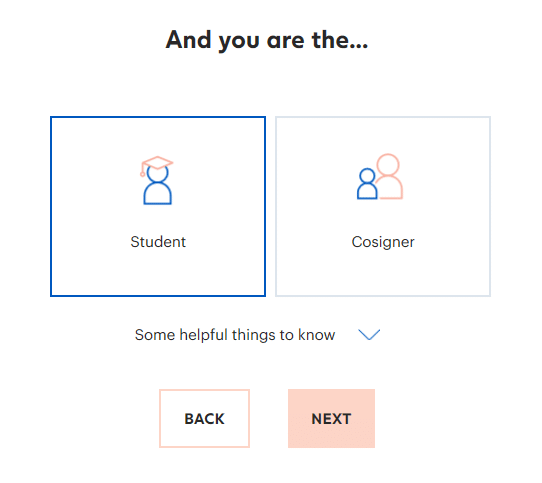 For student applications, you'll sign up for an account. Then, you'll enter a secure portal where you'll provide school details, personal information and information about your cosigner.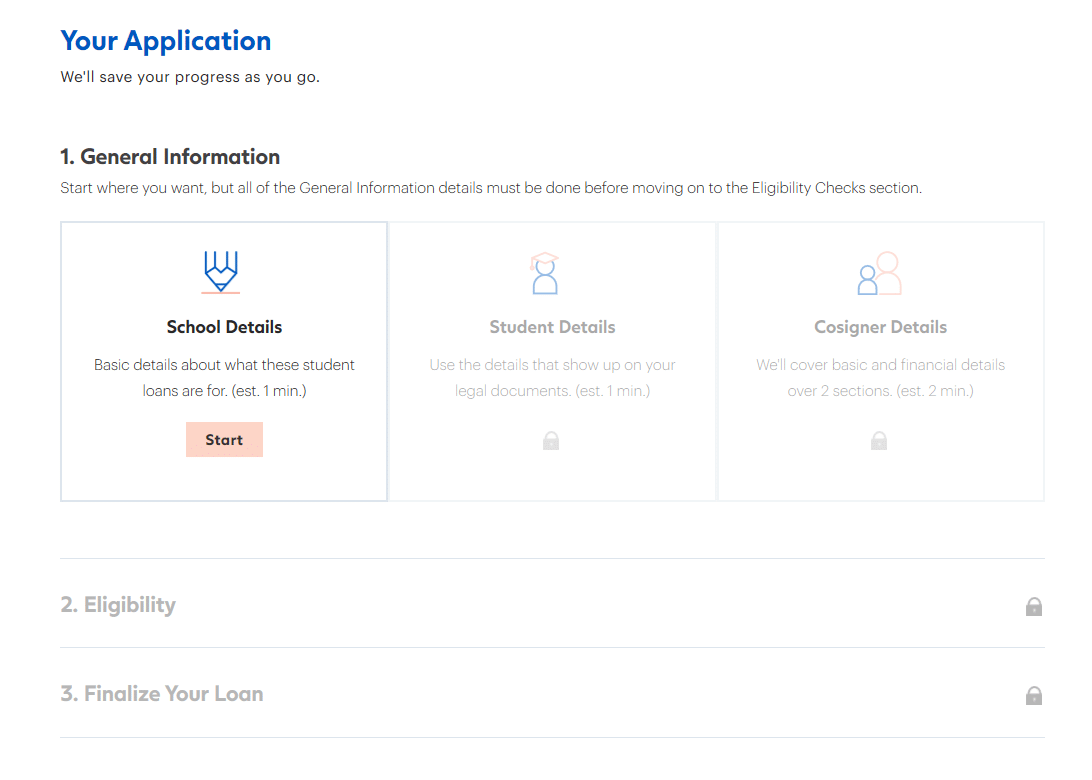 CommonBond's application process is fairly straightforward. You can complete it within minutes from any device if you have access to all of the required information.
Once you receive approval and e-sign your loan disclosures, CommonBond will confirm your enrollment and loan amount with your school. This process can take anywhere from five days to three weeks. Your loans will be disbursed directly to your school to pay for the cost of attendance.
Is CommonBond the right lender for you?
CommonBond private student loans may be a good fit if you've exhausted your federal loan options and want more flexibility from a private lender by choosing from a variety of loan products. It tends to have a better reputation than other student loan lenders. Plus, it'll provide whatever amount you need to pay for your program.
While undergraduate and graduate students are required to use a cosigner, CommonBond may be an appealing option for borrowers seeking an MBA, dental or medical degree who want to have their loan in their own name. CommonBond tends to make getting approved for these types of loans without a cosigner easier than some other private lenders.
You'll need to consider the 2% loan origination fee, however, if you're pursuing an MBA, dental or medical degree. This fee essentially means that 2% of your loan will be divided by the number of years you're going to hold onto the loan until you refinance.
Let's say you take out a loan to finance your dental degree for two years. The origination fee will be split over those two years, making it 1% each year. So, you'll want to tack that 1% onto your interest rate to better understand the true cost of your loan.
Taking the origination fee into account, you can see that CommonBond's private student loan rates aren't necessarily as low as many current refinancing offers out there. So, you'll likely want to plan on refinancing your private student loans shortly after you graduate to get the best interest rate.
Overall, CommonBond is a solid choice for private student loans, but you should compare CommonBond's interest rates with other lenders and consider how the origination fee could impact your overall loan repayment plan before making your decision.
Best private student loans for 2022

Lends at most
degree programs
Check eligibility
in 2 minutes

Large autopay
discounts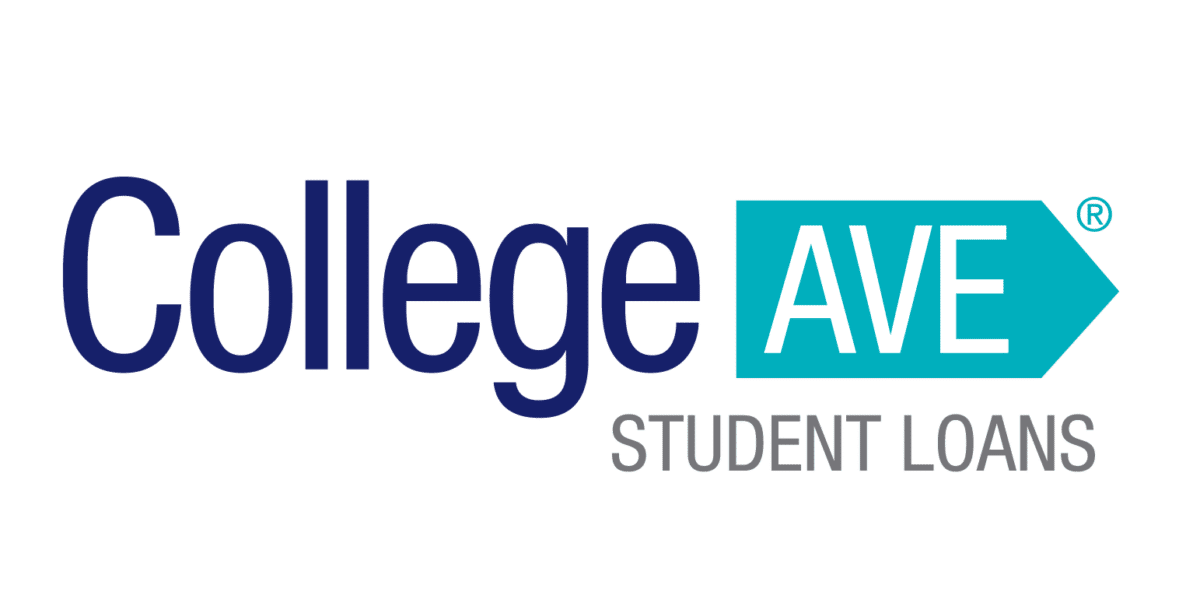 Flexible repayment options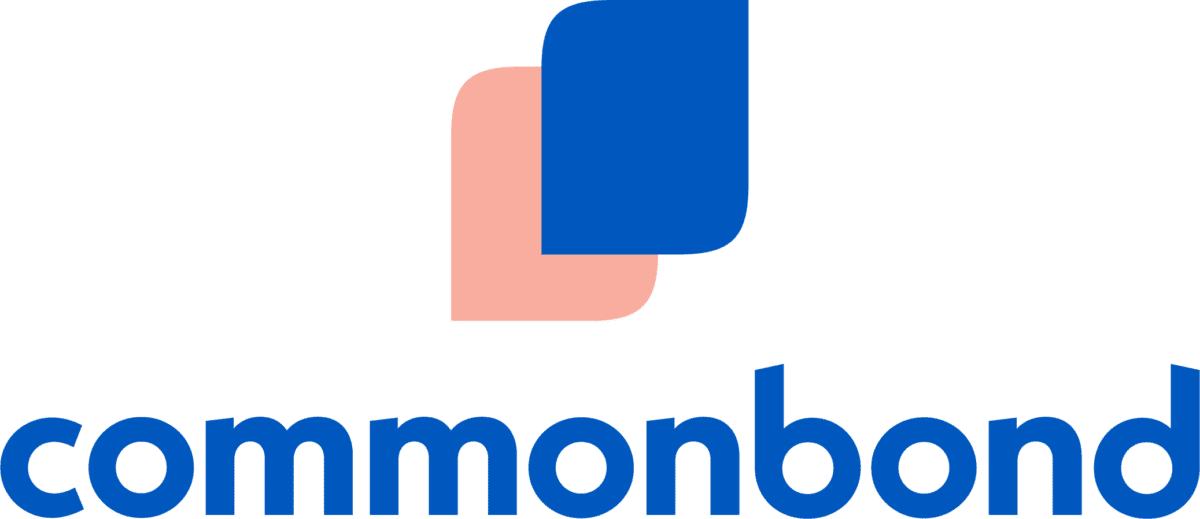 Focus on
graduate students