What you need to know
Earnest is a private student loan lender that offers student loan refinancing with customized loan terms.
Earnest refinance rates are known for their consistent low interest rates.
If you refinance through our Student Loan Planner referral link, you get $200 if you refinance $50,000 to $99,999. If you refinance $100,000 or more, you get $500 from Earnest and $500 from Student Loan Planner.
Earnest's application process looks at more than just your credit score to determine whether you are a good candidate for refinancing.
Earnest is an online lender with a unique approach to student loan refinancing. If you're approved by Earnest, you'll have a chance to pick the repayment term and monthly payment that fits your needs. They also have a user-friendly interface that allows you to check your interest rate before applying.
In addition to the main Earnest student loan refinance product, Earnest offers private student loans and personal loans. You can check your rate in only a couple minutes with the button below.
Earnest student loan refinance review
Check out these quick facts from our Earnest student loan refinance review. You can also get a cash bonus of up to $1,000 when you apply for refinancing through our Earnest link.
Pros & Cons
Pros
Flexible repayment options

: Earnest offers the option to customize the loan terms of your student loans, from anywhere between 5 to 20 years. This allows borrowers to choose the monthly payment that fits their budget. You choose how long you want to pay back your loan in order to fit your needs. Also, Earnest allows its borrowers to skip one payment every 12 months.

Competitive rates

: Earnest is known for offering low interest rates that often undercut its competitors.
Low fees: Earnest doesn't charge any application or origination fees. There also no prepayment penalties if you pay off your student loans early.

Easy-to-use website

: Earnest makes it easy to navigate their website when applying for refinancing or private student loans or accessing your account.

Checking rates won't affect your credit score

: Earnest performs a soft credit inquiry when you check your interest rates. Soft credit inquiries don't impact credit scores. There is a hard credit inquiry during the application process, which can lower your credit score temporarily.
Autopay discount: Receive a 0.25% discount for making automatic payments from a bank account.
Educational resources: The Earnest website includes a helpful resource library filled with how-to guides, comparisons, and calculators to help you improve your finances and pay down debt faster.
Cons
Not cosigner-friendly

: There is currently no option to apply for private student loans with a cosigner. This may keep some people from qualifying for refinancing. If you have a cosigner on your existing loan, they will be released and the entire loan debt will be consolidated into your name.

Parent PLUS loans transferring

: If you have Parent PLUS loans, you can refinance through Earnest, but loans must remain in the primary borrower's name. Earnest doesn't allow debt from Parent PLUS loans to be transferred to the child during refinancing.

Navient-backed funding

: Earnest was acquired by student loan giant Navient in 2017. This could be good or bad, depending on your view or your history with Navient as a federal loan servicer. Our recent refinancing survey showed that there is some concern about this partnership.
Eligibility Requirements
You need to meet several requirements to be eligible for student loan refinancing with Earnest. To refinance, you must be a U.S. Citizen or permanent resident over the age of 18, and must be enrolled in school half-time or less.
Earnest performs a hard credit inquiry and requires a minimum credit score of 650. In addition to credit score, Earnest also looks at employment status, income, loan status, payment history and debt-to-income (DTI) ratio.
Your private student loans must also be in your name and from a Title IV-accredited school. The debt must be from a completed degree or one that will be completed soon.
Student loan refinancing is available for residents of the District of Columbia and 48 states. Refinancing is not available in Kentucky or Nevada. Note that variable loan interest rates are also not available in all states.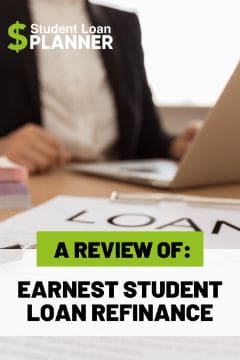 Application process
The application process for Earnest student loans may take longer than other private student loan lenders since it looks at more than just your credit. Your education and finances are a major factor in whether you will be approved for refinancing. Ultimately, that's a good thing because it could help you qualify for a lower interest rate and monthly payment.
As part of the application process, you enter information about yourself and the loan you are applying for. This helps the lender get a better feel for your needs. Next, you'll enter information about your education, employment background, and the current balances of your student loans. Be sure to have any necessary records on hand to pull information quickly.
Something to keep in mind is that Earnest asks for access to your financial accounts. This is read-only access – they can't go in and make any changes. They do this in order to get a full picture of your financial health. They can also see if you are a good candidate to borrow money.
Earnest asks for a copy of your photo ID and social security number as part of their credit check. It's not a long application process, but you can speed it up by gathering all necessary information before applying.
Should you refinance with Earnest?
Student Loan Planner recently surveyed over 1,600 borrowers about their student loan refinancing experiences through Earnest and other lenders. The most responses came from people who refinanced with Earnest student loans than any other lender. Overall, Earnest received positive ratings, but there were a couple of concerns:
The fact that Earnest connects to personal financial accounts during the application was viewed as invasive and unnecessary.
People who have previous experiences with Navient as a loan servicer are concerned with their involvement (since they acquired Earnest in 2017).
Also, a couple of people didn't care for Earnest's mobile app. One respondent said it is "a disaster," and another person called their iOS app "garbage."
Earnest shines in the payment flexibility department, however. Borrowers can choose from 180 repayment terms and are able to skip a payment once every 12 months. Other ways to get relief from your monthly payments include:
Hardship forbearance (Up to a maximum of 12 months)
Military deferment
Death and disability discharge
It's important to point out that when borrowers refinance with Earnest they're taking out new Earnest private student loans. For borrowers with federal student loans that means losing eligibility for a variety of federal benefits. Even if you can secure a lower interest rate, you'll want to think carefully through the pros and cons before refinancing your federal student loans into private student loans.
Where does Earnest rank compared to other lenders?
Earnest ranked #2 on our site's survey of major student loan refinancing lenders. Here's how it ranked in the three sub-categories
Application experience: 2nd
Customer service: 2nd
Lender website: 3rd
Earnest's consistently low rates is probably a major reason why so many of our survey respondents said they had chosen Earnest and felt happy with their experience. The lender that offers the lowest interest rate is usually the one that borrowers choose when student loan refinancing. The various repayment options offered with Earnest student loans is another favorite feature.
Several professions relied heavily on Earnest student loans for refinancing. More lawyers, physician assistants and pharmacists refinanced to Earnest student loans than anyone else. One respondent appreciated their unique application approach:
"Most companies I applied to refinance with wouldn't even look at my application due to income and lack of payment history. Earnest did and allowed me to refinance."
Overall, the survey results show that most people have a positive experience refinancing their student loans through Earnest.
Refinancing with Earnest
Because of their consistently low rates, flexible loan terms, and user-friendly web interface, Earnest student loans earn a rating of 5 out of 5 from Student Loan Planner. It's important to shop around to find the best rates and the right fit for your refinancing needs. We're sure that for many people, Earnest will be a top choice.
If you're thinking about refinancing your student loans, Earnest offers options as do our other refinancing partners. In our student loan refinancing guide, we compare the key features, terms, and bonus offers from all the top refinancing lenders available today.