What you need to know:
Education Loan Finance (ELFI) offers student loan refinancing
ELFI has Student Loan Advisors to help guide borrowers
ELFI serves borrowers in all 50 states and is owned by SouthEast Bank
Education Loan Finance, also known as ELFI, owned by SouthEast Bank, is one of the lesser-known student loan refinancing companies. ELFI doesn't offer competitive refinancing rates compared to other lenders but where they stand out is in customer service. Currently, the company is rated 4.9 out of 5 stars on Trustpilot. For more detailed information, read on for our full Education Loan Finance review.
ELFI student loan refinance review
ELFI offers student loan refinancing with a minimum of $10,000 and offers good five- and seven-year fixed-rate terms. According to their website, customers save an average of $272 each month and may save an average of $13,940 over the life of the loan after refinancing. 
They have repayment terms between five and 20 years for student loan refinancing. ELFI also offers parent loan refinancing for parents who took on student loan debt on behalf of their child. Parents who opt for this have a repayment term between five and 10 years. 
For borrowers looking for more personalized support, ELFI can be a good option to consider. They have an experienced team with over 30 years of experience in the refinancing space and have Student Loan Advisors for each borrower. From a rate perspective, they sometimes offer low rates but typically aren't the lowest rates on the market.
Interest rates: Fixed and variable
Terms: 5, 7, 10, 15, and 20 year
Loan amount: $10,000+
Cosigner release: No
Transfer to adult child: Yes
*As of March 18, 2020
Pros and cons: Education Loan Finance review
ELFI is just one of the student loan refinancing companies out there so it's important to review the pros and cons.
Pros:
O

ffers low interest rates

.

While other lenders may have more competitive rates, refinancing through ELFI will likely still score you a better rate than your current one. The company offers variable-rate loans and fixed-rate loans. 

Provid

es personalized customer support

.

Their team will support your refinancing journey at each step.

No fees.

 ELFI has no application fees and no origination fees.

No prepayment penalties.

You can pay ahead on your loans with no consequences.

Student loan

 refinancing expertise.

The company has a total of 30 years of experience in this space.

F

orbearance up to 12 months

.

You have the option to put a hold on your payments for up to a year.
Easy and convenient. Their site says you can score a refinancing loan in just a few minutes. 
Cons:
Application isn't

u

ser-friendly.

 There are several pages of information requested on the application.

Other lenders may offer more competitive rates.

For example, Ascent and Earnest may offer lower rates.

Co

signer release isn't an option.

That means your cosigner won't be released and will be held responsible for the entirety of the loan repayment, should you stop paying.
Eligibility requirements for ELFI student loan refinance
In order to get approved for a refinancing loan through ELFI, you must meet certain eligibility requirements. To qualify for an ELFI student loan refinancing loan, you must:
Be a U.S. citizen or permanent resident
Be at least the age of majority (legal adult by state) at the time of applying
Have an undergraduate Bachelor's degree or higher
Meet the minimum loan amount of $15,000
Have a minimum income of at least $35,000
Have a credit score of 680 or higher
Have a credit history for the past three years
Have a degree from a qualified institution
Applying for a refinancing loan with ELFI
The ELFI application process might not be considered as user-friendly as other refinancing applications. To start, you need to create a profile.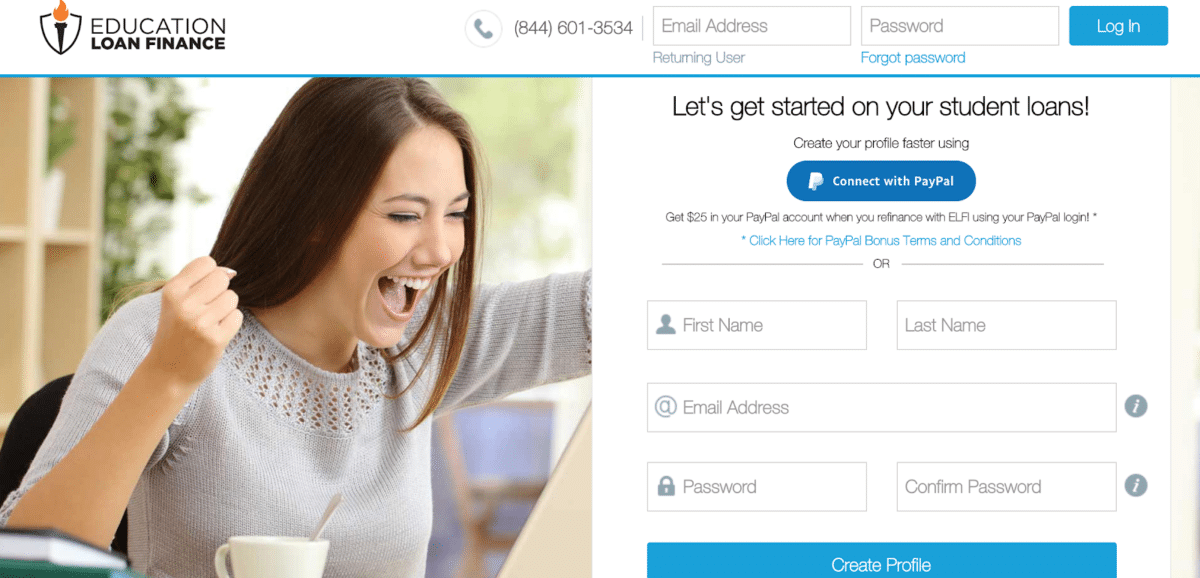 You'll then have the option to choose from in-school loans or refinancing loans.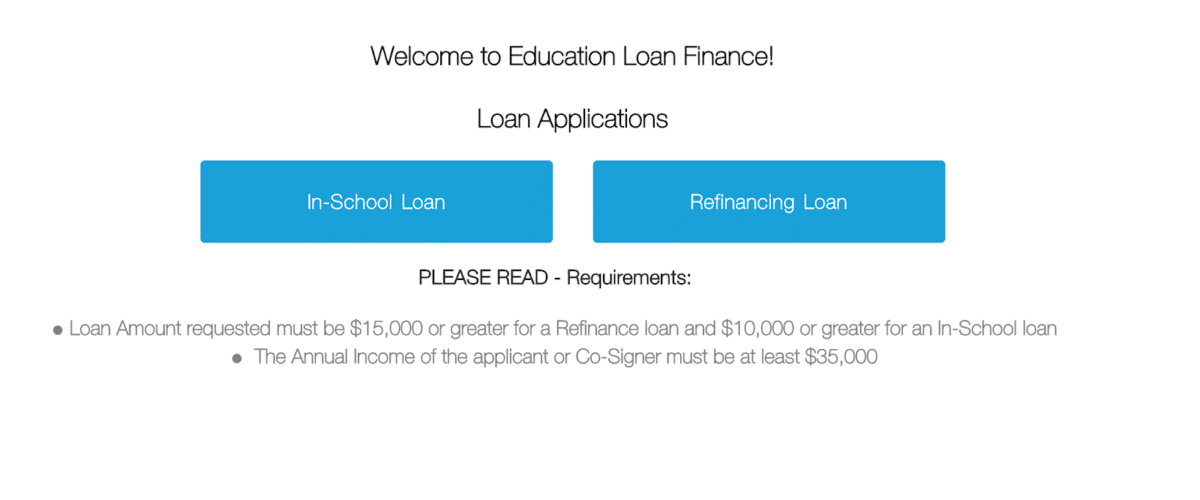 After choosing "refinancing loan," select whether you're a borrower or a parent/cosigner.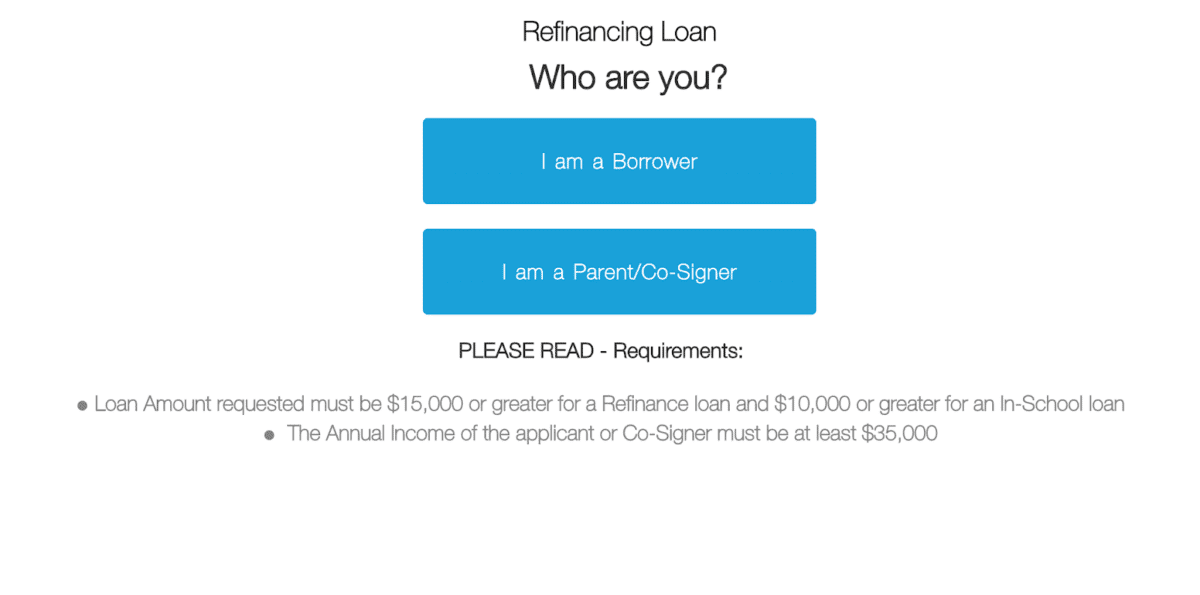 You'll then be asked to verify your email address with a verification code they send you.

Submit your personal information, including full name, address, degree obtained, graduation date, Social Security number, income and the loan amount requested. Once you agree to the terms and conditions, you can click "Get My Rate" to see the prospective APR and repayment terms you qualify for.

If you move forward with applying, you'll need the following:
Pay stubs from the last 30 days
W-2 from the previous year
Government-issued I.D.
Tax returns, if you're self-employed
Account information
Current billing statement for each qualified loan
The billing statement that you provide must have the following:
Your name
Your account number
The current balance or payoff amounts
The payment mailing address
If you apply with a cosigner (you don't have to, though), your cosigner will also need to provide identification, pay stubs and a W-2. Checking your rate won't hurt your credit. Your credit, financial history, and debt-to-income ratio will also be considered in the ELFI refinancing loan approval process.
It'll take between 30 to 45 days for your current loans to be paid off. Once your loans are paid, you'll start paying your refinancing loan with ELFI. ELFI's refinance loans are serviced by Missouri Higher Education Loan Authority (MOHELA) and American Education Services (AES).
When applying for an ELFI refinancing loan with our link, you'll receive a $300 cash referral bonus if you refinance more than $50,000. You may also score a $575 referral bonus when you refinance $100,000 or more. If you refinance more than $150,000, you could get up to $1,275 total.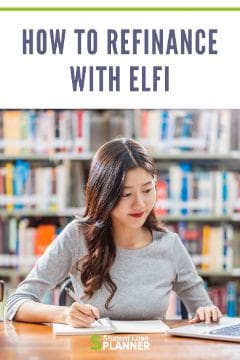 Should you refinance with ELFI?
If you want to refinance your student loans, ELFI may be an option to consider. However, there may be more competitive rates with other lenders like Ascent or Earnest.
If you like working with a bank (because ELFI is serviced by SouthEast Bank) and you like personalized service, then these perks might outweigh the drawbacks.
For borrowers in general, it's always a good idea to compare rates and terms among various lenders before deciding on one option.
What to consider before refinancing
Before you decide to refinance with ELFI, it's key to review your student loan debt situation. If you have federal loans, for example, refinancing will limit your repayment options.
Refinancing a student loan means taking out a new loan that pays off your current student loan debt. That means you won't be eligible for federal student aid benefits or repayment plans such as income-driven repayment or student loan forgiveness.
If you have a private student loan, then refinancing isn't as much of a risk. Either way, it's important to know what you're walking into.
When you refinance, there will be a hard credit check to determine your final interest rate and eligibility. You want to check the student loan refinancing marketplace and compare ELFI among other financial institutions and lenders.
By doing your research, you can be informed and make a decision that fits with your financial goals and priorities.
FAQs
Is there a downside to refinancing student loans?
If you have federal student loans, one major downside to refinancing your student loans is giving up borrower protections and repayment plans such as student loan forgiveness, forbearance, and income-driven repayment. When you refinance, you have a private loan.
Is ELFI legit?
ELFI is a student loan refinancing lender based in Tennessee that has been around 11 years. The company has an A+ rating on the Better Business Bureau.