Sometimes it can be hard to pay your student loan bills. Whether you are struggling financially, dealing with health issues, serving in the military or Peace Corps, or facing another hardship, deferment can provide temporary relief.
Deferment is the option to postpone federal student loan payments temporarily. It's an arrangement made through the federal government. Students can defer loans anywhere from three months to three years, depending on the situation and loan requirements.
While relief might be just what you're looking for during these times, there are positives and negatives involved when pursuing deferment. Let's take a closer look at available deferment options, how long you can defer loans and other information you need to know about deferment.
7 types of student loan deferment
1. In-school deferment
Most federal loans don't start repayment until you've graduated, left school or dropped below half-time. That means that most likely your loans are in deferment while you're in school.
PLUS loans are the exception to this rule. Repayment for PLUS loans begins as soon as the loan funds are disbursed.
Your loans might still accrue interest while you're in school, depending on which loans you have.
To qualify for this type of deferment, borrowers need to fill out and submit an In-School Deferment Request.
2. Grace period deferment
With most federal student loans, if you graduate, leave school or drop below half-time enrollment, you have six months until you are required to start making payments. This time frame is known as a grace period. For most loans, interest still accrues during the grace period.
Not all student loans have a grace period. PLUS loans, for example, do not have a grace period, but graduate or professional students with PLUS loans automatically receive six months deferment after graduating, leaving school or dropping below half-time. Parents who take out Parent PLUS loans can apply for a six-month deferment.
Direct Subsidized and Unsubsidized loans have a six-month grace period.
3. Military service and post-active duty deferment
If you are in the military, you might qualify for a couple of different deferment options for your federal student loans. You are eligible to apply for deferment if you:
Are on active military duty
Completed qualifying active military duty and any applicable grace period
Deferment for military ends once you've resumed enrollment in school at least half-time or for 13 months, following the completion of active military duty and any grace period.
To qualify, borrowers need to fill out and submit the Military Service and Post-Active Duty Student Deferment Request.
4. Economic hardship deferment
Economic hardship deferment is available to qualifying individuals who are facing financial hardship. "Hardship" can include those who are receiving benefits, like welfare, are working full-time but are below 150% of the poverty line for their family, or are in the Peace Corps.
Economic hardship deferral is available for up to three years total. To qualify, borrowers need to fill out and submit the Economic Hardship Deferment Request.
This type of deferment is different from student loan forbearance for financial hardships. Forbearance is available for 12 months at a time and no more than three years cumulatively.
With forbearance, interest will always accrue during this time, whereas some deferment options are interest-free.
5. Parent PLUS borrower deferment
If you took out PLUS loans to pay for your child's education, you can request to defer payment as long as they are enrolled half-time at a qualifying college or career school.
Parents can also request deferment for an additional six months if the student drops below half-time enrollment. To qualify for this deferment option, parents need to fill out the Parent PLUS Borrower Deferment Request.
6. Rehabilitation training deferment
If you are part of certain rehabilitation programs, you could qualify for rehabilitation training student loan deferment. To meet eligibility requirements, you must be part of a program geared toward the treatment of drug abuse, vocational rehabilitation, mental health or alcohol abuse.
Borrowers who want to apply for this option need to fill out and submit the Rehabilitation Training Deferment Request.
7. Cancer treatment deferment
The federal government passed a bill in 2019 allowing individuals receiving cancer treatment to defer student loan payments. If you qualify, you can defer your loans for one year. If treatment lasts longer than one year, deferment can be extended with certification from your physician.
At the end of any deferment for cancer treatment, there's also a six-month grace period. During deferment, you won't be charged interest on any student loans that receive an interest subsidy.
To qualify, borrowers need to fill out and submit the Cancer Treatment Deferment Request.
Other deferment options might be available depending on your specific loans, school or other factors. Check with your school's financial aid office or your loan servicer's customer service department for more information.
Does deferment make sense for you?
Whether deferment is the right or wrong choice depends entirely on your specific situation. If you're facing financial or health-related hardship, deferring student loans could be the best thing you can do at that time.
Pros of deferment
Deferring student loans can make sense when you need:
Financial relief during hardships
Stress relief during hardships
Help preventing you from defaulting on your loans
But deciding whether to defer your monthly student loan payments is not an easy decision. There are many factors to consider with this type of decision.
Cons of deferment
It might actually be a bad idea to defer your student loan payments if:
Interest may accrue and capitalize
Your loans will cost you more over time
Your deferment could delay student loan forgiveness
The deferment times are not long enough for your specific situation
Another factor to consider is interest charges. If your student loans won't accrue interest during deferment, you're in a much better place than if they would accrue interest. If you're able to make interest payments during deferment, you can keep that cost from being added to the total balance of your loan.
Deferment, as a means of relief, should come before forbearance, which should only be pursued if you don't qualify for deferment.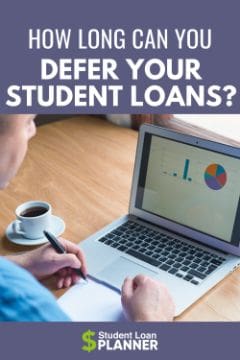 Try lowering your monthly payments first
If you're thinking about applying for loan deferment, the first question you should ask yourself is whether you can afford to make a reduced payment. If so, you may be eligible for an income-driven repayment (IDR) plan, which could lower your monthly payment considerably.
There are cases in which hardships might make it impossible to make monthly student loan payments. If there's a chance that your financial circumstances last longer than deferment periods, then getting put on an IDR plan might make more sense in the long run.
Student loan payment amounts are based on your income and family size. Depending on your situation, IDR payments could be as low as $0 per month. Plus, on an IDR plan, your loans would be forgiven if they aren't paid off in 20 to 25 years.
A long-term IDR plan could be a better option than deferring payments for a brief period and digging a bigger financial hole for yourself after your deferment period ends.
How to extend deferment when you still need it
To extend deferment, you can consolidate your student loans into a Direct Consolidation Loan. While all of the deferment options listed above have time limits, consolidating essentially resets the deferment and forbearance clocks on your loans.
Keep in mind that, although going through consolidation does extend the amount of time for deferment, interest charges and fees will still accrue over this time., and your total student loan balance will continue to grow.
Your decision on student loan deferment
Deciding whether to defer your student loans is a big decision with potentially long-term ramifications. Take your time to research your options before making a decision.
If you aren't sure what to do, our student loan consultants have helped hundreds of people create customized repayment plans that work. We can do the same for you.