The Federal Student Aid Ombudsman Group is who you need to contact if you are not getting anywhere with your loan servicer resolving a dispute. The Ombudsman Group has been somewhat of a secret — you'd have to know what to search for to find this appeal process and potential solution to your federal student loan disputes.
What could you be disputing with your servicer? Some of you may be chuckling in your head reading that sentence, but one of the biggest student loan misconceptions is trusting that your loan servicer knows everything.
The complexity of federal student loans can make your repayment experience difficult enough to navigate. Throw in a representative who gives you bad advice or incorrect information affecting your repayment plan for the worst, and you've got a nightmare situation to handle. The Federal Student Aid (FSA) Ombudsman Group, however, is one way you can pursue an appeal or further resolution of your issue.
What you can appeal with the Federal Student Aid Ombudsman Group
The FSA Ombudsman Group helps resolve disputes related to the federal student aid programs, according to StudentAid.gov, "including Direct Loans, Federal Family Education Loan (FFEL) Program loans, Perkins Loans and grant programs.
"The Ombudsman Group is a neutral, informal, and confidential resource to help resolve disputes about your federal student aid. If you've completed the steps to resolve your dispute and you believe the answer you received is wrong or incomplete, you may need to contact the FSA Ombudsman Group of the U.S. Department of Education (ED)."
You can take the following issues to the Federal Student Aid Ombudsman Group:
Public Service Loan Forgiveness (PSLF) denial and possibly Temporary Expanded PSLF denial
Discrepancies with loan balances and payments
Loan interest and collection charges
Issues related to consolidation, service quality, default status, bankruptcy, income tax refund offsets
Unauthorized loan deferment or forbearance
Loan cancellation or discharge
According to the Federal Student Aid Annual Report FY 2019, the FSA Ombudsman Group is more than 20 years old and collects feedback through the Feedback and Dispute Management System , through which a financial aid recipient (or a third party on their behalf) can submit feedback classified by five different case types:
General inquiry
Complaint
Suspicious activity
Positive feedback
Research
In 2019, the Ombudsman Group received 50,083 feedback cases, more than 88% of which were complaints. More than 62% of the case type of complaints were specifically about repaying aid.
The Fiscal Report included this chart showing the breakdown of the top five categories and subcategories of all case types received in 2019: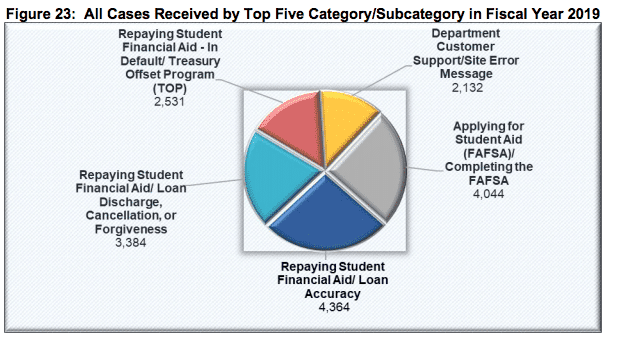 Source: Federal Student Aid Annual Report FY 2019
Loan accuracy was the most common type of feedback received in 2019, where the borrower asserts the current balance, interest rate, loan amount disbursed, or loan status is incorrect or misstated. Coming in third was issues with loan discharge, cancellation or forgiveness.
More than 95% of cases in 2019 with the Ombudsman Group reached a resolution type:
42% were resolved, where either action was taken or the communication or process was clarified for customer
48% were referred, where the FSA determined another resource to assist the borrower
10% had the submission logged, meaning no assistance was provided because feedback was submitted anonymously or it contained specific direction to change Title IV law or regulation
Of these three resolution types, the report further broke out its results by resolution action: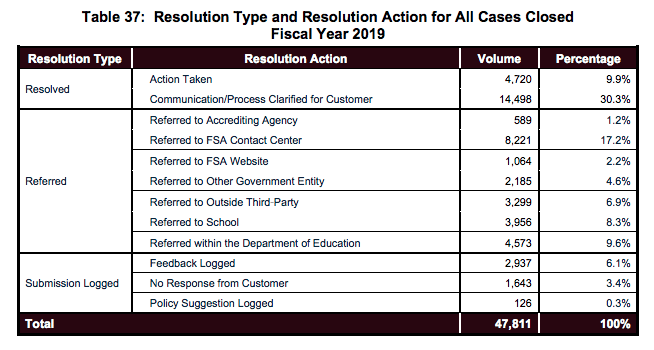 Source: Federal Student Aid Annual Report FY 2019
Consulting on student loans as long as I have now, I can understand how a large majority of the cases are resolved via "Communication/Process Clarified for Customer" — federal student loans are complicated. That's why companies like Student Loan Planner® are here to help.
But when should you begin a dispute?
First, know that the Ombudsman Group does not:
Serve as an advocate
Overturn the decisions of other entities or make binding decisions
Accept complaints about private student loans
Accept complaints when ED has already begun formal or legal investigations
Accept loan payments or process deferment, forbearance, or discharge requests (an individual must contact their loan servicer or collection agency directly)
Replace regular or formal channels of problem resolution within the U.S. Department of Education or in federal court
Testify or serve as a witness in a formal hearing or legal proceeding
You can review common types of disputes involving federal student loans to learn more.
Next, contact your student loan servicer. When doing so, the Dept. of Ed has some tips including:
Take notes of your conversations
Follow up in writing
Request a copy of your customer service history
For phone conversations, take notes on who you talked to, when the call took place, and the content of the conversation
Keep copies of all correspondance
For any written requests, ask the servicer to respond within a reasonable timeframe and be sure to include how they can reach you
Related: How to Lower Your Student Loan Payment
Collect all information available to support your case: notes, statements, copies of mail or email correspondence, phone recordings, screenshots, and signed documents. You will want to upload these documents for your case.
Complete your FSA Feedback online. Be prepared to describe the issue you have and what you think a fair outcome would be to your issue. Provide good contact information for yourself.
Other federal student loan appeal or relief options
In addition to submitting your information to the Ombudsman Group for review, you also can pursue other federal student loan appeal options. Review these alternatives to decide which path is most appropriate for your situation.
How to appeal a PSLF denial
If denied for PSLF forgiveness solely due to not being on a qualifying repayment plan, there is a temporary PSLF denial appeal option you can apply for called TEPSLF (Temporary Expanded PSLF). This appeal is for those who had the right type of loans (Direct loans) and made 120 payments while working full time for a qualifying employer(s). Look into this option before submitting feedback to the Ombudsman Group.
According to Federal Student Aid, you must meet all of the following requirements to qualify for loan forgiveness under the TEPSLF opportunity:
Submitted the PSLF Application for Forgiveness and had that application denied only because some or all of your payments were not made under a qualifying repayment plan for PSLF
Had at least 10 years of full-time employment certified by a qualifying employer and approved by FedLoan Servicing, ED's federal loan servicer for the PSLF Program
Met the TEPSLF requirement for the amount you paid 12 months prior to applying for TEPSLF, and the last payment you made before applying for TEPSLF was at least as much as you would have paid under an income-driven repayment plan
Made 120 qualifying payments under the new requirements for TEPSLF while working full time for your qualifying employer(s)
At a minimum, a qualifying monthly payment is a payment that you made:
After Oct. 1, 2007
For the full amount due as shown on your bill
No later than 15 days after your due date
While employed full time by a qualifying employer
Only Direct Loans — a type of federal student loan — are eligible for the TEPSLF opportunity. Defaulted Direct Loans and Direct PLUS Loans made to you as a parent borrower are not eligible for forgiveness under TEPSLF, however.
Borrowers who have only Federal Family Education Loan (FFEL) Program, Federal Perkins Loan (Perkins Loan) Program, nonfederal, or private loans are not eligible for the TEPSLF opportunity.
How to apply for TEPSLF
If you meet the TEPSLF requirements, then — after submitting your PSLF application for forgiveness and/or after getting notification that your application has been denied — follow these steps to request TEPSLF consideration:
Prepare an email to FedLoan Servicing requesting that ED reconsider your eligibility for PSLF.
Include the same name under which you submitted your PSLF application and your date of birth in the email.
Send the email to TEPSLF@myfedloan.org.
Here's a model you can follow when writing your email:
To: TEPSLF@myfedloan.org
Subject: TEPSLF request
I request that ED reconsider my eligibility for Public Service Loan Forgiveness.
Name: [Enter the same name under which you submitted your PSLF application]

Date of Birth: [Enter your date of birth in MM/DD/YYYY format]
Thank you.
You can read about someone who completed this process and successfully achieved forgiveness through TEPSLF. Then, if you meet the requirements, try going through the appeal process.
Discharging student loan debt in bankruptcy
Discharging student loans through bankruptcy may be difficult to do, but it's not impossible. To do so, you must show that payment of the debt will impose an undue hardship on you and your dependents. It is up to the court to decide whether you meet the "undue hardship" standard.
To assess whether you meet the hardship standard, most courts use the Brunner test, which requires showing all of the following:
1. The debtor cannot maintain, based on current income and expenses, a "minimal" standard of living for the debtor and the debtor's dependents if forced to repay the student loans.
2. Additional circumstances exist, indicating that this state of affairs is likely to persist for a significant portion of the repayment period of the student loans.
3. The debtor has made good faith efforts to repay the loans.
In a recent case — Kevin Jared Rosenberg v. N.Y. State Higher Education Services Corp., 1/7/2020 — a federal judge in New York (Hon. Cecelia G. Morris, Chief U.S. Bankruptcy Judge) discharged more than $220,000 in student loans based on the case's conclusion that the petitioner satisfied the Brunner test.
The Rosenberg case court order also noted that the Brunner test has received criticism for being too high a standard for most bankruptcy petitions to meet. One factor is the amount of time between receiving a degree and declaring bankruptcy. See, for example, Gesinde v. U.S. Dept. of Ed., which tackles denying discharge of student loans where the petitioner files for bankruptcy less than one year after graduating from school.
Why it's not impossible to discharge student loan debt in bankruptcy
For a multitude of petitioners like Mr. Rosenberg who have been out of school and struggling with student loan debt for many years, however, the Brunner test itself is fairly straightforward. Since the Brunner test was established in 1987, however, many cases have imposed punitive standards in the course of interpreting the Brunner case that are not actually contained in that case's ruling.
Other cases have mixed the Brunner test with other court decisions and standards, such as Briscoe v. Bank of N.Y., which predated Brunner by six year and coined the term "certainty of hopelessness." The 2018 case Jean-Baptiste v. Educ. Credit Mgmt. Corp., for example, stated that a debtor must establish that their inability to pay the student loan debt is likely to persist for a significant portion of the repayment period "in order to satisfy the second Brunner factor." It then states, however, that, "In addressing this factor, a debtor must demonstrate that the additional circumstances point to a 'certainty of hopelessness' and not merely a present inability to pay student loan debt."
Over time, these interpretations — or misinterpretations — of Brunner have taken the place of the actual language of the Brunner ruling, and many bankruptcy professionals now believe it's nearly impossible to get student loan debt discharged.
Some courts have even called it "bad faith" when someone struggling with repaying a student loan attempts to discharge that debt in bankruptcy court.
But bankruptcy is an available and beneficial option for anyone struggling with debt. A petitioner under the bankruptcy code always has the option to come before the court and ask, in good faith, that a debt be discharged — no matter what kind of debt it is.
What to Do If You Don't Pass the Brunner Test
Bankruptcy can be a relief option to consider if you feel the Brunner test may apply to you and your debt obligation. Your first step to pursue this option is to consider seeking legal assistance.
If the Brunner test does not seem to apply to you but you still need help navigating repayment options available to you, you can seek student loan repayment assistance.
Student Loan Planner®'s experts are highly experienced in slaying monster student loan balances. We've helped over 3,600 clients take on over $935 million worth of student debt. We can make a custom plan for you, too. You don't have to go it alone anymore.