Public Service Loan Forgiveness (PSLF) is available for some federal student loan borrowers. Keeping track of qualifying payments has been a frustrating process. Fedloan introduced a new tool that makes tallying up your qualifying payments easier.
This guide will show you how to qualify for PSLF and how to use the new PSLF help tool from Fedloan.
5 requirements for PSLF
When pursuing Public Service Loan Forgiveness (PSLF), there are five requirements you need to meet to successfully receive forgiveness on your student loans:
Work and be paid by a public service entity.

A public service entity can include the government, a not-for-profit organization that is tax-exempt under Section 501(c)(3) of the Internal Revenue Code, a private not-for-profit organization that provides certain public services or serving in an AmeriCorps or Peace Corps position.

Work full-time for this entity.

Full-time means working for one or more qualifying employers for the greater of an annual average of at least 30 hours per week or the number of hours the employer considers full time.

Have Direct loans.

Only Direct loans will receive forgiveness via PSLF. If you have FFEL, Perkins, HEAL, HPSL, LDS or any other loan type eligible for a Direct Consolidation, you can convert them into qualifying loans after reviewing these considerations.

Repay your loans on an income-driven repayment (IDR) plan.

Qualifying repayment plans include the Revised Pay As You Earn (REPAYE) plan, the Pay As You Earn (PAYE) plan, the Income-Based Repayment (IBR) plan, the IncomeContingent Repayment (ICR) plan, and technically the Standard Repayment Plan with a maximum 10-year repayment period, but you wouldn't want to be on the 10-year plan the whole time or you'd pay off the balance without reaping the benefit of forgiveness.

Make 120 qualifying payments.

A qualifying payment is a monthly payment made on time, in full, while all four of the above-listed requirements are also met. Neither the 120 qualifying payments nor the employment has to be consecutive.
The first two requirements are certified via the Employment Certification Form (ECF). This form is retroactive, so it will only look back to certify past qualifying payments up to when the form was dated. You should submit this form at least once a year.
PSLF Help Tool
In 2019, the Department of Education introduced the PSLF Help Tool to assist those interested in pursuing this program. The series of questions helped applicants determine if their employer may qualify, find out if they had the correct loan type, and generate a prefilled ECF for signatures to return to Fedloan Servicing for approval.
Fedloan Servicing is the loan servicer currently responsible for PSLF, and if your loans are not already serviced by this company, your loan will move to it within seven to 10 days of an accepted ECF.
What to expect after submitting your ECF
If your ECF is accepted, Fedloan has verified that your loans and employment qualify and they will then review your payment history (including any payments you made to another federal loan servicer before your loans were transferred) to determine how many payments made during the period of employment certified on the ECF are qualifying monthly payments for PSLF.
You will then be notified of the total number of qualifying payments you've made, and how many payments you must still make before you can qualify for PSLF. This is usually a letter mailed and/or emailed to you.
It's best practice to submit the ECF annually, but you'd have to wait until your next submission to view your updated payment progress.
PSLF Payment Tracking
Fedloan has recently made some upgrades to its online user portal to include PSLF Payment Tracking. This can be found under the "Payments & Billing" tab.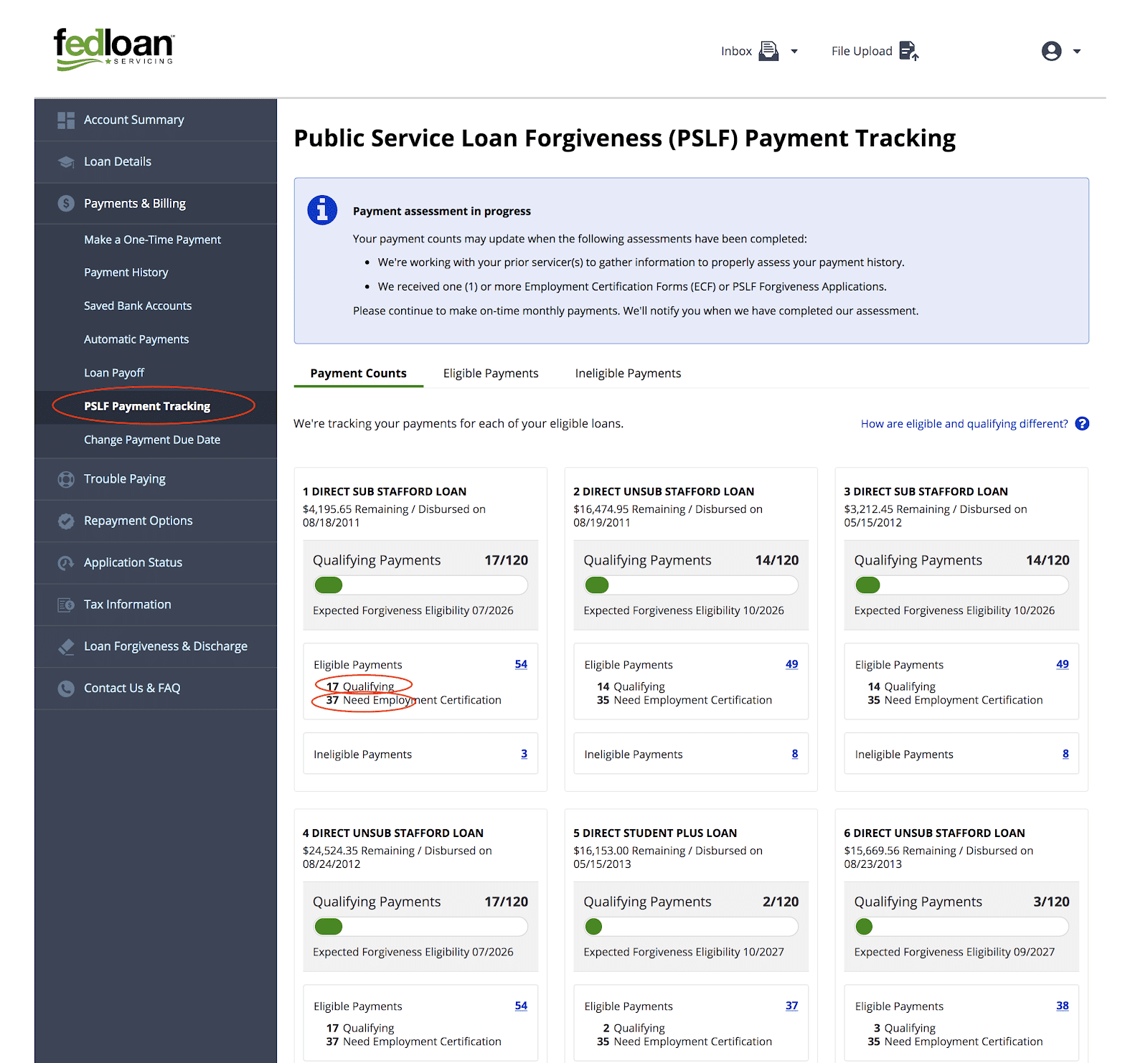 This Tracker will list out each of your loans and reflect your eligible payments, separating out payments that have already qualified via an ECF and those that need employment certification. This tool helps you see your progress toward getting PSLF more transparently, including the payments you have made since your last ECF submission, something you would have had to track on your own prior to this feature being launched.
If you have any "ineligible payments," the tracker will help you identify those and list a reason for why, which would look something like this: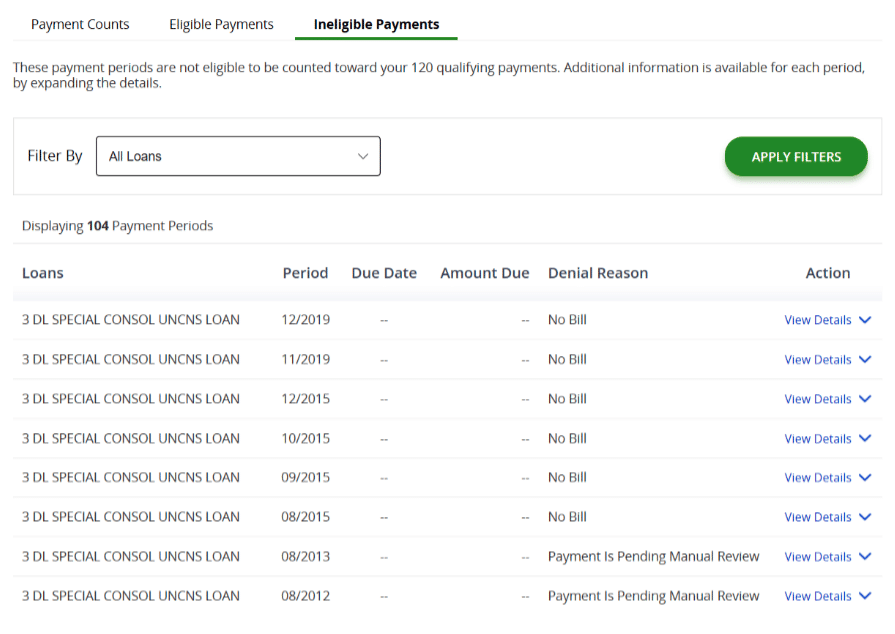 If you believe there is an error in your payment count reflected after a new ECF is submitted and after reviewing the denial reason provided, here are five steps to fix your PSLF payment count.
Be Confident About Your PSLF Payment Timeline
This online feature from Fedloan is a big improvement that could help people feel more confident about their timeline toward earning PSLF. Moreover, it will hopefully help borrowers catch discrepancies sooner rather than later.
With the Department of Education's goal of improving customer service and holding servicers accountable for their performance in managing federal student loans, more improvements are expected.
If you need some additional guidance with your specific student loan situation, schedule a consultation with us. Our team has helped hundreds of people handle their student loan debt.