It's been about three years since we went on our first date in March 2015, but we finally paid off my wife Christine's $124,000 of med school debt! Now that we've paid off student debt, we're very excited to move on to the next stages of our financial life together, and we're happy to not have a big fixed cost every month to worry about.
That said, this blog is about you and not me. I want to share the top tips we used along the way to debt freedom. Share some of your own hacks on paying off student loans faster in the comments and feel free to steal some of ours.
What Was Our Debt Like When Christine and I First Met?
I say "our debt" since we share our finances and I definitely thought of the loans as my own too, even though they were in Christine's name. Maybe you spouses and significant others out there can relate.
Let's travel back in time to 2015. Christine had $124,000 of student loans at 6.8% at Nelnet. I was a bond trader plotting an attempt at early retirement after having bought a one-way ticket to Iceland after seeing a Facebook ad for a $99 flight.
I quit my job without much of a plan other than being able to "blog" and enjoy traveling while working on a couple books.
Christine somehow put up with me and we made it through many late nights/early morning Skype chats with awful audio and video quality while dealing with a 6 to 8 hour time difference.
I would fly back to Philadelphia where we met and hang out with Christine in between my trips around the world. At some point, we had a money talk since we were getting more and more serious.
I decided to use my Excel skills from my bond trader life to build a model for Christine, which turned into the student loan payment calculator I give away now. We figured out that we should try for the PSLF program since Christine had seven years of residency and fellowship under her belt and I thought we'd only have three years to go until her debt was forgiven tax-free under the student loan forgiveness program.
Then FedLoan entered the picture and messed up our payment count, and not knowing then what I know now, we didn't fight them on it.
At best, we would have had a very small amount forgiven, so we decided jointly to get rid of the debt as quickly as possible. That meant refinancing our student loans to a 5-year variable rate as soon as she got her first attending paycheck.
Since I had no idea that there was more than one student loan refinancing company at the time, we used SoFi and got a 2.20% with a $300 bonus from MrMoneyMustache.com.
That link now via SLP will get you up to $1,000 for refinancing.
We Had to Sacrifice in Our Budget to Pay More on Student Loans
Once we decided that we needed to pay down Christine's loans rapidly, we wanted to figure out how to pay more than the $2,200 a month we were required to pay.
Fast forward to about August 2016, when we moved to St. Louis for her attending job. She was making good money, but not as much as you'd think a surgeon would get. I was focused on writing my book Mastering Money in Your 20s and 30s and continued my random personal finance blogging for fun.
We needed to carve out as much money as possible to put towards student loans since neither one of us wanted to carry the debt when we started trying to have a family.
I recognize that for many of you, the math of your debt might make forgiveness better or perhaps a slower repayment period. I suggest choosing your own path. Since debt freedom for us, was an option, we wanted to get there quickly.
Either pay your debt off as aggressively as possible or as passively and strategically as possible with loan forgiveness.
Car Choices that Would Make a Resident Blush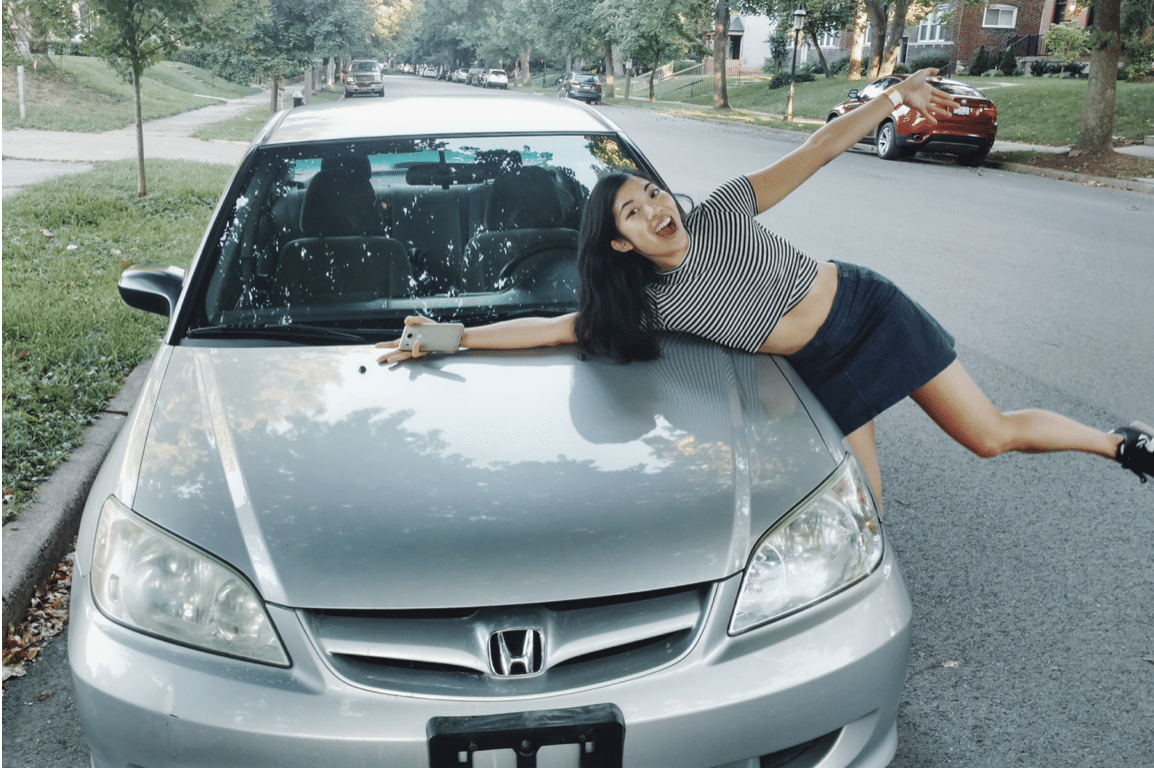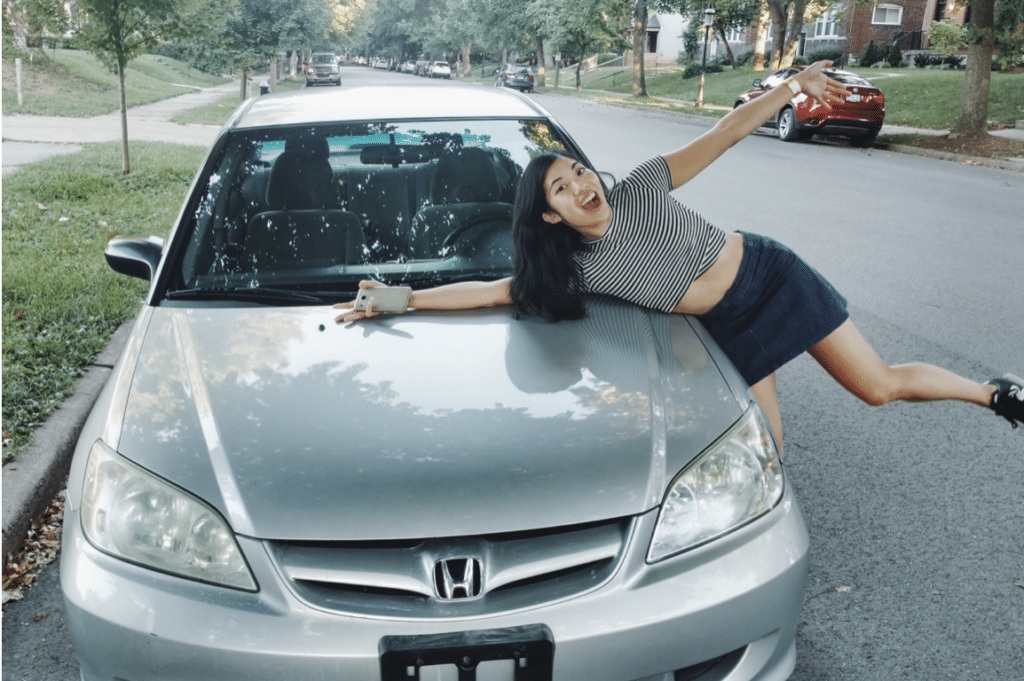 I really hated the idea of having a car payment, since I never had one in my life before meeting Christine. I convinced her to let us purchase a 2004 Honda Civic pictured above for $2,200 cash. It had about 200,000 miles on it, and it rattled a bit when you drove it over 60 MPH.
We decided that the old car had to go, so we got something more substantial that Christine felt comfortable driving in bad weather, a 2012 Nissan Altima for $6,600.
I sold the old Civic on Craigslist about 6 months after we bought it for $2,000.
The "new" car drove ok even though it made odd groaning sounds sometimes. I'm very glad we didn't buy a new vehicle because shortly after we bought it, Christine backed it into a concrete cylinder in the hospital parking garage.
Luckily, no one wants to mess with our car now and it's easy to find when we're in parking lots. Plus we put an extra $500 a month to her loans.
I wanted Christine to feel better, so I drove the other side into our fence at home and scratched the heck out of the other side.
Moral of the story, know if you can maintain a pretty car. If you can't and want to speed up repayment on your student loans, buy a five to three-year-old model with a bunch of miles on Craigslist from an old person who kept it in the garage and maintained it well.
Living In a 600-Square-Foot Studio Apartment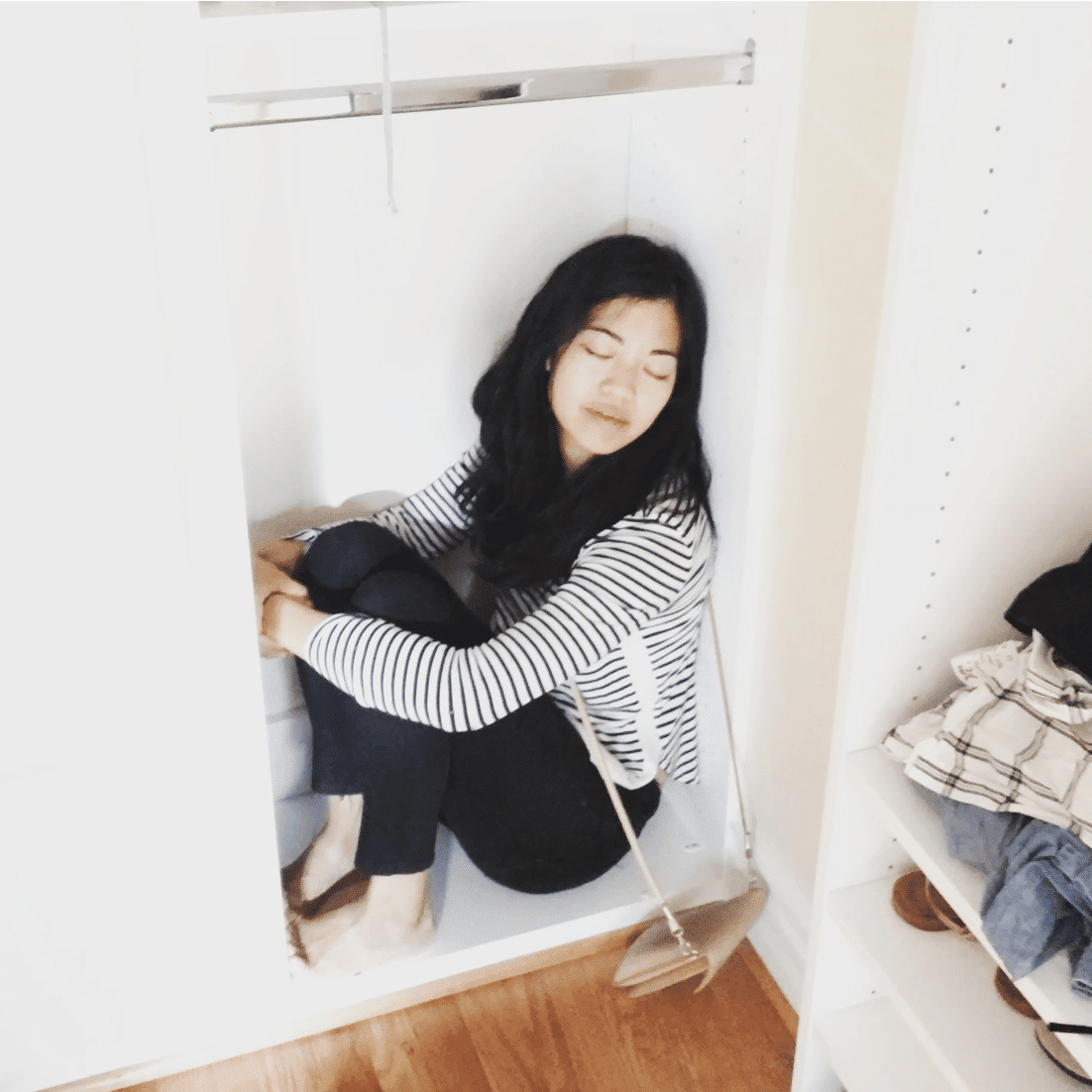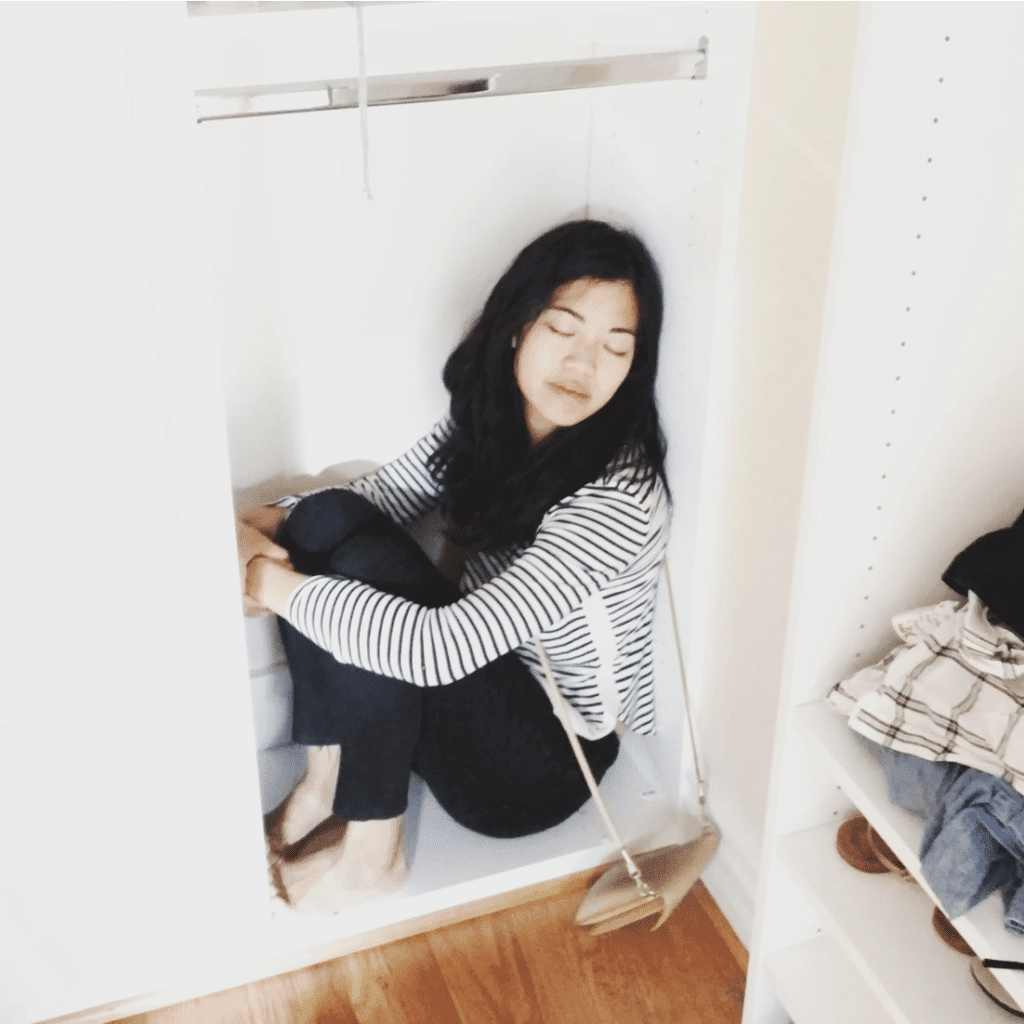 One of the biggest hacks we used to get to debt freedom was living in a 600 square foot studio despite Christine having an attending income. We paid about $695 a month, and the place was really nice and within walking distance to the hospital.
Since the space was so small, we resisted the siren song of IKEA being located down the street and only bought a couple pieces of furniture.
We traded up to a 1300 square foot place since then, but we invited the best man in our wedding to rent one of the extra bedrooms. Now our rent is about $800 a month after accounting for that.
Is it a little odd? Yeah sure it is, but it allowed us to put an extra $1,000 toward her student loans each month.
Other Ways We Kept Costs Down with Travel and Food
Christine and I love traveling. While we were paying down her loans, we road tripped in Iceland, toured Scotland, van camped in California, and hung out a lot with family who all live far away from us.
We signed up for a bunch of airline reward credit cards to get free tickets. When we purchased flights, we tried to use budget airlines like Wow Air, who we use all the time for flights to Europe.
We often stayed in fancy hostels instead of hotels, and we'd use Hotwire domestically to cut 25% or so off our lodging bills.
For groceries, we mostly shop at Aldi because I like frozen fruit and Christine loves Kale, both of which cost a half week's pay at Whole Foods. Our grocery bills are truly amazingly low, and I wish I had discovered Aldi sooner. You have to bring your own bags, and the cashiers check you out faster than I've ever dreamed was possible.
Where We Spent More Money than a Drunken Sailor on Leave
Like most millennials, we love shopping on Amazon, and by we, I mean Christine loves shopping and I love picking up her packages and discovering what's inside.
Christine likes pretty things and has an amazing fashion sense, which I lack completely. She would usually buy a few fancy clothing items and household goods, and it added up to a lot.
We got married and invited about 100 people for our DIY wedding in New Orleans. It ended up working out fantastically well, but that was about $13,000 that we spent.
I have been extremely spendy with my business Student Loan Planner®. Some things have worked great, like getting help with Facebook Ads and site development. Other expenses were basically equivalent to me throwing money on a bonfire like trying to be successful on Pinterest.
Another very expensive area of our lives is how much we go out to eat. We are constantly trying new restaurants or getting take out. This is a major value-add area of our lives though, as Christine doesn't have a lot of time to cook with her job and my idea of a dinner is carrots and a half block of cheese.
We were extreme in our restraint on car and housing spending, but we were pretty extravagant everywhere else.
Charitable Contributions and Tithing While We Were Paying Back Debt
We donated probably 10 times as much to the church in the past three years than I ever have in my life before that thanks to Christine.
I wanted to pay down the debt as fast as possible, but Christine showed me how important it is to be generous with your personal finances. I would be lying if I said I had this insanely strong religious conviction to give 10% of my income.
I would give money to my church when I was working, but closer to the American average of maybe 2 to 3%. Christine believes in giving 10% of our pre-tax income to charitable giving, of which the majority should go to our faith community.
One of the reasons I was so attracted to Christine is that I don't score high in empathy or religious discipline, and she completes me in that area.
For those of you who want to give charitably and tithe while you have student loans you're paying off, I'd encourage you to follow those beliefs. If you wanted to focus on getting to a point of financial security by becoming debt free first, there are popular folks out there like Dave Ramsey that think that's ok too.
Giving is a deeply personal decision. My suggestion is that you don't neglect thinking about it just because you have a bunch of student debt.
Why We Refinanced Our Student Debt Twice
I mentioned that we initially refinanced our student loan to a 2.2% variable rate in five years. We went with the shortest repayment term because we wanted to be debt free, and our loan amount wasn't huge relative to many folks out there.
I watched as our interest rate crept up slowly to a 2.95%, and then we decided to try and refinance again.
We were able to secure a 2.76% five-year variable rate. You might check what you can get with Laurel Road as you could get a student loan refinance bonus of up to $1,000 or more for refinancing.
As part of our agreement, Christine spent the bonus buying a pair of extremely nice boots she's always wanted.
A big trick most borrowers miss out on is that you can refinance your student loans more than once as long as you can get a better interest rate. The best thing to do is to check back every year or two to see if you could slash your interest costs and lower your loan term from a 15 or 10 year to a 7 or 5 year, for example.
If you're using the cash back bonus links like the ones on this site, you'll pick up $200 to $500 every time you refinance. That's better than many of the best credit card reward sign up bonuses.
How We're Celebrating Having No Student Loans
The big reward we're giving ourselves is a trip to Paris for a week in October. Paris is one of Christine's favorite cities in the world, and we're going to stay in a fancy French hotel that she loves on Instagram (that marketing really works!)
Depending on our schedule, we might take another trip to Korea for a friend's wedding.
Another thing we're discussing right now is how we're going to set up our joint investment account at Vanguard to save more beyond just retirement. I'm dealing with analysis paralysis despite having the CFA designation.
Simple really does win in investing.
I tried to throw a classy zero dollar debt party for Christine, but her friends were all going to be out of town. We're going to try again and stock it with highly costly $35 champagne bottles from Trader Joe's.
Finally, we wanted to give back to you and the community with the Student Loan Planner® scholarship.
Paying Off the Debt Left Me Feeling Meh Unexpectedly
I thought I'd be ecstatic when we finally hit $0 in student debt.
Instead, I thought, "now what?"
We should've planned more for after the debt was gone. We were so singularly focused on getting to $0 that we didn't think much about life following that financially.
If you're paying down your loans, start talking about what your life looks like post student debt. Even if you're going for forgiveness, have the same discussions with your family.
You want to be working towards something like financial freedom and not against something like having a lot of liabilities.
Part of this feeling of emptiness happened because at the most intense period, we were paying $6,500 a month to her loans.
Now that we can use that money on other things, it's a fantastic problem to have. However, we just didn't think hard enough about it. When the loan servicer balance showed $0, it was awesome but not as "jump up and down for joy" as I expected.
Don't put student loan payoff on a pedestal and make it an idol unto itself like we might have done a little bit.
Enjoy Life Now, no Matter Where You're at in the Student Loan Payoff Journey
If you keep your car and housing expenses low, you have my permission and even encouragement to go out and splurge on the little things that you enjoy.
If you're careful with the biggest items in your budget, you have way more money available to get out of debt faster, but also to enjoy life more.
If you would work four days a week and live in a higher cost of living city if you had no student loans, maybe you should think about how to make that happen sooner by controlling your expenses.
If you're thinking about delaying starting a family or quitting your job that you hate because you're worried about your student loan debt, don't be.
Take risks. Enjoy life by saving money where you can. Spend money on the things you actually value.
By being intentional with your spending while enjoying the journey, you're going to optimize your student loans or pay them off decades sooner than your peers.
If you need a helping hand when it comes to developing a game plan to attack your student loans, consider booking a consult with me. I've advised a quarter billion of student loans personally so there's an excellent chance that I can help you get a clear plan and save money during your loan repayment.
Now I want to hear from you. Share where you're at in your student loan payoff journey whether you've paid off student loans or are still making progress! The more tips the better.