Naturopathic medicine is a growing field in the U.S. However, it's often met with skepticism because it's considered an alternative form of medicine. This characterization can limit graduate success and earning potential.
By the time a doctor completes their naturopathic medicine degree, they'll have gone through at least eight years of higher education. The average salary of a naturopathic doctor doesn't necessarily reflect this level of training.
Is the naturopathic doctor salary worth taking on additional naturopathic medical education debt? Let's look at the average salaries across the country and some real-life sample student loan amounts to get a better picture.
What is a naturopathic doctor?
A naturopathic doctor (ND) provides whole-patient wellness by addressing the body, mind and spirit when diagnosing and treating medical conditions. They look to therapeutic treatments and natural substances to promote self-healing rather than following the path of conventional medicine.
To become a licensed naturopathic doctor, you must attend a four-year professional-level program at a naturopathic medical school. ND students typically cover the same basic coursework as traditional medical doctors (e.g. biology, anatomy, physiology, biochemistry, etc.) with an additional focus on natural sciences.
For example, this may include areas like nutrition, psychology, botanical medicines, homeopathy, hydrotherapy and many other forms of functional medicine therapies.
On top of earning your Doctor of Naturopathic Medicine, you must also pass the Naturopathic Physicians Licensing Exam (NPLEX).
Not all states have licensing requirements for naturopathic doctors. In fact, only about half of the country has laws regulating NDs. However, some states have pending legislation or are beginning to push for regulation.
Average salary: What does a naturopathic doctor make?
Because naturopathy is considered an alternative field of medicine, there aren't as many practitioners out there to provide solid compensation data. Let's look at a few different sources to see how much NDs can expect to make.
The Association of Accredited Naturopathic Medical Colleges (AANMC) 2020 compensation study found that naturopathic professionals earn an average $95,642 annually.
According to CareerExplorer, however, a naturopathic doctor's starting salary begins at $40,910 (or about $19 to $20 per hour). It estimates the national average naturopathic doctor salary is around $73,960.
ZipRecruiter estimates the average annual salary is $86,606, with the majority of naturopathic doctor salaries falling within a $56,500 to $95,000 range.
These naturopathic doctor salary estimates match what Student Loan Planner® clients have reported earning: $50,000 to $100,000. But our consultants have also seen annual earnings get up to $150,000 for highly successful practitioners who work in clinics or have their own private practice in high-income areas.
Naturopathic physician salary varies by location
Naturopathic physician salaries vary widely across the country. According to CareerExplorer's salary comparison charts, these are the average salaries of naturopathic doctors by state:
You can see that salaries jump around. Maryland is ranked number one, with an average salary of $136,660. The only other areas that break into the six-figure range are Washington, DC and Georgia.
States like Nevada and North Dakota round out the bottom of the list, with an average salary of less than $50,000.
However, salaries can also vary within each state itself.
Among Student Loan Planner® clients, naturopathic doctors in the San Francisco Bay area reported bringing in $120,000 to $140,000 annually. Whereas, practitioners in Guerneville, California earned closer to $50,000.
Why location can impact a naturopathic physician's pay
There are a few reasons your geographic location can affect your expected earning potential as an ND.
Use these questions to help determine whether becoming a naturopathic doctor makes sense for you in the area you want to live and practice in.
1. What is the relationship with insurance providers in your state?
Your income is going to be dependent on whether patients can afford to use your services. Much of that decision is influenced by insurance coverage and how state laws treat you as a provider.
Most states don't have licensing requirements or regulations related to naturopathic doctors, which also means residents in those states likely won't have insurance that covers naturopathic services.
This map shows which states currently have legislation in place and which are working toward it: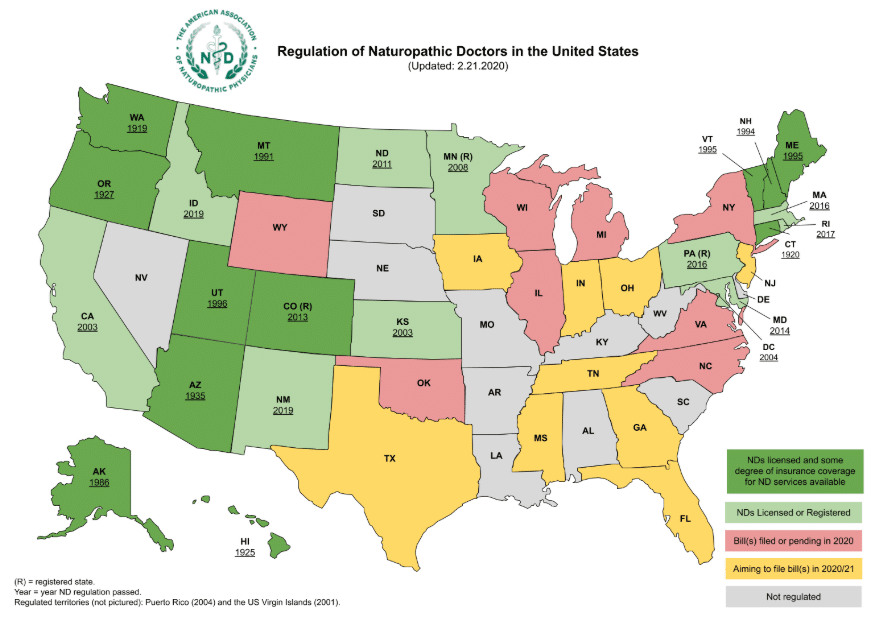 Source: The American Association of Naturopathic Physicians
The dark green represents the states that require state licensing and may have some degree of insurance coverage available. Because of this, states like Oregon, Colorado and Connecticut are more likely to view a naturopathic doctor as a primary care provider, which means more access to a variety of patients and payment sources.
2. What is the income level of the area you'll be serving?
If your services aren't going to be covered by insurance, patients will have to be willing and able to pay out of pocket. So, high-income areas may have a more friendly attitude toward alternative medicine in general simply because they can afford to do so.
3.
Is the area conducive to practicing naturopathic medicine?
If you choose an area that tends to have more of your target market, you'll have more opportunities to bump up your number of patients. You're looking to connect with individuals who support holistic living and are open to seeking alternative methods of treatment.
Areas with higher populations — and, therefore, usually more diversity — may have more earning potential than a rural area.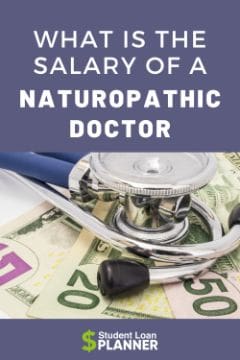 Average ND student loan debt
The AANMC's most recent survey on student loan debt detailed an average debt load of $167,156 for naturopathic doctors. But that data was from 2015. Considering the consistent increase in tuition and related education costs, we can safely assume that most naturopathic doctors are left with high amounts of student loan debt.
There are only five accredited naturopathic programs in the U.S., and the majority are located on the west coast:
Bastyr University — Seattle, Washington and San Diego, California
National University of Natural Medicine — Portland, Oregon
National University of Health Sciences — Chicago, Illinois
Southwest College of Naturopathic Medicine & Health Sciences — Phoenix, Arizona
Here's how much student loan debt some of our Student Loan Planner® clients have at different naturopathic medical schools. But keep in mind these figures may include the cost of their undergraduate degree as well:
Bastyr University — $498,559
National University of Natural Medicine — $445,820
Southwest College of Naturopathic Medicine — $336,819
Student Loan Planner® hasn't had any naturopathic doctors come for consultations with less than $200,000 in student loans.
Related: The Cost of Becoming a Naturopath with Katelyn Bailey
Is the ND salary worth the student loan debt?
When you look at the numbers only, the salary for a naturopathic doctor doesn't justify the amount most people have to borrow to get their degree. We're talking $200,000, $300,000, even $400,000 worth of student loan debt to then receive maybe $50,000 to $100,000 in annual income.
But many other factors go into the decision to become an ND that go far beyond finances. Many people are led to this distinct primary health care profession because of their own experiences with chronic conditions. Whereas, others are driven by failures in the current healthcare system.
If you end up in an upside-down financial equation, there is hope. Because of income-driven repayment (IDR) plans, our team of student debt experts has been able to help numerous naturopathic doctors work out their finances long-term.
By leveraging existing federal loan rules, for example, borrowers' student loan payment becomes more like a tax on their income than a debt. This approach makes their monthly payment much more affordable and paves the path to loan forgiveness for naturopathic doctors.
There are also refinancing options for naturopathic doctors. Although it's a great time to refinance right now overall, refinancing isn't always the best decision for naturopathic doctors because you'll lose access to IDR plans that offer you important protection. That protection could be critical if you end up with a low or average salary while also carrying a six-figure debt.
If you'd like assistance figuring out the best action plan for managing your medical student loans, reach out to us and book a student loan consult today.