If you're considering a career in physical therapy, there are a lot of intangible benefits that can make the profession attractive. But it's also important to take a step back and consider the job outlook for physical therapists.
On one hand, physical therapy jobs are expected to grow faster than average over the next 10 years. But, on the other hand, rising doctor of physical therapy (DPT) graduate rates threaten to negate some of that growth. And massive student loan totals continue to be a problem for aspiring physical therapists.
Let's take a closer look at the physical therapy job outlook to see if a career in physical therapy is worth the student debt it can take to get there.
Physical therapist job outlook: 2018-2028
Each year, the Bureau of Labor and Statistics (BLS) releases job projection data for a variety of professions. According to the BLS, the DPT outlook includes the following data:
Physical therapist median pay:

$87,930

Physical therapy jobs today:

247,700

Physical therapy job growth:

22%

New physical therapy jobs created:

54,200
The good news is that the 22% physical therapy job growth over the next 10 years is much faster than the average for all occupations, 5%.
And it's faster than the expected job growth for health diagnosing and treating practitioners at 13%.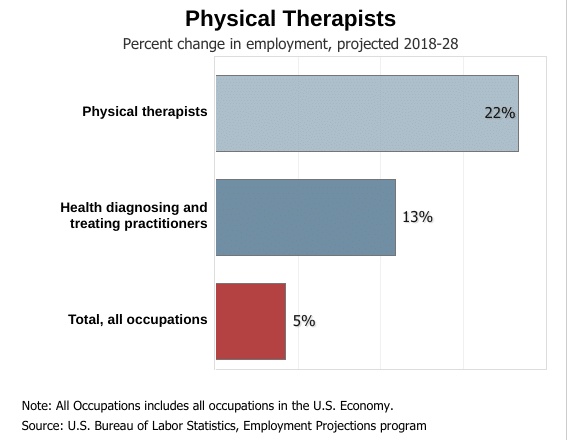 What's driving major physical therapist job growth?
The BLS says that aging baby boomers and the anticipated growth of diabetes and obesity will contribute to the increased demand for physical therapists over the next decade.
It also says that advancements in medical technology have expanded the use of outpatient care for treatment of illness and injury.
Physical therapy career outlook: 4 trends to consider
On the surface, the outlook for DPTs appears strong. But when you dig a little deeper, you'll find there are still a few risks that physical therapists need to consider.
Here are four physical therapy trends you need to know about.
1. The number of DPT schools and graduates continues to rise
When you hear that physical therapy job growth is expected to be 22% over the next decade, that sounds exciting. But, remember, that's cumulative growth over a 10-year period. When you break that 10-year number down, you get a per-year physical therapy job growth rate of 2.2%.
Next, you need to compare the job growth rate with the number of new therapists that will enter the workforce during that same period. The number of graduates has nearly doubled over the past decade. Over 10,000 new physical therapists are now graduating from DPT programs each year.
It doesn't look like physical therapy schools are planning to pump the brakes on admissions any time soon either. Twenty physical therapy schools have opened in the past five years, and another 12 are in development right now.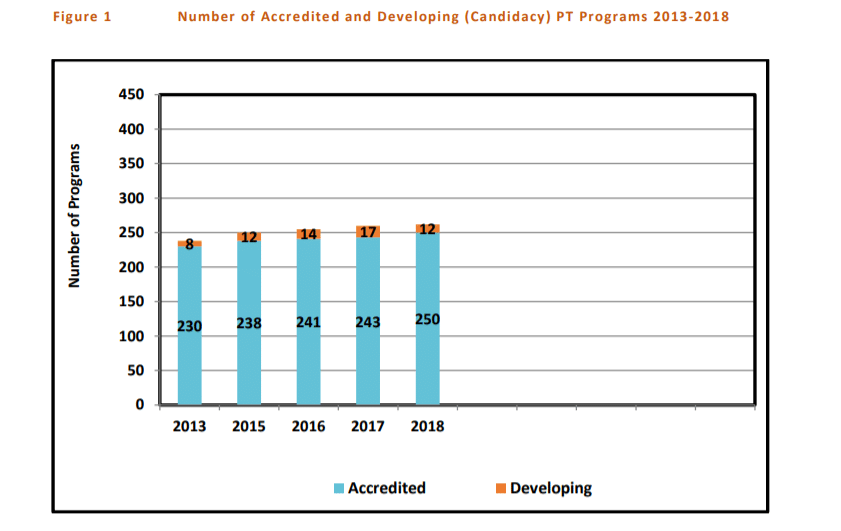 Image source credit: CAPTE Aggregate Program Data 2018-2019
Of course, the natural attrition of retiring physical therapists will create more job openings.
But according to the American Physical Therapy Association, the odds are still likely that the physical therapy industry will be dealing with job shortages rather than surpluses down the road.
2. Most physical therapists owe more in student debt than they earn in a year
As a result of the Vision 2020 guidelines, all physical therapists are now required to earn a Doctor of Physical Therapy degree. That means physical therapists are spending more time in school than ever before. And student debt has become a major problem for physical therapists.
In Student Loan Planner®'s recent study of the 10 post-graduate degrees that deliver more debt than income, physical therapy came in at No. 8.
Our study found that the typical physical therapist we've worked with owes nearly $180,000 in student loans but has an average income of $70,000. That's a debt-to-income ratio of 250%.
The results of independent studies back our findings. For example, a December 2019 survey of recent DPT grads found their average income to be $69,328, and their student debt ranged from $100,000 to $124,999. Overall, the average debt-to-income ratio for all respondents was 197%.
These debt-to-income ratios are crushing. Aspiring physical therapists need a comprehensive student loan repayment strategy to help relieve the burden of such financial stress.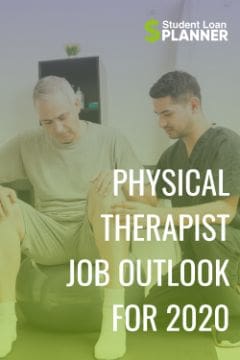 3. Physical therapy practices continue to merge and consolidate.
In WebPT's 2019 State of Rehab Therapy Report, over 23% of respondents had been part of a merger in the last five years.
Consolidation can make sense from the private practice owner's perspective, as joining forces could allow you to cut costs and get access to more resources.
But it's unclear if physical therapy practice consolidation would help or hurt the physical therapy job market as a whole.
"Big monopolies tend to be more efficient and need fewer jobs," Travis Hornsby, founder of Student Loan Planner® explained. "So, as the largest employers of physical therapists gain market share and gain more control, the job outlook might be a little less attractive."
4. Burnout is a problem for a lot of physical therapists
In WebPT's survey, nearly 50% of DPT respondents said that they were thinking about making a professional change in the next five years. The most common changes cited were to decrease hours or to move to a nonclinical role.
According to experts quoted in the report, many physical therapists are dealing with overwhelming numbers of patients and crushing documentation requirements.
Of the respondents who said that they were considering switching to a nonclinical role, nearly 70% said that they were looking to improve their work-life balance. But cutting back on hours can be difficult when you're dealing with a debt-to-income ratio of 200% or more.
Choose your professional setting carefully
Picking the right work setting can increase your odds of job satisfaction. According to WebPT's survey, the three job types that had the least number of employees who were considering changing settings were:
Outpatient private practices
Outpatient hospital-based facilities
Outpatient multi-disciplinary practices
In each of these settings, over 70% of respondents had no plans to change settings. To avoid burnout, you may want to prioritize job openings from these types of practices during your interview process.
You can get expert advice to pay off your physical therapy school loans
Of all the issues facing physical therapists today, student debt is one of the most alarming.
Jimmy McKay, a physical therapist and host of the PT Pintcast, was interviewed for WebPT's 2019 report and shared his concerns about the DPT student debt problem:
"I think debt will scare a lot of bright people away," McKay said, "and we can never have too many bright people."
But if you have a passion for physical therapy work, you don't have to feel hopeless about the student loan situation. Student Loan Planner® has helped over 60 physical therapists find student loan relief.
Options for physical therapy student loan repayment
For some physical therapists, refinancing could save you thousands in interest charges over the life of your loans.
For others, getting on an Income-Driven Repayment plan could have a dramatic impact on your monthly cash flow and create space in your budget for other financial goals like investing or buying a home.
And, for those who qualify, pursuing Public Service Loan Forgiveness could be by far your best choice.
Get help repaying your physical therapy school loans
No matter your situation, we can help you find the repayment strategy that will work for you.
Over 90% of Student Loan Planner® clients save an average of $50,000 in projected savings over the life of their loans. You can learn about our flat-fee planning service here.