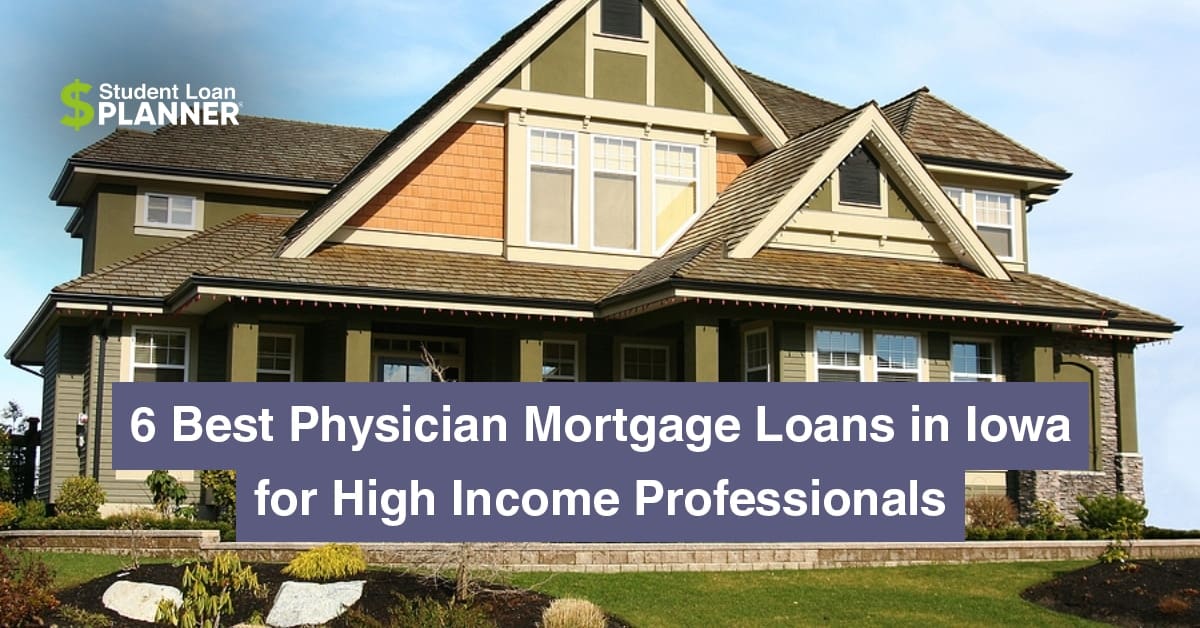 8 Min Read | Updated on October 16, 2023
What you need to know:
Doctors, dentists and graduate professionals in Iowa have access to a special high-income program called a physician mortgage.
A physician home loan in Iowa does not charge private mortgage insurance (PMI). Plus, it allows up to 100% financing for a home loan.
Get favorable benefits on income history and debt-to-income ratio for student loans during underwriting.
Iowa's rolling plains and vast real estate make it a popular state for property owners hoping to get more house for the money. The state offers its 3.15 million residents a lower cost of living and more acreage for agriculture and nature.
Des Moines, Iowa's capital, offers more space compared to other metropolitan cities. This makes Iowa a smart choice for doctors and dentists seeking reprieve from big city life. In fact, the state has 9,454 practicing physicians who are looking to grow their careers in a more affordable environment.
Whether you're a new or established physician, you might worry about getting a good deal on your Iowa home mortgage. Thankfully, there is a specific program offered by banks called the physician mortgage loan. It comes with key features and better benefits than other conventional mortgage programs.
February 2023 data from the Iowa Association of Realtors shows the median price for a single-family detached home in Iowa had a 10.2% increase to $197,000. But Zillow estimates that home values have gone up nearly 7.9% in the last year, with a trajectory of continued growth.
Over the past year, Iowa has grown at a slower pace than the rest of the country. However, Des Moines has seen a massive boom that represents over 49% growth in the last decade. The Iowa population is projected to continue steadily growing up to 3.32 million by 2030 (in contrast with 3.17 million in 2020). With more people moving to Iowa comes more demand for housing and increased housing costs. If you're thinking of purchasing a home in Iowa as a medical professional, act now before the cost of a new home goes up even more.
As a dentist, doctor or veterinarian in Iowa, here's exactly what you need to know about securing a physician mortgage loan.
How do Iowa physician mortgage loans work?
With a traditional mortgage loan, borrowers are typically required to bring a 20% down payment or carry private mortgage insurance (PMI), which can cost hundreds of dollars each month.
However, certain Iowa medical professionals, including dentists, can apply for a physician home loan and get access to more flexible loan options. These physician loan mortgages, sometimes called a doctor mortgage, offer low down payment options while still maintaining competitive interest rate loans.
In some cases, you can get into a home with a zero-dollar down payment! Regardless of whether a down payment is needed, PMI isn't required when taking out a physician mortgage. Combined, this could mean a big savings opportunity from what you need to bring to closing to a lower monthly housing payment.
As an added bonus, physician loan programs in Iowa offer generous underwriting and credit factors for high income professionals with student loan debt. Your situation is assessed with a physician's career trajectory in mind, meaning your student loan debt will be treated more favorably than with a traditional mortgage.
Physician mortgage loans also come with high loan limits, and many limits are in the millions in order to get you into the home of your dreams.
To qualify for these types of loans, Iowa physician mortgage lenders typically require a credit score between 700 and 710, although some only require a score of 680. Borrowers with a credit score of 750 or higher typically receive the best and lowest interest rates possible.
7 Best Iowa physician mortgage lenders
The following Iowa physician mortgage lenders are member FDIC institutions and are trusted lenders in the medical professional mortgage space. Each has its own eligibility requirements and financing structures. We've listed the contact information for each lender as well as the basics of their program.
1. BMO Bank, N.A.
With BMO Bank, N.A., you can get an affordable home loan with no PMI requirement and flexible debt-to-income underwriting options.
As a licensed medical doctor with MD, DDS, DMD or DO designation, you could qualify even if you have student loan debt, are starting residency soon, and have an employment contract with a start date within 90 days of closing.
Financing options include:
0% down for up to $1 million
5% down for up to $1.5 million
10% down for up to $2 million
Contact: Patrick O'Malley.
2. Citizens Bank
Citizens Bank features a variety of financial products for its customers, including the Citizens Bank Doctor Loan Program. This loan program is designed for professionals with MD, DO, DDS and DMD designations.
Citizens Bank's mortgage financing options include no PMI, up to 95% financing for loans up to $850,000 and the choice of a fixed-rate or adjustable-rate mortgage. If you're looking for a loan up to $1.5 million, the down payment requirement is 15%.
This physician mortgage program also allows for home purchases and limited cash‑out refinances of primary residences.
Citizens Bank offers generous terms for student loan debt to be excluded from the DTI ratio, or your IBR payment can be used. However, a minimum credit score of 700 is required for doctor loans.
3. Evolve Bank & Trust
The doctor mortgage loans available through Evolve's program are available for home purchases and refinancing with no required PMI.
Evolve Bank accepts those with the following degrees for this program: medical resident, MD, DDS, DMD, OD, Doctor of Pharmacy, DPM, DO, RN, physician assistant, nurse practitioner, clinical nurse specialist, ATP pilot, CPA, attorney, and veterinarian. Applicants should note that in order to be approved, one must be less than ten years from starting one's career.
An additional appealing quality about this program is that H-1B visas and/or green card holders are encouraged to apply. Although, it should be noted that 25% down is required.
Keep in mind that a credit score of at least 700 is needed to be considered for approval. Also, if you are a 1099 worker, you need to provide two years' worth of income documentation.
Financing options include:
0% down for up to $1 million
5% down for up to $1.5 million
4. FNBO (First National Bank of Omaha)
The FNBO physician mortgage loan program is available to practicing physicians, dentists, pharmacists and other select healthcare professionals in Iowa. It offers low down payment options (100% financing is available for qualifying professions) with no PMI.
In addition to their physician mortgage program, they have one of the broadest professional mortgage programs that includes those with a CPA, CFA, JD, PA, NP, CRNA, or DVM who are eligible.
Student loans may be excluded from your DTI ratio if your loans are deferred for 12 months.
Who's eligible (loan amounts up to $1.25 million):
Practicing medical doctors and residents
Anesthesiologists
Dentists
Pharmacists
Financing options include:
0% down for up to $850,000
5% down for $850,000 to $1.25 million
10% down for $1.25 million to $1.5 million
Who's eligible (loan amounts up to $1 million):
Physician Assistants
Nurse Practitioners
Certified Registered Nurse Anesthetists
Veterinarians
Financing options include:
5% down for up to $750,000
10% down for up to $1 million
Contact: Abe Huerta.
5. Huntington Bank (previously TCF Bank)
At the end of 2020, Huntington Bank announced it was acquiring TCF Bank. This is excellent news for midwest states like Iowa, where TCF has been operating since 1923. To qualify for Huntington Bank's doctor loan program, you must be a dentist, physician or veterinarian with an MD, DO, DDS, DMD or DVM degree.
However, new grads can also apply for 0% down financing. Just bring a letter from your employer and a signed contract showing your expected salary. As with standard physician mortgage loans, Huntington Bank does not charge PMI, and your medical school debt will not count against your loan approval.
Contact: Bill Kekatos (NMLS# 216590).
6. NEO Home Loans
NEO's Physician Home Loans program caters to doctors with specific credentials, including those who are veterans and J1 visa holders.
Qualified applicants include those with an MD, DO, DDS, DMD, DPM or DVM.
Cash out refinances at 95% LTV for up to $1 million are also available.
With this program, gifted or borrowed funds for a down payment are accepted. In addition, applicants with deferred or IBR student loans can potentially qualify.
Financing choices include:
0% down for up to $1 million
5% down for up to $1.25 million
10% down for up to $2 million
If you are approved, you can close up to 90 days before your employment start date.
7. U.S. Bank
Iowa MDs and DOs (including residents and fellows) should check out the U.S. Bank doctor mortgage loan program. You can get up to 95% financing for up to $548,250 (up to $822,375 in select counties).
Lawyers, veterinarians, and other high-income professionals could access a similar version of this program with a 10% down payment.
Financing options include:
5% down for up to $1 million
10% down for up to $1.5 million
15% down for up to $2 million
U.S. Bank likes to see six months of cash reserves in savings and a credit score of at least 710 or higher. Yes, U.S. Bank has slightly higher down payment requirements than other loan officers on this list, but their customer service is outstanding for those in the medical field.
If you want even more choices for doctor mortgage loans in Iowa, check out our full list of lenders by state.
Is an Iowa doctor mortgage right for you?
If you're a medical professional who is averse to debt and concerned about the risk of getting a physician mortgage loan in Iowa, we understand. If you have a lot of money in savings or a conservative budget, you may be better suited for a conventional home loan.
However, with rising housing prices and the soaring cost of education, a physician mortgage can help you qualify for higher loan limits than a conventional loan. Plus, with little-to-no down payment and no private mortgage insurance, a doctor mortgage could get you the best deal. Just keep your overall budget in mind and don't overextend yourself financially. Make sure the monthly cost of your mortgage is still comfortably within your budget.
Keep in mind that mortgage interest can be a deductible expense on your taxes, depending on your income. Of course, you don't want to buy a house simply for the tax deduction, but it's an added bonus to consider when combined with your overall financial planning.
If graduating from medical school, opening a new practice, or moving closer to your family brings you to Iowa, we recommend applying for a physician mortgage. If you're ready to take that next step, fill out the form below to get a quote.
Get Quotes for Your Doctor Mortgage
What mortgage product do you need?
Your Occupation As Of September 2023
NEXT
Home Price Range
Preferred Down Payment
Stage You're At in the Home Buying Process
When Do You Want a Mortgage Approval?
How Many Banks Would You Like Quotes From?
Any Bankruptcies or Short Sales?
NEXT
Full Name
Email
Phone Number
State Where You Plan to Purchase
Metro Area Where You Plan to Purchase
Communication Preference
Would You Like to Add Any Additional Details?
GET MY QUOTES