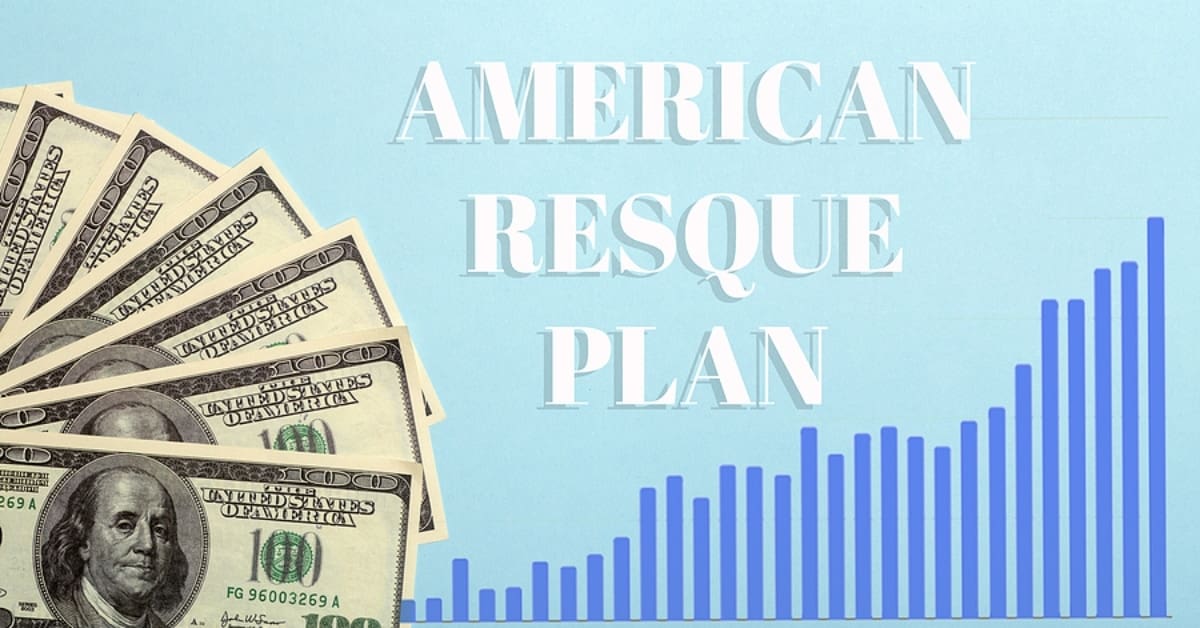 10 Min Read | Updated on April 5, 2022
Editor's note: The Biden Administration's American Rescue Plan is the latest COVID-19 stimulus package and included a major provision that eliminates taxes on student loan forgiveness for the first time. Currently, the measure expires at the end of 2025. Read what the American Rescue Plan stimulus means for borrowers pursuing forgiveness under an income-driven repayment plan.
The United States government has passed three COVID-19 economic stimulus packages thus far. These are the CARES Act (passed in March 2020), the Consolidated Appropriations Act of 2021 (passed in December 2020) and the American Rescue Plan (passed in March 2021).
The majority of the relief for student loan borrowers was included in the CARES Act. But new benefits have been added with each subsequent bill. And President Joe Biden signed a White House memorandum in January 2021 that extended the CARES Act's payment and interest pause by eight months to September 30, 2021. The pause was set to expire on January 31, 2021.
A final extension has been issued to expire August 30, 2023, unless the courts rule on lawsuits sooner than that.
In this article, we'll take a deep dive at the current stimulus package for student loans and break down all of your options for receiving coronavirus aid. Here's what you need to know.
What is the current stimulus package for student loans?
Here's what's included in the stimulus packages that might benefit current or future student loan borrowers:
Suspension of all payments through September 30, 2021 (extended to January 2022)
No interest will accrue until September 31, 2021 (extended to January 2022)
The suspended payments count towards loan forgiveness programs, including PSLF and IDR forgiveness (PAYE, REPAYE, IBR)
Taxes are eliminated on forgiven student loans through December 31, 2025
Employers who contribute to their employees' student loans receive a tax break up to $5,250 (through 2025)
Borrowers in default will have their months of suspended payments count towards the nine months needed for loan rehabilitation
No collection, wage garnishment, or seizure of tax refunds will happen (backdated to March 13, 2020)
Slight increase in maximum Pell Grant
Incarcerated persons can now receive Pell Grants
Over $1.6 billion in institutional debt of HBCUs has been discharged
Students may now continue to receive a subsidy on certain subsidized Stafford loans for undergrad for a longer period of time
Employers may contribute up to $5,250 each towards their employees' student loans, with this program set to expire in five years now instead of at the end of this year.
Here's what's not been included in any of the stimulus packages.
The stimulus package is amazing if you have federal student loans
Many politicians and workers groups were clamoring for student loan cancellation to be included in one of the stimulus packages.
While that did not come to pass, the CARES Act and subsequent executive orders and bills have been extraordinarily generous for borrowers with federal student loans.
There were already protections in place to reduce your income-based payment if you lost your job.
However, millions of people were about to lose their jobs at the same time, and this is clearly not what loan servicers are built for.
Borrowers needed federal help because many don't know how to recalculate their payment
Servicers like FedLoan Servicing shut down many of their operations at the beginning of the coronavirus pandemic.
So even if borrowers knew they could recalculate their income-based payment to a number as low as $0 a month if they lost their job, they couldn't get someone on the phone to do that in many cases.
Also, our survey of 4,100 readers suggested that at least 43% of borrowers didn't even understand how to pause their federal student loan payments if their income fell. See the table below.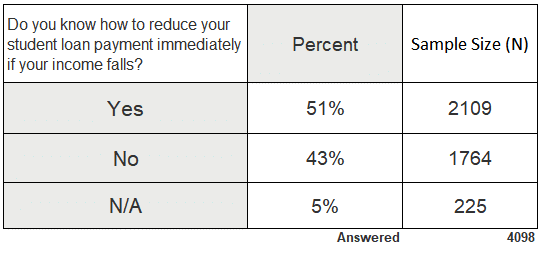 Our readers tend to be graduate degree-holding professionals who are more informed than average on student loan rules. Hence, the true number of borrowers who know how to recalculate their payment is likely much lower.
When I saw this data, I knew an across-the board payment freeze was going to be needed. That's exactly what has happened. And federal student loan borrowers have benefited immensely as a result.
During this forbearance period, borrowers have continued to accrue credit towards PSLF, IDR, and other forgiveness programs. In the case of PSLF, you would need to maintain a full-time job at a not-for-profit or government employer. But these $0 a month payments would count.
And, remember, there are no employment conditions for 20-year PAYE and 25-year REPAYE forgiveness. So suspended payments count for that type of forgiveness too.
Some federal student loan borrowers were originally left behind
Originally, only loans held by the Department of Education qualify for this interest and payment freeze, thanks to the stimulus plan language. So that means loans made under the Federal Family Education Loan Program (FFELP) didn't qualify if they were held by a commercial lender.
The federal government stopped issuing FFELP loans in 2010. So anyone who graduated or went to school before that time likely has this kind of student loan. The good news is that the Department of Education announced on March 30, 2021 that it was expanding the COVID-19 emergency relief to borrowers who had defaulted on a privately-held FFEL loan. It said that the expansion would provide help to 1.14 million borrowers.
The Department of Health has a large student loan program too. Dentists, physicians and nurses often take out Health Professions Student Loans (HPSL) or Loans for Disadvantaged Students (LDS). These loans carry a 5% interest rate and usually show up under the loan servicer Heartland ECSI if you have them.
You can actually consolidate these loans into a Direct Consolidation Loan to receive forgiveness. However, most borrowers assume Health Professions student loans are private and thus were ineligible for forgiveness programs. This is an extremely common five-figure mistake our clients make when managing their own student loans.
When lawmakers left out the Department of Health student loans from any relief, it affected many thousands of healthcare practitioners. Thankfully, the HRSA announced in February 2021 that it had also decided to retroactively waive is waiving interest and extend administrative forbearance to Health Professions Student Loan and Nurse Faculty Loan borrowers through September 30, 2021.
The stimulus bill provides help for borrowers in default
Millions of student loan borrowers are in default on their student loans. One way to exit default is to make nine months of consecutive payments.
Unfortunately, borrowers often miss a payment and cannot get their loans rehabilitated. And that can lead to wage garnishment and seizure of tax refunds.
Importantly, if you're trying to rehabilitate your federal student loans, with the stimulus plan you can now count the months of suspended payments towards the nine months needed to exit default.
That's big news as most student borrowers will be able to rehabilitate their loans right away when the forbearance ends on September 30, 2021.
When you rehabilitate your student loan, you remove this negative event from your credit score and get enrolled in an income-driven plan so that the loans are affordable for the future.
The other way to manage default is to consolidate your student loans. However, that does not remove the default from your credit score.
Tax refund seizure, collections, and wage garnishment is on hold
The COVID-19 relief bill pauses collections efforts on federal student loans. It also stops collections, wage garnishment, and seizure of tax refunds retroactive to March 13, 2020.
Importantly, this includes defaulted FFEL borrowers who didn't have access to stimulus package student loan benefits until March 2021.
This is big news for borrowers struggling the most. If you had your wages or tax refund seized on or after March 13, 2020, you need to make sure your address is current in the Department of Education system. Call 800-621-3115 to make sure they mail your check to the right address.
Employers can now deduct student loan payments made for employees' student debt
Employer student loan repayment assistance is now tax-free (for both employees and employers) until December 31, 2025. Lobbyists for large employers have wanted to make this a tax-deductible benefit for years. The hope was that it would incentivize younger workers to stay with their companies.
By extending this benefit for five years instead of one, Congress is essentially communicating to large employers that this benefit will be permanent. I expect an explosion of employer student loan assistance programs as a result.
I've gone on the record that employer student loan assistance doesn't help as much as you think. And it can actually hurt you in some cases.
It's the same thing as giving a tax break for employer-provided health insurance. It makes the workforce less mobile and more tied to their job. And that's in the interest of the employer more than the employee.
Importantly, student loan contributions replace money that might have gone towards higher wages, which continue after you have $0 student loans.
Even some non-profit hospitals require that payments they make for student loans be applied directly to loans held by the loan servicer. And that just doesn't make sense in the case of a borrower working towards PSLF.
At least now you can apply lump sum payments to PSLF IDR monthly payments, which was not always the case.
Student loan forgiveness is tax-free for five years
Perhaps the biggest impact of President Biden's American Rescue Plan is that it dictated that no federal borrowers will pay income taxes on a discharged student loan through the end of 2025.
Some programs like the Public Service Loan Forgiveness (PSLF) program already provided tax-free forgiveness. But it was unclear if the IRS would tax borrowers for the student debt forgiveness they received after completing one of the income-driven repayment plans. That's why we've traditionally advised our clients who are hoping to earn IDR forgiveness to save up for a potential tax liability 20-25 years down the road.
But anyone who earns IDR forgiveness over the next five years won't receive a tax bill on the forgiven student loan debt. Unfortunately, there won't be a significant number of student loan borrowers who will be eligible for forgiveness until the 2030s. We'll have to wait to see if Congress considers making this a permanent change at some point down the road.
Learn more about the student loan tax relief act.
The coronavirus stimulus is extremely unfair for borrowers with private student loans
Full disclosure: this website receives a large portion of its revenue from readers who decide to refinance their student loans to a lower interest rate.
Federal student loan borrowers receive an interest freeze. But private student loan borrowers receive a slap in the face.
By setting federal student loan interest rates at 0%, you effectively kill any student loan refinancing (except for refinancing loans that are already private).
Our company has cash reserves. And people will refinance again in the future when federal student loan interest is no longer at 0%. Plus, borrowers needed student loan relief during this crisis, and I'm glad some of our readers are getting that help.
I'm incensed though that huge numbers of borrowers who refinanced their student loans with private lenders will get absolutely no help from Congress.
They seem to be bailing out everyone else.
What message do you send to borrowers who wanted to responsibly pay down their student debt when you rescue all federal student loan borrowers but leave private student loan borrowers out of any relief package?
A critic might ask what Congress could have done? It's simple: reimburse private companies for the interest just as they did for a host of other industries.
Make this short-term student loan relief lead to a long-term plan
Suspending payments and interest for many months is a great step for federal student loan borrowers.
Obviously, we wish more borrowers had been included in the relief package.
Unfortunately, student loans will still be there after the payment and interest freeze is over.
If you need a long term plan on how to get to $0 of student loans forever, that's what we specialize in.
What do you think of the student loan coronavirus stimulus bill? Sound off in the comments.
Refinance student loans, get a bonus in 2023
Lender Name
Lender
Offer
Learn more

$1,000 Bonus

For 100k or more. $200 for 50k to $99,999

Fixed 5.24 - 9.59% APR

Variable 6.24 - 9.99% APR

$1,000 Bonus

For 100k or more. $300 for 50k to $99,999

Fixed 4.96 - 10.24% APPR

Variable 5.72 - 10.24% APR

$1,000 Bonus

For 100k or more. $200 for 50k to $99,999

Fixed 5.19 - 9.74% APR

Variable 5.99 - 9.74% APR
Not sure what to do with your student loans?
Take our 11 question quiz to get a personalized recommendation for 2023 of whether you should pursue PSLF, Biden's New IDR plan, or refinancing (including the one lender we think could give you the best rate).