For millions of Americans, student loan debt is part of their daily lives. Forty-three million people account for over $1.45 trillion in student loan debt.
Having huge amounts of student loan debt can factor into many life decisions including where you work. Student loan refinancing for corporate employees is a viable option depending on your circumstances.
Some employers are starting to offer benefits to help employees deal with student loan debt. This can be helpful whether you are repaying your loans through a federal repayment option or if you are thinking about refinancing your student loans.
While many people think student loan refinancing for corporate employees may be the best repayment option, receiving assistance from your employer may impact your strategy.
Let's take a closer look at student loan repayment assistance for corporate employees and how it may change how you look at your student loan debt.
Corporate employees student loan refinancing options
If you work in corporate America and have student loan debt, you have many options for repaying your loans. This includes federal programs like Income-Driven Repayment (IDR) plans and loan forgiveness. Depending on your specific situation, you can also refinance.
At Student Loan Planner®, we suggest you look at refinancing when your federal debt is less than 1.5 times your income. This is known as your debt-to-income (DTI) ratio.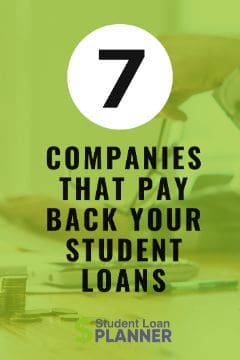 For people with a higher DTI, refinancing isn't as desirable. You should instead explore student loan forgiveness. If you work in the public sector and might qualify for Public Service Loan Forgiveness (PSLF), you should explore this option first. You might get your loan balance forgiven tax-free if you meet all qualifications. If you don't qualify for PSLF or don't want to work in the public sector, IDR can also lead to loan forgiveness.
Corporate employees' student loan refinancing can lower interest rates and help pay off debt quicker. However, you'll lose access to federal protections, loan forgiveness, loan deferral and forbearance options. Make sure you don't need access to these programs before refinancing.
What is corporate student loan repayment assistance?
Student loan repayment assistance is a benefit being offered by some employees. With this benefit, employers pay off a portion of an employee's student loan debt.
Typically, this is either done monthly or annually. Some employers offer matching for a portion of your monthly loan payment, which means you still continue to make payments.
Companies use the assistance of benefits administrators, like Gradifi, Tuition.io and SoFi. to make payments directly to loan servicers.
Student loan repayment assistance is different than receiving tuition reimbursement benefits. Tuition reimbursement is for employees continuing their education during employment, typically in an area of study relevant to their career field.
Student loan repayment assistance is for employees with existing student loan debt. Currently, any loan payments made through a student loan repayment plan is considered taxable income.
Companies that pay for your student loans
Many large companies are starting to offer student loan repayment assistance as part of their employee benefits packages. Here are some of the companies offering this benefit.
Aetna
The healthcare company Aetna offers employees student loan payments matching up to $2,000 annually and $10,000 total.
Fidelity
Employers at Fidelity launched the Step Ahead Student Loan Assistance Program, which gives employees up to $2,000 a year towards student loan repayment. With a total lifetime limit of $10,000.
New York Life
Insurance company New York Life offers $10,200 in student loan repayment assistance over a 5-year period. They also provide student loan advice and planning tools.
Penguin Random House
Publisher Penguin Random House offers full-time employees up to $1,200 in repayment assistance a year, or up to $9,000 in total over seven and a half years.
SoFi
SoFi is known for student loan refinancing (up to $1,000 bonus through that link if you refinance more than $100,000), but SoFi employees can also receive student loan assistance. SoFi offers employees $200 a month for repayment assistance with no caps.
LiveNation
Live Nation offers student loan payment matching of up to $100 a month, $1,200 a year, or $6,000 total.
Estee Lauder
Cosmetic company Estee Lauder now offers employees $100 monthly contributions to pay off student loans. The program caps at $10,000 total.
Student loan repayment assistance is becoming a more popular benefit for companies to attract and retain employees.
Should you take a corporate job because of repayment assistance perks?
When looking at potential career options, it's important to consider everything an employer offers, including any benefits packages. If you have existing student loan debt, should repayment assistance impact your decision on where to work?
Although it's a great perk, getting student loan repayment assistance from an employer probably won't change repayment strategies for most people.
But if you are looking at refinancing your student loans, getting assistance from your employer should help you pay off your debt quicker. If you were already pursuing loan forgiveness, repayment assistance will change how much debt is forgiven in the end, but it shouldn't affect your overall strategy.
It's a good idea not to base your whole decision on one specific benefit. Instead, look at what the company offers as a whole. Having part of your student loan debt paid for is great, but if there is not much offered in terms of healthcare, retirement benefits, time off and other valuable perks, it might not be an ideal situation.
Looking at the details of repayment assistance programs is also important. Many programs are only available to full-time employees after a certain amount of time. If you don't plan to stay with the company long enough to take full advantage, it may not be worth it.
If the company provides good career opportunities along with repayment benefits, then why not get your loan debt reduced for free.
Is student loan refinancing for corporate employees the best repayment option?
Again, if your DTI is under 1.5, refinancing is a good repayment option. If you can secure a low rate and good terms, you'll be able to cut thousands of dollars off your total debt over the life of the loan.
You can also refinance more than once. As your income and credit improve, you can apply to refinance again and get even lower rates.
In the end, your total amount of debt, income and career trajectory play a big part in determining the best way to pay off your student loans. If you're thinking about refinancing, check out the rates and cash bonuses you can get with our refinancing partners.