Occupational therapists have a lot going for them. They work in a rewarding field where they're able to help sick, injured and disabled people improve their lives. And the occupational therapy job outlook is very strong.
But there's a downside to choosing a career in OT. Becoming an OT requires a lot of education, and occupational therapists could end up with a ton of student debt.
If you're an occupational therapist who's feeling overwhelmed by student debt, you may be wondering if refinancing your student loans could help. Let's take a look at how student loan refinancing for occupational therapists works and when it might make sense for you.
How student loan refinancing can help occupational therapists
There are ancillary benefits to student loan refinancing, like being able to consolidate all your loans down to one and being able to choose your lender.
But the main benefit of student loan refinancing for occupational therapists is that it could save you a ton of money in interest.
For example, let's say that you graduated with $200,000 in student debt at an average interest rate of 7%.
If you stuck with the 10-Year Standard Repayment Plan, you'd end up paying $278,660 over the life of the loans. That means you'd pay over $78,000 in interest alone!
But what if, through occupational therapy student loan refinancing, you were able to lower your interest rate to 3.5%?
In that case, you'd drop your overall cost to $237,326.

That's an interest savings of $41,334! What could you do with an extra $41,000?
Refinancing your student loans could help you keep more money in your pocket instead of handing it over to student loan companies.
When student loan refinancing for an OT makes sense
Student loan refinancing for OT grads would make sense for borrowers who have a reasonable debt-to-income ratio and don't qualify for Public Service Loan Forgiveness (PSLF).
If you went to an affordable OT school or landed some scholarships and grants during school, you may have less debt than the average OT, and that could make a big difference in whether or not refinancing makes sense for you.
For example, if you graduated with $100,000 of debt instead of $200,000, you could be looking at a debt-to-income ratio of close to 1. In that case, refinancing could be a great decision.
In fact, by plugging the numbers into the Student Loan Planner® Refinance Calculator, you'll see that it would save you over $20,000 in interest.

If your debt-to-income ratio is on the high side, you can improve it by either decreasing your debt or increasing your income. And if you can do a combination of both, that's even better.
If you know that your income will be increasing soon (perhaps you'll be finishing residency and beginning normal employment, for example), it would be better to wait till then to refinance. And if you have smaller debts that could be paid off before you apply, that would be smart move too.
Downsides to student loan refinancing for OT school debt
If your student loans are private, there aren't really any glaring disadvantages to occupational therapy student loan refinancing. But there are significant impacts if you have federal student loans and a high debt-to-income ratio, such as:
1. You lose eligibility for all federal student loans benefits.
If you refinance federal loans, you'll no longer qualify for income-driven repayment (IDR) plans or PSLF. You'll also no longer be eligible for federal forbearance or deferment.
And if you refinance your federal student loans as soon as you graduate OT school, you may lose your six-month grace period as well.
2. You may not qualify with a high debt-to-income ratio.
In a recent Student Loan Planner® study, occupational therapy was found to be one of the top 10 graduate degrees that deliver more debt than income.
On average, the occupational therapists that have consulted with Student Loan Planner® have had $204,846 of student debt, with an average income of $65,000. That's a debt-to-income ratio of 3.2!
And that high ratio can be a problem for student loan refinancing. Generally, to qualify for the best rates, you'll want to owe less than 1.5 times your annual income.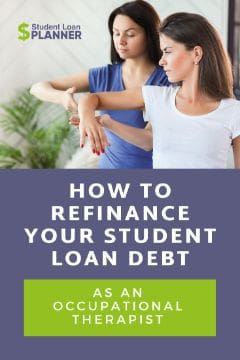 How to refinance OT school loans
To refinance your OT school loans, you'll need to use a private lender. But not all lenders are the same. You'll want to compare lenders on factors like interest rate, payment flexibility and forbearance options.
And you'll want to make sure that the lender has a track record of good customer service. Checking the lender's Trustpilot score would be a great start.
Once you've found a lender and you're happy with the interest rate that you're quoted, you'll need to apply for the loan. In addition to checking your credit, expect the lender to ask for proof of income as well.
If your application is approved, your lender will pay off your old loans. And going forward, you'll make payments to your new lender.
Occupational therapy student loan refinancing may require a cosigner
As discussed earlier, a high debt-to-income ratio can make it difficult for occupational therapists to qualify for student loan refinancing on their own.
If you owe more than 1.5 times your income, you may need a cosigner in order to qualify for refinancing. Some refinancing companies will allow you to add a cosigner to the loan, while others won't.
If you have a spouse or parent with high credit and a good debt-to-income ratio, you could consider asking them to cosign your student loans to help you meet the lender's eligibility criteria. But there are caveats to adding a cosigner on your student loans.
Most importantly, if you fall behind on your payments, it will damage your cosigner's credit as well as your own. And that could hurt his or her chances of qualifying for a loan of their own down the road.
Cosigning can be a risky move for the cosigner. Before you enter into a cosigning arrangement with someone, you'll both want to carefully think through the pros and cons.
Other OT student loan repayment options
Not sure if refinancing is right for you? Here are three alternatives worth considering:
Get on an income-driven repayment plan
There are currently four IDR plans. Depending on the one you choose, your monthly payment will be 10% to 20% of your income, and you'll be eligible for forgiveness on your remaining balance in 20 to 25 years.
Keep in mind that you'll generally pay more overall with an IDR plan, and you may owe income tax on the forgiven amount. And, depending on the income that you receive throughout your career, you may not receive any forgiveness whatsoever.
To see if an IDR plan would work well for you, check out our Student Loan IDR Calculator.
Pursue Public Service Loan Forgiveness
If you work for a non-profit clinic or a public hospital, PSLF is probably your best repayment option. To earn PSLF forgiveness, you'll need to make 120 payments while working for a qualifying employer.
That means you can receive full forgiveness in as little as 10 years. And you won't owe any income tax on the forgiven balance. Learn more about PSLF.
Apply for the Indian Health Service Loan Repayment Program
Unfortunately, occupational therapists don't qualify for the National Health Service Corps Loan Repayment Program. But OTs can apply for the Indian Health Service Loan Repayment Program.
In this program, an OT could earn up $40,000 in student loan repayment assistance. In exchange, you'll need to work for at least two years in a health facility that serves American Indian and Alaska Native communities.
Get started with refinancing your OT school loans
If you're not pursuing PSLF and your debt-to-income ratio looks good, check out Student Loan Planner®'s student loan refinancing guide. We've researched all the top lenders to help you make an informed decision.
And we may be able to help you keep $350 to $750 in your pocket. See if you qualify for a student loan refinancing cash bonus!