If you want a rewarding profession that helps people regain their strength and self-sufficiency, you might consider becoming an occupational therapist. But before embarking on this career path, it's important to consider the occupational therapy job outlook.
Knowing the OT job outlook can prepare you for entering the workforce. It can also help decide specializations, where to work and how to differentiate yourself to employers. Not to mention, it could also deeply impact the amount of student debt you take on.
Occupational therapy job outlook: Promising growth
What does the future look like for occupational therapists?
The Bureau of Labor Statistics estimates the occupational therapy job outlook is positive. The profession is expected to grow by 18% between 2018 and 2028.
This is a considerably fast rate of growth compared to other professions, which have an overall growth rate of 5%. This may be due to the aging baby boomer population that will drive up demand for occupational therapists in the future.
Here are some quick facts on the OT job outlook:
133,000 people were employed as occupational therapists in 2018.
This number is expected to rise to 156,800 by 2028 (at a growth rate of 18%).
Other healthcare professions have a growth rate of 13%, putting occupational therapy on a more positive trajectory than similar lines of work.
Drivers of occupational therapist job growth
As the baby boomer population ages, it is expected that the demand for occupational therapists will grow. Occupational therapists who work in geriatrics help seniors retain and maintain their independence. They can also help seniors adapt to limitations after a stroke or surgery. They also help patients adjust to the realities of chronic and debilitating health ailments, such as arthritis.
Occupational therapists aren't limited to working with seniors in outpatient settings. They can also work in hospitals or nursing homes. In these settings, occupational therapists take care of newly diagnosed patients with life changing illnesses. They help patients adapt to lifestyle modifications involved with their diagnoses, such as kidney disease or diabetes.
Increasingly, as schools look to become more inclusive, occupational therapists are finding work in classroom settings. They can help children with autism stay integrated in a typical school environment.
Occupational therapist salaries
On average, occupational therapists make slightly more than other workers in their field. The Bureau of Labor Statistics estimates that similar healthcare workers make a median annual wage of $80,990, where occupational therapists earn $84,270 annually.
Of course, occupational therapist salaries range. According to U.S. News, those in the top 25% of earners report making $100,320 annually, while those in the bottom 25% report earnings of $67,970 annually. The profession has an unemployment rate of 0.5%, so it's very likely you'll be able to find a job as a trained occupational therapist.
Your area of specialization can also impact your earnings as an occupational therapist. Here's a breakdown of median annual wages by specialization:
Nursing care facilities — $90,570
Home healthcare — $87,570
Physical therapists, speech therapists and audiologists — $86,060
Occupational therapists in hospitals —  $84,550
School-based occupational therapists — $73,980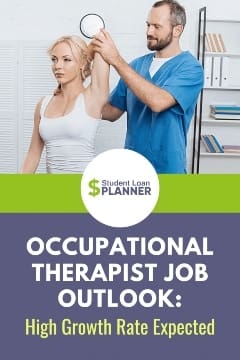 The cost of becoming an occupational therapist
Though occupational therapists earn considerably more than the average American worker, they go through extensive schooling to earn their title. Most occupational therapists have Master's degrees and some have doctorates.
In addition to advanced education, most states require occupational therapists to earn specific licenses. Maintaining your license can require annual continuing education.
Our consultants at Student Loan Planner® have found that most occupational therapists carry an average of $190,000 in student debt, which is a significant number. Around 40%, have more than $200,000 in student loans.
Related: Occupational Therapist Salary: Is the Degree Worth the Cost?
Should you take out students loans for occupational therapy?
You should weigh the pros and cons when deciding to take out student loans to become an occupational therapist. Be sure to compare the cost of your education with the expected financial and personal gains from your new career.
Although the decision to pursue occupational therapy is a personal choice, ask yourself the following questions to help you decide:
How expensive will your schooling be?

 Is there a cheaper option that offers a similar education? (This way you can take out less student loans.)

What is the cost of living in the city you intend to complete your education?

 Will this increase your projected student debt?

How specialized do you plan on being?

 Does your intended specialty have top earning potential? This could help determine how much you want to spend getting your education.
You're the only one who can decide if it's worth taking out student loans to become an occupational therapist. Hopefully as you compare your projected career path with the cost of getting your education, the answer becomes clearer.
Student loan forgiveness for occupational therapists
If you're already enrolled or currently in repayment, there are several student loan forgiveness options for occupational therapists. Here are three to consider:
1. Public Service Loan Forgiveness (PSLF)
If you are an occupational therapist with federal student loans you may qualify for Public Service Loan Forgiveness (PSLF). You'll need to work for a qualifying government or non-profit institution and make 120 qualifying payments before you'll be eligible to have your loans forgiven. If you plan to work for a non-profit, PSLF could be a viable option for you.
2. Income-driven repayment (IDR)
Income-driven repayment (IDR) plans help keep your student loan repayments manageable. These plans use a formula to calculate your monthly payments, based on your monthly discretionary income.
There are four different versions of IDR plans you may qualify for, depending on your individual circumstances. Once you've completed 20 to 25 years of payments, depending on your plan, the remainder of your loan balance might be forgiven.
3. Indian Health Service loan repayment
The Indian Health Service will repay up to $40,000 of student loans in exchange for two years of service to American Indian or Alaskan Native communities. You are also eligible to extend your service until your loans are repaid.
Student loan refinancing
If you have private student loans or do not qualify for forgiveness options, you can also consider refinancing. When you refinance your student loans, you get a new loan at a lower interest rate with a private servicer. The money you save in interest can be redirected towards helping you pay down the principal of your loan faster.
However, keep in mind that refinancing federal student loans makes you no longer eligible for certain government protections and benefits. If refinancing is still your best option, be sure to compare lenders online and find the most competitive rate and terms possible.