Psychiatrists can make a meaningful difference in the lives of others who are dealing with various mental health issues. As a psychiatrist, you can help treat and diagnose patients and provide options for treatment.
Although the work can be rewarding, it also requires a ton of time and money upfront to get started in this profession. If you're a psychiatrist dealing with hefty student loan debt, read on to learn more about prospective average psychiatry debt, student loan refinancing for psychiatrists, and repaying psychiatrist debt.
Average psychiatry debt vs. salary
According to the American Medical Association, 74.2% of graduates in 2016 had student loan debt. The average psychiatrist debt was $190,000, and among graduates with debt, 27% had $200,000 or more in student loan debt.
It's not exactly cheap to become a psychiatrist, but the salary isn't terrible. Data from the Bureau of Labor Statistics (BLS) states that the average psychiatrist salary as of May 2019 is $220,430.
If you work at outpatient care centers, you might earn more money at an average of $250,230. Psychiatrists who work in general medical and surgical hospitals earn the least, according to BLS data, at $205,880 each year.
Although psychiatrists stand to earn a good salary, it's possible to have just as much in student loan debt or more. When your student loan debt exceeds your salary, it affects your debt-to-income (DTI) ratio which can affect getting a mortgage or a loan.
Because of this, it's a good idea to focus on paying down debt as fast as possible and save money where you can. One way to do that is through student loan refinancing.
Psychiatrist student loan refinancing
Student loan refinancing is a tool that psychiatrists can use to lower their overall costs related to debt. One major culprit is interest. Student loan interest accrues every day and many graduate level or professional loans, like Grad PLUS Loans have some of the highest rates on the market.
When you refinance psychiatrist debt you might get a lower interest rate, depending on your credit. In refinancing, you'll take on a new refinancing loan which could come with a lower interest rate and repayment terms that work better for you.
Let's imagine that Jamie is a psychiatrist with $200,000 in student loan debt at 7% interest and a 10-year repayment term. Jamie's student loan payments would be $2,322.17 each month.
If Jamie got approved for a refinancing loan at 5% interest with a 10-year repayment term, it would result in $201 of savings each month. Over the course of the loan, Jamie would save a total of $24,103.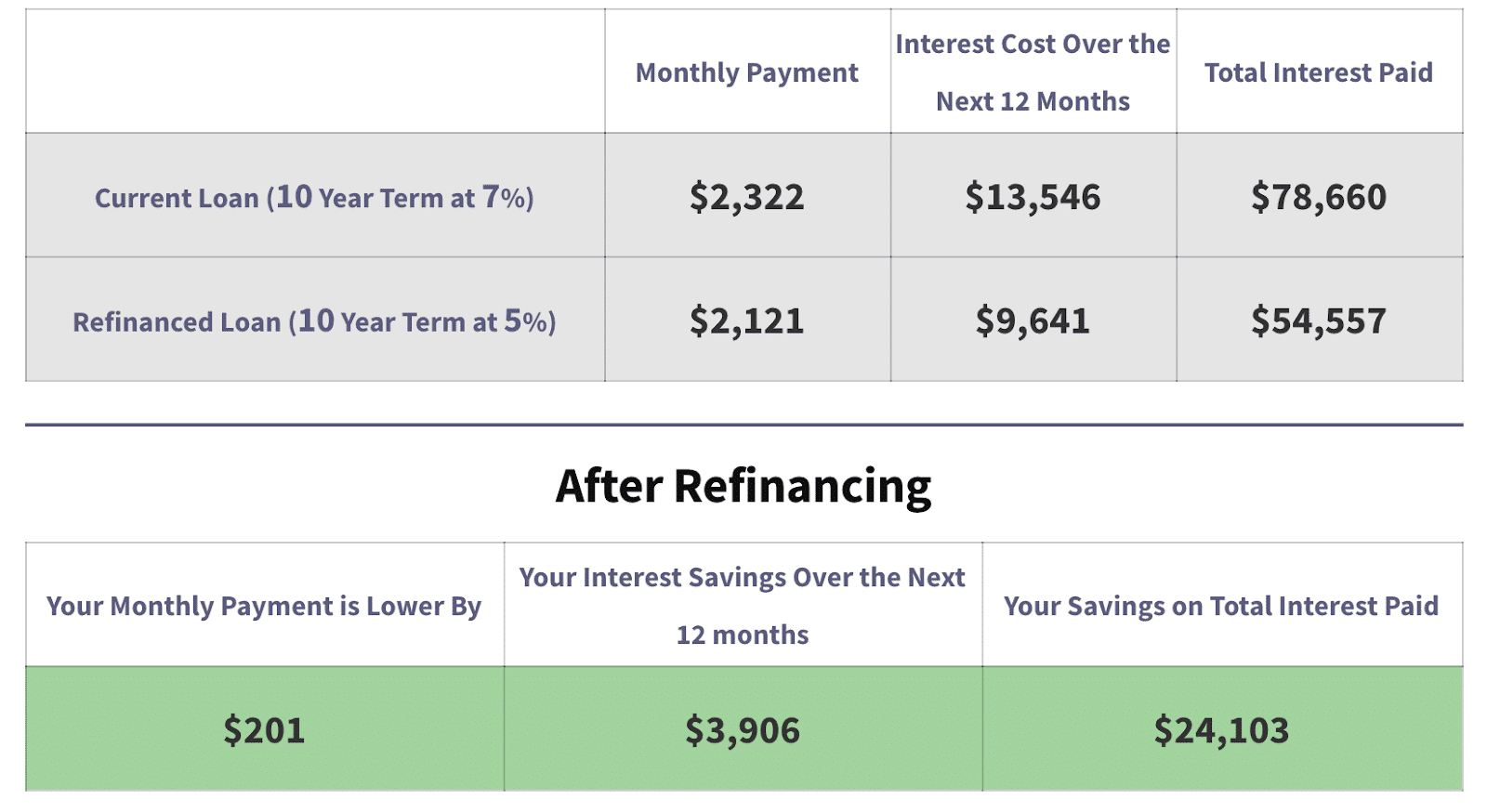 This option would be the most cost-effective as it has a short repayment term. Saving $24,000 over the cost of the loan can help you pay off debt faster and pay less in interest.
Depending on your credit, you could potentially be approved for an even lower rate that would maximize your savings and fuel your debt repayment. You can check out our student loan refinancing calculator to see potential options.
Play around with the interest rate and repayment terms to see the difference in monthly payments and how much interest you might save. Student loan refinancing for psychiatrists can be a useful tool to pay off high balance debt.
What to consider before refinancing psychiatrist debt
Before refinancing your psychiatry student loan debt, there are some caveats to know.
If you refinance federal student loans, you're taking a risk. That's because the process of refinancing requires you to take out a new, private refinancing loan that pays off the original federal loan. You'll no longer have access to major federal benefits.
For example, federal student loans offer many different types of repayment plans, student loan forgiveness through income-driven repayment (IDR) or Public Service Loan Forgiveness (PSLF), and deferment and forbearance.
Those are the things you stand to give up when pursuing psychiatrist student loan refinancing. If you work in the public sector and qualify for PSLF, you should stick with that route.
Especially because you won't be on the hook for a tax bill when your loans are forgiven. Let's say you owe $300,000 at 7% interest and your current income is $200,000. Let's see what you'd pay under PSLF compared to refinancing your loans at 4% with a 10-year term.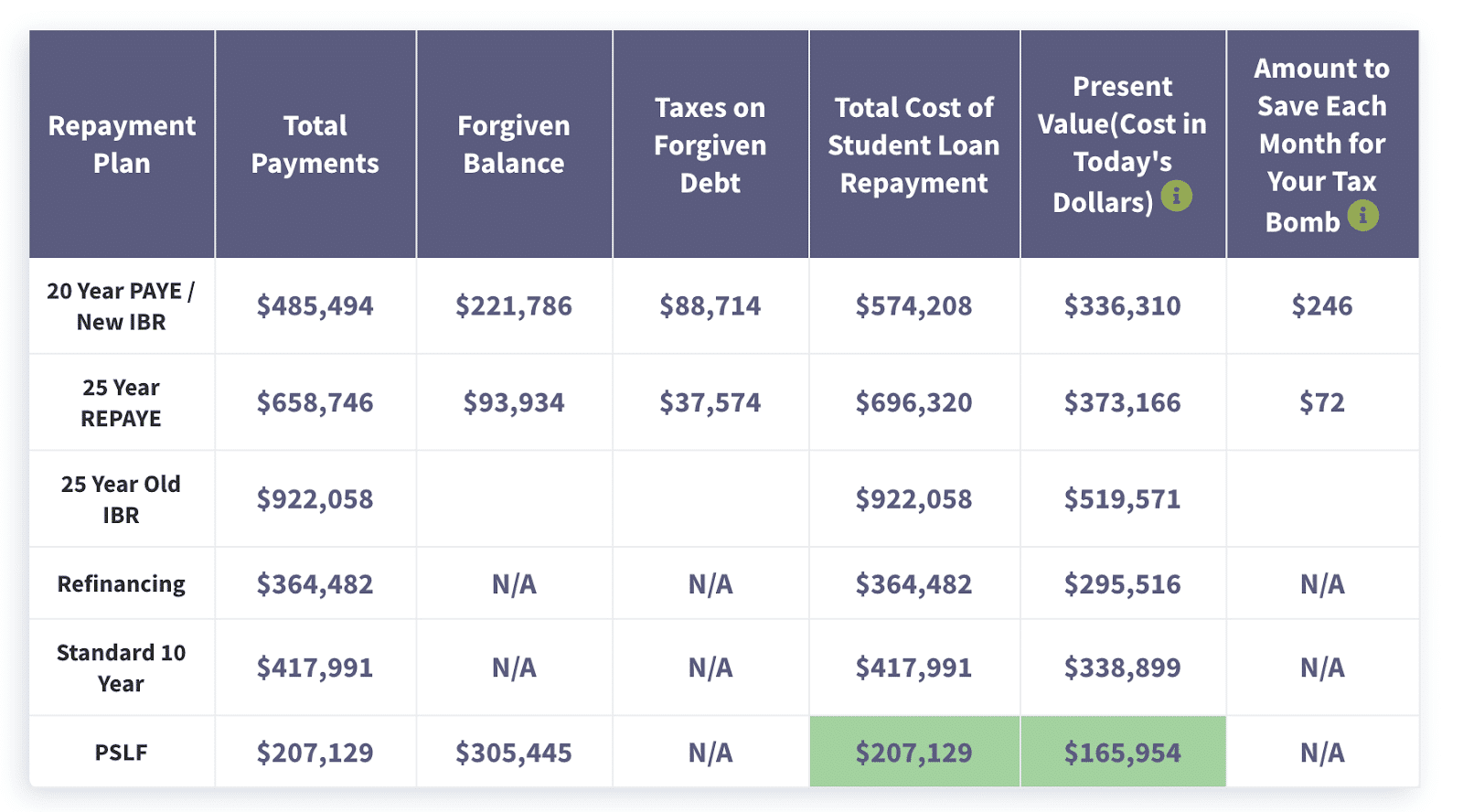 Your total payments would be significantly less under PSLF compared to refinancing — $207,129 compared to $364,482, respectively. However, refinancing still beats out forgiveness under the IDR plans. It's all about looking at the calculations based on your situation, your career objectives and financial goals.
Student loan refinancing for psychiatrists
If your current work is consistent and you won't be pursuing forgiveness or need any other benefits like deferment, refinancing can be the key to paying off debt faster.
Here are some reasons that pursuing psychiatrist student loan refinancing can make sense:
Your credit score is good (typically 700 or above)
Your employment is stable
Your income can afford a new loan and the repayment
You work in the private sector and NOT in the public sector
You have a financial plan to pay off debt fast
If you meet this criteria, then student loan refinancing may be what you need to turbocharge your debt repayment. You can check out a list of the best student loan refinancing lenders and potentially get a cash-back bonus to sweeten the deal.
Psychiatrist student loan repayment
On top of refinancing your psychiatrist debt, you also want to look at all of your repayment options.
As noted above, if you work in the public sector, you could get your loans forgiven through PSLF in just 10 years. If you're struggling to manage your student loan debt, you can choose an IDR plan. These plans also can lead to student loan forgiveness after 20 to 25 years. The difference between PSLF and IDR, aside from the repayment term, is that you'll pay taxes on the amount forgiven under IDR.
You also want to see if there are any employee repayment assistance programs you can take advantage of or any state-based programs that may help.
For example, the Office of Mental Health in New York offers the Psychiatrist Loan Repayment Program. Under this program, you can get student loan repayment assistance of up to $150,000 with five years of service at one of their sites.
Bottom line
If you're dealing with tons of psychiatrist debt and want to pay it off quickly, look at all your repayment options, including refinancing. Psychiatrist student loan refinancing could make a significant difference in your debt payoff journey.
Need help figuring out next steps? Book a one-on-one consult with us.