Becoming a speech pathologist can be a rewarding career, but it also can come with considerable student loan debt. Many speech-language pathologists turn to student loan refinancing for relief after they graduate and start working. Let's take a closer look at the costs associated with a speech-language pathologist degree and whether refinancing makes sense.
How much does it cost to become a speech-language pathologist?
Becoming a speech-language pathologist isn't cheap. Student Loan Planner® has consulted with several speech-language pathologists. Our SLP clients average $118,000 in student loan debt. The range of debt is wide, though, with many under $100,000 and several over $200,000. School choice is a primary factor in how much debt you'll incur as a speech-language pathologist.
In terms of salary and job opportunity, however, the future is promising for speech-language pathologists. The employment of speech-language pathologists is expected to increase 25% from 2019 to 2029. The median annual salary for speech-language pathologists is $80,510.
Although speech-language pathologists may graduate with six-figure debt, their salaries can put them in a position where student loan refinancing might be an option.
Student loan refinancing for speech-language pathologists
It's important to have a solid repayment plan if you've racked up student loan debt. One option is to refinance your student loans, trying to score a lower interest rate so you can pay off your loans faster. Does refinancing make sense for you, though?
Pros and cons of refinancing for speech-language pathologists
Refinancing is an option to look into for borrowers with student loan debt that is more than 1.5 times their salary. Some pros and cons of refinancing include:
Pros:
You get a lower interest rate.

By refinancing, you may be able to get a lower interest rate that could save you thousands of dollars in interest payments over the life of your loan. To score the best interest rates, speech-language pathologists should have a credit score over 700.

You can escape your federal student loan servicer.

Many federal loan servicers have a track record of bad customer service and poor communication. When you refinance, you can research private lenders and choose the one that's right for you.
Cons:
You lose out on federal protections and programs

. If you refinance your federal loans, they become private student loans. This means you can no longer access federal protections like forbearance and deferment options. You'll also lose access to income-driven repayment (IDR) plans. IDR repayment plans can help lower your monthly student loan payments, especially when you're just starting your speech-language pathologist career.

You're no longer eligible for student loan forgiveness programs

. Other federal programs you lose out on if you refinance are loan forgiveness programs such as Public Service Loan Forgiveness. There are many job opportunities for speech-language pathologists with employers that meet PSLF criteria, so it might be a mistake to refinance if you can qualify for PSLF.

You must meet strict eligibility requirements

. Refinancing requires that you meet specific credit and income criteria. Each lender has its own credit requirements, but most seem to need at least a credit score of 650. Qualifying for refinancing doesn't necessarily mean you'll score a rate lower than those associated with your federal loans, however. Speech-language pathologists with a credit score under 700 probably won't get a rate low enough to make refinancing worth the change.
Overall, the decision to refinance should be based on your total debt. Where you work and whether you're eligible for loan forgiveness options factor in as well.
For example, if you own a private practice, you'll end up needing two years of tax returns to qualify because, as a private practice owner, you are a 1099-contractor, not a W-2 employee, and private lenders require more documentation. Most speech-language pathologists will require the use of a cosigner to qualify for refinancing, though.
Student loan forgiveness for speech-language pathologists
For most speech-language pathologists, student loan forgiveness is going to be your best option. There are plenty of career opportunities with employers that qualify for programs like PSLF. If you have a chance to qualify, you could wipe out most of your loan debt with this loan forgiveness option. Compare PSLF and IDR loan forgiveness to see which one might be right for you.
PSLF
PSLF is a loan forgiveness program that can lead to your student loan debt being forgiven tax-free. The program has four main criteria you'll need to meet:
Have Direct Loans.
Pay on one of the four IDR plans: Pay As You Earn (PAYE), Revised Pay As You Earn (REPAYE), Income-Based Repayment (IBR) and Income-Contingent Repayment (ICR).
Work full-time at a qualifying nonprofit or government employer.
Make 120 qualifying, on-time monthly payments.
Once you meet the requirements, your remaining student loan debt will be forgiven. You also won't pay any taxes on your forgiven debt. If there's even a chance you could qualify for PSLF, you owe it to yourself to research this option.
If you have federal Perkins loans or Federal Family Education Loans (FFELs), you'll need to consolidate them into a Direct Consolidation loan in order to qualify for PSLF. Doing this will reset your payment count to zero, though. Payments made on Perkins loans and FFELs won't count toward the 120 qualifying payments needed for PSLF.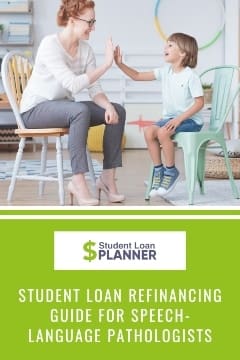 IDR loan forgiveness
For speech-language pathologists who don't qualify for PSLF or don't work in the public sector, there is another loan repayment program that has a forgiveness option. Similarly, you'll need to get on one of the four IDR plans. These are federal loan repayment plans that set your monthly loan payments based on your discretionary income, which can be particularly helpful for speech-language pathologists just starting their careers or working for a nonprofit organization.
After 20 to 25 years of monthly payments, depending on the specific plan, any remaining student loan debt will be forgiven. Because monthly payments on IDR plans most likely are lower than on a standard plan, there should still be a debt balance after 20 to 25 years.
Unlike PSLF, IDR loan forgiveness isn't tax-free. The IRS considers this forgiven amount as taxable income, and you could be facing a sizeable tax payment. The good news is that you have time to save for this tax bomb properly.
Teacher loan forgiveness
Many speech-language pathologists are employed within elementary and secondary schools across the country. If this is you, there's a chance you may qualify for teacher loan forgiveness under the Teacher Loan Forgiveness Program. You may be eligible for up to $17,500 in loan forgiveness.
To qualify for teacher loan forgiveness, you must teach full-time at a qualifying low-income school or educational organization within low-income communities for five consecutive years. Another requirement is that you need to meet the definition of a highly qualified teacher during your five years of teaching.
Not all federal student loans qualify for teacher loan forgiveness.
Refinancing your speech-pathologist student loans
In the end, student loan refinancing for speech-language pathologists may still be the way to go.
Student Loan Planner® has partnered with several private lenders to offer our readers cash-back bonuses. Besides offering cash back, our lending partners provide some of the best refinancing deals around.
Take time to explore our refinancing lending partners to find the best option for you. SLP student loan refinancing can lead to the lowest interest rates as well as bigger bonuses than you'll see from our competitors. We purposely pass more savings on to you. Don't hesitate to reach out to us directly if you need additional student loan repayment assistance!