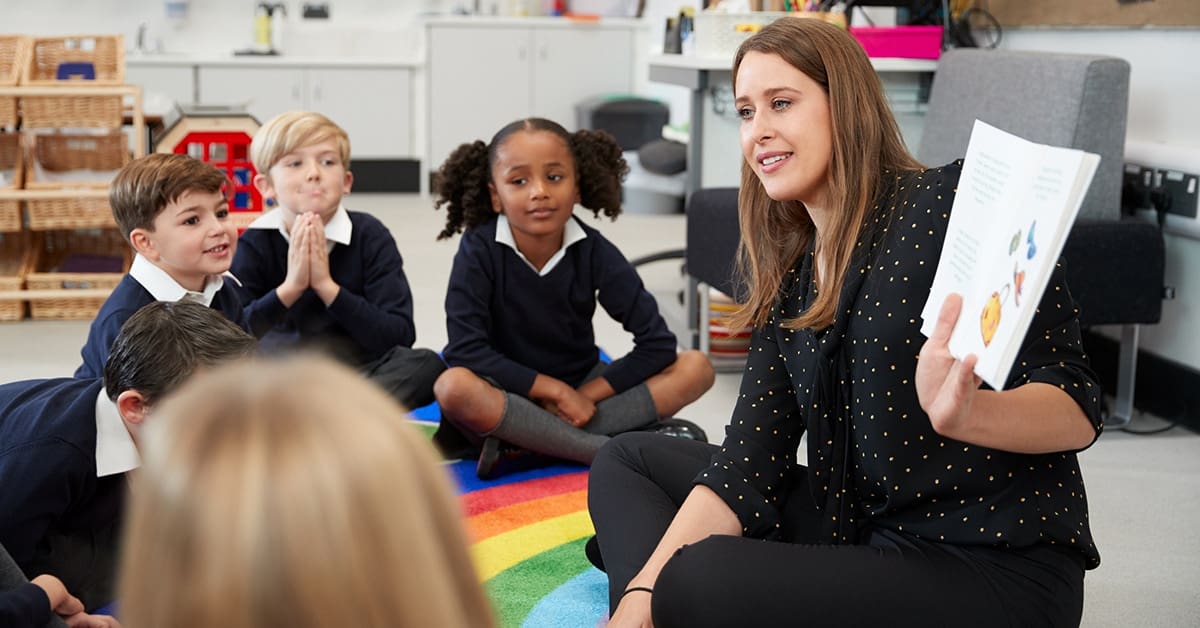 7 Min Read | Updated on February 24, 2023
Teaching is a profession that has incredible demands. Not only should you be a master of the subject you teach but also a master of relationships, behavior management and child development — to name just a few things.
Teacher education requirements have many variables. You'll want to choose a path that best equips you for the classroom without strapping on tons of student loan debt.
Your education pathway to teaching can take many forms. This guide will pave the way for a broader understanding of what degree is needed to be a teacher.
Teacher education requirements
Teachers have a wide variety of responsibilities. The state you teach in, level you teach, subject you teach and the population of students you serve all change what you do each day.
All teachers are required to have a bachelor's degree. Private school teachers aren't mandated to have more than this, but they're often required to pass the same exams as public school teachers.
State certification and licensure
Public school teachers are required to have a state-issued certification or license.
Requirements for certification or licensure vary by state but generally include the following:
Bachelor's degree with a minimum grade point average
Completion of supervised teaching experience (student teaching) in the level and subject you want to teach
Passing a background check
Passing a general certification teaching test
Requirements for teaching certification have not yet been streamlined between states. Teaching certification in California may not be accepted if you moved to New York, for example. School districts deal with this by offering probationary or emergency teaching certificates. Teachers then complete proper state certification within a set amount of time. It's easiest if you complete your teacher preparation program within the state you want to teach.
If you want to teach high school or a specialized area of education, you'll also want to pursue an endorsement. You can complete these while getting your teaching licensure.
Endorsements
Endorsements show up on a teaching license or certificate. They indicate what subject area or specialization you're qualified to teach. High school teachers almost always teach a specific area of study and thus need to have an endorsement. Middle school teachers may also be required to have an endorsement, but this varies by state.
You'll need to show proficiency in a subject and pass a test to receive an endorsement. Some examples of endorsements include:
Agricultural education
Any foreign language
Physical education
Arts
Special education
Speech
English language arts
Robotics
Engineering
Endorsements are one of the ways to become a highly qualified teacher under the No Child Left Behind Act of 2001. Schools receive more funding for training and keeping highly qualified teachers. Thus, an endorsement can make you more desirable for a position, and in some cases, it's a requirement.
What degree is needed to be a teacher: Bachelor's vs. master's
A master's degree can be a great investment but will often strap you with more student loan debt. Deciding whether you need a master's degree to teach or simply a bachelor's is a personal choice. However, it should also be a financial decision.
Topanga is a student at Washington State University who just made this very decision. She's in her second year of school and pursued a bachelor's degree to become an elementary school teacher. After excelling in her English and journalism classes, she wanted to spend more time studying these subjects.
Ultimately, she decided to shift her path toward a Bachelor of Arts in English with a minor in Communication. She will then continuing her education toward a Master's of Arts in Teaching.
"It was something that I didn't expect to do," said Topanga. "It opens more doors for me if I pursue my bachelor's and then my master's degree. What if I don't want to teach anymore? I want a degree and education to fall back on for multiple career opportunities."
Topanga said she also sees the earning potential with a master's degree. She'll be paid more as a teacher, and she'll have an easier time finding employment.
A master's degree doesn't always make sense
A master's degree can offer you some benefits and a way to climb the ladder in your workplace. If you plan to teach at a community college or move into administration, a master's degree can be a smart choice. The pay increases when you move into these positions, and a master's degree is often a requirement.
If you plan on teaching in an elementary classroom for 10 to 20 years and then moving into administration, it doesn't make sense to take on student loan debt for a master's degree. Instead, you can wait until you're teaching and slowly work toward your master's degree. You can even utilize professional development funds to help pay for school.
The bottom line is that a master's degree isn't needed to teach but can open doors for advancement down the line. You shouldn't feel pressured into getting a master's degree if it's not right for you. If you're mid-career and ready to go into the classroom, you don't necessarily need it.
Alternative routes to the classroom
There's another way into the classroom that doesn't involve a bachelor's or master's teaching degree. Alternative or non-traditional teacher certification has been adopted in many states. This is a way to recruit talented individuals from a non-educational background who want to transition into a career in the classroom.
One such alternative teaching program is called Career Technical Education (CTE). CTE teachers focus on setting industry standards in the classroom and offering real-world experiences that immediately translate into the workforce. They can also use their hours in previous professional fields as part of their certification. Engineering and graphic design are both examples of a CTE course that could be taught by someone coming from the field.
Alternative routes like CTE offer a great way to avoid taking on student loan debt. This is especially true if you're looking to transition mid-career. Even then, you're still on the same pay scale, according to your education.
Your education determines your teacher pay
Most teachers go into the profession out of a personal calling. The income is a secondary consideration. That said, with the average teacher salary at $60,483, you might be concerned about making a livable wage and affording your student loan payments.
Where you decide to teach and your education level have the biggest impact on your teacher salary. The starting salary for a teacher with a bachelor's degree is lower than the starting salary for a teacher with a master's degree. Salaries are drastically different from state to state as well.
Compare teacher salaries to your expected student loan debt before making a decision to pursue a master's degree.
Teacher Loan Forgiveness can be a trap
There are many student loan forgiveness programs for teachers. But this doesn't mean you should pursue the highest degree and load on the debt. The federal Teacher Loan Forgiveness Program can actually be a bit of a trap if you're not informed on how much can be forgiven.
The Teacher Loan Forgiveness program offers a total of $17,500 in student loan forgiveness. But you must teach the right subject.
Eligible subjects include mathematics, science, technology and special education. For all other teachers, the maximum amount is $5,000 of student loan forgiveness. On top of this, you must work full time for five consecutive years at a low-income school to be eligible.
While this may be helpful, it's nowhere near the cost of a master's program. Instead, the Public Service Loan Forgiveness (PSLF) program can be better for teachers.
PSLF takes 10 years but offers complete forgiveness of all remaining federal student loans. If you have more than $50,000 of student loans from your bachelor's and master's degree, you'll want to dig into this program.
Teacher education requirements: advanced degrees are up to you
The fact is, teachers are underpaid. Deciding on the degree you pursue and the amount of debt you'll take on shouldn't be taken lightly. You'll be working your butt off in the classroom and don't want to be stressed about your next student loan payment.
You're already a step ahead by looking into various avenues for this rewarding profession. If you want to talk it out with someone, the team at Student Loan Planner® would love to help. We offer a pre-debt consultation to discuss these big life choices that can affect your finances long term.
Refinance student loans, get a bonus in 2023
Lender Name
Lender
Offer
Learn more

$1,000 Bonus

For 100k or more. $200 for 50k to $99,999

Fixed 5.24 - 9.59% APR

Variable 6.24 - 9.99% APR

$1,000 Bonus

For 100k or more. $300 for 50k to $99,999

Fixed 4.96 - 10.24% APPR

Variable 5.72 - 10.24% APR

$1,000 Bonus

For 100k or more. $200 for 50k to $99,999

Fixed 5.19 - 9.74% APR

Variable 5.99 - 9.74% APR